What to Expect When You're Expecting Summary
16 min read ⌚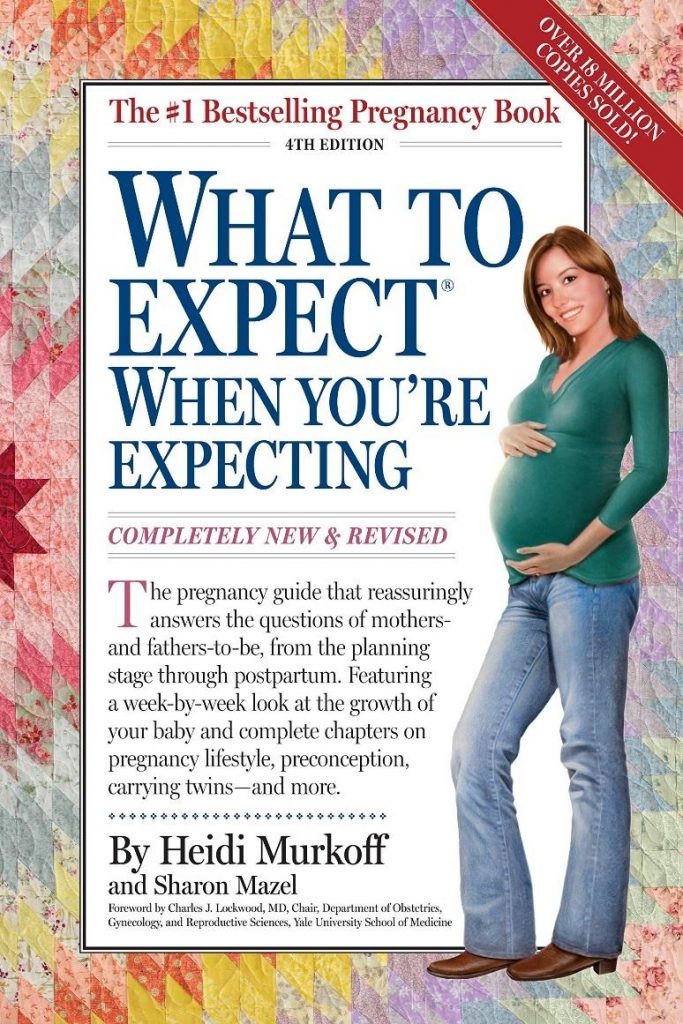 You're pregnant and anxious over what comes next?
Heidi Murkoff's got you covered!
Ladies, the bible of American pregnancy:
What to Expect When You're Expecting.
Who Should Read "What to Expect When You're Expecting"? And Why?
Well, it's there in the title: the pregnant ones; but it's also about those who plan to get pregnant and about those who want to get their lives back to normal after giving birth.
Finally, it's also about dads-to-be – not only because there's a chapter addressing them explicitly.
About Heidi Murkoff

Heid Murkoff is an American writer.
Hours before delivering her first daughter quarter of a century ago, Murkoff delivered the proposal for a pregnancy guide to her publisher, aka the book she wished existed to help her go through the process.
Soon enough, in 1984, What to Expect When You're Expecting appeared, one of the best pregnancy and parenting books of all time, the longest-running New York Times bestseller in history.
The book evolved into a series of pregnancy guides and gave birth to What to Expect Foundation and the whattoexpect.com webpage.
Murkoff was chosen by Time magazine among the 100 Most Influential People in the World for 2011; in a way, she still is.
"What to Expect When You're Expecting PDF Summary"
Quite rightly dubbed "the bible of American pregnancy," What to Expect When You're Expecting is, perhaps, the most trusted pregnancy guide this side of the Atlantic.
With almost 20 million copies sold, it is certainly the bestselling one, and the most influential: it's not only consistently near the top of The New York Times Best Seller list for a few decades, but it was also selected (back in 2007) by USA Today as one of the 25 Most Influential Books of the past 25 years.
Unsurprisingly, its author, Heidi Murkoff, was named one of the 100 Most Influential People in the world by Time magazine four years later.
In a few words, What to Expect When You're Expecting explains everything – and we do mean everything – you need to know about pregnancy, from pre-conception through week-by-week growth to birth and beyond.
The book has gone through five editions, but please note that the summary below runs through the contents of the fourth one and the fifth one is revised.
Also – and more importantly – visit www.whattoexpect.com, the Internet home of the book, where you should find absolutely everything you need.
On a side note, this book may be the only reference book in existence adapted into a movie: even though there's no story whatsoever between its two covers, the 2012 same-titled blockbuster (starring everybody) is directly inspired by Murkoff's book.
Part 1: First Things First
Chapter 1: Before You Conceive
Usually, people buy this book only after they're already pregnant, but that only means they should start the book at Chapter 2; because the first chapter is all about preparing for "the healthiest pregnancy – and baby – possible."
Here you'll find preconception prep for both moms and dads so that both parents can "get into tip-top baby-making shape."
The chapter also includes several conception misconceptions – you should definitely check them out!
Chapter 2: Are You Pregnant?
Here you'll read everything about early pregnancy signs and diagnosing pregnancy, as well as about testing for the irregular or about the reasons for a negative or a no longer positive result.
In addition, the chapter includes a section on how to smartly test yourself, birthing choices and making the most of the patient-practitioner partnership.
Chapter 3: Your Pregnancy Profile
If you're like us, probably your first question is "what the hell is a pregnancy profile."
Heidi Murkoff defines it thus:
It's a compilation of your gynecological, general medical, and obstetrical (if you're not a first timer) histories—in other words, your pregnancy backstory. You'll be discussing this backstory (which can actually have a lot of impact on the pregnancy story that's about to unfold) with your practitioner at your first prenatal visit.
And this chapter is all about your pregnancy profile, aiming to "help you take stock of your pregnancy profile and figure out how it may affect—or may not affect—your nine months of baby making."
There's absolutely everything here!
From a section on birth control during pregnancy through a series of Q&A sections related to some gynecological conditions (fibroids, endometriosis, HPV, STDs, herpes) to everything about your obstetrical history and what to do if you're having a baby after 35.
Here you'll read all about prenatal diagnosis, first-trimester ultrasound, and combined screening, and what to do if a problem is found.
Chapter 4: Your Pregnancy Lifestyle
As you know full well, pregnancy comes with adjustments in your everyday life.
If you're wondering just "how drastically your lifestyle will have to change now that you're living for two," then start with this chapter.
Sports and exercise are still good, and you don't need to change that part of your lifestyle; you just need to be a bit more moderate.
The same holds true for caffeine, but it doesn't for drinking and smoking.
In other words, "there's just no research to support" that either, even in small amounts, is a completely safe bet and the Surgeon General, the ACOG and the AAP advise that no amount of alcohol is safe for pregnant women, and that "that smoking during pregnancy, particularly beyond the third month, isn't just hazardous to your health – but to your baby's, too."
Of course, saying that isn't the same as giving up on smoking completely, so in this chapter, you'll find advice on how to break your smoking habit and how to deal with secondhand smoke.
Drugs are covered as well, and no need to say that all of them are strictly forbidden as well; yup, even marijuana.
By the way, this chapter also includes a section on "Complementary and Alternative Medicine" so be sure to check it out before trying any of the practices; some are good, but some may pose a risk to pregnant women.
Chapter 5: Nine Months of Eating Well
"The challenge during pregnancy isn't just to eat (though that may be challenge enough during those early months)" – writes Heidi Murkoff at the beginning of Chapter 5. "It's to eat as well as you can."
Think of it this way:
"Eating well when you're expecting is one of the first and best gifts you can give to your soon-to-arrive bundle of joy – and it's a gift that can keep on giving, handing out not just a healthier start in life but a healthier lifetime."
If you're looking for healthy alternatives to your favorite foods, you'll find them here:
Instead of…
Potato chips
A bag of M&M's
Before-dinner pretzels
Fried chicken
Hot fudge sundae
Taco chips and cheese sauce
French fries
Anything on white bread
A soft drink
Sugar cookies
Try…
Soy chips
Trail mix (with a few M&M's)
Before-dinner edamame
Grilled chicken
Frozen yogurt with fruit and granola
Veggies and cheese sauce
Roasted sweet potato chips
Anything on whole wheat
A fruit smoothie
Whole-grain Fig Newtons
Whatever you do, don't forget the "Nine Basic Principles for Nine Months of Healthy Eating":
#1. Bites count.
#2. All calories are not created equal.
#3. Starve yourself, starve your baby.
#4. Efficiency is effective.
#5. Carbohydrates are a complex issue.
#6. Sweet nothings are exactly that.
#7. Good foods remember where they came from.
#8. Healthy eating begins at home.
#9. Bad habits can sabotage a good diet.
More or less, it all boils down to this: if you like something, but you think your baby won't – take the fork out of your mouth!
Needless to add, there are many more advises such as this in this chapter, amounting to a complete Pregnancy Diet Plan.
Part 2: Nine Months & Counting: From Conception to Delivery
Chapter 6: The First Month Approximately 1 to 4 Weeks
"Congratulations, and welcome to your pregnancy!" – that's how the second part of What to Expect When You're Expecting begins.
It's divided into nine chapters, but each of them is, in turn, divided into many sections, the first few of which describe everything that's happening in your stomach week-by-week during that month.
Chapter 6 is about the first four weeks, during which your body will be gearing up for the months of baby-making to come."
This is when "you'll notice changes in parts of your body you'd expect (like your belly), as well as places you wouldn't expect (your feet and your eyes). You'll also notice changes in the way you live – and look at – life."
Here, you'll find all about these early symptoms as well as about the ways to alleviate some of the negative ones (like fatigue and morning sickness).
Chapter 7: The Second Month Approximately 5 to 8 Weeks
As all of the chapters in this second part, this one too starts with an explanation of how your baby looks like this month and what you may be feeling.
Next, it moves on to explain common nuisances at this stage, including heartburn and indigestion, food aversions and cravings, as well as visible, spider, and varicose veins.
It next moves on to some less common problems such as an achy, swollen pelvis, breakouts, dry skin and eczemas, mood swings, depressions, and panic attacks.
It also tells you everything you need to know about weight gain, from the normal rate of gaining weight to weight gain red flags.
Chapter 8: The Third Month Approximately 9 to 13 Weeks
You get the drill by now: your baby this month and your thoughts are the first things covered, and then everything that's the sign of normal pregnancy to everything that may go wrong.
Topics covered here are constipation, diarrhea, headaches, corpus luteum cyst, stretch marks, and many others.
Since this is the month when you may first hear "the amazing sound of your baby's heartbeat" at the checkup, there's everything about that too.
The chapter also reveals a thing or two about your increased sex drive at this time, as well as about the uncomfortability of being a pregnant worker; a great thing about this book is that it also includes an introduction to your rights as a pregnant worker, as well as the outlines of a possible unfair treatment at work.
Chapter 9: The Fourth Month Approximately 14 to 17 Weeks
Once again, after the usual things are covered – your baby this month, what you may be feeling, a look inside, what you can expect at this month's checkup, what you may be wondering about – Murkoff moves on to the possible annoyances and problems.
It starts with dental problems and nasal stuffiness and nosebleeds, before moving on to topics such as vaginal discharge, elevated blood pressure, sugar in the urine, and anemia.
Fetal movement is also covered, as well as the topic of maternity clothes and "looking slim when you're bulking up."
Here you can also read all about why and how to exercise during pregnancy.
Chapter 10: The Fifth Month Approximately 18 to 22 Weeks
Moving on: the fifth month comes with dizziness, backache, abdominal aches, foot growth, and fast-growing hair and nails; as scary as it may sound, it's only the usual.
There are many travel advices here, starting from the obvious (say, wearing a seat belt) to whether it's safe for you to travel by plane.
Merely mentioned in the previous chapters, sex during pregnancy is here analyzed thorough, with all its benefits and setbacks.
Chapter 11: The Sixth Month Approximately 23 to 27 Weeks
After finding out how your baby looks like in the sixth month and what you can expect at this month's checkup, Chapter 11 moves on to cover topics such as sleeping troubles, protruding navel, itchy bell, clumsiness, numbness in the hands and leg cramps.
It also covers some possibly more serious problems ("when something just doesn't feel right"), ranging from preeclampsia to bleeding.
The chapter also includes a section on childbirth education: whether you need it and what type would be preferable.
Chapter 12: The Seventh Month Approximately 28 to 31 Weeks
The third and final trimester means excitement and anticipation – but also multiplied pregnancy aches and pains.
Consequently, Murkoff revisits some topics here – such as fatigue and lower back pain – while also sharing everything you need to know about kick count, fetal hiccups, and even accidental falls.
Chapter 13: The Eighth Month Approximately 32 to 35 Weeks
It's the eighth month, and it's time you learn something more about Braxton Hicks contractions, "not-so-funny rib tickling" and the lack of bladder control.
Other topics covered here include choosing a pediatrician, your weight gain and the baby's size, the baby's position, and all about cesarean delivery.
The eighth month is the perfect time to start learning more about breastfeeding – and that goes for the fathers as well!
Chapter 14: The Ninth Month Approximately 36 to 40 Weeks
"Finally," writes Murkoff. "The month you've been waiting for, working toward, and possibly worrying about just a little bit is here at long last. Chances are you're at once very ready (to hold that baby … to see your toes again … to sleep on your stomach!) and not ready at all."
The ninth month is the longest month of all, and it's the most suitable one to read a paragraph on two about leaky breasts, urinary frequency, and due dates and overdues.
Finally, Chapter 14 is the one in which you – and your partner – can find out all about prelabor, false labor, and real labor, including the symptoms for each and the right moment to call the practitioner.
Chapter 15: Labor and Delivery
The nine months have passed, you're into labor, and it's time you deliver your baby to this world. Don't panic: What to Expect When You're Expecting has everything covered.
Chapter 15 includes sections on topics such as darkened amniotic fluid, irregular contractions, and emergency delivery.
And many others, including fetal monitoring, artificial rupture of membranes, episiotomy, forceps, vacuum extraction, etc.
In a nutshell – once again – everything you need to know; might we add: maybe even more than that.
Part 3: Twins, Triplets & More: When You're Expecting Multiples
Chapter 16: Expecting More Than One
The third part of What to Expect When You're Expecting consists entirely of one chapter, and the chapter is entirely about what you may be wondering about when you discover that you're expecting more than one child.
Here you'll read all about eating well with multiples, exercising properly, laboring with twins, twin timing, positioning, and delivering twins and triplets.
Part 4: After the Baby Is Born
Chapter 17: Postpartum: The First Week
After the baby is born, you're officially a mother, but you're also unofficially still on the pregnancy territory:
The transition from pregnancy to postpartum comes with more than just a baby. It also comes with a variety of new symptoms (good-bye pregnancy aches, pains, and discomforts, hello postpartum ones) and a variety of new questions (Why am I sweating so much? Why am I having contractions if I've already delivered? Will I ever be able to sit again? Why do I still look six months pregnant? Whose breasts are these anyway?).
Whether you're interested in how to deal with afterpains, delivery bruises, excessive sweating, or engorged breasts – you'll find everything here.
The chapter also includes a breastfeeding guide, covering everything from the basics and the appropriate diet, through medication and lactation to sore nipples and bottle babies.
Chapter 18: Postpartum: The First 6 Weeks
"Though most of your questions and concerns are likely to be baby-related" after the first postpartum week, "you're sure to have some that are a little more mommy-centric, too, from the state of your emotions ('Will I ever stop crying during insurance commercials?'), to the state of your sexual union ('Will I ever want to do it again?), to the state of your waist ('Will I ever be able to wear jeans that zip?')."
The answers to all of the above questions are "yes," but these are only a few of the many answered in this chapter.
Others include baby blues, postpartum backache, and workout rules for the first six weeks after birth.
My god, the information in this book is a little short of overwhelming: there's really absolutely everything here.
Part 5: For Dads
Chapter 19: Fathers Are Expectant, Too
Speaking of everything: time for a chapter which should interest dads in particular.
Murkoff addresses them:
As a dad, you're not only an essential member of your baby-making team, but an invaluable nurturer of both your pregnant spouse and your unborn offspring. In the months to come, you'll participate fully in the amazing process of pregnancy—in the excitement, in the responsibility, and, of course, in the worry. Some of your concerns will overlap those of mom-to-be; others will be uniquely yours. And just like your mate, you're entitled to your share of reassurance, not just during the pregnancy and the birth, but during the postpartum period as well.
In a way, she says that dads should really read the whole book through, but this chapter especially – which is not for the eyes only.
Here dads can read all about how to deal with their partner's symptoms and how to survive her mood swings, and, of course, how to deal with their sex urges both during pregnancy and after delivery.
Part 6: Staying Healthy When You're Expecting
Chapter 20: If You Get Sick
Staying healthy while you're expecting a child doesn't concern only you – it concerns your child as well.
That's what this chapter is all about, providing guides on what to do and which medications are safe to treat some of the most common diseases.
These are the diseases covered: the common cold, sinusitis, flu, fever, strep throat, urinary tract infection, yeast infection, bacterial vaginosis, stomach bugs, listeriosis, toxoplasmosis, cytomegalovirus, fifth disease, measles, mumps, rubella, chicken pox, Lyme disease, hepatitis A to C, and Bell's palsy.
Chapter 21: If You Have a Chronic Condition
What about chronic conditions?
Don't worry, there's a chapter for that too!
And it answers all of the questions you might have about the most common chronic diseases – in alphabetical order!
The chronic conditions covered in this chapter are asthma, cancer in pregnancy, cystic fibrosis, depression, diabetes, epilepsy, fibromyalgia, chronic fatigue syndrome, hypertension, irritable bowel syndrome, lupus, multiple sclerosis, phenylketonuria, rheumatoid arthritis, scoliosis, sickle cell anemia, and thyroid disease.
To tell you the truth, we feel a little sick at the moment.
But we only got two chapters to finish our summary, so we believe that we'll make it through; after all, women go through this for nine months.
Somehow, we now appreciate them even more.
Part 7: The Complicated Pregnancy
Chapter 22: Managing a Complicated Pregnancy
The seventh part of What to Expect When You're Expecting deals with complicated pregnancies; Chapter 22 goes through all of the possible problems, and Chapter 23 is a manual on how to get through if the worst-case scenario becomes a reality.
Here, there's everything you need to know about miscarriages and a bunch of other things we know not one thing about.
We'll just list some of them (we repeat: some of them!) for those who do: ectopic pregnancy, subchorionic bleed, hyperemesis gravidarum, gestational diabetes, preeclampsia, HELLP syndrome, intrauterine growth restriction, placenta previa, placental abruption, chorioamnionitis, oligohydramnios, hydramnios, preterm premature rupture of the membranes (PPROM), etc. etc.
We didn't even get to half; possibly because we don't really want to think about complicated pregnancies; may there be fewer and fewer with each passing second.
Chapter 23: Coping with Pregnancy Loss
"Pregnancy is supposed to be a joyous time," writes Murkoff in the introduction to this chapter, "filled with excitement, anticipation, and pink-and-blue daydreams about life with your baby-to-be (mixed in with a little normal trepidation and anxiety)."
"And usually, it is all of those things, but it isn't always. If you've experienced the loss of a pregnancy or a newborn, you know firsthand that the depth of your pain can be beyond words. This chapter is dedicated to helping you handle that pain and cope with one of life's most difficult losses."
Key Lessons from "What to Expect When You're Expecting"
1. Conception Misconceptions
2. Nine Rules for Nine Months of Eating Well
3. Pregnancy Is for Dads Too
Conception Misconceptions
"You've heard plenty of old wives' – and new Internet – tales about how best to make a baby," writes Heidi Murkoff in one of her thousands of lessons in this book (it's really ungrateful to choose only three).
However, many of them are no more than myths.
For example, having sex every day doesn't decrease the chances of getting pregnant: it may even increase them.
Also, wearing boxer shorts doesn't increase fertility and missionary is not the only position in which one can get pregnant: "unless sperm have a motility problem, they'll reach their target no matter what position you're in while you're doing it."
Finally, daytime sex doesn't help you conceive faster – it makes no difference – but there's no reason for you to act as if it does.
Nine Rules for Nine Months of Eating Well
We've already shared them with you, but here they are yet again:
#1. Bites count. "Try to make your pregnancy bites count by choosing them (at least most of the time) with baby in mind."
#2. All calories are not created equal. Or, in other words, "200 calories in a doughnut are not equal to the 200 calories in a whole-grain raisin-bran muffin."
#3. Starve yourself, starve your baby. That's pretty self-explanatory.
#4. Efficiency is effective. "Get more nutritional bang for your buck by choosing foods that are lightweights when it comes to calories, heavy hitters when it comes to nutrients."
#5. Carbohydrates are a complex issue. Don't drop unrefined (complex) carbohydrates from your diet.
#6. Sweet nothings are exactly that. Sugar calories are, sadly, empty calories and there's no sugary way to circumvent the reality of it.
#7. Good foods remember where they came from. Or, in case you don't, nature knows; you can't fool it.
#8. Healthy eating begins at home. Your home should be a healthy food zone for the nine months of pregnancy – and that goes for dads as well.
#9. Bad habits can sabotage a good diet. No matter how healthy your diet, smoking and drinking alcohol will sabotage your efforts in no time.
Pregnancy Is for Dads Too
True, mothers are the only ones capable of going through it.
But fathers can make things easier for them.
So, all you dads-to-be, stop scoffing at books such as What to Expect When You're Expecting: read them instead.
Like this summary? We'd like to invite you to download our free 12 min app for more amazing summaries and audiobooks.
"What to Expect When You're Expecting Quotes"
If you don't get pregnant right away, relax and keep trying (and don't forget to keep having fun while you're trying!).
Click To Tweet
Twenty-four years ago, I delivered a daughter and conceived a book within a few hours of each other (it was a busy day).
Click To Tweet
Just remember the most important thing that labor and delivery will bring your way (even if nothing else goes according to plan): that beautiful new baby of yours.
Click To Tweet
Don't sleep through the night until your baby does. Sharing in the joys of feeding also means sharing in the sleepless nights.
Click To Tweet
Being sick for two can make you at least twice as uncomfortable—especially since so many of the remedies you're used to reaching for may need to stay behind medicine cabinet doors for a while.
Click To Tweet

Our Critical Review
Some of the usual reviews of What to Expect When You're Expecting include phrases such as "a lifesaver," and "an incredible pregnancy resource," and descriptions such as "what every mother can't do without."
The last one seems to be closer to the truth than you'll ever imagine: according to some relevant stats, 9 out of 10 pregnant women in the US who buy a book on pregnancy buy What to Expect When You're Expecting.
That statistic says it all, much more than we could or ever will be able to.



Just a regular guy with a knack for writing, and digital marketing.
Emir is the Head of International and SEO at 12Min. In his spare time, he loves to meditate and play soccer.