11 min read ⌚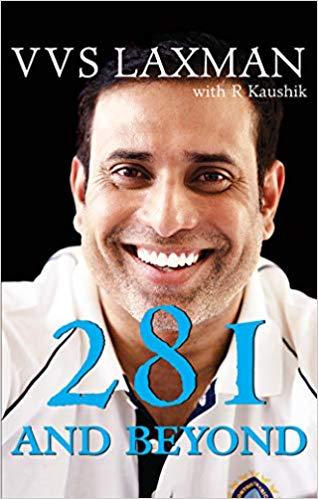 If you are a cricket fan, you already know what V. V. S. stands for in Laxman's name:
Very Very Special Laxman, of course.
Well, here's his autobiography:
Who Should Read "281 and Beyond"? And Why?
The easiest – and, perhaps, best, answer to the first question is: the one who knows who V. V. S. Laxman is.
In that case, we don't even need to tell you why you should read this book: you already know it yourself.
However, if you don't know Laxman, then we suppose this is not a book for you. Even if you watch cricket – because, well, what kind of a cricket fan is one who doesn't know who Laxman is?
About V. V. S. Laxman

V. V. S. Laxman – short for Vangipurapu Venkata Sai Laxman – is a former Indian cricketer.
An aggressive right-hand batsman, Laxman is widely considered one of the best cricket players of the 2000s, despite never being selected for a Cricket World Cup. In fact, Laxman is one of the very few players to have played 100 Tests without going to the World Cup.
Laxman's knock of 281 against Australia in 2001 is often considered the greatest test inning in history.
His autobiography, 281 and Beyond, was co-written with R. Kaushik, a veteran and respected cricket writer.
"281 and Beyond PDF Summary"
Co-authored by R. Kaushik, 281 and Beyond is the autobiography of V. V. S. Laxman, one of the greatest cricketers of, arguably, India's greatest cricket generation.
The Story of 281
Some numbers just stick to the athletes associated with them.
Think of 23, and there's no way you think of anyone else but Michael Jordan and maybe LeBron James. Think of Wilt Chamberlain, and the number 100 comes to mind. Barry Bonds is all about 73, and Eric Dickerson about 2,105.
More relevantly, it's difficult to think of Anil Kumble without thinking about his Perfect 10 against Pakistan in 1999, or of Sunil Gavaskar without harking back to 1983 and his unbeaten 236 against the West Indies.
Well, the number 281 is reserved for V. V. S. Laxman.
Taking into consideration the fact that it occurred against the Aussies in an all but lost position, and was, consequently, deemed by Cricket Monthly "the greatest Test performance of the past 50 years," chances are, as long as men play and watch cricket, 281 will forever be the number of V. V. S. Laxman.
Very Very Special Laxman.
A Little Background
OK – we admit we don't know that much about cricket, but even we could guess how V. V. S. Laxman's biography would – and, actually, should – start.
Recalled to the national team at the beginning of 2000, V. V. S. Laxman was one of the very few bright spots for India during the disastrous Australian tour of that year (they say that India's batsmen had quite a few nightmares of Glenn McGrath and Shane Warne during that year).
In fact, while all the batsmen struggled to cope with McGrath, Laxman scored 167 in the third (and final) Test match in Sidney.
However, and somewhat surprisingly, Laxman decided to return to domestic cricket afterward, thinking that the role of opener didn't suit him.
The result?
After being let go from the Test team in 1999 due to poor results, Laxman was once again dropped for almost the entirety of 2000. In fact, he barely found a spot in the team at the end of the year, just in time for the home series against Australia.
It is not that known – although it can be surmised by the fact that Laxman's spine required straightening during his epic performance – but Laxman was close to not even playing the 2001 Test at Eden Gardens, Kolkata.
A slipped disc had nearly benched him, so he requested all the help he could get from the physio, Andrew Leipus.
"I said," Laxman recalls, "'Tell me you can fix this Andrew.' There was a salty taste in my mouth. I didn't even realize I had started to cry. Perhaps it was the sight of a grown man weeping that did the trick."
In retrospect, it's safe to say it did a lot more than that.
The Stuff Dreams Are Made of
"To call Eden Gardens my theatre of dreams is an understatement," writes V. V. S. Laxman in 281 and Beyond. "It provided the canvas for the picture I wanted to paint, for the dreams I wanted to realize. Dreams that had taken shape a long, long ago, when the cricket bug bit me."
But let's set the scene first.
In the first Test at Mumbai, India's entire batting line-up (well, all except for Tendulkar) capitulated before the Aussies handing their bitter rivals their 16th consecutive Test win.
And the second match at Kolkata didn't seem any different – that is until the second evening when V. V. S. Laxman came to bat:
We scored 171 all out in the first innings, and I was the last man out. We had been asked to follow on. As I was about to remove my pads, John Wright, the coach, came and told me that I would bat at No. 3 in the second innings, and hence should not remove my pads. I was thrilled, for all my life I had batted at No. 3 and I was very comfortable in that position.
Based on what followed, that has to be one of the greatest understatements in the history of cricket. Though playing against the best attack in the world – on a team 222 runs behind – Laxman produced an extraordinary knock of 281!
Rahul Dravid's stellar supporting role – the two paired up for record 376 – meant that India survived the fourth day of the Test.
On the wings of Laxman's career-defining performance, his team rose from the ashes to eventually win not just the Test, but the series.
"As I played that wonderful inning of 281," notes Laxman, "Adam Gilchrist said a few times 'it's like the Don is batting.'"
Indeed, it was.
On Becoming V. V. S.
And to think that Laxman might have never become V. V. S!
Born in Hyderabad to noted physicians Dr. Satyabhama and Dr. Shantaram – and, thus, the great-great nephew of Sarvepalli Radhakrishnan, India's second president – it was only natural for Laxman to toy with the idea of becoming a doctor himself.
"At 17," writes Laxman, "I had to pick between cricket and medicine." If the interest in the latter came via his parents, the love for the former Laxman owes to Mohammad Azharuddin's feats against England. "Watching him rip England to shreds with a great 182 was nearly a personal success for me," writes V. V. S.
Fortunately, Laxman's uncle, Baba Krishna Mohan, backed his love and not his interest, firmly believing that V. V. S. is talented enough to play for India; that sealed it.
However, there was a condition: Laxman was given five years to make this dream come true; otherwise, it was back to medicine.
V. V. S. took this "if" quite seriously and spent the next five years living a life framed within 3Ds: discipline, determination, and dedication.
It was all cricket for him during those five years: no movies, no evening outings with friends, nothing. He even enrolled in college just so that he could play cricket, "not to study."
The result?
Laxman debuted for India's U-19 team against Australia in February 1994; he ended the series as the leading run-scorer. It was evident that a new star was in the making.
Unfortunately, in his early years, Laxman had to accept the opener's position – one he never enjoyed – much more often than he wanted.
After a while, he decided to never again play as an opener. This cost him his place at the national team for a while; in the end, it all worked out.
On the Great Ones
Unsurprisingly, 281 and Beyond includes quite a few honest portraits of some of the greatest Indian cricketers to ever grace the willow game.
You can find more than a few paragraphs here on everybody, predominantly focused on the God of the Game, Sachin Tendulkar, the destructive batsman Virender Sehwag, and the long-time captains, Rahul Dravid and Sourav Ganguly.
Commenting on Dravid's captaincy, Laxman says that Rahul, always systematic and meticulous, was even more intense as a skipper than as a batsman. "He took everyone's failures to heart," he writes, even feeling that the captaincy is not a responsibility, but a burden. That's why he relinquished the captaincy.
The same holds true for Sourav, who, feeling that cricket is more than just a game, constantly insisted on both team and individual effort, being okay with a defeat if his team gave its best and lost. However, he too felt the weight of the captaincy and, after being stripped of it, he came back to the team as a different man.
As for Sehwag's philosophy of the game – he was, more or less, a firm believer that a game is won or lost even before beginning. Therefore, he constantly put pressure on the bowlers, playing with their minds throughout the game, and coming on top more often than not.
Finally, Tendulkar. Well, you don't need V. V. S. to tell you that excellence was always floating in his mind. "When he put on the India colors," he notes, Sachin "grew ten feet tall."
On Greg Chappell
In May 2005, Greg Chappell, the pre-eminent Australian batsman of the 1970s, was appointed coach of the Indian national cricket team for a two-year term.
"I had been a huge fan of Chappell for a long time," writes Laxman. "When he was appointed our coach, I was both happy and excited."
This happiness wouldn't last long: unfortunately, Greg was as bad at coaching as he was good at playing. "Brusque and abrasive, highly opinionated and rigid in his thinking," Chappell, according to V. V. S. Laxman, had no man-management skills and "quickly sowed further seeds of discontent in an already diffident team:"
Often forgetful of the fact that it is the players who play the game and not the coach, Chappell apparently had favorites and looked after them more than well; the others were "left to fend for themselves."
The result?
The team was disintegrating before Laxman's very eyes.
Laxman's verdict?
Greg Chappell arrived in India to a groundswell of goodwill and support. He left the team in tatters, having played an influential part in the worst phase of my playing career. Results on the field might suggest that his methods worked to some extent, but those results had nothing to do with our coach… I will always respect Greg Chappell the batsman. Unfortunately, I can't say the same for Greg Chappell the coach.
On His Early Retirement
Laxman was always deemed as a "sincere" and "ever-smiling" person; that's why he was as loved and respected in the dressing room as he was by his fans on the stadium or in front of the TV.
It was this love (from the fans, from the teammates, from his family, and especially his wife Sailaja) that got Laxman through some "dark days" of his career, especially his first thoughts about retirement when not being picked up for the 2003 World Cup and the time under Chappell.
And, then, a few years later, on August 18, 2012, Laxman suddenly announced his retirement, just a few days before a Test match against New Zealand in his hometown of Hyderabad.
Of course, this set off a wave of speculations – many conjectured that Laxman's retirement was due to his differences with M. S. Dhoni – resulting in "the first and only controversy of [Laxman's] cricketing career."
The truth is – explains now Laxman – he has nothing but respect for Dhoni, and that he didn't retire because of him or any other extraneous forces: he did it because of his "inner voice."
"All my life, my actions had been dictated by this voice," he writes, "but in conjunction with suggestions from those closest to me. This time, with greater maturity, I had gone entirely by it, disregarding advice from even my father."
And his father wasn't the only one to advise against the sudden retirement: Sachin tried to convince Laxman to postpone the press conference too. It was one of the few times he disregarded Tendulkar's advice: "I told him repeatedly… that my mind was made up."
"It was not the fairy-tale ending that cricketers dream of, but to me, it was a fairy-tale ending nonetheless because I had stepped down on my own terms," he concludes.
Key Lessons from "281 and Beyond"
1. Choose What Your Best At – and Go for It
2. There's Always Such Thing as a Second Chance (Even in Cricket)
3. Handling Success Is as Difficult as Handling Failure
Choose What Your Best At – and Go for It
Despite repeatedly being chosen for the opener's slot, V. V. S. Laxman didn't feel comfortable at that position.
And to make his stand loud and clear, back in 2000, he decided that he wasn't going to play on that position anymore, whatever the cost.
For a while, this meant that he wasn't going to play for India's national team; but then, he returned – and the 281 happened.
In other words – focus on what you're good at; and strive to become the best.
There's Always Such Thing as a Second Chance (Even in Cricket)
When V. V. S. exploded with a 281 against the Australians back in 2001, the Aussies were on course to win their 17th consecutive Test match against India.
Needless to add, V. V. S. was under tremendous pressure, and he delivered.
"I hadn't missed out on 300 by 19 runs," he writes, "I had made 281 in a crisis with our backs to the wall, and for the team."
Describing the performance as "uncontroversial… sublime," Cricket Monthly wrote that Laxman, that few evenings "proved that there are second chances in Test cricket."
There are also in life – even when everything seems lost and gone.
Handling Success Is as Difficult as Handling Failure
"It is tougher to handle success than failure," writes Laxman honestly. "In India, if you are successful, you get carried away very easily. If you are going through a bad patch, you get support, and you work hard to bounce back. That's why having a support system is crucial in such a situation."
"We are not taught how to handle success," he goes on. "I have seen a lot of talented players, who unfortunately do not have the support system, soon drift away. That not only happens because of how they are dealing with failure but also the success."
Like this summary? We'd like to invite you to download our free 12 min app for more amazing summaries and audiobooks.
"281 and Beyond Quotes"
It is like the Don is bating.
Click To Tweet
Kolkata is very dear to me. Here, an aura of sheer happiness seems to surround most people.
Click To Tweet
I have a strange record at Eden Gardens: in first-class cricket, I didn't score one 50, but in Tests, I scored one double century, four centuries, and three 50s.
Click To Tweet
There is a thin dividing line between being focused and being obsessed. The latter becomes all-consuming and takes away your mind from the big picture.
Click To Tweet
I don't have many cricketing regrets, but not winning the Ranji Trophy for Hyderabad is one.
Click To Tweet

Our Critical Review
Though sports biographies tend to disappoint from time to time, 281 and Beyond is not one of these cases.
It is interesting and nicely written, and it covers almost everything you'd expect, shedding some light over Laxman's retirement, his relationship with Greg Chappell, and his thoughts on his teammates.
Of course, as the title suggests, there's a whole chapter about that knock of 281; it's the first one and, by the end of it, the book pays back its price.
A must for cricket fans.



Just a regular guy with a knack for writing, and digital marketing.
Emir is the Head of International and SEO at 12Min. In his spare time, he loves to meditate and play soccer.