Blinkist vs GetAbstract – The Ultimate Comparison
<1 min read ⌚
Are you in a dilemma?

Well, we are here to ease your life by outlining some of the essential elements that both book summaries websites have in-store.
Let's get this straight, regardless of your demands, we believe that both Blinkist and GetAbstract are capable of satisfying even the pickiest readers.
Here's what you should consider when planning to join the group of readers whose interest lies in a quick read that is able to pinpoint all the essential aspects of any non-fiction masterpiece.
Blinkist Review: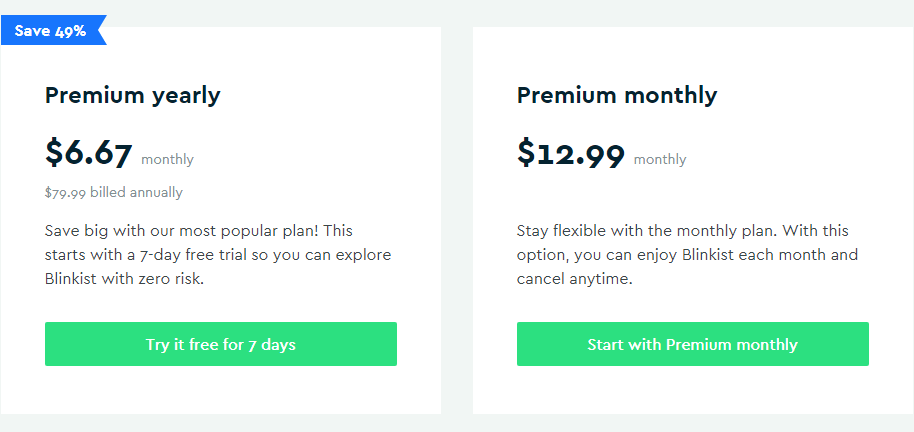 As far as Blinkist is concerned, any member or visitor will be given a few choices.
Most importantly you are allowed to "scan" the website and gain access to the intro of any book that may intrigue you. 
Your personal or professional background in accordance with your demands should form an opinion about the offer you are willing to explore.
Blinkist for teams is a unique opportunity for organizations/companies and institutions that are determined to take personal development onto the next level. The possibility to customize your offer based on your demands is something that Blinkist allows and endorses:


Features:
Blinkist is an all-encompassing collection of more than 2000 book summaries and a lot more coming each month. Should you prefer to analyze a book before you purchase it on Kindle, Blinkist is a good asset and a life-partner in such endeavor.
Even if you are stuck in traffic, you can always use the extra "Blink" and enjoy the audio version of the book.
Of course, if you have subscribed to the Premium Offer. Same as GetAbstract the Blinkist e-library covers many niches including, management, leadership, philosophy, history, marketing, sales, economics, you name it.
The idea would be to deliver a comprehensive solution to its trusted user base!
GUI:
Are you one of those who hates reading content on a white background? If so, you are not going to like what's coming.
One short paragraph that emphasizes our point:


On the other hand, we show an immense sense of admiration for Blinkist's library organization. You really feel like someone is pushing you back in time – A bull's eye for Blinkist on this one – no doubt!
Mobile Version and App:
It's needless to say that Blinkist application is adjusted to satisfy the urges of passionate readers while providing easy navigation. Undoubtedly, an essential asset for ordinary users who just wish to quickly absorb the masteries of a good book.
Although Blinkist tends to provide a wonderful user experience, the app is experiencing some minor issues (app crash) according to some testimonies.
That aside, we think you are about to enjoy the App as much as the Desktop Version.

If you decide to test this App and its features, it's vital to ascertain the pros and cons to the full extent. Digesting the key takeaways from your favorite books is what lies at the end of this lucrative journey.
In addition, we also like to mention that Blinkist prefers to mix up the story structure by applying personal perspective to it.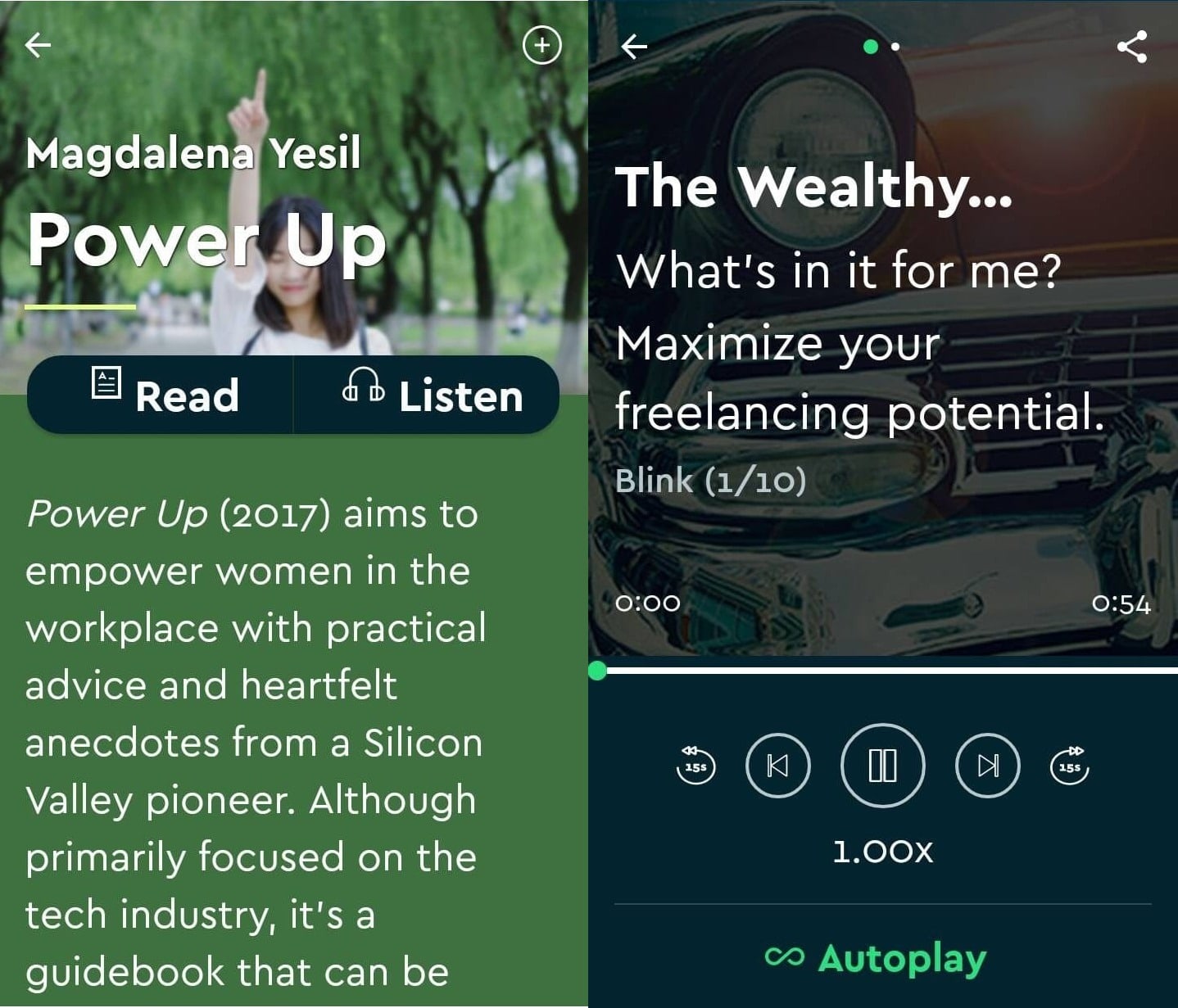 Evidently, the audio feature allows the users to fast forward to something of a pressing matter and yields an option B if you are not into reading.
By enrolling in a Premium plan, you'll receive get a 7 Day Trial to evaluate the benefits from using Blinkist! In the meantime, you can make your final decision, that relates to whether Blinkist "satisfies your appetites" or not.
GetAbstract Review:
Offer:
Unlike Blinkist, GetAbstract is a lot more flexible when it comes to their products, or should we say options. They pay more attention to the size since each of the offers is restricted to a number of books and categories or not – it all depends on your "contribution" to the website.
One common feature is the flexible team plan, or in this case the "Company" plan which allows an abundance of users to have 24/7 access to thousands of book summaries that will encourage growth and personal enhancement on an organizational level.
Don't let our conclusion stop you from seeing the full offer, and hopefully find something that fits you.

Features:
We start this journey with an intention to conduct an unbiased investigation, and we are going to end it in the same fashion. GetAbstract always turn heads not only due to its large collection of book summaries but also for the organization.
For instance, after you receive your 3-day free trial, and decide to go about building a long-term relationship, you'll find lots of elements that you couldn't explore in a short amount of time.
As we mentioned, if 15k+ book summaries are not appealing enough, perhaps pdf versions + audiobooks will draw some extra attention.
The time for purchasing the wrong book will suddenly vanish because you'll no longer need to judge the book by its cover – if you know what we mean.
You cannot neglect the fact that GetAbstract, unlike Blinkist, is available in more than two languages (German and English), meaning that is accessible to various types of users worldwide.
Their summaries are available in these languages:
English
French
Portuguese
Spanish
Chinese
German
Russian
All things considered, GetAbstract has the upper hand when it comes to providing the best solution for unique user's preferences.
GUI:
It's pretty straightforward that we cannot all agree on this one. Nonetheless, we give our thumbs up to both Blinkist and GetAbstract.
GetAbstract, in this case, provides excellent navigation to users by subtly guiding them through the site.
What more can a user want?

The navigation bar is easy to follow, even for non-native English users. The same goes for the book summaries available in PDF format and the App.
Mobile Version and App:
Before we unveil our "first" choice, we need to expose all the cons of prons of the GetAbstract app.
Indeed, our pick doesn't have to be yours!
If you have subscribed to any of the previously mentioned offers, prepare yourself for a smooth ride. From valuable lessons, quotes, takeaways, it's all in there.
If you like to take a glimpse at the app, well here you have it:

As you can see, you can either listen or read the text, depending on the environment and your preferences. Out of personal experience, we can say that GetAbstract does a good job at extracting the key findings of any non-fiction masterpiece.
The GetAbstract team presents the end-product in a compelling way by making it understandable for the broader audience.

Since the launch of the app, a small portion of users voiced complaints concerning the app's malfunctioning. With more than 100k downloads, GetAbstract is trailing behind Blinkist's 1 million downloads.
Our Final Notes
Probably by an inch, the trophy goes to GetAbstract. Truly, there are aspects which hinder the growth of both prominent websites, but in our opinion, GetAbstract is more user-centric than Blinkist.
We hope that our article will help you form a conclusion about this dilemma. The bottom line is that any user will surely focus and appreciate the good sides from these enlightening book summary partners and sidestep the bad ones.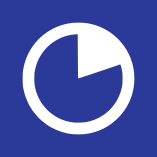 Learn more and more, in the speed that the world demands.