9 min read ⌚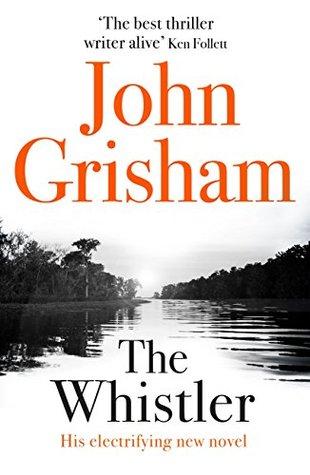 It's mysterious, it's elaborate, it's electrifying.
It's John Grisham's 2016 novel:
Who Should Read "The Whistler"? And Why?
Oh, come on – it's John Grisham, USA's best thriller writer according to Ken Follett!
And who doesn't love a good thriller from time to time?
John Grisham Biography

John Grisham is an American attorney and politician, one of the world's most widely read novelists, and a man practically synonymous with "legal thriller" genre.
He practiced criminal law for a decade before publishing his first novel, A Time to Kill; his second novel, The Firm, made him a nationwide celebrity; both were adapted for the screen, just as ten more of his fifty or so novels written so far.
He has also written a non-fiction book, The Innocent Man, which served as the basis for a six-part Netflix documentary.
John Grisham is one of only three authors (Tom Clancy and J. K. Rowling are the other two) to sell two million copies on the first printing.
Find out more at http://www.jgrisham.com/.
Plot
The Source and the BJC
It's only fitting that the action of a novel titled The Whistler should start with a mysterious man contacting the Florida Board on Judicial Conduct (the BJC).
The reason?
He claims that he knows both the identity and the crimes of the most corrupt judge in the history of the United States.
The question rather is – are most misconducts by US justices a case of corruption or incompetence?
Lacy Stoltz – an investigator for the Florida Board on Judicial Conduct (BJC), points out that a large portion of these misconducts are on most occasions caused by ineptitude but here and there there are cases of corruption that are pushed under the rug.
At first glance, the BJC is not particularly alarmed, because, well, there are many nutjobs in the world around us who call the police about these types of things day in day out.
Between all those conspiracy who-killed-Kennedy theories, and aliens and chupacabras feasting on domesticated animals, we guess that "the most corrupt judge in the USA" is not really that big of a story.
Even if that judge has stolen more money than "all judges, from all states, and throughout U.S. history."
But, more importantly than this, the BJC is not what it had once been. Cuts have decimated the office, and the BJC is down to its last few investigators.
"Seven," writes Grisham, "in a state of twenty million people, with a thousand judges sitting in six hundred courtrooms and processing a half a million cases a year."
No wonder that Lacy Stolz – one of the main characters of our story whom we'll meet in just a second – is "forever grateful that almost all judges were honest, hardworking people committed to justice and equality. Otherwise, she would have left long ago. The small number of bad apples kept her busy fifty hours a week."
Meet Ramsey Mix, aka Greg Myers
The above-mentioned Lacy Stoltz is the investigator assigned to the case.
She is not a cop but a lawyer, and responding to calls such as these is part of her work description. However, most of them amount to nothing, and after nine years with the Board on Judicial Conduct she has learned that most problems are not caused by corruption, but incompetence.
Together with her partner Hugo Hatch, Lacy heads to St. Augustine to meet the source in person – and find out everything he knows (or doesn't know) about USA's most corrupt judge.
Now, this person turns out to be a guy named Ramsey Mix, a lawyer by trade, who's living on a boat called Conspirator, whose address is the address of his brother and who has a single client whose name he doesn't know.
Already shady?
Wait till you hear this: Ramsey is also an ex-con, having spent sixteen months in a federal camp after pleading to one count of mail fraud back in the days when he had practiced law with a license.
And there's more:
His name is actually Greg Myers at the moment, the name he intends to use to file a complaint without which the BJC cannot proceed with the case.
No wonder Lacy suddenly starts doubting "the wisdom of traveling to St. Augustine to meet this guy. A state employee too frightened to come forward. A reformed lawyer so spooked that he went to court in another state and changed his name. An ex-con with no real address."
Another problem?
Mix is not really interested in answering the usual questions an investigator might ask his or her source.
And yet – he claims he has a story like no other.
Greg Myers' Story
"This is a long story that will take some time to unfold," says Ramsey Mix during the first of the few meetings he has with Lacy and Hugo. "It involves a ton of money, corruption that is astonishing, and some really nasty guys who wouldn't think twice about putting a bullet or two between my eyes, yours, my client's, anyone who asks too many questions."
Claudia McDover's Beginnings
And throughout the following few chapters, we learn that the most corrupt judge in USA's history is a woman named Claudia McDover presiding over Florida's 24th Circuit and living in Brunswick County, a fictional place located somewhere between Pensacola and Tallahassee, in the unofficial Florida Panhandle.
And then Greg proceeds to tell Lacy and Hugo quite a few things about the Honorable Claudia McDover.
First, he shares quite a few personal details:
Claudia McDover, age fifty-six, first elected in 1994 and reelected every six years since then. By all accounts, a hardworking judge who's very serious about her job and her courtroom. She wins her reelections by landslides. Very bright, very driven. Her ex-husband was a big doctor in Pensacola, and he was fond of young nurses. Bad divorce in which she, Claudia, got royally screwed by hubby and his gang of lawyers. Wounded and angry, she went to law school to get revenge, but at some point said to hell with the old boy. She settled in the town of Sterling, the seat of Brunswick County, where she joined a little real estate firm.
Now Claudia wasn't carved for small-town practice, so, very soon, she got bored with her job; and then she met a guy named Vonn Dubose, "a bad dude but a very smart man."
Don't worry, you'll meet him in an instant as well.
Claudia McDover's Rise
Now, after meeting Vonn Dubose, Claudia McDover suddenly developed an interest in politics and ran for circuit court judge.
Coincidentally, this happened in 1993, very soon after the Tappacola Nation – "a small tribe of about four hundred scattered along the Panhandle" – voted against the opening of a casino in the serenity of their Reservation.
The man who approached them with the idea: the afore-mentioned Vonn Dubose.
The man who eventually emerged victorious: "an agitator named Son Razko," a Christian who opposes gambling on moral grounds.
Now, back to Claudia: after a well-funded and well-organized campaign, McDover beats the incumbent by a thousand votes and wins the position of a circuit court judge.
Just a month after she takes office, Son Razko is murdered, his body found in another man's bedroom, along with this other man's wife, both shot twice in the head.
Of course, the main suspect is the husband, a man named Junior Mace, coincidentally a close ally of Razko during their anti-gambling campaign.
Judge McDover presides over his trial and, of course, Mace is convicted for the double murder, despite steadfastly claiming his innocence.
Vonn Dubose's Master Plan
You can already guess where this story is going.
The mastermind behind everything is Vonn Dubose, the leader of the so-called Coast Mafia and a descendant of one of the original gangsters of the county who had begun their mischief in "the rear room of a catfish restaurant near Forrest City, Arkansas."
His story:
His maternal grandfather owned the restaurant, and years later died in a police ambush. His father hanged himself in prison, or at least the official report said they found him hanging. Numerous and various uncles and cousins met similar fates, and the gang had pretty much thinned out until Vonn discovered the allure of cocaine trafficking in South Florida. A few good years there provided the means to resolidify his little syndicate. He was now approaching the age of seventy, lived somewhere along the coast, and did not maintain a legitimate address, bank account, driver's license, Social Security number, or passport.
Now, having planned everything in advance, Vonn Dubose spent the few years between the first anti-gambling vote and the murder of Razko buying property off all the investors and speculators who had jumped in when it looked like the Tappacola wanted a casino.
"He knew what was coming and soon had the Indian land surrounded," says Mix. "With Son Razko out of the way, and removed in such a dramatic fashion, the proponents won the second election. The rest is history."
Treasure Key
So, in a nutshell, everything was clear now for more than two decades of utmost corruption, starting with the construction of "Treasure Key,"
the only casino in north Florida, conveniently located just ten miles south of Interstate 10 and ten miles north of the beaches. Full-service casino, open twenty-four/seven, Disney-style amusement fun for the entire family, largest water park in the state, condos for sale, lease, or time-share, take your pick. A veritable mecca for those who want to gamble and those who want to play in the sun, and it's perfectly situated within two hundred miles of five million people. Don't know the numbers, because the Indians who run the casinos report to no one, but it's believed Treasure Key is easily in the half-billion-dollar-a-year range.
The rest is as simple as a Martin Scorsese's movie gets: Vonn Dubose took care of everyone he didn't like ("he whittled his gang down to just a handful of cousins so there would be fewer hands in the till") and Judge McDover made sure that there are no legal obstacles between Dubose and the realization of his master plan.
Even better, Van Dubose "operated with complete anonymity and hid behind a wall of offshore companies, all of which were overseen by a certain law firm in Biloxi."
Things Escalate
Quite expectedly – as Lacy and Hugo would learn the hard way – a guy with such power and wealth is not to be brought down easily.
After hearing things here and there about an ongoing investigation in his dealings, Vonn Dubose lures investigators Stoltz and Hatch to a rural part of the Tappacola Reservation.
The bait?
A member of the Tappacola nation who claims that he has important information which might interest Lacy and Hugo.
However, there's no such thing: it's all a ruse which ends with a truck deliberately striking the car of Stoltz and Hatch, killing the latter and severely injuring the former.
Ironically, Dubose's tactic to neutralize the BJC ends up as the catalyst for his own neutralization.
Now, the director of the BJC, Michael Geismar, is convinced that there are even higher stakes involved than he had previously imagined and calls in the aid of the Federal Bureau.
With their help, the BJC discovers the identity of Hugo's henchmen and offers them a deal in exchange for some information and testimonies in relation to the relationship between Vonn Dubose, the Coast Mafia, and the Not-So-Honorable Judge McDover.
They, of course, agree.
The Whistler Epilogue
Before too long, Vonn Dubose and Judge McDover realize that someone very close to at least one of them must be leaking information about their whole operation.
The main suspect?
JoHelen Hooper, Judge McDover's recorder of seven years, the actual name of Mix's client and the real whistler of the title.
Realizing the danger she's in, Hooper flees her job and settles in a cheap hotel; however, she's tracked by the Coast Mafia and, soon enough, she has a hitman on her heels.
Now recovered, Lacy Stoltz helps Hooper to escape the hitman and takes her to the airport in Valdosta where Lacy's brother, Gunther Stoltz – a real estate developer from Atlanta – flies the two women to western North Carolina.
There, the two hide in a lakeside cabin in the mountains, waiting for the FBI to finish what the two had started.
And the FBI does: the Dubose syndicate is dismantled, the main culprits are arrested, and Judge McDover is sentenced to a quarter of a century in prison.
"Frail and much thinner after seventeen months of jailhouse food," in all her stoicism, McDover is merely a shadow of her former self.
In the front row, Lacy, with Special Agent Allie Pacheco on one side and JoHelen on the other, "almost felt sorry for her."
Like this summary? We'd like to invite you to download our free 12 min app for more amazing summaries and audiobooks.
"The Whistler PDF Summary Quotes"
Nor did she like society's way of presuming she was unhappy because she had not found the right guy.
Click To Tweet
In my world, our world, there are too many guns and too many bad things happen because of them.
Click To Tweet
It's often the one you trust the most who'll cut your throat for the right price.
Click To Tweet
Part of being single was dealing with the misconceptions of others.
Click To Tweet
It's a perfect storm for corruption. You start with people who are not that sophisticated, and suddenly they're raking in more profits than are imaginable. They attract all manner of crooks and con men who want to help.
Click To Tweet

Our Critical Review
As a USA Today review states, "Grisham has become an institution… Grisham's legal knowledge is impressive, and his ability to convey it unparalleled in popular fiction."
And The Whistler – just like most of his books – disappoints not one bit.
We predict a blockbuster movie within five years.



Just a regular guy with a knack for writing, and digital marketing.
Emir is the Head of International and SEO at 12Min. In his spare time, he loves to meditate and play soccer.