Zero to One by Peter Thiel – Popular Highlights & Key Lessons
<1 min read ⌚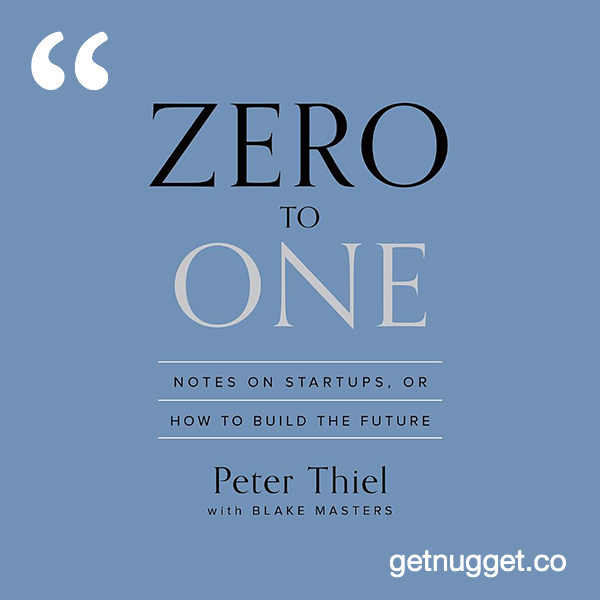 The most popular highlights of the New York Times bestseller Zero to One by Peter Thiel
View the most popular highlights of the New York Times bestseller Zero to One by Peter Thiel with Blake Masters.
Indeed, the single most powerful pattern I have noticed is that successful people find value in unexpected places, and they do this by thinking about business from first principles instead of formulas.
Positively defined, a startup is the largest group of people you can convince of a plan to build a different future.

The most contrarian thing of all is not to oppose the crowd but to think for yourself.

if you want to create and capture lasting value, don't build an undifferentiated commodity business.

All happy companies are different: each one earns a monopoly by solving a unique problem. All failed companies are the same: they failed to escape competition.

Every monopoly is unique, but they usually share some combination of the following characteristics: proprietary technology, network effects, economies of scale, and branding.

As a good rule of thumb, proprietary technology must be at least 10 times better than its closest substitute in some important dimension to lead to a real monopolistic advantage.

Paradoxically, then, network effects businesses must start with especially small markets. Facebook started with just Harvard students— Mark Zuckerberg's first product was designed to get all his classmates signed up, not to attract all people of Earth.

This is why successful network businesses rarely get started by MBA types: the initial markets are so small that they often don't even appear to be business opportunities at all.

The perfect target market for a startup is a small group of particular people concentrated together and served by few or no competitors.

As you craft a plan to expand to adjacent markets, don't disrupt: avoid competition as much as possible.

---
Want to get the full book in Kindle version? Get it from here:





---
If you want to receive the full nugget collection from Peter Thiel's Zero to One, please subscribe below.


[mc4wp_form id="194″]


Just a regular guy with a knack for writing, and digital marketing.
Emir is the Head of International and SEO at 12Min. In his spare time, he loves to meditate and play soccer.