Blinkist vs Audible – The Ultimate Comparison
<1 min read ⌚


Some people with time on their mind and busy-schedule cannot grow and enhance professionally. For such occasions, the digital age presents highly-applicable and relatively cheap solutions.
If you are on the fence, we are here to help you out.
Audible and Blinkist have devised a plan for making things easier for those tied up persons. If you don't have a strong grip on happiness, perhaps it's time to turn a new page in life.
This shouldn't be construed as a life-plan, but merely as a reflection of everlasting evolvement.
It may seem too overwhelming, but these book summary giants, take your busy-schedule very seriously – perhaps even more than you do.
If you are on the verge of an emotional breakdown or lacking inventiveness, they have the perfect 10-15 min summary that can aid you in times of crisis.
Sometimes, we don't have the time or will to dig deep into the book only to bump into the key takeaways – figuratively speaking.
What if those essential elements are extracted for you instead, for a minimum expense?
Let's roll, and learn more about the possible solutions.
Blinkist Review
If you are a book lover who at least once has read a summary, then you are familiar with Blinkist. In the picture below, there are two exclusive, and unique offers that hopefully can provide comfort and guidance.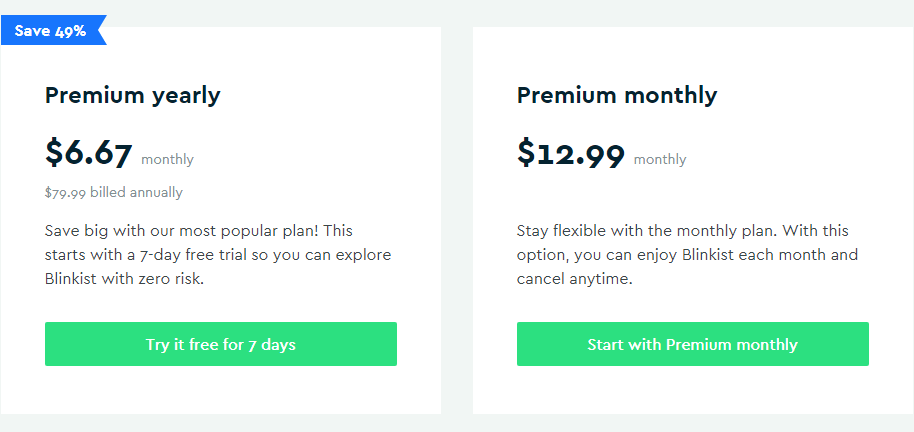 What gives Blinkist the edge?
Instead of designing an aggressive website, Blinkist allows its users to scan the content, and get access to the short synthesis of the book. In general, users have shown their immense appreciation for Blinkist's gentle approach when it comes to subscription.
If you are interested in getting your hands on a particular summary, no worries, free access to a pre-selected book will do the trick. A free 3-day trial is just icing on the cake.
Features:
Blinkist's library consists of more than 2000+ comprehensive and informative book summaries. Each month 40 more are being written, satisfying even the pickiest readers. Perceive it as a service, or an educational tool that yields valuable lessons.
Buying a book on Amazon will never be the same. Now, you can take a glance at the core of wisely selected bestsellers, and then make your move. It sounds like a pretty good deal to us.
The audio option allows you to enjoy the selected summaries while being involved in a myriad of tasks. A perfect example of successful multitasking. This blink linked to the Premium offer is probably the best feature that needs to be exploited.
Books from various non-fiction niches can trigger the fire of creativity, and give you the upper hand in any situation. From a philosophical standpoint, you've got nothing to lose, because a person who doesn't read, doesn't grow.
Blinkist for teams is an exclusive opportunity for organizations that intend to turn each moment into a learning opportunity:


GUI:
We are divided on this one. As much as we enjoy seeing the well-designed navigation tab, and the guidance arising from it, we feel like the outcome is partially old-fashioned.
We are referring to the white background followed by blue letters.
One short paragraph as an illustration: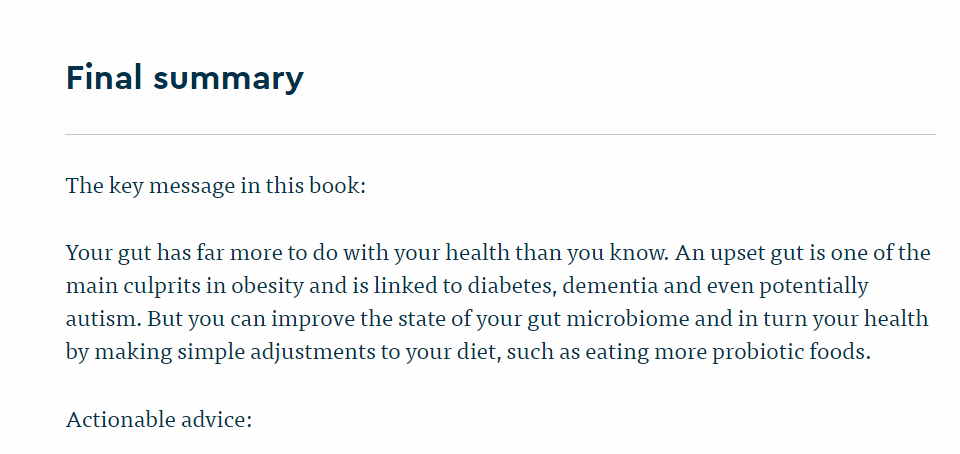 The library contains everything required for a reader to feel like being given the easiest task in the world. No one wants to struggle to find the desired information, so the simple the better.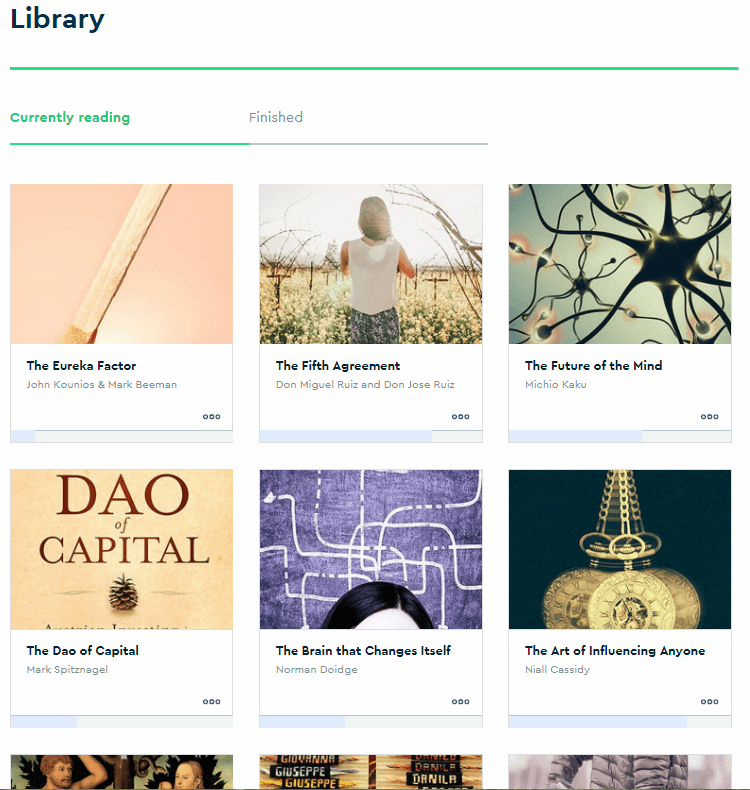 Mobile Version and App:
According to some user testimonies, the Blinkist app still experiences some crashes and signs of malfunctioning. Other than that, it's pretty straightforward to use, adjusted for the sake of beginners, and "hungry" wisdom seekers.
Majority of the users, still express gratitude and amazement for the app and continue to utilize its features to full extent.
All things considered, nothing stops you from enjoying the App and become the latest member of the 1 million club of users.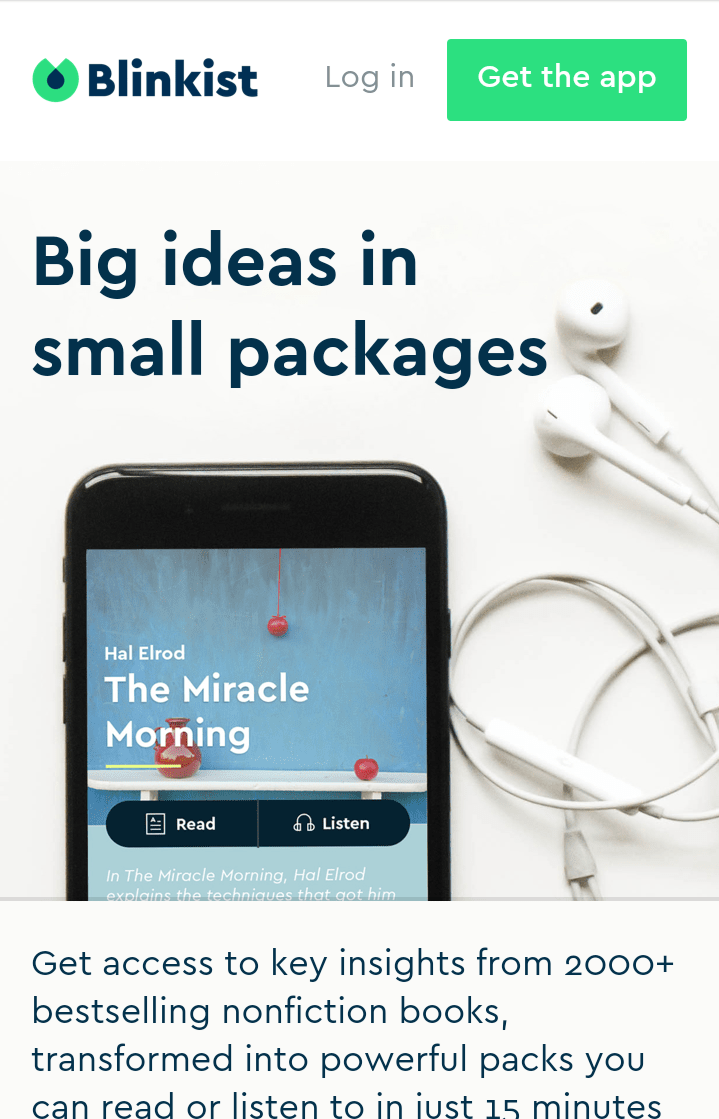 In all honesty, there are still a handful of users who believe that Blinkist is overcharging them for the services rendered, but most of them are happy to immerse in a quick read.
If you decide to give this app a shot, you should also know that Blinkist like to tell the story from a personal point of view: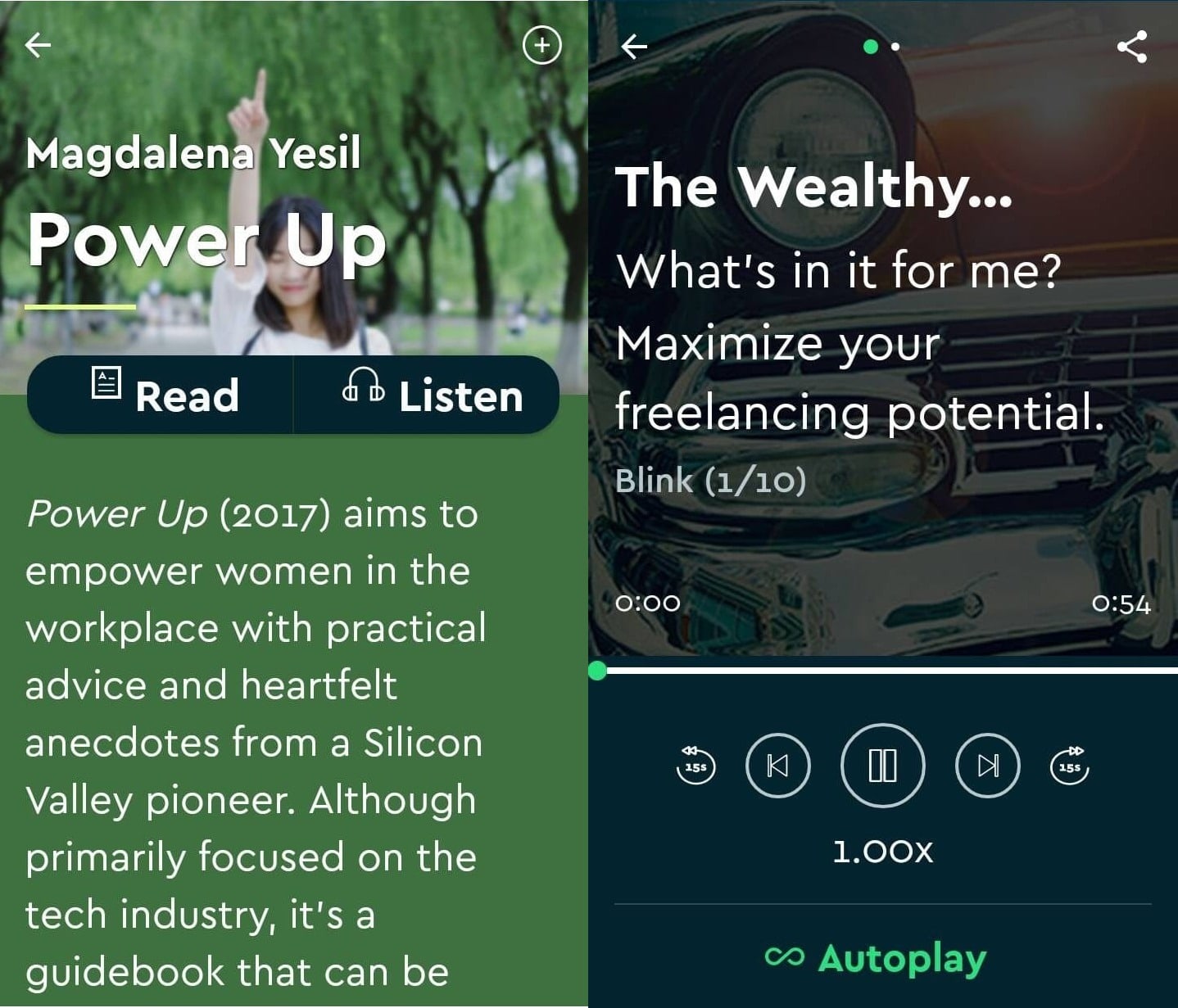 The audio feature gives you an opportunity to fast forward to something more appealing and lend you an option B if you are not into reading.
By enrolling in a Premium plan, you'll get a 7 Day Trial to test the "goods", and in the meantime, you can make your final decision, that relates to whether Blinkist "satisfies your appetites".
Audible Review
Offer:
Audible – Amazon Company is very flexible when it comes to providing services for its customers. Not only that you'll be able to choose and enjoy your audio summaries, but also, you'll be given plenty of other benefits which will be briefly discussed.
Nowadays a smartphone acts as though it's the very center of doing business. So, why can't it serve as a relaxation device as well?
The steps for making your grand-entrance into Audible:
Log in from your Amazon account

Take a quick look at the Membership Options and benefits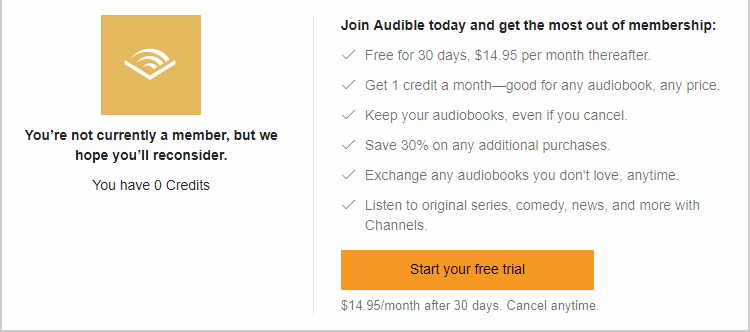 3. Decide – whether you wish to go Pro, and earn some Credits or Start your Free Trial; you have all the time in the world to make up your mind.
Features:
Do you believe in full customer satisfaction? – Well, if you don't, what about having the freedom to cancel your membership at any time, swap books, select your favorites, keep them as long as possible and much more.
If you are not convinced about a specific book, Audible offers a sample, especially if you are reluctant to go for the "full house."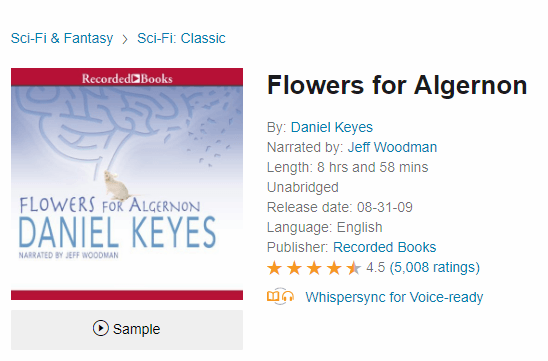 You can get 30% discount on any additional purchases, meaning that Audible sure cares about its trusted friends and long-term customers.
In the picture below, you can see the full membership assets: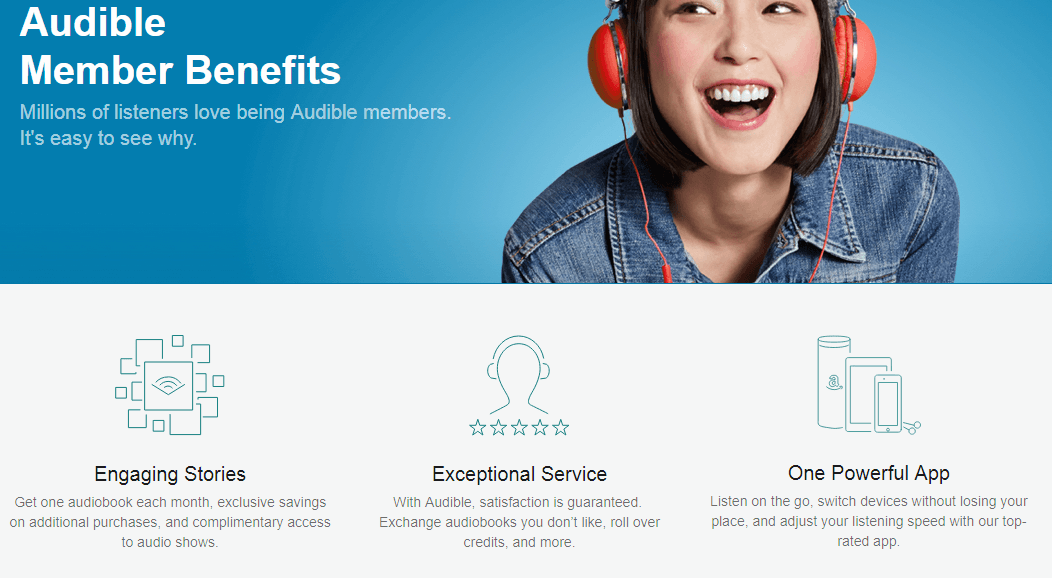 Build your e-book collection, and participate in a secure exchange.
As a service provider- Audible enables its users to cancel their membership, in a blink of an eye. You are not bounded in any way, which can be a decisive asset regardless of the user's current mindset.
Device possibilities: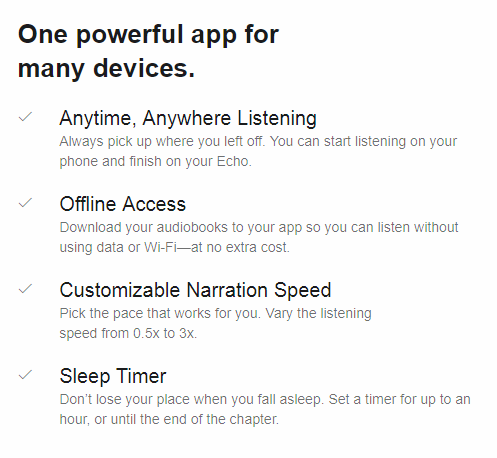 Apparently, users want to know their options right away. The picture below showcases what Audible gives in exchange for your financial and mental eagerness to support their efforts: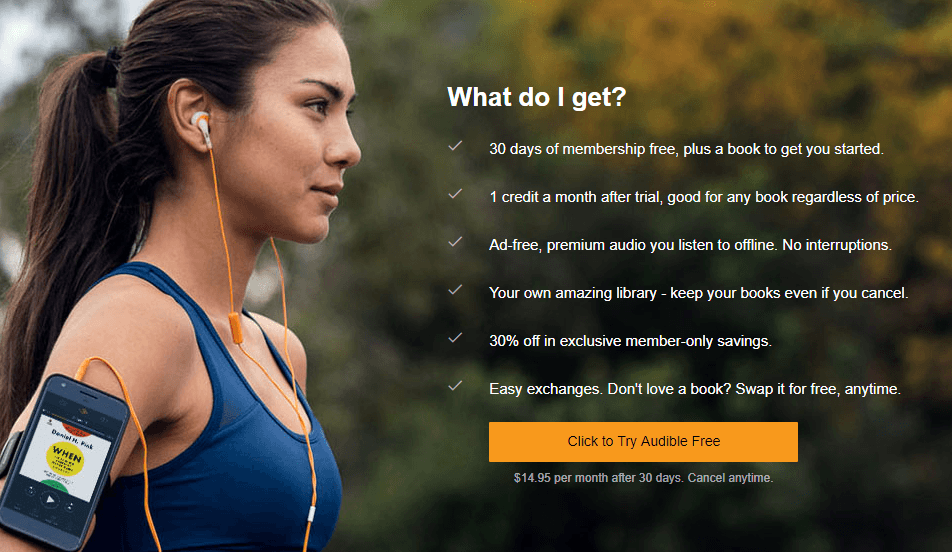 The best part? You no longer need to judge the book by its cover (If U know what We Mean), and if some classic or story is not entraining to you, swapping for another book is a one-step process.
GUI:
Users can quickly enter any of the 180K + Audiobooks, from all categories including, romance, science, marketing, personal development, business books, entrepreneurship, technology, etc.
After you decide to gain the privilege to access any book for a fair price, you'll spot other countless advantages.
Searching for or selecting your targeted books or categories cannot be easier.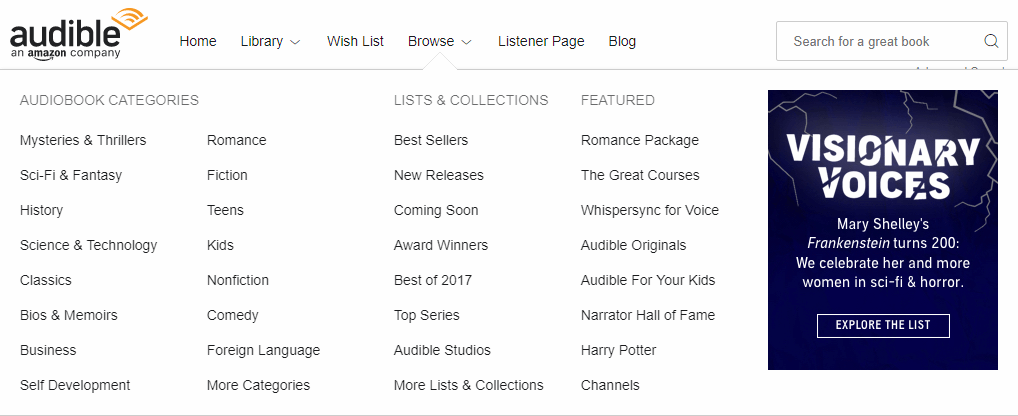 All users can navigate without any particular difficulties, and if they encounter such, the Audible support team is available for resolving such pressing concerns.
Mobile Version and App
50 million downloads should speak for themselves. In our in-depth investigation, we couldn't find anything that can destroy the reputation of the biggest Audiobook provider on the internet.
Even an Internet connection is not necessary to enjoy these enlightening audiobooks.
So, we give thumbs up and 5* Rate for Audible on this one.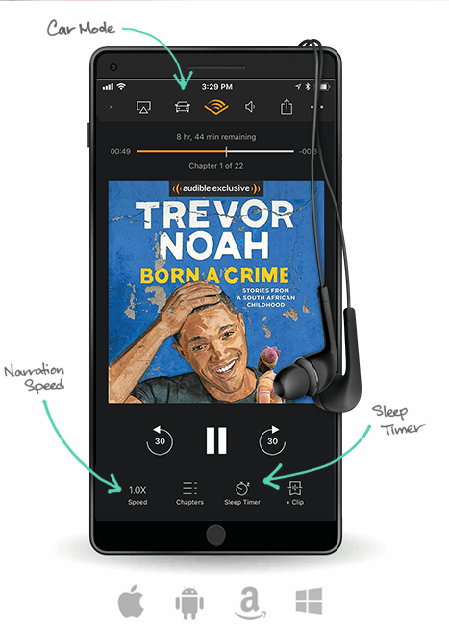 Our Final Notes
In all honesty, we cannot decide which website deserves to take home the three points from today's match.
It all depends on your preferences – if you are not in a hurry, and you wish to absorb more of the book we recommend Audible.
If you just want to get to the core of the book and learn its takeaways, perhaps Blinkist would be the better option.


Just a regular guy with a knack for writing, and digital marketing.
Emir is the Head of International and SEO at 12Min. In his spare time, he loves to meditate and play soccer.