MicroSummary: In 'Delivering Happiness', Tony Hsieh tells the story of his company, Zappos, and demonstrates how long-term thinking and pursuing his passions generate not only profits but also a happy life for its employees, clients and himself. In this book, Tony describes an approach to creating a corporate culture focused on making people around him happy and thereby increasing their happiness.
A Path to Profits, Passion, and Purpose
Most people fantasize about their future happiness and involve in a cause-result type of thinking. For instance, you may think you will be happy when you get the money you wish for or move to the city you want to live in or find that partner in your life.
However, the truth is that all those things you think that your happiness depends upon, are not going to make you happy in the long haul. In fact, there may be so many other things that can create that feeling inside you; you just don't realize it yet.
Happiness is a feeling, and you are in charge of your feelings. In this summary of "Delivering Happiness," we will show you where you can find happiness, and how you can "wake it up" inside you.
So, if you are ready to change your life, it is time you scroll down.
Who Should Read "Delivering Happiness"? and Why?
The people are agreeable on one thing- books that encourage an inner transformation must be written by an individual who has already overcome difficulties and achieved a peaceful state of mind.
Their mindset must be entirely transformed and changed to a point where the reader can see the truth in their lives before the implementation process takes place.
"Delivering Happiness" is a good read for everyone since an inner happiness is a choice that every human being deserves to experience, not an option. It is laughable really that some people think that they're not worthy of it and the sad thing is that no one can help them with that kind of mentality.
Tony encourages you to look deep into your heart and see if you are satisfied with your current life situation.
About Tony Hsieh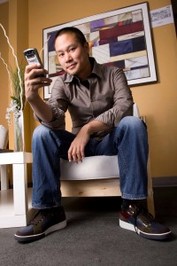 Tony Hsieh is an American-born businessman, author, motivator and internet entrepreneur. He was born on December 12, 1973, in Illinois but he grew up in San Francisco area.
His popularity comes mostly from the executive role that Hsieh enjoys at Zappos.com, Inc where Tony is a CEO.
Moreover, he is also a public speaker, where Tony tries to motivate people to pursue their dreams and take their destiny into their own hands.
"Delivering Happiness Summary"
The author of "Delivering Happiness." Tony Hsieh has a total credibility to teach and explain how a person can become happy. Due to the multimillionaire status that he attained in 1998, at age 24, by selling his very first online startup company to Microsoft for the price of 265 million dollars, Tony experienced success.
If you think that is the peak, anyone wishes to reach you'd be wrong!
Ten years later he sold Zappos for 1.2 billion dollars (Internet Shoe Retailer) to Amazon. The vision, passion, dedication, and integrity that as personable entrepreneur Tony possesses took him to a whole new world of inner joy that in some severe cases may seem like a fairytale story.  
One thing is for sure, a businessman that has accomplished so many things in such a small amount of time is undoubtedly competent to talk about happiness, business growth, flexible mentality and hard work.

So, read on!
His vision differs from others and encompasses different aspects of entrepreneurship by inciting unique brands and refusing to accept upgrades on existing versions and e-commerce imitators. The goal is to develop talents and a unique corporate culture that would ease our everyday difficulties and challenge the digital era that we live in.
In "Delivering Happiness," this is pointed out in a funny and engaging writing style that entertains the reader and encourages everyone to push to the very top.
Hsieh is not among those businessmen who hide their path to success; every detail is presented engagingly so that every reader may easily understand the secrets of his success, including the team struggle (hard working professionals that are responsible for Zappos reputation as a well-known brand).
Now, let's get things clear: "Delivering Happiness" is not just a concept. Instead, it is more like a philosophy that anyone can implement to its business and life overall.
Flexibility and belief in happiness are "blessings in disguise" because they don't provide any material benefit however they are vital to our inner world of happiness and joy. According to Tony Hsieh and his book, all of these talks are meaningless if a person stays his whole life entangled in his/her comfort zone, and not be able to cope with the risks that every business carries.
"Delivering Happiness" is not written to teach you to step out and live, it shows you that you don't have time to lose and if you think that you are not worthy of a better life than you'll be responsible for your misery.
Key Lessons from "Delivering Happiness":
      You must carefully choose your battles and balance your life
      Make your life path
      Be patient, understand your nature and contribute to society
You must carefully choose your battles and balance your life
You must carefully choose your battles; such a challenge occurred in Tony's life shortly after the period of introspection, Hsieh had to pick one option from two possibilities:
walking away from any additional millions that could be earned if he decided to stand with LinkExchange;

to leave that matter aside.
The path that Tony chose was slightly different from regular financial issues that he had faced so far, a deeper understanding of happiness emerged that lead him to believe in happiness as an absolute everyday reality not only as a concept.
Make your life path
Right after graduation, Tony received an offer from Software giant Oracle to work for them on a three-week exciting program; he accepted the offer because the training would lead him to something bigger in his career.

He immediately found the $40,000 salary stimulating, but that wasn't enough since the job that he so craved was boring. Bored, he instantly changed his professional course and started to design websites which represent the foundation of his early success.
Be patient, understand your nature and contribute to society
Shortly after Zappos began to gain extra media attention, Tony realized that the audience requires a speech from an orator or a regular public speaker about the company, which encouraged him to become one.
At first, a little hesitation occurred within his mind, later on, after a series of speeches, his focus shifted on subjects that were much more intriguing and questions that he understood thoroughly. These stories started to sound like personal experiences that gave him the popularity that he enjoys today.
Like this summary? We'd Like to invite you to download our free 12 min app, for more amazing summaries and audiobooks.
"Delivering Happiness" Quotes
Things are never as bad or as good as they seem.
Click To Tweet
I had decided to stop chasing the money, and start chasing the passion.
Click To Tweet
Envision, create, and believe in your own universe, and the universe will form around you.
Click To Tweet
Without conscious and deliberate effort, inertia always wins.
Click To Tweet
There's a difference between knowing the path and walking the path.
Click To Tweet


Our Critical Review
In "Delivering Happiness" you will encounter an abbreviated history of Zappos as well as Tony Hersh's life. If you are familiar with that information or if you are not a fan of autobiographies, you may not enjoy this book as much as readers who are into this genre. In any case, it is nice to read a story of a man's success, and believe you can one day achieve the same.
| New Extended | Delivering Happiness PDF Summary
To build a great company, it is essential to find out what you love to do. This microbook is recommended for anyone interested in conducting a successful business and learning how a company focused on extraordinary customer service, employee happiness, and profitability can coexist.
Let's go?
Discovering What You Love To Do
In both life and business, you will inevitably come up against success and failure. But what matters is finding out the thing for which you are genuinely in love.
Understanding your passion is important because it simplifies all the decisions you have to make.
That allows you to always have a definite goal in mind.
For example, let's say you are an entrepreneur who has been offered an excellent opportunity to sell your business.
If you know you're passionate about your business and love the satisfaction it gives you, the decision to decline offers is easy. A passion for what you do is more important than making lots of money doing things that you hate.
That is why, first of all, you must decide if you will meet the challenge of stopping focusing on just the money and start pursuing your passion.
One way to find it is to venture into many different things to see what works.
At the very least, these experiments will show you what you do not want to do. The more things you eliminate from your list, the more you will know about yourself and the easier it will be to find your real passion.
The closer you get to find it, the less likely you are to go after wrong dreams.
Networking Or True Friendships?
For Tony Hsieh, you should stop worrying about the traditional networking concept.
In a sense he uses, networking occurs when you just seek to meet more people pursuing business goals only. However, just meeting people is not enough.
You need to grow and diversify your network of genuine friendships and deep relationships, where the relationship itself is win-win for both parties.
The more you can diversify your friendships, the more likely it is that you will achieve more prosperity and prosperous business opportunities in the future.
That is a long-term challenge. You do not know what the fruit will reap, but the certainty is that they will magically appear in 2 to 3 years.
Beware of Speed!
Take it easy: Rapid growth can kill your company's culture if the wrong people come in. Stay with employees who share your dream and seek true happiness, aligned with your business vision.
It's exciting when your business grows fast: bursting sales, streaming investments, and newly hired employees almost every week.
But beware of super growth. In fact, consider it a warning sign. Growing up fast can lead to hiring the wrong people, which, in turn, can destroy your company's culture.
Regardless of how fast you need to hire more people, always take the time to weigh each hire carefully.
Be very cautious and do not employ in a hurry. You must be sure that every person who joins your team shares your vision and wants to be part of the company culture that you have created.
Quick decisions about hiring new employees can cause damage to the company's existing culture if new people are looking only for personal gain and career advancement in the short term.
If you make these mistakes, one day you will find that you no longer enjoy working with your company or the people who are part of it.
Tony Hsieh, in his first company, went through this. On the LinkExchange, there was such rapid growth that he did not know some people working in his office.
In the struggle for success, the company hired employees who were not passionate about the company's mission; instead, they were merely seeking a hefty salary to finance their pensions.
That was extremely detrimental to the company's culture.
It's best if your business grows slowly. In this way, the hiring process can be carefully monitored to ensure that everyone on board contributes to the culture you want to create.
Short-term sacrifices to protect the culture of your company are beneficial in the long run.
Make Learning A Priority For All Employees
To build a great company, you must seek both growth and learning. Continued growth should be a goal for your business and for the people who are part of it. It means instigating them to learn new things constantly.
Create a culture that feeds personal and professional development.
Build a library in the office, for example, and give your employees lessons to develop new skills.
Your team should feel that their work is part of a larger purpose and that investing time in personal growth and learning is not only allowed but also encouraged.
Ensure that all of your employees are continually facing new challenges and growth opportunities, so they do not feel immobilized.
As they develop, they can take on more tasks and responsibilities, greatly benefiting their business.
That is precisely what happened at Tony Hsieh's Zappos company: employees grew and developed when they were pushed to meet new challenges, and that experience helped them deal with the problems that Zappos faced itself.
The most valuable expertise a newcomer can have is the ability to learn, grow, and adapt.
A Zappos employee, inspired by the freedom she had to come up with new ideas and deal with more challenging projects, became so confident that she started talking about Zappos at conferences.
Although she started out as a timid operator, she eventually worked her way to a management position.
This growth has also accompanied her personal life, inspiring her to read more, pursue a healthier lifestyle and travel the world. Today, she spends her holidays climbing volcanoes in Central America.
A Larger Purpose Results In Happiness
Seeking a higher purpose means having a goal that goes beyond merely making a profit and growing your business. Although Zappos is a shoe business, it's not really what they're selling. The company has a more significant purpose: to make people happy.
They do this by providing excellent customer service and charming people by exceeding their expectations.
Whether surprising a customer by improving product delivery or by offering free trade, Zappos always has in mind its long-term goal, not just its revenues.
When you have long-term goals in life and business means always having to wonder why you are doing what you are doing.
It means that everything you do should be aligned with your highest purpose. Having that goal and striving for it every day will eventually make you happier.
For Tony Hsieh, the big goal of building a company based on customer satisfaction and creating a culture in which he and his employees believe is happiness. Yours, your employees and your customers.
In deciding to focus his efforts on making happy customers unknowingly, he created a solid foundation for the company to reach $ 1 billion in revenue in 2008, two years ahead of schedule.
The critical decisions that allowed Tony to achieve this were:
Invest more than all competitors in customer service and thus encourage the word of mouth recommendation of the company;
Invest in culture, documenting the company's  values;
Invest in employee training and create career progressions plans;
The rest of your business can be copied, but these values cannot be replicated overnight.
Believe In The Company's Culture
The culture of your company is one of its most essential characteristics. Indeed, it is the brand, and employees are its ambassadors.
That means that you can not base your decisions on recruiting solely on skills and experience.
Preferably, you should hire only people who fit into the company culture; people that you would happily go for a drink after work.
Feeling connected, as if everyone is part of the same tribe, makes people happy and creates a strong sense of obligation to work hard and treat each other well. However, this is not enough. Your team should have shared purposes and passions.
To facilitate this, just hire people who live and breathe their core values, that is, the primary tenets that guide all of your company's business decisions and practices. You can start by looking for people who share your goals.
If you want your company to be a place where employees feel like a family, then hire only people who believe in this idea.
When you bring together people with a common goal, the core values of your business will naturally emerge.
The culture of the company is even more important than customer service. If the culture is right, then excellent customer service will inevitably follow.
For Tony Hsieh, the process of stimulating a great culture involves a lot of trial and error, but the main ingredient seems to be to get the team together and spend time together outside the office.
When the entire Zappos team moved to Las Vegas, they grew up together because they had to tell each other.
Your team does not necessarily have to move to a new city, but the experience helped the Zappos team think about what was collectively important to them. From this experience came its core values.
An example cited by Tony that helps in creating the company culture is what he calls "The Faces Game." While in most companies, when accessing a computer, the user has to enter their username and password only, in Zappos there is an extra step.
When you enter the data, before the machine starts, it shows you the face of a co-worker. You have multiple choice options to hit that person's name. When you get it right, her profile and biography are displayed to you.
That allows people to get to know each other and work better together. It's fun and functional, and everyone follows the rankings of the people with the best memories of the company.
Focus On Existing Clients Or Meeting New Ones?
Common sense says that to grow, you need to find new customers.
Despite this, Tony has a contrary view. At Zappos, he invested little in marketing and focused on keeping his customers happy and getting them to buy more often.
That was a great decision because it put the company's entire focus on customer service. Already in early 2003, all of Zappos' efforts were aligned with one purpose: to deliver happiness to customers.
Focus On One Thing To Be The Best In It
Being merely good at many things is not enough. Identifying a single thing that your company wants to be the best in the world will help you to specialize, stay focused and become great at it.
Tony Hsieh and the Zappos team decided that customer service was the thing they wanted to be great at.
They wanted their service to be so extraordinary that it would bring a delightful experience for their customers, delivering them happiness through excellent service.
Since the culture of a company and its customer service are closely intertwined, excellent customer service and its consequent satisfaction are only possible if you treat your employees well.
Happy employees will be passionate about their jobs and will make customers happy by providing great service.
Tony's most important advice is never to outsource the thing in which you want your company to be the best in the world.
From experience with his old company, he learned that the responsibility of delivering this one thing could not be just one department but extended throughout the company.
Zappos demonstrated its commitment to radically delivering extraordinary customer service by moving its headquarters to Las Vegas, where it would be the location of the customer support call center.
That was Zappos's way of showing that customer service was the top priority for the entire team, including management.
Do not focus on creating a buzz around your company as this is counterproductive and does not produce long-term results. Seek to build trust and commitment by treating people well.
Instead of stressing on how to get media attention, focus on what you do best: deliver excellent service and great customer experience. So the buzz will generate itself naturally.
The goal of your customer service should be to create positive emotional associations with your brand.
Every interaction with him is an opportunity to grow your brand through word of mouth advertising. Deliver great customer service and let them do marketing for you.
Zappos has developed a loyal following thanks to fantastic customer support, particularly through telephone service.
Zappos invests the money it would spend on traditional advertising to enhance its customer experience.
That allows for some perks, such as free shipping on every order, a 365-day exchange policy, unexpected shipment the next day and a wonderful telephone assistance.
Because Zappos went beyond its obligations to impress its customers, buzz naturally popped up about its brand and drew media attention.
When you are doing something that naturally creates interesting stories, people will talk about it, and the media will pick up on it.
Zappos' 10 Values
The Zappos culture was defined and documented in 10 fundamental values. They are:
Delivering WOW on all client experiences;
Embrace and encourage change;
Have fun and be a little weird;
Be adventurous, creative and open-minded;
Search for growth and learning;
Create honest and open relationships;
Create a positive team and family spirit;
Do more with less;
Be passionate and determined;
Be humble;
These are the values that, according to Tony, allow the company to deliver happiness to millions of people every year.
Documenting your company's values is essential to building a consistent identity and knowing if the people around you are aligned toward a common goal.
Use this in your company to have more and happier customers and employees. Deliver happiness!
Final Notes:
Deliver Happiness is a great book on how to build a company and a culture where customer and employees are the central parts. Companies without purpose do not tend to become enduring, so, before starting on the entrepreneurial journey, this reading is mandatory.
Pro Tip: Be sure to follow Tony on Twitter. Over there, he shares dozens of good tips for you to create a champion culture in your company.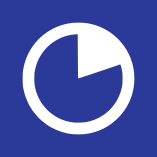 Learn more and more, in the speed that the world demands.