Delivering Happiness: A Path to Profits, Passion, and Purpose by Tony Hsieh
Most people fantasize about making money and indulge in the following type of thinking:
"when I get ___, I will be happy, or when I achieve ___, I will be happy."
The truth is that the things you believe will make you happy, actually won't in the long run. And also, there are things that CAN make you happier, that you may not yet realize.

"The purpose of this book is to give some of the highlights of the path that I took in my journey toward Discovering how to find happiness in business and in life. It wasn't just about the money, we had built a business that combined profits, passion, and purpose. And we knew that it wasn't just about building a business. It was about building a lifestyle that was about delivering happiness to everyone, including ourselves."
---
ACHIEVING HAPPINESS / DELIVERY HAPPINESS
'I made a list of the happiest periods in my life and I realized that none of them involved money.'
---
This is what Tony Hsieh says about this book: Delivering Happiness. He makes an analyses of the happiness path through 3 key-concepts: profits, passion, and purpose.
PROFITS
The majority aims for a high-paying job, no matter the specific job function, company or culture. They just want a job that pays well and doesn't seem like too much work. That is …. until they get bored out of their minds and money is no longer an object.

This is exactly what happened to Tony Hsieh. After graduating and landing a job that "met the criteria", he found himself stuck in boredom. He didn't know what he wanted to do, but he had learned what he didn't want to do. So together with some close friends he started a project that grew quickly and that other people really seemed to appreciate using.
This hyper growth led to hiring people who did not have the same core values as the initial team. And eventually the company transformed from an "all-for-one, one-for-all" team environment to one that was all about politics, positioning and rumors.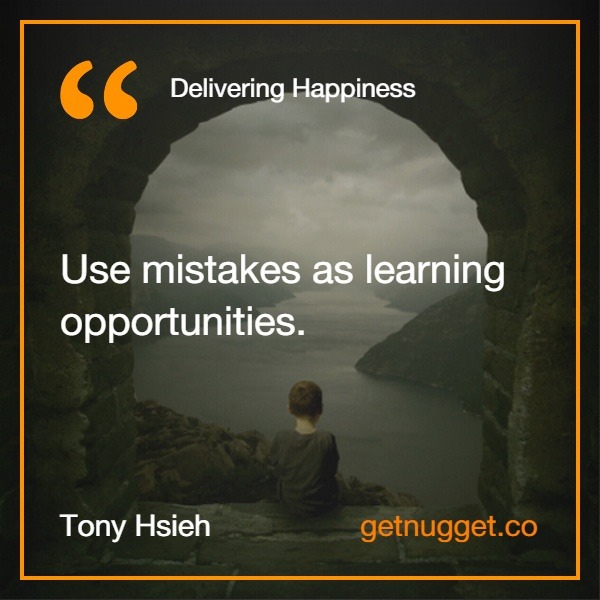 Even though he sold the company for a staggering sum of money, he lacked the fun and excitement of the early days when everyone was in it to participate in something bigger than themselves. Something that had meaning.
And he got to this conclusion: profits alone cannot bring happiness.
PASSION
'It's a bad idea to invest in industries you don't understand, in companies you don't have any control or influence over, or in people you don't know or trust.' @tonyhsieh Click To Tweet
The second time around Tony Hsieh decides to invest time, money and passion in a company with huge market potential.
Now he knows the best teams are those that have the same core values and also interact outside the office environment. Although the company struggles for a few years, every mistake is a learning opportunity that brings them closer to success. To differentiate themselves, they focus on three key areas:
customer service
culture
employee training and development
Their goal is for employees to think of their work not as a job or career, but as a calling. To create an atmosphere of "being in the zone" or flow, where peak performance meets peak engagement and time flies by.
And this time his conclusion was that:
Passion and determination are contagious. Moreover, as character is destiny for individuals, culture is destiny for organizations.
PURPOSE
Because the company's main focus is making sure that every product or service continually WOWs people, eventually the press finds out about it.
As a result, Tony Hsieh is invited to different public speaking events. There he shares as much as possible about how their company does things, in order to help the audience pursue growth and learning.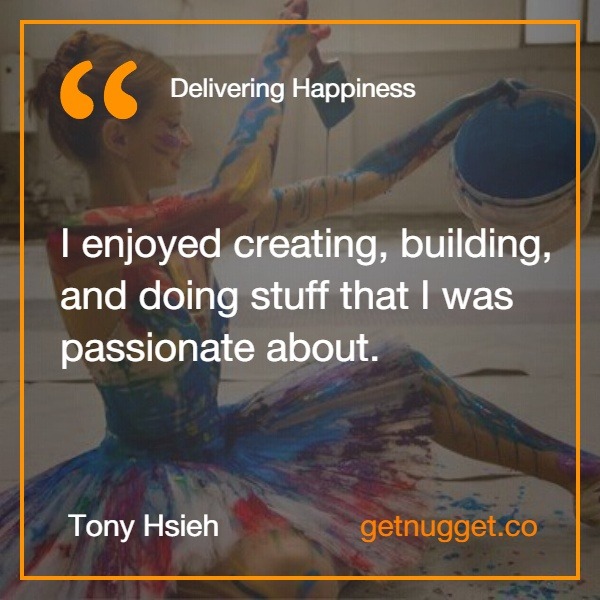 He doesn't participate in these events just to promote the company, but rather because he wants to contribute to a happiness movement to help make the world a better place.
In a few words, his philosophy is that there are three types of happiness:
the pleasure type
the passion type
the hyper-purpose type
Many people go through life chasing after the pleasure type of happiness. And they think that once they are able to sustain that, then they will worry about the passion. And, if they get around to it, look for their higher purpose.
The proper strategy would be to figure out and pursue the higher purpose first, then layer on top of that the passion. And then add on top of that the pleasure type of happiness.
"If happiness is everyone's ultimate goal, wouldn't it be great if we could change the world and get everyone and every business thinking in that context and that framework? What would happen if everyone in the world acted in the same way? What would the world look like? What would the net effect be on the overall happiness in the world?
You too can be a part of a movement to help make the world a happier and better place. The choice is yours".
---
Want to get the full book in Kindle version? Get it from here:



---
Want more nuggets? Subscribe below.