Lean UX Summary – Jeff Gothelf
6 min read ⌚
Applying Lean Principles to Improve User Experience
You know what lean methodology is, but not sure how to apply its principles in your design & development firm?
Enter Jeff Gothelf and Josh Seiden to give you a lesson or two in "Lean UX."
Who Should Read "Lean UX"? And Why?
O'Reilly's "Lean Series" – edited by none other than Eric Reis – brings us a new title: "Lean UX."
Obviously, designers and developers should benefit the most from reading – and applying – the content of this book.
However, project and program managers should find interesting advice here as well.
About Jeff Gothelf and Josh Seiden

Jeff Gothelf is an author, designer, and Agile practitioner.
A sought-after international speaker, he is one of the world's leading voices on topics such as Agile UX and Lean UX.
Together with Josh Seiden, he has co-authored one more book, "Sense & Respond."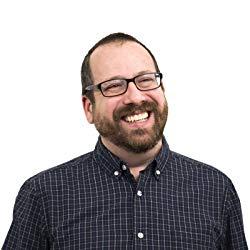 Josh Seiden is an author and UX designer.
He is the founder and past CEO of the Interaction Design Association and is currently a principal at NEO.
Prior to this role, he has held the positions of product design at Liquidnet, and design leader at Cooper.
"Lean UX PDF Summary"
The lean methodology has been stirring up quite a buzz ever since it was first introduced by Eric Ries in his 2011 bestselling book, "The Lean Startup."
In the meantime, O'Reilly Media has published a series of related books – such as Ash Maurya's "Running Lean" or Yoskovitz and Croll's "Lean Analytics" – and quite a few companies have explicitly adopted the lean methodology in their ways of working, General Electric and Dropbox probably the most famous names of the bunch.
Some other companies implicitly use lean business models and practices, since, well, in many cases it is reasonable to use them.
Amazon, for example, makes updates, on average, 5 times in a minute – and what is "lean" if not shortening development cycles through experimentation and iterative product releases?
Jeff Gothelf and Josh Seiden claim that it's about time we translated Eric Ries' vision more methodically in the terminology of user experience design.
It's only appropriate that we start off with Gothelf's and Seiden's disclaimer:
Lean UX is not a set of rules. Instead, it's an approach that you adopt.
And just like Ries' lean startup methodology had a precursor in Taiichi Ohno's lean manufacturing system of the 1990s, Lean UX can firmly plant its roots in the history of the design thinking method, whose five main principles (learning from people, finding patterns, using design principles, making things tangible, and iterating relentlessly) serve as more than just an inspiration for Lean UX.
Its definition?
In the words of the authors,
[Lean UX is] the practice of bringing the true nature of a product to light faster, in a collaborative, cross-functional way.

We work to build a shared understanding of the customers, their needs, our proposed solutions, and our definitions of success.

We prioritize learning over delivery to build evidence for our decisions.
Next, Gothelf and Seiden go over the numerous principles on which Lean UX is more specifically based, and these are all, in turn, organized into three groups:
#1. Principles to Guide Team Organization
A Lean UX team is a small, dedicated, collocated and problem-focused team.
This means that its few members (never more than 10) should collaborate closely and share a similar focus, related to one specific problem.
Also – and this is very important – a Lean UX team should be cross-functional which would grant it just enough autonomy: all Lean UX teams should be self-sufficient and empowered.
#2. Principles to Guide Culture
The Lean UX culture of your company starts with you labeling everything as an assumption until proven otherwise by the Lean UX process. This will allow you to move from a state of doubt to a state of certainty through actual work, instead of through a debate.
Since "Lean UX measures progress in terms of explicitly defined outcomes," these become more important than outputs. As opposed to outputs (features and services), outcomes are meaningful and measurable changes in customer behavior.
Having your outcome in mind should help you remove waste (i.e., anything that doesn't lead to the outcome) and, moreover, reach a shared understanding.
Because Lean UX is always about the team and never about the rock stars, gurus and ninjas – they usually create poisonous work environment.
Finally, Lean UX is also about a company's permission to fail; this permission inspires experimentation and contributes to ultimate greatness.
#3. Principles to Guide Process
All processes should be chunked up in small units, or batches; this mitigates risk in that it allows for changing course at almost all times without ever going too far.
In addition, all processes should be based on the idea of continuous discovery, i.e., doing research "on a frequent basis and a regular rhythm."
Speaking of research: since it should be user-centered, you should GOOB! If you still don't know what you should do, it would be only fair on our part to add that GOOB is Steve Blank's fancy way of saying get out of the building.
Externalizing your work is a must: the earlier it gets to the public, the earlier you know which changes you should make.
This is closely related to the fifth process-guiding principle, i.e., staying away from over-analysis: "there is more value in creating the first version of an idea than spending half a day debating its merits in a conference room."
Finally, getting out of the deliverables business means shifting from documenting processes to achieving desirable outcomes.
Now that you know the principles of Lean UX design let's see how you can put them into practice in our "Key Lessons" section.
Key Lessons from "Lean UX"

1.      Drive Your Vision Through Outcomes and Collaboration
2.      Lean UX Is All About MVPs and Feedbacks
3.      Integrate and Support Lean UX: The 10 Rules
Drive Your Vision Through Outcomes and Collaboration
Lean UX begins with a concern for the outcome – and going straight for it!
So, no deliverables, definitions, and "requirements"; just assumptions and results.
After determining your hypotheses (based on the outcome) – create multidisciplinary teams and proto-personas of your potential buyers.
Then, chunk up the project into small batches and start externalizing as soon as possible, so that you can move from assumptions to facts, from doubt to certainty.
Don't worry about the details: everything will come in its place in time.
Lean UX Is All About MVPs and Feedbacks
Testing your hypotheses means building MVPs, i.e., minimum viable products.
You don't need to design the perfect weekly newsletter if you want to test the hypothesis whether a weekly newsletter will increase your market share!
Just design a simple sketch and/or design it online using the simplest possible wireframes.
If it works – you'll do it better as soon as possible.
If it doesn't – why waste time and energy to design a cutting-edge weekly newsletter when you can use it for something else?
That's basically how feedback helps: every iteration is better than the last one because you have more and more info on what should make it perfect.
Integrate and Support Lean UX: The 10 Rules
To integrate, adjust and optimize Lean UX, it's good if you follow these 10 simple rules:
#1. You can't be a prophet: test your ideas and assumptions.
#2. Focus on outcomes, not deliverables.
#3. Break down silos by creating cross-disciplinary teams.
#4. Everybody should collaborate with everybody: teams should be physically together or, if necessary otherwise, use collaborative online tools. Work is no place for ninjas, gurus and rock stars.
#5. Small problems should be handled by small teams.
#6. Big Design Up Front is a myth – and it may cost you a lot of money; so don't worry about appearances.
#7. Start with notes and sketches and experiment!
#8. Improve and iterate constantly.
#9. Consider the perspective of the others.
#10. Communicate.
Like this summary? We'd like to invite you to download our free 12 min app, for more amazing summaries and audiobooks.
"Lean UX Quotes"
Collaborative design is still a designer-led activity. It's the designer's responsibility to not only call collaborative design meetings but to facilitate them, as well. Click To Tweet
Focus on maximizing two factors: increasing collaboration between client and agency, and working to change the focus from outputs to outcomes. Click To Tweet
MVPs help us test our assumptions – will this tactic achieve the desired outcome? – while minimizing the work we put into unproven ideas. Click To Tweet
The most effective way we found to rally a team around a design direction is through collaboration. Click To Tweet
If you want your stakeholders – both those managing you and those dependent on you – to stay out of your way, make sure that they are aware of your plans. Click To Tweet


Our Critical Review
"Lean UX" has a lot to offer – from applying lean principles to improve UX (as the subtitle of its first edition looks like) to designing great products with agile teams (as the second edition of the book is subtitled).
All in all, a great introduction to UX (even if you have not been introduced so far) and an even better manual for those who are stuck in a less systemic UX approach, which, ironically, means also much more rigorous and more prone-to-failure approach.


Just a regular guy with a knack for writing, and digital marketing.
Emir is the Head of International and SEO at 12Min. In his spare time, he loves to meditate and play soccer.