5 min read ⌚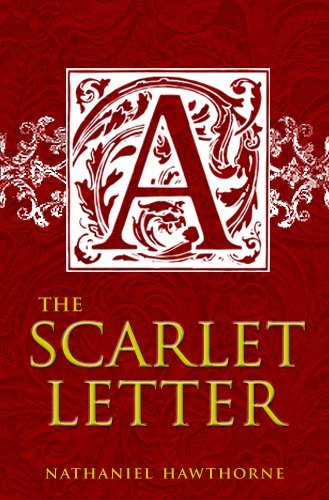 This historical fiction provides a throwback to an era, where individuals were frequently stripped of all basic rights.
Nothing comes close to the idea of allowing everyone to live life by their own standards.
In this book summary, we express our way of perceiving things, and more.
Who Should Read "The Scarlet Letter"? And Why?
When this book was published in 1850, the people were not too pleased with it, to say the least.
Nonetheless, not even time can subside the influence this book has had on untold generations and various profiles of readers.
We believe that "The Scarlet Letter" is suitable for everyone.
Nathaniel Hawthorne Biography

Nathaniel Hawthorne was an American novelist, born in 1804 in Massachusetts.
He is the author of many novels and short-story collections: Fanshawe, Twice-Told Tales, Mosses from an Old Manse, The House of the Seven Gables, The Marble Faun, etc.
Plot
It all starts in the 17th century, in Boston where a crowd is present to witness the punishing process of a woman.
Hester Prynne is in the center of happenings because she gives birth to a child out of wedlock. The father of the child is unknown; it stands to reason that she is portrayed as an immoral woman.
The court decides that wearing a Scarlet "A" on her dress is the best possible punishment – meaning wherever she passes by; she'll be insulted, abused, and cursed by the people. In simple terms, the letter "A" indicates adultery, an action created to label Hester as the "lady of the evening."
In other words, the sentencing part goes smoothly; with high-support from the ordinary people, she is forced to stand on the scaffold for several hours, presented there to be the topic on everyone's lips.
The public humiliation is also stimulated by the scarlet "A" which instigates a new behavior and serve as a lesson for the other people.
Hester's gentle walk and dignity make other women filled with jealousy and hatred. She refuses to abide by the rules of the community, and despite all the pressure the father's name is not revealed.
At one point, Hester raises her head and looks over to the crowd. She lays eyes on not-very tall, strange-looking man, who she believes is her future husband.
This man is disgusted by the way the people try to intimidate Hester and embarks on a journey to find a thing or two about this situation.
In order to get to the bottom of this mystery, this man demands assistance from Roger Chillingworth, to act as his right-hand man in the endeavor of locating the child's father.
Hester is interrogated, or if that sounds too rough, questioned by Arthur Dimmesdale, the Reverend John Wilson. Their efforts don't bear fruits, because Hester keeps the father's name to herself.
Soon after, she is transferred to a prison cell; Roger pays her a visit. He is aware of the chaos and provides Hester with roots and herbs for the baby.
They start an open conversation about the whole "situation," and Hester admits that everything could have been done differently, but it's too late now.
Once again, Hester turns a deaf ear to Roger's demands, to finally unveil the father's name. Nonetheless, he promises that sooner or later he will untangle the mess and discover everything.
Hester agrees that she will never put the cards on the table, regarding the status of Roger Chillingworth (as her husband), if Roger swears that he will not hurt the child's father.
Hester doesn't want to open up about time in prison and moves over to a cottage at the end of the town, to distance herself from everything. Her needlework craftiness provides her with good living. She likes to spend time with her baby girl Pearl and helping the poor.
Her troubles don't seem to back down. Pearl is more and more amazed by the mysterious "A," something that comes as a shock to Hester. Hester is worried because Pearl is isolated and doesn't have any friends to play with.  
Pearl grows up into a temperamental and "any way the wind blows" type of personality. Her impulsive behavior provides a sound basis for rumors to begin – of how she is following in her mother's footsteps.
The church members decide to do something about it and devise a plan to take Pearl away from Hester.
Hester cannot believe her ears, makes up her mind to go a have a word with Governor Bellingham. Hester's desperate appeal is well-received, and the governor agrees to allow Hester to raise Pearl, after the Dimmesdale's request.
Dimmesdale's health issues provide an opportunity for Chillingworth to offer his services and work side by side with the minister. Chillingworth suspects that in Dimmesdale is in disfavor due to some sin; he didn't confess nor acknowledge.
He firmly believes that Dimmesdale is the key to this mystery, and the only person to blame as Pearl's father. Worried not to receive a blemish on his name nor origins, he left Hester at the mercy of others just to save his skin.
Such sense of impurity continues to haunt him, and Dimmesdale wants to confess his guilt, but lacks the courage to do it publicly. Hester, asks for permission to break the vow of silence to her husband.
A few days later, Hester and Dimmesdale meet in the forest, and she tells him about her husband's intentions and thirst for vengeance. Somehow, Dimmesdale is convinced that it's for the best to leave town on a ship and to start over.
On Election Day, Dimmesdale stands up on the scaffold and confesses everything, including his involvement in the whole situation. He dies in Hester's arms, embarrassed by his actions.
Some of the witnesses even say that "A" was carved on his chest, a sign of righteousness and truth. Chillingworth fails to keep his eagerness for revenge and dies shortly after Dimmesdale. Hester inherits a fortune for her, and her daughter.
The Scarlet Letter Epilogue
Several years later, Hester returns to her old-cottage still not deprived of the "privilege" of wearing the letter A.  
She is buried not very far from Dimmesdale's grave – and they both share a simple message engraved on a tombstone that acts as a proof of the adultery they committed.
Like this summary? We'd Like to invite you to download our free 12 min app, for more amazing summaries and audiobooks.
"The Scarlet Letter PDF Quotes"
We dream in our waking moments, and walk in our sleep.
Click To Tweet
She had not known the weight until she felt the freedom.
Click To Tweet
Let men tremble to win the hand of woman, unless they win along with it the utmost passion of her heart!
Click To Tweet
We men of study, whose heads are in our books, have need to be straightly looked after! We dream in our waking moments, and walk in our sleep.
Click To Tweet
There are many things in this world that a child must not ask about.
Click To Tweet


Book Summary
Considered a masterpiece in the American literature, this book encircles the conflict between passion and convention between an ardent young woman, her cowardly lover and her aging vengeful husband.
Needless to say,  this novel provides a broad-looking overview of the society in 17th century America.
According to us, this book is not outdated; on the contrary, it still has a lot to offer to the digital generation.
Enjoyed this book summary? Take a look at "Tell me Three Things" by Julie Buxbaum. A read that has the perfect amount of friendship, humor, emotion, and a touch of romance .


Just a regular guy with a knack for writing, and digital marketing.
Emir is the Head of International and SEO at 12Min. In his spare time, he loves to meditate and play soccer.