The Silent Patient Summary
13 min read ⌚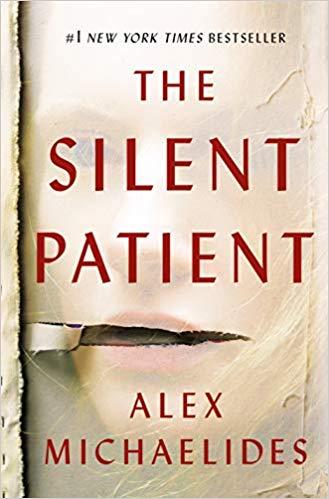 Do you know who Alcestis was?
We guarantee you that you'll do once you finish this book.
Also, we guarantee you a lot of fun and, quite possibly, a dropped jaw.
Ladies and gentlemen, our summary of Alex Michaelides' debut:
Who Should Read "The Silent Patient"? And Why?
Described by its author as "a kind of psychological Agatha Christie," The Silent Patient is more than just another thriller: it is "an unforgettable – and Hollywood-bound – new thriller" (as pronounced by Entertainment Weekly)
If you like detective novels and Hitchcock movies, Michaelides' book is the perfect blend of both; and you'll certainly enjoy it.
Alex Michaelides Biography

Alex Michaelides is an American writer and screenwriter.
Born to a Greek-Cypriot father and English mother in Cyprus in 1977, Michaelides earned an MA in English literature from Cambridge University and an MFA in Screenwriting from the American Film Institute in Los Angeles.
After authoring the screenplays of two widely panned movies – The Devil You Know and The Brits Are Coming – Michaelides turned to writing.
His first novel, The Silent Patient, has received rave reviews and will be adapted into a movie by Brad Pitt's production company, Plan B.
Plot
Described as "the perfect thriller" by none other than A. J. Finn, Alex Michaelides' debut soon-to-be-a-blockbuster-movie novel, The Silent Patient – is mainly narrated from the first-person perspective of Theo Faber, forensic psychotherapist.
However, it is also interspersed with pages taken out of Alicia Berenson's diary, a famous painter, the woman Theo is trying to help.
Even though it can be argued that it doesn't do that much justice to this complexly plotted yet finely narrated and easily readable novel, we'll try to stick to this structure in our summary as well.
Diary Entry #1
The novel begins with a diary entry.
In it, Alicia Berenson expresses her love for her husband Gabriel, implying that this diary exists, in a way, precisely because of it: it is not merely Alicia's outlet but also her means of figuring out her emotions by herself so that she doesn't hurt Gabriel.
Alicia promises that she intends to write only normal things in her diary.
Six Years Later
Six years later, Theo Faber, a forensic psychotherapist with a history of addiction and an abusive childhood, informs us that, for reasons unknown, Alicia Berenson murdered Gabriel six years before the present day.
(Unlike Theo, the dumbfounded readers know immediately that this happened around the time Alicia wrote the diary entry above).
Apparently, after shooting her husband five times in the face, Alicia was found by the police with a gun in her hand, trying to commit suicide.
From then on, she stopped talking, never saying a word to anyone; the only thing of any note she managed to produce in the meantime was a single painting, a naked self-portrait enigmatically titled Alcestis.
Despite the numerous attempts of the media to find out Alicia's motive, this is basically everything anyone knows about the night of the murder.
And that's where Theo comes into play.
Due to his abusive childhood and the fact that he was saved from insanity by his therapist (Ruth), Theo firmly believes that he can save Alicia.
So, he goes to the Grove, a mental asylum where, thanks to its head, Lazarus Diomedes, who advocated it as a better place for her than prison, Alicia Berenson is located at the present moment.
However – and as expected – their first therapy session is a failure: Alicia is heavily medicated, and so, she is not even able to understand Theo, let alone engage in a meaningful conversation.
Theo tries to look for answers elsewhere: he contacts Alicia's brother-in-law Max, and her aunt Lydia; to no avail: they refuse to speak to him as well; we guess it runs in the family.
Speaking of family – we learn soon after that Theo is married to a woman named Kathy.
And he loves her very, very much.
Diary Entry #2
Another page taken from Alicia's diary.
Despite Alicia's promise, this one is definitely not normal; in fact, it is disturbing as hell!
It chronicles the day when Alicia's mother, Eva Rose, slammed a car into a wall, thus quite brutally ending her life.
The problem?
Alicia was in the car as well.
Many years later, in this diary entry, she still wonders if she had been the real target.
Problems in Paradise
Back in the present, Theo asks Lazarus Diomedes to reduce Alicia's medication so that he is able to talk to her; Diomedes agrees.
However, Christian, the head of Alicia's care team, is not that pleased: he thinks that Theo (whom he knows from a previous job) went behind his back; in the end – though reluctantly – he agrees to lower Alicia's dosage.
This bears some results: at the next therapy session, Alicia attacks Theo. In 99 out of 100 cases, that's a bad thing, but you know how psychotherapists are: even bad emotions are better than no emotions.
Theo Faber is certain that a breakthrough is imminent.
Unfortunately, so is a heartbreak: at home, Theo discovers that Kathy, the love of his life, may be cheating on him.
This severely affects him, so at the next therapy session with Alicia, he asks her if, despite their deep and sincere love, a part of her had in fact hated Gabriel – just like a part of him hates Kathy at the moment.
Needless to add, this is yet another question which results in no answer whatsoever. On the contrary in fact: Alicia storms out of the session.
Theo has a session himself. After smoking some marijuana to calm himself, he visits his therapist Ruth who tells him that he should just leave Kathy.
The reason?
Well, she will never love him the way he loves her.
To his surprise, Theo receives a phone call from Max Berenson, Gabriel's adopted brother, and Alicia's lawyer. He suggests to Theo that he contacts Jean-Felix Martin, owner of a small Soho gallery which represents Alicia.
Max's wife Tanya has another suggestion: talk to Paul, she says to Theo on his way out. And Paul is a cousin of Alicia, the son of her aunt Lydia Rose.
Diary Entry #3
From Alicia's next diary entry we learn that this is not exactly a normal family by any standard.
For example, Alicia's seemingly innocent brother-in-law Max – who, by the way, has told Theo that he had adored Gabriel and, thus, now hates Alicia – is a lying bastard (pun unintended.)
Because in this diary entry we learn that it may be the other way around.
You see, years back, Max tried to sexually assault his brother's wife, going so far to even unashamedly declare his love for her.
Alicia believes that he is merely jealous of Gabriel who doesn't find out about the assault because, in Alicia's words, she doesn't want to ruin Gabriel's image of Max.
That's right: it is Gabriel who idolizes him.
So, everything that Max said to Theo is the other way around.
Paul Rose and Jean-Felix Martin
Back in the present, Diomedes advises Theo to stop interviewing Alicia's family members – and to especially stay away from Max.
The Grove has problems staying open the way it is, Diomedes says, and angering a powerful lawyer such as Max will certainly not help them.
Unfortunately, Theo cares more about Alicia than about the Grove.
So, naturally, the very next thing he does is paying Paul and Lydia Rose a visit; it is a completely unannounced one, so you can't blame Paul for knocking out Theo: he thinks that he is a burglar.
However, things go pretty well afterward.
After telling him that he hasn't talked to Alicia for years, Paul reveals to Theo that, in addition to Alicia's mother, her father, Vernon, had also committed suicide.
Quite the family, ha?
And you ain't heard nothing yet!
As Theo deduces from her words and behavior – by the way, she does chase Theo away angrily – both Alicia and Paul might have been abused by Paul's mother, Lydia!
Back at home, Theo learns from Kathy that she is planning a night out with Nicole, an old friend of theirs. Of course, he doesn't believe her, so he resolves to follow her and find out the identity of her possible lover.
And Jean-Felix?
Well, Theo visits him as well at the gallery and, in a brief discussion, realizes that Theo may be in love with Alicia's paintings much more than he was ever with her – as some of her family had initially suspected.
Jean-Felix suggests to Theo that he should read Euripides' play Alcestis.
(By the way, a masterpiece.)
Diary Entry #4
Time for another diary entry.
In this, we learn that Jean-Felix once entered the house of the Berensons unannounced, after which Alicia threatened to leave his gallery altogether.
Even more amusingly, we learn that her cousin Paul is also not that innocent.
Due to some financial problems, he had visited Alicia a few weeks before she murdered Gabriel.
Art Therapy for a Modern Alcestis
After finishing Euripides' play, Theo realizes why Alicia has titled her last self-portrait Alcestis.
In the tragedy, Alcestis sacrifices her life for her husband Admetus – when not even his parents are willing to – only to be taken out of Hades by Heracles. However, after she comes back to earth, she remains completely silent.
Theo explains to Diomedes that this must bear some relation to Alicia's life. She is metaphorically dead, he says, perhaps because she sacrificed a lot of things for her husband and he didn't reciprocate at the same extent.
A great moment to remind you of Theo's personal drama. In his case – if you remember well – it is the other way around: he is the one who gives more in his relationship and, according to Ruth, Kathy is the one who doesn't give back.
Speaking of which, Theo follows Kathy to her alleged meeting with Nicole, only to find out that Kathy isn't lying: she's meeting Nicole, and not the mysterious man Theo believes she's having an affair with.
Is it possible that he has overreacted?
Anyway, since Alicia is not talking, Theo suggests that she undergoes art therapy. Perhaps, he now believes, she'd communicate her thoughts better through her own medium: lines and colors.
The idea is accepted and, within a few days, it results in a strange painting: the Grove on fire, and Theo carrying Alicia in his arms in front of the asylum.
It is, however, difficult to comprehend whether Theo is saving Alicia or dragging her into the flames.
During a visit of hers, Theo gets acquainted with Barbie Hellman, Alicia's neighbor and friend. She learns during a second discussion that Alicia had confided to Barbie that she had a stalker, a fact apparently unknown to anyone else.
Diary Entry #5
And, through a page from Alicia's journal, we learn that Barbie – unlike absolutely everyone else in this novel – is not lying.
Alicia was, indeed, being watched by an unknown stalker.
However, she did tell two other people besides Barbie: Gabriel and Dr. West, neither one of whom believed her.
To make matters worse, they both thought that Alicia is imagining things and Dr. West even suggested that she starts taking some pills.
Alicia agreed to this, but merely pretended to take them: to her, the stalker was real and too menacing to be ignored.
The Diary
At the Grove, Alicia stabs Elif, one of the violent nurses there, with a paintbrush in the eye. From Elif, Theo learns that she did this after Elif taunted her by telling her that Theo was actually in love with her.
Of course, the event puts an end to Alicia's art therapy sessions, and a ban on Theo's visits; Theo visits Alicia one final time to apologize for not helping her as much as he thought he would.
Alicia's answer?
She gives him her diary.
Now, Theo knows everything you know at this point.
And, unlike you, he puts two and two together and realizes that Dr. West must be Christian – unlike you, he does know his surname – and confronts him.
Christian reveals to him that the meetings were secret and tells him everything he knows about Alicia; however, Theo decides that he is a bad doctor, and Alicia a much more honest person than him, so he goes to her and asks about Christian.
Alicia is disappointed by the question and – surprise! surprise! – says nothing, so Theo visits the members of her family and close surroundings, one by one.
The only one willing to talk to him is Paul.
And he tells him something which might reveal the true nature of Alicia's "metaphorical" death.
Namely, soon after Eva Rose's suicide, her husband Vernon asked Alicia why didn't she die instead of her mother.
A great way to guarantee your daughter a lifetime of pain, don't you think?
Anyway, after this discussion, Alicia said to Paul that Vernon had just "killed" her.
Could this explain Alicia acting all Alcestis for the last six years?
Alicia Talks
Theo storms to the Grove once again and tells Alicia the news; Alicia finally – after six years of silence – starts talking.
Session after session (now that Alicia is talking, Diomedes allows the visits, Theo learns everything he needs to learn about her childhood, which, if filmed, would be less believable than a Baron von Munchausen story.
That's how messed up it is!
To sum up for you (and for now):
Both of Alicia's parents killed themselves, and one of them might have even tried to kill her as well.
In the meantime, the other blamed her for this suicide and metaphorically killed her by asking her "why didn't she die?"
Afterward, her aunt abused her and her cousin.
To make matters worse, when she finally got her life in order, her husband's brother professed her love for her and tried to rape her.
And then a man started stalking her – something absolutely nobody believed her.
Back at his house, Theo is not pleased with Kathy refusing to let him walk with her, so he decides to follow her once again. Unfortunately, this time she's not meeting Nicole, but another man; and he's definitely not her friend unless he is a friend with a benefit (if you know what we mean).
One day, Alicia finally opens up about the events which led to the murder of Gabriel.
According to her, it was the stalker who had killed her husband, after tying her up and stealing Gabriel's gun.
Unfortunately, this doesn't match the police report, so Theo is pretty sure that Alicia is lying.
However, he doesn't get the chance to find out more, because the very next day Alicia falls into a coma, after overdosing with morphine.
Theo angrily blames Christian for this and heads back home.
The Silent Patient Epilogue
The Truth About Kathy
Out of his mind, Theo resolves to kill his wife's lover.
So, he follows him to his house, but after noticing a gentle, enamored woman inside and deducing that she must be his wife, he concocts another plan.
Namely, to reveal to his wife what kind of a faithless monster she's living with.
So, eventually, he starts following her.
Prepared for the absolutely unexpected twist?
The woman is actually Alicia and Kathy's lover is none other than Gabriel.
Everything we've summarized in italic so far happened six years ago – and not in the present!
The Final Diary Entry
Before passing out from the morphine, Alicia writes one final diary entry.
In it, she reveals that she had suspected Theo from the start, but it wasn't until later that she found out for sure that he was the stalker.
And what a self-righteous stalker he was!
Apparently, on the night of the murder, Theo broke into the Berenson house and tied up the two spouses.
Alicia begged Theo not to kill her husband, but after Theo asked Gabriel if he should kill him or his wife, he said "Alicia."
Theo merely pretended to have shot Alicia, firing a shot into the ceiling, but Alicia was already metaphorically dead – and for the second time.
Because unlike her and just like Alcestis' husband Admetus, Gabriel wasn't interested in sacrificing himself for her, meaning all his words of love were empty.
So, when Theo left, Alicia grabbed the gun and shot Gabriel five times in the face.
The Epilogue of the Epilogue
In discussion with Indira Sharma, a consultant psychotherapist at the Grove, Theo reveals that it was never his intention for anyone to die.
On the contrary: he merely wanted Alicia to see the truth and seek out a better life for herself, for she had been in the very same position as him in his relationship with Kathy.
He came to the Grove to absolve himself from guilt, but also because he still wants to help Kathy, even though she is in a comma.
Despite this, Theo is frustrated when he is unable to recover Alicia's diary, fearing that its updated version must hold incriminating information against him.
Theo goes home to his wife Kathy who we finally meet her in the present.
She is not that unlike Alicia, a shadow of her former self, mostly silent and incapable of coming to terms with Gabriel's death; she has never admitted her infidelity.
Suddenly, inspector Steven Allen arrives at the house of the Fabers.
He has Alicia's diary in his hands.
Like this summary? We'd like to invite you to download our free 12 min app for more amazing summaries and audiobooks.
"The Silent Patient PDF Quotes"
Remember, love that doesn't include honesty doesn't deserve to be called love.
Click To Tweet
We're all crazy, I believe, just in different ways.
Click To Tweet
Once you name something, it stops you seeing the whole of it, or why it matters. You focus on the word, which is just the tiniest part, really, the tip of an iceberg.
Click To Tweet
You become increasingly comfortable with madness - and not just the madness of others, but your own. We're all crazy, I believe, just in different ways.
Click To Tweet
There's so much pain everywhere, and we just close our eyes to it. The truth is we're all scared. We're terrified of each other.
Click To Tweet

Our Critical Review
Deemed "absolutely brilliant" by Stephen Fry and described as a "smart, sophisticated suspense" by the mind which gave us Jack Reacher, Lee Child, The Silent Patient is not merely a promising start to a superstar career, but also its inevitable highlight, since it is oozing with "the pace and finesse of a master" on every page (BBC Culture).
We enjoyed it, and we're pretty sure that you'll enjoy it too; in fact, we guarantee you that, once you finish it, you'll have a sudden urge to recommend it every book lover in your area.
Wanna bet?



Just a regular guy with a knack for writing, and digital marketing.
Emir is the Head of International and SEO at 12Min. In his spare time, he loves to meditate and play soccer.