Confident Digital Content Summary
5 min read ⌚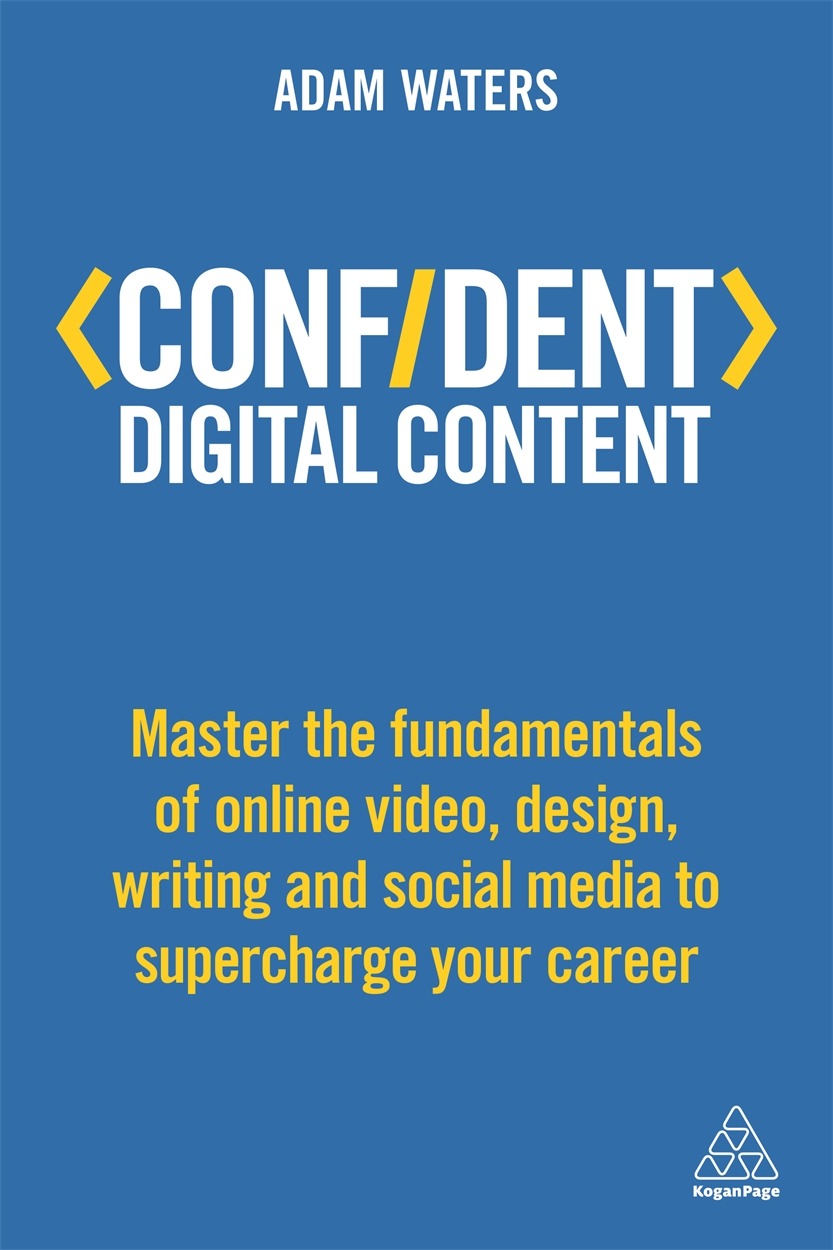 Master the Fundamentals of Online Video, Design, Writing and Social Media to Supercharge Your Career
Are you looking for a way to boost your career? Perhaps, you weren't looking in the right place!
For the time being, it's best if you test all your options and work out a compromise.
We encompass the main findings from this Trendy Book!
Who Should Read "Confident Digital Content"? And Why?
Succeeding in the digital world is proving to be a nightmare for many individuals, agencies, and companies. Due to the intense competition, doing something that stands out from the group is critical.
"Confident Digital Content" is best suited for managers and digital enthusiasts who understand the benefits of producing world-class content.
Learn how to win the lion's share of the revenues in your industry!
About Adam Waters
Adam Waters has spent more than a decade in producing digital content and learning its secrets.
"Confident Digital Content PDF Summary"
Falling to adapt to the digital era, can really put you in an awkward position. Working, creating and restricted to one/several areas because obviously its effects are integrated into every activity.  
Let's say you are a wine importer. Who needs digitalization right? Wrong! Even if you are just starting up, an online presence can give you the edge to find new customers, build partnership and strengthen relationships. It's no longer a "Maybe" it's a "Must"!
The Skills Required for Getting to the Top in the Digital Content Production Wizardry
Experts in digital content creation place emphasis on finding that emotional trigger, which acts as a hook in keeping the audience engaged. Knowing how to get a bit closer is one thing, but understanding why you shouldn't come too close is a process.
It's advisable to have a certain amount of expertise in these aspects as well:
Writing – It comes as no surprise that digital experts should have sharp skills in activating the readers through their ability to write compellingly. They try to keep it simple and clean and avoid sentences, which can't be misconstrued by the wider audience.
A professional tone is recommended but not mandatory – it is on a case to case basis. Pay attention to grammar, and headlines, which must not try to deceit the user into following misleading info.
Video – So, what's the main difference between digital videos and the 60-Second Spot on television. You might want to keep your video as short and concise as possible. Nowadays, internet networks tackle all social and geographical boundaries and allow the users to enjoy their stream anyplace anytime.
Graphic design – Nothing converts better than images, and visual assets that can grab the user's attention in a heartbeat. But, don't forget that some colors and designs are better suited than the others.
For instance, you think it's random that McDonalds uses Red and Yellow in their logo? The psychological effect of Red and Yellow acts as an appetite stimulant!
Layout and the full visual appearance can make a huge difference!
Photography – Taking photos has never been easier. Use your smartphone and post pictures on your Social Media profiles.  For instance, displaying them on Instagram can give you worldwide exposure, something that everyone needs.
Let's give a brief explanation of the most commonly used rule – "rule of thirds." According to this standard, the grid automatically generates three vertical and three horizontal lines, that split the photo into nine equally matched sections or blocks. Many professionals press this rule into service for keeping the focus fixated on the leading edges.
Audio – Digital and SEO experts sing the praises of this possibility due to the numerous benefits deriving from podcasts and other audio materials. The main advantage is manifested through the simplicity of listening audio while you are in a middle of something else.
Your smartphone has all the capabilities it requires to create a great interview experience and much more.
Reach out to the Digital communities – Is it even possible to achieve better market position without introducing yourself to the right audience? Absolutely, not! First of all, understand the needs of the people you are trying to pull and turn them into supporters.
Try to get through all the barriers that prevent you from knowing what your audience is demanding. Find the topics that make them all fired-up. Once you are done with that, take the next step by enforcing a new set of policies which would eventually help you to find the best channels for conveying the message.
Social media – Although social media is growing in popularity, every digital content producer is aware that this is the most fluctuating industry in the world. What facets worked today, may not be applicable the next morning.
Nurturing Digital Culture in the Organization
Proficient and capable leaders are sensitive when it comes to creating a digital culture that will serve as a basis for all decision-making. Here's how to start:
"Single out all digital ambassadors" – These people are your golden goose or the ones whose expertise would come in handy.
"Track your progress" – Digital analytics helps you determine which of the strategies implemented is bearing fruits, and which one should be abandoned.
Key Lessons from "Confident Digital Content"
1.      Digital Content Empowerment through Advertising
2.      Dig deep until you hit the treasure
3.      The perfect Time-Frame for videos
Digital Content Empowerment through Advertising
Let's say that your company sells lipstick for women. Would you prefer that your promotion and commercial efforts are directed towards the female audience, or to all people?
That's the beauty of the digital world; it allows you to customize the marketing endeavors and lend you a hand in the process of presenting the offerings before the target audience.
Dig deep until you hit the treasure
Finding the right people through the right channels and offering them the right services is easier said than done.
But, social media makes it easier. Focus on the channels that may make or break your strategy.
The perfect Time-Frame for videos
A length of 20-30 seconds is definitely the undisputed winner in terms of identifying the ideal video-interval.
According to recently made discoveries, 60% of the people, turn off the sound while watching videos. So, keep that in mind as well!
Like this summary? We'd Like to invite you to download our free 12 min app, for more amazing summaries and audiobooks.
"Confident Digital Content Quotes"
If you want to develop strong digital journalism skills, understanding the tools and techniques available to tell stories quickly and clearly on digital platforms will allow you to thrive.
Click To Tweet
Every time you write, you must ask yourself: Is this as clear and as simple as it could be?
Click To Tweet
The only way you can guarantee failure in life is by never taking a risk at all. You have to experiment with new ways of telling stories or producing content.
Click To Tweet
Focus on what your audience is interested in and how best to tell them…stories.
Click To Tweet
Combining…the smartphone with social networks was revolutionary. People could broadcast to the world from wherever they were.
Click To Tweet


Our Critical Review
Not investing your time and energy in building the perfect digital content is a one-way ticket to disaster.
Adam Waters vouch for every method and technique presented in this book. If you need our advice, then you have the green light to pursue your digital career!


Just a regular guy with a knack for writing, and digital marketing.
Emir is the Head of International and SEO at 12Min. In his spare time, he loves to meditate and play soccer.