Everyone Has A Story Summary
9 min read ⌚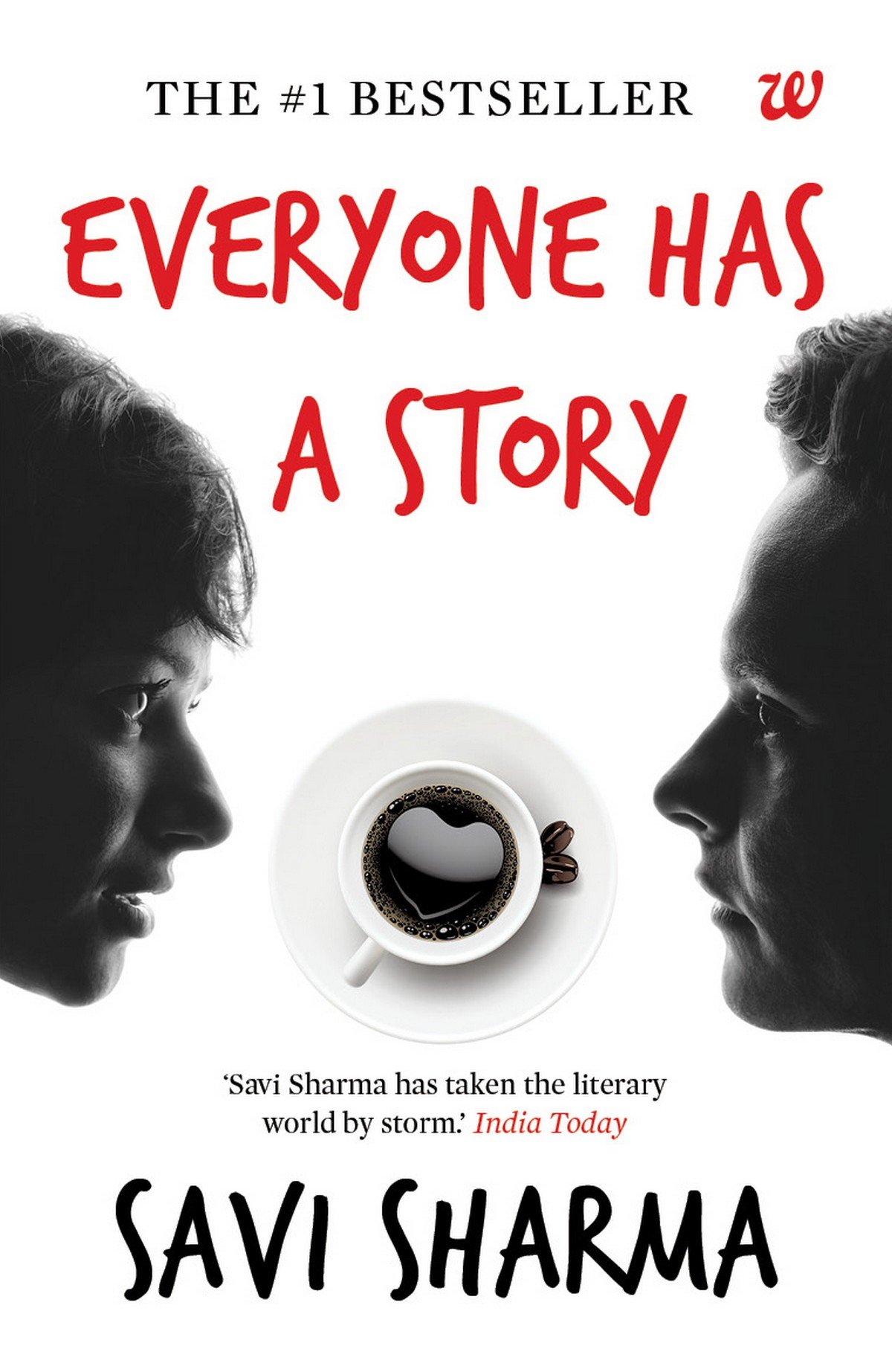 Well, not everyone is willing to share it, but every person has a story to tell.
Savi Sharma moves away from the pretentious lifestyle and brings everyday anecdotes to light.
Let's find out how three different stories are entwined together.
Who Should Read "Everyone Has A Story"? And Why?
The first thing a reader will lay eyes upon is the target audience to whom this novel is addressed. Anyway, you should be honored for having something devoted exclusively to you.
In our opinion "Everyone has a Story" is not only amusing but also practical, due to its casual style that covers the daily lives of the vast majority of people.
We urge you to take a quick glance and unearth the takeaways.
Savi Sharma Biography
Savi Sharma is an Indian novelist and a celebrated author. She has risen to fame not just in India, but throughout the world as India's best selling female author.
One thing is for sure, a lot of good things are coming up from Savi.
Plot
First and foremost, you should know that the author puts three characters in the spotlight:
Meera – A passionate writer who is on the lookout for life-altering stories.

Vivaan – An employee at Citibank and a person who wishes to explore the world.

Kabir – A café manager who seeks a higher meaning to his life; and Nisha who happens to be there.
Meera starts the journey by sharing her desire to interact with other people, listen to their stories and expand her horizons. She recalls her life struggles and how every interviewed individual had something of value to share with the world.
Perhaps this revelation utterly destroys the concept of mediocrity or the idea of being labeled as a drop in the vast ocean. The narrative is in the first person as Meera tries to share her encounters at the café "Coffee & US."
She says: So there I was at Coffee & Us, my hands wrapped around a warm, soothing cup of coffee. I could listen to the world around me, hear the songs of life, or I could put my earplugs in and mute out the world.
Kabir jumps out of nowhere and responds – When are you going to stop dreaming about being an author, Meera, and finally write a book?
We can only imagine the power from this wake-up call. Kabir became her trusted friend, and yet another storyteller on her list. Nonetheless, she wasn't prepared to write that fantastic story just yet, and the search continued.
In a short conversation with Kabir, her eyes opened to the possibility of living the life in moments. Although she felt like something was holding her back, the truth that resides in our hearts is worth exploring.
Arjun Mehra (the Author) joins the scene and casts doubt on everyone's life ideology. His hands, eyes, and heart pointed at Meera, and her voice started to tremble.
He asked: What's your story girl?
She was mesmerized by his openness, smile, and intelligence. She replied: To write like you. Meera was impressed by the people, their everyday struggle, their exit points from this endless circle, but still, the life-changing story hasn't emerged.
We all live in a bunch of lies, and a good storytelling can surely bring balance to this delusional outcome. People require stories, motivation and something to keep them going. Every piece of information, fable, anecdote which can bestow blessings upon them will be considered a noble lie.
Well, let's call it a day, okay? Not quite, as the author turned over to the person sitting behind Meera.
What's your story – he asked? The air filled with confidence, money, and influence as the person replied – I am an assistant branch manager at Citibank.
The room waited for the next query because it seemed like the person became a victim to scrutinization with regards to his willingness to share as much as he deemed appropriate. Mehra became curious about the person's incentives and what propels him to push in life?
Was it the money, or the status generated from it?
Vivaan uncovered the pain that follows his every move, because the money came at a certain price, often at the cost of freedom and real-life pleasures. He also said that traveling is his passion; the very embodiment of freedom.
The big question struck him like a lightning bolt when he was asked to amplify his answer. How will this journey change his life, and why does he put a lot of belief in it? Vivaan expressed his worry due to the daily problems which place a stranglehold on his happiness.
He knew that hinging on material things to fill that void is absurd, but on the other hand, he stormed out of the café, with a lot on his mind. A strained silence is what followed, an unusual moment of deep contemplation!
At that moment, Meera taught that she finally got a story that will lit a fire in the heart of those who read it. It was indeed a breathtaking moment, which filled the air with hope, regardless of all the other predicaments.
It seems like every cloud has a silver lining.
The story about the traveler rose from the ashes, as Meera set her heart on exploring the journey of a traveler. Kabir approached her and asked to share more details regarding the story and perhaps read a few paragraphs.
Upon hearing the central premise of it, he was amazed and urged her never to stop writing. He also said that the rest of it would be even better!
Later on, a young girl approached Meera and gave her a napkin. She was surprised at first, but she was instructed to open the napkin. The unfolded napkin had one word written in it – Beautiful! Surprised, and flattered Meera asked – Who wrote his?
It was the traveler!
She lost him, again, but that gave her a new impetus to persist in the same fashion. Indeed, there's no point in wallowing around in pity but take a firm, decisive step.
It's never easy to conceive a plan, dispel the doubts and follow your heart. That's the lesson Vivaan had to learn, the hard way. He despised the very idea of going to work. Every bone in his body was filling with anxiety upon hearing the word – must.
He was obsessed with the woman who he met during the Arjun's speech at the café. His mind wanted to go there, but his legs played a different tune. The meaning of the note (Beautiful) was twofold. Vivaan couldn't get the brown skin and the twin dimples out of his head, and it became a real struggle to choose a path.
"I wouldn't hurry away a third time" – he said. Vivaan had to summon every ounce of strength to handle the storyteller (Meera) who wholeheartedly wanted to go in-depth regarding the story.
Thinking about Vivaan became somewhat an everyday matter. Reluctant to visit the café once more, Meera pondered about a lot of things. Nonetheless, she got up and hit the road. Upon arriving, she saw Vivaan sitting in the corner, as far away from the crowd as possible.
The conversation began.
She was acutely aware of his body language and embraced a gentle and balanced approach. – "I am eager for you to tell me about yourself "– Meera said.
It wasn't easy to break the ice, but there was a positive atmosphere as if something was cooking. Meera was brimming with excitement to hear more about his endeavors. Vivaan responded by divulging some information regarding his private life, and how he lost his mother as a young boy.
He also lavished a mountain of praises upon his father, who raised him with love and kindness. Meera's eyes filled with tears, but it turned out that Vivaan was not too keen to talk about his loss.
She breathlessly waited for some new fresh information that could pump her up.
He continued – I completed my master's in finance and joined the banking sector. After a few years of hard work and a lot of struggling, I became the youngest assistant branch manager in our company.
The uttered words were filled with pride and satisfaction. The stalemate that occurred shortly afterward took Meera by surprise. That's all – he said.
She couldn't be fooled so quickly, as she felt like something was hiding beneath the surface which manifests status, money and worldly achievements. Vivaan expanded on his "misery" by explaining how his life has very little to do with the term "interesting."
Meera was like a journalist who persists on having the best story at her fingertips. She didn't fall for it and decided to leave no stone unturned. Do you have a girlfriend or a boyfriend? – Meera asked.
Vivaan burst into laughter and said – No, I don't have any. Isn't that a shock? How can someone be so neglected, to the point where sharing a single story seems like a big deal.
Kabir brought the second cup of coffee, and Vivaan implied – Don't you see it, perhaps Kabir has something to share. Meera was not convinced, but she didn't disregard this opportunity as well. Well yeah, his smile is something special, and every customer gets a piece of that cake.
Surely there must be something that incentivizes him to continue down this path, something worth exploring even though you are not privy to his intimate thoughts.
He was given a seat, as they ruminated on his ability to bring joy without uttering a single word. It was a special gift, and perhaps a hack worth sharing with the world.
We'll stop here, and urge you to take a glimpse into this amazing novel. The story is now delivered to your doorstep, all you have to do is receive the gift!
Two years have passed from the moment Meera laid eyes upon Vivaan. His story became the epicenter of the storytelling style she intends to convey. Nothing could deflate the morale now since the book is published.
Meera started alone, but they finished it together.
Kabir has the honors of introducing Meera to the public, and he did so with passion. "The fledgling author" now had to withstand the pressure of the crowd, as she addresses them.
"Remember, everyone has a story. It might or might not be a love story. It could be a story of dreams, friendship, hope, survival or even death. And every story is worth telling. But more than that, it's worth living."
The audience burst into applause, as they realize that the story was actually nothing shorter than a pure masterpiece.
Nisha takes Kabir's hand and put it on her belly; that was just icing on the cake. Vivaan gets up from his seat and strolls into the stage, and the crowd realizes who he actually is.
A girl from the audience asks them: Where will you go?
Vivaan replies – "Anywhere and everywhere. But always together". He kisses her on the forehead and implies that their story is far from over.
Everyone Has A Story 2 – Sequel
Well, Savi decided to give us a sequel to one amazing journey. We'll refrain from revealing much of it, but one should really plunge into this story.
Life tests you, even when you don't hear a shuffle of approaching feet and feel stranded on a deserted island.
One way or the other – Meera, Vivaan, Kabir, Nisha, and many others exist in our lives. In other words, this book's narrative revolves around a central premise – the power of storytelling.
It's perhaps the best surprise looming out of the darkness! Does this idea fill you with dread or you are ready to extoll the virtues of people whose stories are unheard?
We are here to help you find out!


Like this summary? We'd Like to invite you to download our free 12 min app, for more amazing summaries and audiobooks.
"Everyone Has A Story PDF Quotes"
Every single day, another page is added, and as one book finishes, another one starts.
Click To Tweet
In the end, we always regret the choices we didn't make, the love we didn't accept & the dreams we didn't fight for.
Click To Tweet
Everyone is a writer, some are written in the books, and some are confined to hearts.
Click To Tweet
When feelings are pure, and the heart is true, even God is forced to change destiny.
Click To Tweet
Every day, I woke up; I tried to find reasons to live. Every night, when I slept, I tried to find reasons not to die. Every moment, I tried to find reasons to hope, dream and love.
Click To Tweet


Our Critical Review
Truthfully, we only gave you a glimpse into this transformative novel, which will surely arouse a sense of uniqueness from within.
It's needless to say that this life-altering story chronicles the lives of everyday people, which are often neglected and cast aside.
There are plenty of heroes, and Savi undoubtedly knows how to dig them up!


Just a regular guy with a knack for writing, and digital marketing.
Emir is the Head of International and SEO at 12Min. In his spare time, he loves to meditate and play soccer.