DEFINITIVE How to Stop Worrying and Start Living Summary
<1 min read ⌚

MicroSummary: Written in 1948, "How to Stop Worrying and Start Living" by Dale Carnegie has grown to become a self-help classic and one of the best books on self-improvement ever written. It aims to help readers recognize and analyze their worries, before teaching them how to break and conquer the worry habits by cultivating the right mental attitude.
Overcome Worrying with Time-Tested Techniques
Most people are unaware that the power of today exceeds the one of tomorrow or yesterday.
Let's keep this one a secret for quite some time. Or not? Why should we? It's right there in front us, the only thing that can make us happy.
Our book summary lines up all the crucial things from Dale Carnegie's research, linked to happiness.
Don't just stand there, go get your joy!!
Who Should Read "How to Stop Worrying and Start Living"? And Why?
Everything about today and now is worth exploring. Dale wants to encourage each individual to dive into the waters of acceptance, cooperation, and happiness. You want to be happy?- You should stop whining and worry all the time. Thinking about the future is not helpful either. The author targets persons who feel ready to conduct an inner change.
Here's the thing:
It is challenging of course but by focusing on the present moment you'll gradually develop a habit of disregarding all mental concepts that are causing a disturbance. Sometimes it's hard to put the past behind you and carry on. Worrying is not a helpful method when you become nervous your ability to make right decision declines. It all comes down to series of questions- Are you ready? Can you do it? Are you capable of change? What is your inner satisfaction?
About Dale Carnegie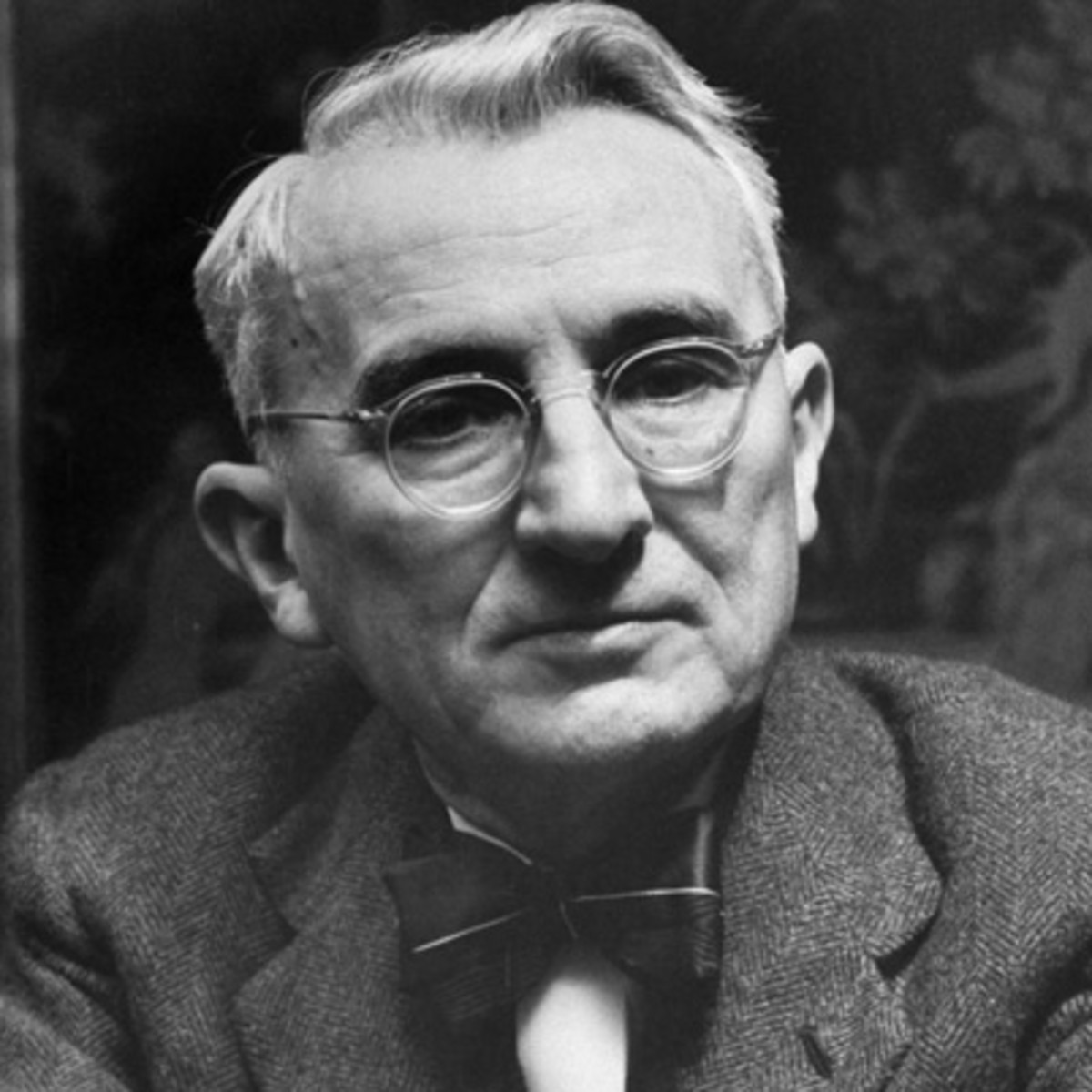 Dale Carnegie was an American-born inspirational lecturer, great writer, and inspiring teacher. He was born on 24 November 1888 in Maryville, Missouri, U.S and the second son of James Carnagey (a poor farmer). During the 40's his books were sold in millions of copies, and during that time Dale comes to a reputation of being among America's greatest writers of the 20th century.
Later on, these books became the foundation for a series of different inspiration seminars and self-improvement programs for all sorts of people. Among his greatest masterpieces, several are worth mentioning: "How to Win Friends and Influence People," "How to Enjoy Your Life and Your Job" "How to Stop Worrying and Start Living," and "The Quick and Easy Way to Effective Speaking." On November 1, 1955, United States of America lost one of the greatest authors of the 20th century.
"How to Stop Worrying and Start Living Summary"
Constant worrying and negative attitude will get you nowhere — just guide yourself like Dale Carnegie who says – examine the problem at first, focus on finding answers to resolve the issue, and stop whining about the present situation.
Dale Carnegie compiles various aspects of wisdom based on principles on how to immediately overcome your concernment notion about things that are beyond your reach.
As a reader, you'll find some fundamental principles outlined by Dale that will help you to stop worrying all the time. His full bucket of information is drawn from reliable sources, from genuine people who have tasted the smell of inner peace and satisfaction, and from the accurate quotes of ancient philosophers, modern leaders, and others.
Here's why Dale should be trusted:
Some may say that because Carnegie wrote his principles in the early 40's – the people have to be aware that some of his tips and examples may seem a little conservative.
In fact, his principles are guided by one timeless nature – which made him so ahead of his time. With an easy readability and expressed in a personal way "How to Worrying and Start Living" book draws attention within a minute. Carnegie draws from other people's experiences and his own life to explain a dozen of different techniques for living a peaceful life without any unnecessary worries.
"How to Stop Worrying and Start Living" falls into self-help book category and as such is recommended for anyone eager to understand our true nature.
Stay with us to learn more "worrying less" kind of mentality:
To get the best out of this guidebook, you have to comprehend the fundamental principles that the author refers to and think over and over again on how to apply them in your own life. Afterward, it is vital to use them whenever you have the opportunity for such an activity. If you crave deeply for a better life, Dale even suggests that a person should keep a diary that is going to remind that individual how and when those principles were being used.
Beware, Dale's got a lot more to offer:
Always strive for improvement and always engage yourself fully in every matter. These vital principles represent an excellent remedy for worrying too much including tips for a more balanced life.
First of all, you have to stop living in the past, live in the now all the time: We all have that habit of reminiscing too often, that attitude takes us way back in the past where we are unconsciously searching for some mistakes to blame ourselves for and others.
However, it is not all lost, if you understand the true meaning of this principle, you would leave your worries aside and start focusing on real things.
To sum it up, we go with the main findings:
Key Lessons from "How to Stop Worrying and Start Living"
Worrying is just an expression of fear

Firstly, understand the issues and stop complaining about it

Focus on something you love doing
Worrying is just an expression of fear
According to Dale, there is another helpful method that can also reduce the distressing notion, all you need to do is to understand the dangers that anxiety can cause. Many spiritual teachers claim that actual reason for anxiety and unhappiness is fear. When a person starts worrying too often it becomes tense and anxious, these sensations affect the entire body and in some severe cases can even cause serious illness.
Firstly, understand the issue and stop complaining about it
You'll automatically worry much less if you immediately analyze the problem. At first, a person has to collect all the facts. The next step would be to examine those facts. Finally, the most important step is to make a decision related to the subject. Once the facts are being accumulated, it is imperative that you do something about the present situation.
Focus on something you love doing
You can apply one unique technique to remove the worries out of your mind by getting in touch with more pressing matters. Our mind is limited to being in two places at the same time. Transform your mindset, and set your focus on something you enjoy doing.
Like this summary? We'd Like to invite you to download our free 12 min app, for more amazing summaries and audiobooks.
"How to Stop Worrying and Start Living" Quotes
Our thoughts make us what we are.
Click To Tweet
No matter what happens, always be yourself.
Click To Tweet
Today is our most precious possession. It is our only sure possession.
Click To Tweet
Nobody kicks a dead dog.
Click To Tweet
Nobody is so miserable as he who longs to be somebody and something other than the person he is in body and mind.
Click To Tweet


Our Critical Review
As an easy-going and highly digestible book, it will immediately help you to get on your feet, and once for all deal with those self-destructive concepts that create divisions in your head.


Just a regular guy with a knack for writing, and digital marketing.
Emir is the Head of International and SEO at 12Min. In his spare time, he loves to meditate and play soccer.