Pour Your Heart Into It Summary
2 min read ⌚
Everyone in the United States is impressed: Starbucks is everywhere! Do you know the history of this thriving coffee shop? In Pour Your Heart Into It, CEO Howard Schultz tells what steps he has taken to make Starbucks the world's best-known cafe.
If you want to know more about the growth of this organization and its values, don't miss this 12min microbook!
The Starbucks differential
Early on, Starbucks grew from a single store to five in Seattle, comfortably serving a growing niche in the market, despite the economic woes at the time. The founder's passion and the sharing of coffee knowledge with customers made Starbucks popular with coffee consumers in Seattle.
By educating its customers about the different types of coffees, Starbucks differentiated itself from other conventional companies. Their coffees, being roasted individually in front of the customer, turned out to be the best coffee available in the United States.
Howard Schultz had a humble background, designing houses until he built a successful career as general manager of the Swedish company Hammerplast, selling kitchen components in the United States.
Eventually, after observing for a year, Schultz joined Starbucks with a small capital to handle marketing; with the goal of making Starbucks a national company.
A vision, an idea, and an opportunity
Drinking coffee should be part of a community's social life, and it was based on this notion that Starbucks achieved fame. The coffee shop is an extension of people's homes and should be places where you can sit down, drink coffee, and interact with others, strangers and friends alike.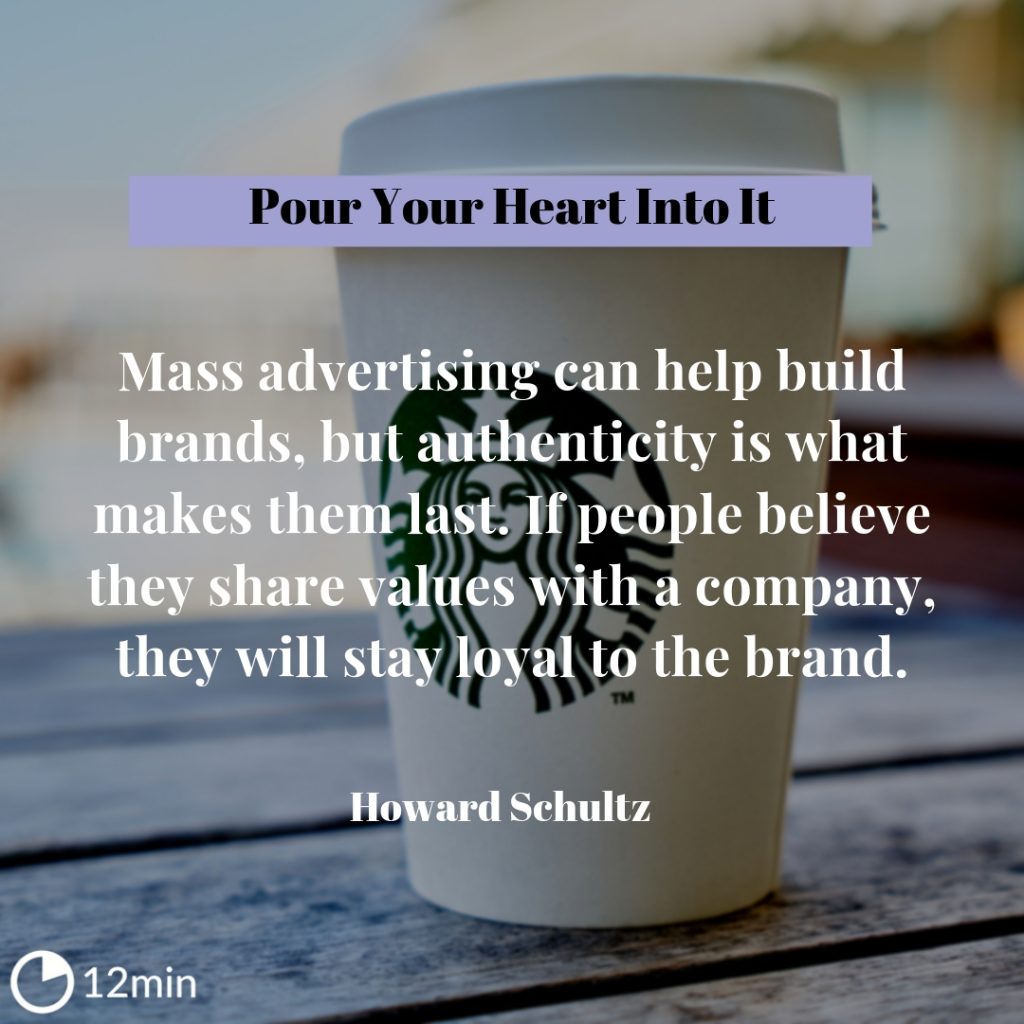 After returning from a trip to Italy, Schultz presented his ideas to the founders. His vision of expanding the business like a coffee shop serving fresh coffee, and especially lattes, was not well accepted. Starbucks, for the owners, was in the business of selling roasted coffee beans, not the restaurant business. For months, Schultz persisted in presenting the same idea countless times and was rejected every time.

Conflicts, of ideas or personalities, are the forces behind changes in corporate cultures. In the end, Schultz decided to set up his own company with the idea of ​​selling espresso coffees all over Seattle.

[blur]Baldwin, along with the rest of Starbucks' directors, supported Schultz's departure from the company and allowed him to stay for a few more months as he got set up. Baldwin even helped him with the capitalization, providing $150,000 as an investment seed. A new beginning Schultz opened his coffee shop called II Giornale while bringing a new experience inspired by Italy. Selling espresso and organizing coffee shops in the United States was a new phenomenon that Schultz thought would be a successful venture. It took four years to get the business profitable and supported by investors. All his investors have invested in him and not in his ideas. His passion for coffee and his desire to succeed boosted him. From inviting investors to raising their target capital of $ 1.25 million, until they chose the people who would run the business, Schultz showed how he could overcome all the challenges.[/blur]


Just a regular guy with a knack for writing, and digital marketing.
Emir is the Head of International and SEO at 12Min. In his spare time, he loves to meditate and play soccer.