Seth Godin – A Journey of 100 Steps
6 min read ⌚
There are few people more famous in any area than Seth Godin in the field of marketing. However, with a career more varied than your DNA, Godin is so much more than the world's most wanted marketer: an author of eighteen bestsellers, a founder of few companies, popular speaker, trendsetter, mind-changer, paradigm-shifter.
Who Is Seth Godin?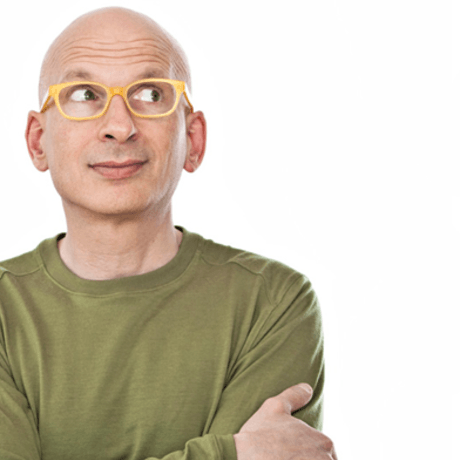 Seth Godin was born on July 10, 1960, in Mount Vernon, New York, which would make him about a century – and four years – older than Nikola Tesla.
Yes, that's our fancy way of saying that those two share a birthday. But no – this doesn't mean that people born on July 10 are destined to be great. After all, Jessica Simpson was born on the same day
Now, if things had worked out differently, Godin might have had a lot more in common with Tesla, because the first degree he obtained was in computer science and philosophy from Tufts University. However, just after graduation, he got a job as a brand manager at the then newly formed educational software company, Spinnaker Software.
He left the company just four years later, using all of his savings – about $20,000 – to found a book-packaging business, Seth Godin Productions. He would later sell the business to his employees, focusing all of his energy on Yoyodyne, one of the first online marketing companies in history.
Named after a fictional company from a 1984 SF adventure with a lengthy title, "The Adventures of Buckaroo Banzai Across the 8th Dimension," Yoyodyne used online games and scavenger hunts to market companies to participating users.
By this time, Godin felt that he had found his calling, so he enrolled at the Stanford Graduate School of Business, from where he subsequently got his MBA in marketing.
Ironically, it was during this period that he started working on a book which would soon become part of many business schools' curricula: "Permission Marketing: Turning Strangers into Friends and Friends into Customers."
Published in 1999, the book was not merely a bestseller, but also a seminal achievement. It introduced the world to the concept of permission marketing, a non-traditional technique which, unlike those preceding it, saw marketing the same way our laws see sex: as a consensual activity.
Direct mails, telemarketing calls, TV ads – they were all suddenly a thing of the past, too pushy and obtrusive to give you the wanted results. Namely, an intravenous relationship with your clients who will trust you as much as they trust their doctors.
Godin followed the success of "Permission Marketing" with many more bestsellers, three of which we've picked as his best below. However, we had a hard time choosing them, since Godin's name appears above few other titles so essential that you may have already heard them, even if you don't know who Seth Godin is.
(We are aware that the second part of the previous sentence targeted no more than two of our readers.)
"Unleashing the Ideavirus" – the most popular eBook in history (a free PDF of which you can download here) – discusses how you can (and can't) turn an idea into a viral phenomenon. If you haven't before – see Seth Godin's TED Talk on the topic.
The 2005 classic "All Marketers Are Liars" examines how marketers should use the inherent human passion for storytelling; humans seem to prefer well-told truthful stories to blatant honesty.
"Poke the Box" is a book which demonstrates how and why you should take an initiative no matter how little authority you think you have. "The Dip," on the other hand – as its subtitle succinctly states – is a little book that teaches you when to quit (and when to stick).
In 1998, Seth Godin sold Yoyodyne to Yahoo for about $30 million and became the company's vice president of direct marketing. Eighty years later he launched Squidoo, an article-writing revenue-sharing site which, at one point, was among the Top 500 sites in the world.
Speaking of which, Seth Godin blog is undoubtedly one of the most popular blogs in history. It's so popular, in fact, that, believe it or not, it will come up third on Google's first page if you type nothing more than "seth"!
Being aware of your fear is smart. Overcoming it is the mark of a successful person.
Best Seth Godin Books
#1. Purple Cow Summary: Transform Your Business by Being Remarkable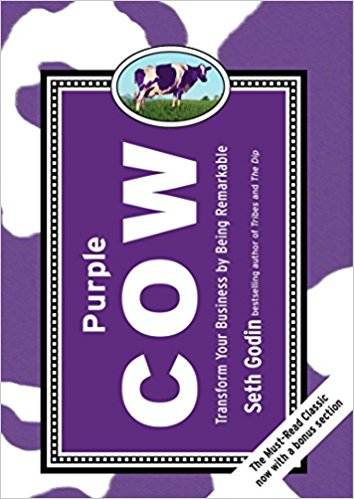 In a world of million products and billion commercials – writes Seth Godin in his phenomenal book "Purple Cow" – "your one chance for success is to be remarkable."
In other words: you won't notice a white cow among white cows – especially if you're not interested in cows in the first place. But a purple one? You'll spot it instantaneously even if you don't want to!
So, Seth Godin advises you, put a purple cow in everything you do. Make something which will stand out by being so counter-intuitive and surprising that you won't be able to tell from the start whether it will be a success or a flop.
Because, you see, in a crowded marketplace, "the old ways of marketing are dead – and being safe is now too risky." "Purple Cow" is about the very opposite: risk with a purple cow and you will be safe among the white ones.
The best the timid can hope for is to be unnoticed. Criticism comes to those who stand out.
#2. Tribes Summary: We Need You to Lead Us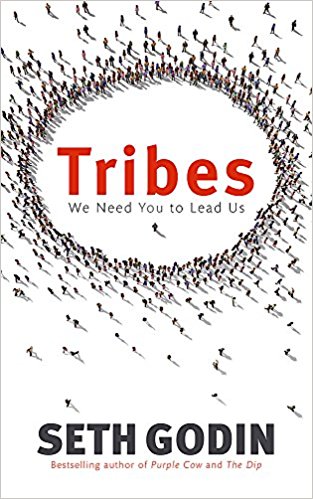 Remember William Golding's "Lord of the Flies"? If there's one thing that book taught you it should have been probably this: even if you are just a child stuck on a desert island among other children, you will bound to become either a leader or a follower.
Because it's in our human nature to be one or the other. Want to be a leader, asks Seth Godin in "Tribes"? Then, gather your scattered followers on a desert island and turn them into a tribe. It's as easy as 1-2-3! You just need to have a desire, an ability to connect people, and a willingness to lead them.
The best thing?
The Internet has made it possible for you to gather your followers virtually. So, you don't need a desert island. Just a computer. And few Seth Godin advices you can read in "Tribes."
For millions of years, human beings have been part of one tribe or another. A group needs only two things to be a tribe: a shared interest and a way to communicate.
#3. Linchpin Summary: Are You Indispensable?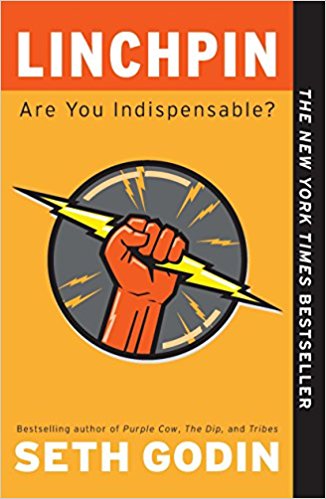 The world is changed. I feel it in… well, neither in the water nor in the earth or the air. I feel it in the fact that there is one more team in the workplace, other than management and labor. The linchpins.
Now, what would Karl Marx say about this, Seth Godin?
Well, if you ask us, he would be thrilled to find out that there's one more solution to the class struggle and that it doesn't involve revolutions and bloodsheds. And that it is a Hegelian, mind you!
Because, as Godin writes in "Linchpin," this new category of workers is something the world has never seen before. They are the people who love their work, the intermediaries who solve conflicts, the go-to guys for moments when the traditional rules don't apply anymore.
Want to be indispensable?
Be a linchpin!
I call the process of doing your art 'the work.' It's possible to have a job and do the work, too. In fact, that's how you become a linchpin. The job is not the work.
Like this summary? We'd Like to invite you to download our free 12 min app, for more amazing summaries and audiobooks.


"Seth Godin Quotes"
The old rule was this: create safe, ordinary products and combine them with great marketing. The new rule is: create remarkable products that the right people seek out.
Click To Tweet
In your career, even more than for a brand, being safe is risky. The path to lifetime job security is to be remarkable.
Click To Tweet
Your art is what you do when no one can tell you exactly how to do it. Your art is the act of taking personal responsibility, challenging the status quo, and changing people.
Click To Tweet
The secret of leadership is simple: Do what you believe in. Paint a picture of the future. Go there. People will follow.
Click To Tweet
In a battle between two ideas, the best one doesn't necessarily win. No, the idea that wins is the one with the most fearless heretic behind it.
Click To Tweet
Final Notes
In the two decades between his debut, "The Smiley Dictionary" and his, so far, last book, "What to Do When It's Your Turn," Seth Godin has written and published 18 books – which amounts to about a book per year. The fascinating thing is that almost each and every one of his books is still an event.
Consequently, Seth Godin's induction in "The Marketing Hall of Fame" in the Class of 2018 (it should happen in less than a month after this article is published), is not at all surprising. It's merely an expected development.


Just a regular guy with a knack for writing, and digital marketing.
Emir is the Head of International and SEO at 12Min. In his spare time, he loves to meditate and play soccer.