Seth Godin – A Journey of 100 Steps
6 min read ⌚
There are few people more famous in any area than Seth Godin in the field of marketing. However, with a career more varied than your DNA, Godin is so much more than the world's most wanted marketer: an author of eighteen bestsellers, a founder of few companies, popular speaker, trendsetter, mind-changer, paradigm-shifter.
Who Is Seth Godin?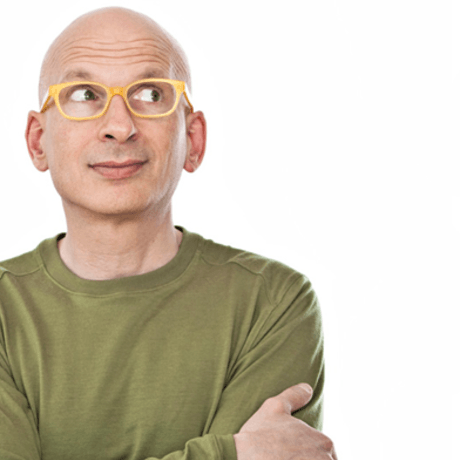 Seth Godin was born on July 10, 1960, in Mount Vernon, New York, which would make him about a century – and four years – older than Nikola Tesla.
Yes, that's our fancy way of saying that those two share a birthday. But no – this doesn't mean that people born on July 10 are destined to be great. After all, Jessica Simpson was born on the same day
Now, if things had worked out differently, Godin might have had a lot more in common with Tesla, because the first degree he obtained was in computer science and philosophy from Tufts University. However, just after graduation, he got a job as a brand manager at the then newly formed educational software company, Spinnaker Software.
He left the company just four years later, using all of his savings – about $20,000 – to found a book-packaging business, Seth Godin Productions. He would later sell the business to his employees, focusing all of his energy on Yoyodyne, one of the first online marketing companies in history.
Named after a fictional company from a 1984 SF adventure with a lengthy title, "The Adventures of Buckaroo Banzai Across the 8th Dimension," Yoyodyne used online games and scavenger hunts to market companies to participating users.
By this time, Godin felt that he had found his calling, so he enrolled at the Stanford Graduate School of Business, from where he subsequently got his MBA in marketing.
Ironically, it was during this period that he started working on a book which would soon become part of many business schools' curricula: "Permission Marketing: Turning Strangers into Friends and Friends into Customers."
Published in 1999, the book was not merely a bestseller, but also a seminal achievement. It introduced the world to the concept of permission marketing, a non-traditional technique which, unlike those preceding it, saw marketing the same way our laws see sex: as a consensual activity.
Direct mails, telemarketing calls, TV ads – they were all suddenly a thing of the past, too pushy and obtrusive to give you the wanted results. Namely, an intravenous relationship with your clients who will trust you as much as they trust their doctors.
Godin followed the success of "Permission Marketing" with many more bestsellers, three of which we've picked as his best below. However, we had a hard time choosing them, since Godin's name appears above few other titles so essential that you may have already heard them, even if you don't know who Seth Godin is.