Simon Sinek – A Journey of 100 Steps
5 min read ⌚
Type "Simon Sinek Quotes" and you get adjectives such as "amazing," "inspirational," and "awe-inspiring." Type "Simon Sinek YouTube" and, among the results, you read things like "best speech ever" or "the video that will change your life." Finally, type "Simon Sinek TED Talk" and you've just stumbled upon the third most watched TED Talk video in history.
People with such a portfolio don't need a special introduction, do they?
Who Is Simon Sinek?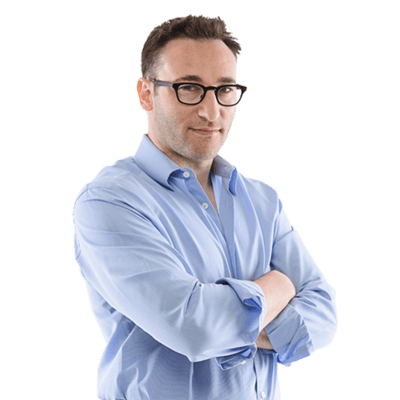 As you may sometimes discern (if you are a language Sherlock Holmes, that is) from his somewhat strange-sounding accent, Simon Sinek was born in Wimbledon on 9 October 1973. Come to think of it, he could have been named Sebastian or Scott – but he was certainly not going to be a John or a Mark.
Because we believe that his family has a knack for the letter "S."
Don't believe us?
Well, his father's name is Steve, his mother is called Susan, and his sister's name is Sara. And if that isn't enough for you, his mother has authored a desserts book.
Its title?
"Simply Scrumptious"! Now, don't tell us that this isn't some kind of a pattern!
By this point, somewhat unsurprisingly, Simon Sinek spent most of his childhood in South Africa. And that's where the pattern breaks because afterward, his family moved to Hong Kong and London before Simon finally settled in the U.S.A.
He graduated in 1991 from Northern Valley Regional High School at Demarest, New Jersey, before completing a BA in cultural anthropology at Brandeis University. Planning to become a Barrister, Sinek went back to England and enrolled at City University London to study law. However, after a while, he left his studies to focus on a career in advertising.
He worked at Euro RSCG and Ogilvy & Mather, before launching his own business, SinekPartners.