Simon Sinek – A Journey of 100 Steps
5 min read ⌚
Type "Simon Sinek Quotes" and you get adjectives such as "amazing," "inspirational," and "awe-inspiring." Type "Simon Sinek YouTube" and, among the results, you read things like "best speech ever" or "the video that will change your life." Finally, type "Simon Sinek TED Talk" and you've just stumbled upon the third most watched TED Talk video in history.
People with such a portfolio don't need a special introduction, do they?
Who Is Simon Sinek?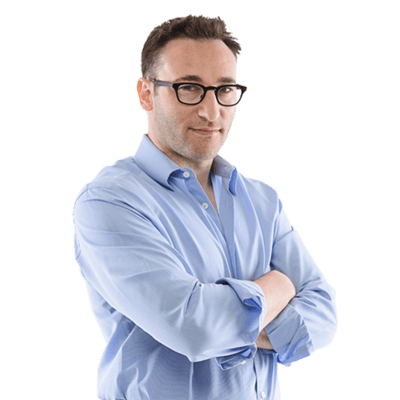 As you may sometimes discern (if you are a language Sherlock Holmes, that is) from his somewhat strange-sounding accent, Simon Sinek was born in Wimbledon on 9 October 1973. Come to think of it, he could have been named Sebastian or Scott – but he was certainly not going to be a John or a Mark.
Because we believe that his family has a knack for the letter "S."
Don't believe us?
Well, his father's name is Steve, his mother is called Susan, and his sister's name is Sara. And if that isn't enough for you, his mother has authored a desserts book.
Its title?
"Simply Scrumptious"! Now, don't tell us that this isn't some kind of a pattern!
By this point, somewhat unsurprisingly, Simon Sinek spent most of his childhood in South Africa. And that's where the pattern breaks because afterward, his family moved to Hong Kong and London before Simon finally settled in the U.S.A.
He graduated in 1991 from Northern Valley Regional High School at Demarest, New Jersey, before completing a BA in cultural anthropology at Brandeis University. Planning to become a Barrister, Sinek went back to England and enrolled at City University London to study law. However, after a while, he left his studies to focus on a career in advertising.
He worked at Euro RSCG and Ogilvy & Mather, before launching his own business, SinekPartners.
His life changed in 2009 after he published his first book, "Start with Why," and presented its ideas in an ultra-popular TED Talk which has been so far viewed by almost 40 million people.
In 2014, he published "Leaders Eat Last" which repeated the success of "Start with Why." Since then, he has published two more books, "Together Is Better: A Little Book of Inspiration" and "Find Your Why."
Analysists approximate that Simon Sinek's total net worth is in the range of $15 million. We approximate that his next book will make him even richer, since it will be another bestseller.
And we also hypothesize that you're going to love each of these books!
There are only two ways to influence human behavior: you can manipulate it, or you can inspire it.
Best Simon Sinek Books
#1. Start with Why Summary: How Great Leaders Inspire Everyone to Take Action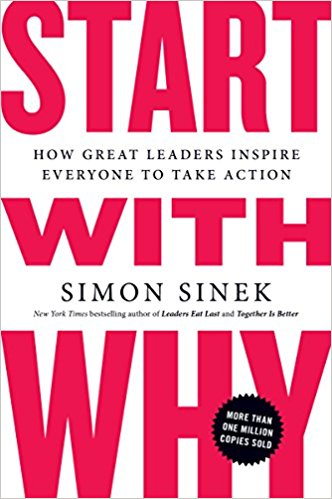 By now, you surely know Simon Sinek's "Golden Circle" thought model. As he himself stated in the third most watched TED Talk video in history, "it's probably the world's simplest idea." However, as it has been proven over and over again throughout history, the ideas that change the world are actually simple.
After all, as Shinichi Mochizuki has probably found out by now, what's the point in proving a long-standing math problem if nobody understands the solution? You know what they say: the tree which falls…
Well, the "Golden Circle," elucidated in "Start with Why," didn't fall on deaf ears; on the contrary, its echo was resounding. The idea is that most companies – and people – know what they are doing and how they are doing it. The point, however, is to know why you are doing what you're doing.
And this why is the be-all and end-all, the alpha and omega of success. If you don't have it or lose it – don't expect an appreciation from others. They have better things to do.
Like finding their whys.
People don't buy what you do; they buy why you do it. And what you do simply proves what you believe.
#2. Find Your Why Summary: A Practical Guide for Discovering Purpose for You and Your Team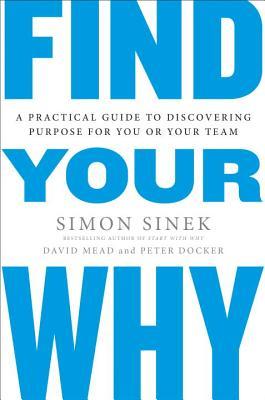 If "Start with Why" was Simon Sinek's theoretical breakthrough, "Find Your Why" was – and still is – the best step-by-step practical guide for those people who, though now convinced by Simon that they needed a why, went through a fair share of problems finding it.
Co-written with Peter Docker and David Mead, "Find Your Why" brims with practical exercises and applicable advises, action steps and explanatory illustrations. It addresses the most important concerns a person or a company on their path to their "whys" may have.
Practically anything from whether you can have two "whys" to what to do if a team can't agree on a uniform "why," from how to circumvent having an identical "why" with your competitors to what to do if your "why" doesn't match your "how" and your "what."
Essential for those who think that theory means nothing if not applicable.
If we want to feel an undying passion for our work, if we want to feel we are contributing to something bigger than ourselves, we all need to know our WHY.
#3. Leaders Eat Last Summary: Why Some Teams Pull Together and Others Don't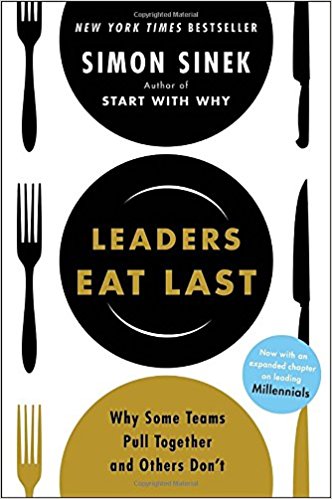 Between "Start with Why" and "Find Your Why," Simon Sinek wrote a book which, in retrospect, one may consider a bridge between the "whys." And its wisdom is as unconventional as its title: "Leaders Eat Last."
The counter-intuitive idea behind it sounds a bit biblical.
Remember that scene at the Last Supper when Jesus washes the feet of his followers?
Well, if you remember it well, you certainly remember that Jesus counters the amazement of his disciples with a simple remark. "If I then, your Lord and Teacher," he says, "have washed your feet, you also ought to wash one another's feet." And he tops that with an even more memorable phrase. "For I have given you an example, that you should do as I have done to you."
Well, that's what "Leaders Eat Last" is about. If you are a leader and you wash the feet of your employers, don't you think that they will wash your feet too?
Of course, we're not talking about feet. We're talking about good leaders making you feel safe.
If your actions inspire others to dream more, learn more, do more and become more, you are a leader.
Like this summary? We'd Like to invite you to download our free 12 min app, for more amazing summaries and audiobooks.


"Simon Sinek Quotes"
Great companies don't hire skilled people and motivate them, they hire already motivated people and inspire them.
Click To Tweet
You can easily judge the character of a man by how he treats those who can do nothing for him.
Click To Tweet
It is not the genius at the top giving directions that makes people great. It is great people that make the guy at the top look like a genius.
Click To Tweet
The opportunity is not to discover the perfect company for ourselves. The opportunity is to build the perfect company for each other.
Click To Tweet
The greatest contribution of a leader is to make other leaders.
Click To Tweet
Final Notes
Simon Sinek didn't know what his why was for most of his life. After he found it, he realized that it's related much more to the others than to himself. He wanted to help, to inspire and change people.
And, my god, he's doing such a great job!


Just a regular guy with a knack for writing, and digital marketing.
Emir is the Head of International and SEO at 12Min. In his spare time, he loves to meditate and play soccer.