Tribes Summary – Seth Godin
5 min read ⌚
We Need You to Lead Us
If you lead the people passionately, without any doubt a tribe of professionals will form around you.
We summarize the critical elements of such organization and all the things linked to it.
Who Should Read "Tribes"? And Why?
Either you are born leader, or you'll always be strangled in mediocrity. Motivate yourself explore the advantages of a tribe, learn from leaders whose goals are aligned with the tribe's vision.
Although today's society and digital age provide the people with tons possibilities, the population is behaving shamelessly. No real effort, no energy nor desire has been pointed towards a tribe.
Make an effort to build a small impenetrable tribe, don't go for a larger one at least not yet.
The trick is to create a small audience of real and intimate believers that will gradually expand. Keep some things hidden, let them explore, curiousness represents the ticket to a larger group of followers.
About Seth Godin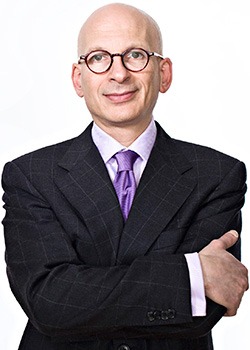 Seth Godin was born on 10th July 1960 in Mount Vernon (NY). A real American dreamer, renowned author, businessman, speaker, and a marketer who realized the power of curiosity.
Godin obtained his bachelor degree (computer science) from the Tufts University in 1982. Soon after graduating, he started working for Spinnaker Software; he remained there for three years.
The knowledge he received while working for Spinnaker helped him to launch Yoyodyne in 1995 and selling it three years later to Yahoo for astonishing 30 million dollars.
Afterwards, Yahoo offered him an executive position in the company as a direct marketing vice-president.
It's worth mentioning that he also wrote several other best-sellers such as: Linchpin, Tribes, Purple Cow, and All Marketers Are Liars.
"Tribes Summary"
The history tells us – for millions of years the people have gathered in tribes to make their survival easier. The digital era allows tribes to form with greater ease and coordinate for mutual benefits.
Do you consolidate with others to make your life better, enjoying common hobbies, personal interests, political opinion, and professional projects?
If so, you are already a part of a particular tribe. Depending on the size – Tribes can be larger or smaller. However, they must align the goals of each into one ultimate goal. To join a successful tribe is not something anyone could accomplish.
Groups without passionate and motivated leaders who advocate only for personal gain and the others are destined to fail. The world lacks true leaders, leaders capable of getting the best out of their associates or members.
Each member has to do its part, a contribution to the tribal community represents a sacred obligation. The tribal community has one vision, the operational activities must be performed flawlessly; these thoughts are shared with the business management of every company in the world.
If you wish to digest it in a form of a definition – here goes, "a group of people connected to one another that shares the same interests and does the same things is known as tribe." There is no greater bond than – two-people bonded to one leader while having a collective ambition."
The next step would be to find the best channel to communicate and simply enjoy.
The words – "Call it a group, call it a network, call it a tribe, call it a family: It doesn't matter how you call it, or who you take yourself to be; you are in need of one" has to be interpreted accurately.
Elizabeth Jane Howard was a British novelist, who spoke about tribes and their actual meaning. One of the best-selling author today and the founder of Squidoo.com Seth Godin fully supports Elizabeth's theory.
He explains precisely why and how a person can live and follow its dreams. The primary focus remains on the concept of leadership.
Is it easy to gather followers?
How to build a commune and achieve great results as a single unit?
A person has to absorb the different reality, discuss the benefits of social networking with other members and expand the tribal movement.
Godin gives clear tips on how to improve your tribal leadership abilities and become the leader that the world craves to see.
A charismatic leader, confident person and outstanding professional are what makes a good tribal leader. Decision-maker can also find itself among those essential attributes.
Give and ask nothing in return is a rarity in the today's world.
Nevertheless, that is the risk you must be willing to take if you strive for respect and success. Even though Seth falls into some of his typical, and promising hyperbole, his views are transparent and encouraging for the audience.
Key Lessons from "Tribes"
1.      Create a freedom of movement
2.      Deal with your fears
3.      Go for a smaller tribe
Create a freedom of movement
Membership in the tribe that you would like to lead should be voluntary. You have to remember tribe is not a monarchy; a leader cannot become a king without its loyal and trusted subjects.
Many tribal leaders assume that stable organization is the key to a prosperous tribe, but that is not the case.
Deal with your fears
Difference between courageous and fearful people is only the ability to cope with failure. It is not enough to inspire new ideas, you should allow others act upon them. Meaning – not taking a risk is also a risk.
Don't wait for approval from your non-existent self; be a person of action.
Go for a smaller tribe
Not even figures like Steve Jobs didn't strive for satisfying a mass audience; he only wanted passionate fans for his Apple products.
Apple wanted – tribe members to wait in line to purchase their products, to develop a word of mouth marketing and build a brand.
For the same reason, Jobs deliberately enforced "tight" tribe – rather than a large one.
Like this summary? We'd Like to invite you to download our free 12 min app, for more amazing summaries and audiobooks.
"Tribes" Quotes
The secret of leadership is simple: Do what you believe in. Paint a picture of the future. Go there.
Click To Tweet
People will follow.
Click To Tweet
Skill and attitude are essential. Authority is not. In fact, authority can get in the way.
Click To Tweet
Life's too short
Click To Tweet
Leadership is the art of giving people a platform for spreading ideas that work.
Click To Tweet


Our Critical Review
Seth Godin methods are straightforward, no hidden intentions, no subtle message. If you feel ready to take the struggle with hypocrisy and overcome your disadvantages, then you shall find this book amusing.


Just a regular guy with a knack for writing, and digital marketing.
Emir is the Head of International and SEO at 12Min. In his spare time, he loves to meditate and play soccer.