The Sun Also Rises PDF Summary
7 min read ⌚

Back to the Roaring Twenties once again. This time with one of Fitzgerald's best buds: Mr. Ernest Hemingway.
And his alcohol-infused, sex-crazed, macho-imbued, bullfighting-loaded, anti-Semitic bedlam of account of the times and age in "The Sun Also Rises."
Who Should Read "The Sun Also Rises"? And Why?
If you are wondering how lost America's Lost Generation was in the 1920s, and what the best minds of America's post-World-War-I generation were doing in Europe at the time – here's a firsthand account.
It's roman à clef – so you'll enjoy it even if you don't like fiction. Just change the names of the characters with the ones we provided you with in the summary.
Ernest Hemingway Biography
Ernest Hemingway

was one of the greatest and most influential American writers of the 20th century.
"A globe-trotting expert on bullfights, booze, women, wars, big game hunting, deep sea fishing, and courage," Hemingway lived a life so adventurous that it overshadows his artistic legacy – even though he won a Pulitzer Prize for "The Old Man and the Sea" in 1953 and the Nobel Prize in Literature one year later.
A World War I ambulance driver (seriously injured during the war), he worked as a journalist for most of his early life, reporting from the Spanish Civil War and was present both at D-Day and the liberation of Paris. He also enjoyed bullfighting and safari-hunting in Africa.
He lived his later life in Cuba, survived two fatal plane crashes, and committed suicide in 1961.
Many of his short stories and novels are considered classics. His posthumously published memoir, "A Moveable Feast" is regarded as one of the best non-fiction books in history.
Plot
Before we start summarizing "The Sun Also Rises," we would like you to present you with a photograph: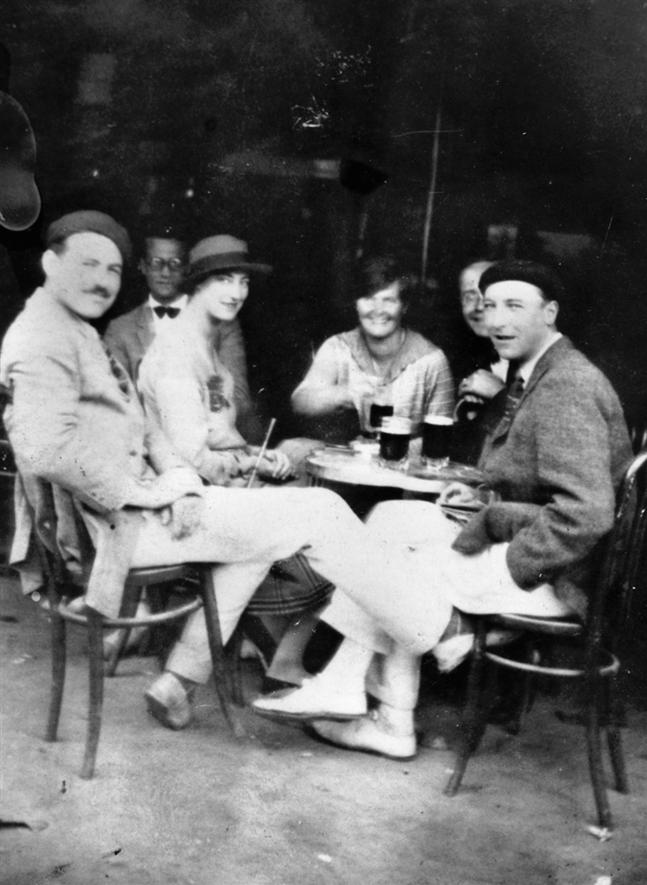 Surely, you'll have no problems recognizing Hemingway on the far left, but you probably have no idea who the other guys are and why they might be important to the story of "The Sun Also Rises."
Well, it's relatively simple: