Titan Summary – Ron Chernow
7 min read ⌚
The Life of John D. Rockefeller, Sr.
In many languages, the surname "Rockefeller" has basically become synonymous with the phrase "fabulously rich."
The man responsible for that?
John D. Rockefeller, Sr., quite possibly the richest person in modern history and most certainly the wealthiest American of all time.
And Ron Chernow's "Titan" is the essential 800-page-long biography of this extraordinary man, rightly called "the Jekyll-and-Hyde of American capitalism."
Who Should Read "Titan"? And Why?
Just like most biographies of great men, "Titan" is a fascinating and endlessly enthralling read, which should certainly get the attention of most people.
The fact that the great man this biography is about is such a controversial figure makes "Titan" an even more alluring book since it should appeal to both the advocates and the detractors of capitalism.
It's also a book from which entrepreneurs can find some inspiration, and in which social critics who don't believe the world needs people like John D. Rockefeller, Sr. will find enough arguments in their favor.
A treat for all!
About Ron Chernow
Ron Chernow is an American historian and biographer, author of numerous bestselling and award-winning books on the life and times of important historical figures.
In 1990, he published his debut book, "The House of Morgan" which traced four generations of the J. P. Morgan empire and which was honored with the National Book Award for Nonfiction. He followed this up with "The Warburgs" which won him the 1993 George S. Eccles Prize for Excellence in Economic Writing.
The critically acclaimed "Titan" was published in 1998 and was nominated for the National Book Critics Circle Award, just like his 2004 biography of Alexander Hamilton, which was subsequently turned into the highly successful Lin-Manuel Miranda rap-musical from 2015, "Hamilton."
In 2011, Chernow won both the American History Book Prize and the Pulitzer Prize for Biography for "Washington: A Life."
His last book, the 2017 "Grant," is a 1,000-page biography of Ulysses S. Grant, America's 18th President, and was once again met with overwhelmingly positive reviews.
"Titan PDF Summary"
John D. Rockefeller was born on July 8, 1839, in Richford, New York, as the second of six children and the eldest son of William Avery "Bill" Rockefeller and Eliza Davison.
His father was a con artist, a traveling salesman and a "botanic physician" who practiced bigamy and ended up living a double life under an alias.
His mother, on the other hand, was a devout Baptist who put up with her husband's promiscuity and taught John the value of saving money.
When JDR was ten years old, his father – who, by that time, had managed to father two children with his housekeeper Nancy Brown as well – was indicted for a rape which supposedly occurred at gunpoint and which drove William to sell the Rockefeller's house and move the family to Oswego, New York, in a potential attempt to avoid trial.
He was never convicted for the rape, but soon enough he left his family for good, assuming the identity Dr. William Levingston and marrying a certain Margaret Allen in Ontario, Canada (even though he was still legally married to Eliza as well).
Before that, Bill moved the Rockefellers once again close to Cleveland, Ohio, where John attended the Cleveland's Central High School, one of the first free public high schools in the United States.
Even though John was a good student – excelling especially in math and oratory – he couldn't afford to go to college, especially since he was burdened with the self-assigned role of a surrogate father.
So, instead, he enrolled in a business school and got a job as an assistant bookkeeper.
It was here that he got his "first look at a banknote of any size":
I was clerking at the time down on the Flats here. One day my employer received a note from a down-State bank for $4,000. He showed it to me in the course of the day's business, and then put it in the safe. As soon as he was gone, I unlocked the safe, and taking out that note, stared at it with open eyes and mouth, and then replaced it and double-locked the safe. It seemed like an awfully large sum to me, an unheard-of amount, and many times during the day did I open that safe to gaze longingly at the note.
In 1859, JDR teamed up with his partner Maurice B. Clark – with whom he also shares a rags-to-riches story – and, at the tender age of 20, opened his first business.
It will grow in the largest modern history had seen by pure accident.
Namely, "Clark and Rockefeller" was a buying-and-selling venture which provided both friends a good income for some time, before they were convinced by Samuel Andrews, a chemist and a friend of Clark's, into becoming stockholders in his new enterprise.
The enterprise was a small Cleveland oil refinery.
The result?
Instant success – thanks especially to Andrews' "mechanical genius" (as Ida M. Tarbell had described it) and his pioneering work with fractional distillation.
However, success also means jealously and soured bonds, so it's no surprise that by 1865, the relationship between Rockefeller and Clark (as well as Clark's two brothers who also owned parts of the joint ventured) deteriorated to the point of no return.
The partners auctioned the business between themselves and, in the end, JDR bought the Clarks' shares for $72,500 (about $1 million in today's money).
Speaking to William O. Inglis, Rockefeller later noted:
It was the day that determined my career. I felt the bigness of it, but I was as calm as I am talking to you now.
At 25, JDR became the owner of one of the world's largest oil facilities. The very same year he married his high-school sweetheart, Laura Spelman Rockefeller.
The couple will end up having four children, only one of them a boy, JDR's namesake, John D. Rockefeller Jr.
It was all uphill from here!
In 1870, JDR abolished his partnership with Andrews, and in less than four months in 1872 – in what would later be known as "The Cleveland Massacre" – his new-formed "Standard Oil" 22 of its 26 Cleveland competitors.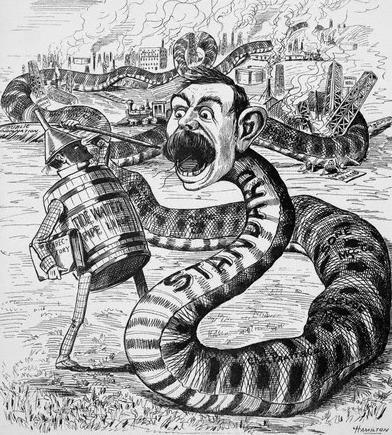 This will inspire some admiration and a ton of hate, resulting in cartoons such as "The Anaconda" seen here on the left, parodying JDR as a snake swallowing its Cleveland competitors.
In 1874, "Standard Oil" will buy 27 more refineries – this time major and nationwide.
Still in his 30s, JDR "became the sole master of American oil refining," controlling almost 90% of all oil in the United States.
By this time, he was also deeply convinced in his messiah-like role, believing that God gave him so much money so that he could help the world and provide cheap kerosene and light to the poor people of the world.
Even though he did do that, not many bought his side of the story, so Rockefeller was forced by the U.S. Supreme Court to dismantle Standard Oil into 34 "Baby Standards," some of which you know by the names of ExxonMobil, Chevron, etc.
The end result?
JDR was even richer than before, owning a fortune worth nearly 2% of the nation's GDP, or $400 billion in today's money.
Fortunately, he spent a large – or small, depends on who you ask – part of it to basically create modern philanthropy.
Key Lessons from "Titan"
1.      The Growth of a Large Business Is Merely a Survival of the Fittest
2.      All the Fortune That I Have Made Has Not Served to Compensate Me for the Anxiety of That Period
3.      Gain All You Can, Save All You Can, And Give All You Can
The Growth of a Large Business Is Merely a Survival of the Fittest
The story of John D. Rockefeller, Sr. is an almost novel-like rags-to-riches story: he was the son of a con artist who, as a teenager, begged the principal of his free, public school to find a home for his family, but will be remembered as modern history's richest men.
How he did it?
Mainly – because he never backed down and decided to survive through it all.
All the Fortune That I Have Made Has Not Served to Compensate Me for the Anxiety of That Period
As JDR was earning money and swallowing his opponents one by one, he was becoming so influential that newspapers started claiming that it was he who was actually running the country.
Even though he was rich and could afford everything, he was actually deeply depressed and couldn't even fall asleep for most of the nights.
Gain All You Can, Save All You Can, And Give All You Can
The dictum from this title was originally John Wesley's but became JDR's.
It sums up his life in a sentence and easily shows why he was both so admired and so hated by the public.
JDR, the real Dr. Jekyll and Mr. Hyde of American capitalism.
Like this summary? We'd like to invite you to download our free 12 min app, for more amazing summaries and audiobooks.
"Titan Quotes"
From the outset JDR's plans had a wide streak of megalomania. Click To Tweet
No threat to his empire was too small for Rockefeller to overlook. Click To Tweet
JDR retained his mystic faith that God had given him money for mankind's benefit. Click To Tweet
JDR was convinced that the Almighty had buried the oil in the earth for a purpose. Click To Tweet
The impression was gaining ground with me that it was a good thing to let the money be my slave and not make myself a slave to money. Click To Tweet


Our Critical Review
Basically, each of the books Ron Chernow has so far authored have received acclaim of the sort few books ever do.
"Titan" is no exception: it was listed as one of 1998's ten best books by both "The New York Times" and "Time," the latter of which described it as one of the great American biographies.
Even before we had the time to write its summary, we didn't hesitate for a moment to include it in our list of the 15 best business books in history.
Balanced and neutral, revelatory and beautifully written, "Titan" is certainly a titan of a book!


Just a regular guy with a knack for writing, and digital marketing.
Emir is the Head of International and SEO at 12Min. In his spare time, he loves to meditate and play soccer.