Traction: How Any Startup Can Achieve Explosive Customer Growth
by
Gabriel Weinberg
and
Justin Mares – Book Summary
The Authors of "Traction" – Justin Mares and Gabriel Weinberg have recently declared that this book is a mere reflection of the DuckDuckGo search engine. What does that mean? GetNugget joins this magnificent story and entails its theory. Our book summary is based on DuckDuckGo learning growth and how this company managed to work with so many startups.
Your startup is similar to a rocket. The gain in altitude must be done quickly and without any hiccups. Your fuel is best made out of an equal ratio of attention to product development, and to the process of choosing the right traction channel.
How to split time? The best way to do it is to have two separate time formulas: one for getting traction and other for product development. Self-esteem counts the most. It lures people to follow you as a leader or to follow your work just by looking it. It is not about having followers, nor being a leader but the real goal is to provide value. Traction metrics are not stable, and they change once in a while. If you are able to cope with the changes, you'll have an abundance of people waiting to purchase your products.
---
Traction: How Any Startup Can Achieve Explosive Customer Growth, by Gabriel Weinberg and Justin Mares, was written to help you get in the right mindset.
---
ENTREPRENEURIAL MINDSET / TRACTION
"Getting traction means moving your growth curve up and to the right as best you can."
---
You have an idea. A product or service is born. Then you receive feedback from the first customers. The required tweaks are made, et voilà! Customers will flock to your launch and buy your groundbreaking innovation. "Simple as that!" you may think.

Well, not really. Research shows that most of the time, this strategy goes sideways.
The two authors saw the lack of a functional framework and welcomed the challenge to devise one. Until then a viable and structured scheme, which seasoned or inexperienced entrepreneurs could use to get the ball rolling for their startups, didn't exist. So, after the groundwork was laid out, the Bullseye framework was born.
Keep in mind that:
"Bullseye is designed to help you find the best traction channel strategy to focus on as quickly as possible."
Gabriel Weinberg and Justin Mares gathered the data from their own experiences, from interviewing more than 40 founders, and from studying many more companies. The case studies and quotes from experts showcase how the 19 traction channels operate in the real world, and why each one of them must be taken into consideration as a possible core channel.
So, who are the pioneers who set Traction in motion?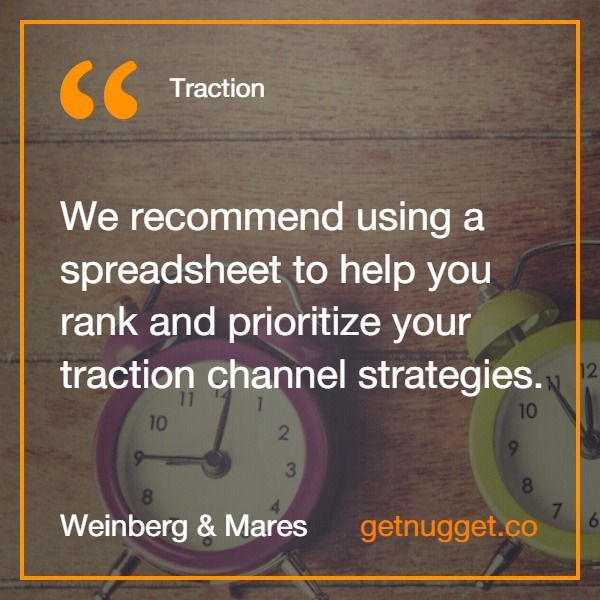 Weinberg is the creator and CEO of DuckDuckGo and a Technology Policy Master graduate of MIT. A man who, at 27, was already worth millions, by selling the company he'd co-founded a couple of years earlier. After this, he took his time to stumble upon another idea: a search engine that doesn't track its users. It's the story of a courageous and visionary human who challenged the mighty Google. After 7 years DuckDuckGo is still here and thriving.
Mares is the early founder of CloudFab (acquired in February 2012), founder of RoommateFit, and former Director of Revenue and Growth at Exceptional Cloud Services. He studied at the University of Pittsburgh, where he obtained a BSBA (Bachelor of Science in Business Administration) in Finance in 2012. His interests, knowledge, curiosity, and drive are a testament to his skill as a growth expert.
Traction: How Any Startup Can Achieve Explosive Customer Growth's main idea revolves around offering guidance and support for any kind of startup in order to get that vital traction. As I wrote earlier, an awesome product doesn't necessarily attract a flourishing customer base. You must research what channel suits your vision and then focus on it, to achieve customer growth. As you go through each growth stage another core channel is required, because the maximum level of saturation for that channel will eventually be met. Moreover, the authors wrote Traction to help founders learn by exploring every single one of the 19 channels, in-depth. It also includes tactics and strategies, and examples of tools you can use in your quest to find the right channel.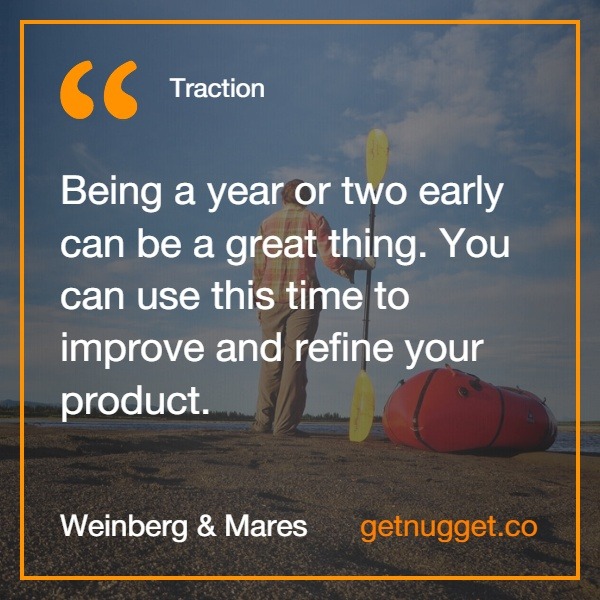 Here are the key concepts depicted in Traction: How Any Startup Can Achieve Explosive Customer Growth:
Getting Traction

entails finding the core channel which works best for your startup, through continuous testing and experimentation.
The 50% rule

signifies the balance between two important processes: product development and getting traction. By offering the same amount of time and attention to them both, you gain valuable insight into your business as a whole.

The Bullseye framework

is at the center of getting traction. This method has three simple steps: 1. "What's possible"; 2. "What's probable"; and 3. "What's working." Remember that

your core channel requires tuning all the time

. By ongoing experimentation, you'll extract every bit of traction and improve growth.

The Critical Path framework

is meant to keep your focus on the established traction goal. In short, it sets your priorities straight and keeps your resources in check.
Traction: How Any Startup Can Achieve Explosive Customer Growth, written by Gabriel Weinberg and Justin Mares, is split into 24 chapters. It starts with an analysis of the 19 traction channels and continues with an overview of two major themes resulted from the research: the risk of choosing familiarity instead of creativity, and the importance of anticipating which channel works best only through testing. Between chapters two and five, you acquire in-depth knowledge of the traction mindset, the Bullseye framework, different methods of running traction tests, and the Critical Path framework.
From chapter six onwards, you're informed about everything and anything regarding each one of the marketing and distribution channels:
Search Engine Marketing (SEM)
Search Engine Optimization (SEO)
Business Development (BD)
In selecting the right channel for your product and company, the biggest enemies are your preconceptions. Because,
"Many founders unfortunately fail at applying Bullseye by ignoring promising traction channels due to natural biases."
The applicability is possible, without doubt, in both consumer and enterprise startups, as hard evidence shows throughout the book.
Here are 5 actionable things from Traction: How Any Startup Can Achieve Explosive Customer Growth that can be used in your own business endeavor:
If you create a direct-response postal campaign, make sure to supply a self-addressed envelope. It will help boost the number of recipients who reply. Moreover, try to provide a clear and concise call to action with what you require from the recipient. Also, add a personal touch like handwritten envelopes and cards. It multiplies the possibility of interaction.

Don't disregard hanging flyers in areas frequented by your possible customers. It can be an efficient plan of action for your business to start getting traction.

Sometimes the best

way of gaining your first customers is adopting tactics that don't scale, like the creation of a niche blog.  The go-to tools of discovering the leading bloggers in your market are: Search Engines, YouTube, Delicious, Twitter, Social Mention, and talking to people face-to-face.

You may think that conceiving and developing a company's blog is the hardest part. It's not. Acquiring an audience is the tricky bit because in the early days you get almost no visitors. A solid recommendation is guest posting on other popular blogs from your niche market.

When you use sales as your core channel, talking to potential customers about their problems is essential. It will also help with your product development.

To obtain a better overview, investigate how past and present enterprises succeeded or failed at customer growth. A simple avenue is to find entrepreneurs who were unsuccessful at what you're trying to achieve, and discover where they went wrong. With this new information, your brainstorming process will be more fruitful.
Getting traction is an ongoing, evolving process. Click To Tweet
You'll need to make adjustments throughout your company's lifespan by experimenting and testing. This ensures you can unlock the next level of growth, and the next, and so on.
To begin with, you need to put into practice these theories:
The Bullseye framework

is the essence of getting traction by knowing exactly how to select your core channel. It offers a simple modus operandi: a three-step plan. The fir

st

step: brainstorm all the channels, one by one. The seco

nd

step: identify the most promising ones and start running low-cost traction tests. The thi

rd

step: the best test results indicate your core channel – which will move your product or service up the growth ladder. When the chosen channel reaches its maximum saturation level you apply this framework again, raising your chances of obtaining traction by using the least amount of time and resources.

Conducting traction testing

by using the Middle and Inner Rings Tests. The Middle Ring Tests are those that help you find a promising channel strategy. For example, if you choose Social and Display Ads as a traction channel and as a channel strategy, you must pick between display ads and social ads – whichever seems the most promising from your perspective.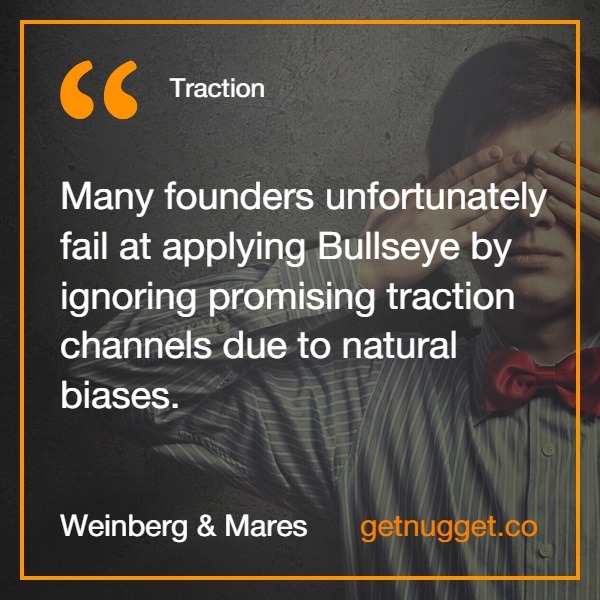 Then, the Inner Rings Test is meant to ensure proper optimization for your chosen channel strategy. After you created the tests, they should answer these questions:
"How much does it cost to acquire each customer through this channel strategy?"

"How many customers are available through this channel strategy?"

"Are the customers you are getting through this channel the ones you want right now?"
As we approach the end of our little adventure, I invite you to ponder about the privilege of having this gem of a book at your disposal. Gabriel Weinberg and Justin Mares are the founders who took it upon themselves to gather all the data and write about it in a simple way. Traction: How Any Startup Can Achieve Explosive Customer Growth is set to be a trusted co-pilot for any entrepreneur on a mission of conquering the skies.
I'll leave you with an important piece of advice:
"Get one channel working that your competitors dismiss, and you can grow rapidly while they languish."
---
Want more nuggets? Subscribe below.