12 min read ⌚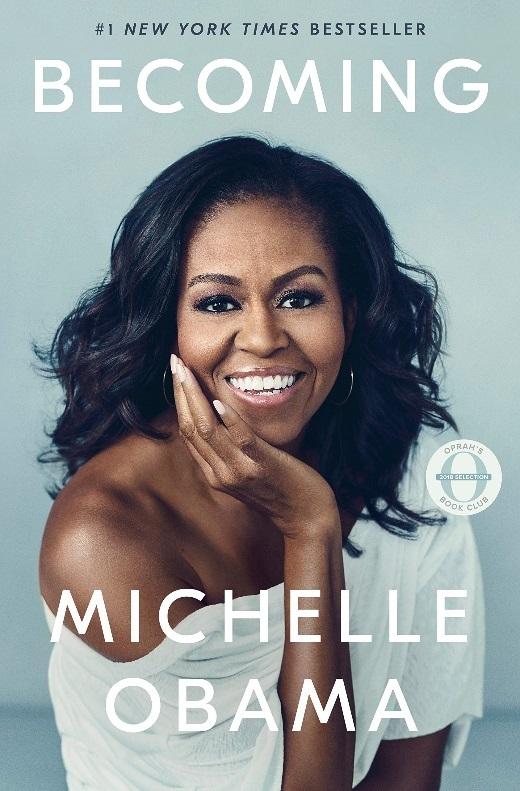 You know almost everything about Barack Obama – even what never happened to him.
But how much do you know about Michelle? Well, here's your chance to learn the basics:
The summary of Michelle's memoir Becoming.
Who Should Read "Becoming"? And Why?
If you want to learn more about Michelle Obama – and delve into Barack's story from a different perspective – then Becoming is the book for you.
Since it is "an intimate, powerful, and inspiring memoir," it's also a great read for everyone who wants a little motivation; especially if she is a working mom who wants to make a little difference in the world.
About Michelle Obama

Michelle LaVaughn Robinson Obama is an American lawyer and writer, USA's First Lady from 2009 to 2017.
Born and raised on the South Side of Chicago, Michelle graduated from Princeton University and Harvard Law School, after which she found a job at Sidney & Austin, where she met future President Barack Obama.
An educated advocate and campaigner against obesity and poverty, Michelle Obama was considered by many a role model for women and a fashion icon.
In addition to Becoming, she has also authored American Grown: The Story of the White House Kitchen Garden and Gardens Across America.
"Becoming PDF Summary"
As everybody knows, Becoming is the deeply personal memoir of former US First Lady and downright Rockstar Michelle Obama.
It tells the entirety of her story through 24 chapters (plus a preface and an epilogue), divided into three suggestively titled sections:
• Becoming Me: which covers her childhood and her education up to the time she met Barack;
• Becoming Us: which tells the story of Michelle and Barack up to the moment Michelle's husband was elected President of the United States; and
• Becoming More: which describes Michelle's and Barack's life at the White House.
Now that you know the outline, it's time to get into some more detail!
Becoming Me
Michelle Robinson and Her Family
Michelle LaVaughn Robinson was born on January 17, 1964, and lived in a house just 9 miles away from the place where four years later a violent clash would break out between the police and Vietnam War protesters.
What was Michelle doing at the time?
Why, of course: she was playing with her dolls; to this day, as she makes it more than clear in the "Epilogue" of Becoming, she has remained put off by the "nastiness" of politics, "the tribal segregation of red and blue, this idea that we're supposed to choose one side and stick to it, unable to listen and compromise, or sometimes even to be civil."
Anyway, Michelle Robinson had a wonderful childhood.
She was the daughter of a creative jazz-loving father, Fraser Robinson III, a Democratic precinct captain, and a generous mother, Marian Shields Robinson, who was a full-time housewife until Michelle entered high school and a secretary at Spiegel's catalog store afterward.
The Robinsons – Michelle also has a brother, Craig, two years older than her – lived on the second floor of a two-story house; Michelle's great aunt, Robbie, and uncle lived on the first floor.
Robbie was a piano teacher, and at about the time of the unrests which marked the 1968 Democratic National Convention, Michelle started her piano lessons.
In the Ghetto
Back in 1950, fifteen years before her parents had moved there, Chicago's South Side had been 96 percent white.
By the time Michell would leave the place for college in 1981, it would be about 96 percent black.
So, in a way, Michelle was born right in the middle of that transition. A great thing, since that meant the neighborhood was racially mixed, with little Michelle's friends being "a motley mix of last names – Kansopant, Abuasef, Yacker, Robinson."
They may tell you that Chicago's South Side is a ghetto, but to those living there it was – and always will be – a home.
Be that as it may, Michelle was a precocious child and when in second grade she revealed to her parents that her classes are boring and that she hates them.
Her mother – her smart mother, might we add – got her tested and Michelle moved up one grade, a decision which (Michelle still thinks) greatly influenced her life.
Eventually, she ended up in the progressive Whitney M. Young High School: it took her two busses and about an hour and a half to get there; but, eventually, it was worth it.
Princeton Material
Michelle excelled at her high school and was on track to be in the top 10 percent of her class, but still, when the time came, her college counselor told her that she is not sure Michelle is a Princeton material.
And Princeton, ever since Michelle's brother Craig got into it (by the way, he was a brilliant basketball player and could have gotten anywhere on a scholarship) – and ever since she had the opportunity to get to know the place – was Michelle's top (if not only) choice.
Fortunately, Michelle was from early on aware that "failure is a feeling long before it's an actual result;" so, instead of allowing this judgment to topple her confidence, she used it as a motivation to get into Princeton.
And, eventually, she did.
There, for the first time in her life, she realized the meaning of the word division: less than a tenth of the students at Princeton were black.
Fortunately, Princeton had an organization known as the Third World Center (TWC), which was formed to support students of color.
And even more fortunately, at its head was Czerny Brasuell, "a smart and beautiful black woman, barely thirty years old, a swift-moving and lively New Yorker who wore flared jeans and wedge sandals and seemed always to be having four or five ideas at once."
For all students of color at Princeton, Brasuell was "an über-mentor," an "ultrahip and always outspoken defender in chief," and Michelle became not only her protégé but also her assistant.
Michelle learned a lot from her, including how to be a mom long before she became one: Brasuell was a single mother of a precocious boy named Jonathan, whom Michelle often babysat.
Meeting Barack
After taking her LSAT test, Michelle went straight from Princeton to Harvard Law School, after which she moved back to Chicago to start working for the respected firm of Sidney & Austin.
And there, she met a certain Barack Obama.
Now, this Barack guy came to Sidney & Austin for the same reason many promising law students did: to be advised on his next steps.
Unlike them, however, he was so exceptional – since he had taken a few years off before Harvard Law School, Barack was also a little older – that instead him being the advised one, he started advising Michelle's colleagues soon after walking in the offices of Sidney & Austin.
Michelle was fortunate enough to be assigned for three months as Obama's adviser, but she wasn't that taken with him; for one, he was a smoker, and Michelle hated smokers.
However, after some time, Barack did manage to get through to Michelle and after the first kiss, "everything felt clear."
Becoming Us
The Test of Craig: Becoming Obama
Now, Barack had to pass one more test before proving himself worthy of becoming Michelle's husband: the test of her brother Craig.
And it was a strange test indeed:
Craig had already assessed Barack's character in the most thorough and revealing way he could – by including him in a high-octane weekend basketball game with a bunch of his buddies, most of them former college players. He'd done this, actually, at my request. Craig's opinion of Barack mattered to me, and my brother knew how to read people, especially in the context of a game. Barack had passed the test. He was smooth on the floor, my brother said, and knew when to make the right pass, but he also wasn't afraid to shoot when he was open. 'He's no ball hog,' Craig said. 'But he's got guts.'
After Barack finished his studies at Harvard Law School, he joined Michelle in Chicago, and in October 1992, the two married.
However, both of them were so much busy with so many side projects and ideas that, in the end, they didn't have such a great honeymoon.
Namely, it had to be cut short, because Barack was enlisted to help the Project VOTE! Initiative. Michelle had a couple of projects of her own at the time, mostly through the help and influence of Valerie Jarett, then an unsatisfied lawyer who felt a calling to help people and, to do so, left her high-paying job.
Yup, we're talking about Barack's would-be senior advisor: he met her through Michelle.
All in all, being Obama had its ebbs and flows, more of the former at the beginning. "Tired and stressed," wrote Barack about this time in The Audacity of Hope, "we had little time for conversation, much less romance."
The Burden of Barack's Political Career
After Barack's success during the Project VOTE! campaign, an article in a Chicago magazine suggested that he should run for office.
Barack shrugged off the idea because he had a plan of his own: to tell his unusual life story in a book titled Dreams from My Father.
The book was published in 1995 to positive reviews and little sales; this time, when Barack was approached about entering politics, he didn't refuse.
Michelle was skeptical: she believed that Barack could do much more good as the head of a non-profit organization; Barack dreamt bigger.
But the bigger the dreams, the bigger the burden.
And this became especially problematical after the birth of the couple's children, Malia Ann Obama (born on the Fourth of July, 1998) and Natasha "Sasha" Marian Obama (born on June 10, three years later).
However, when you're a politician and you have a family, you can be sure that, sooner or later, some of your opponents' low blows will come into their direction as well; even when they're not explicitly mentioned.
For example, a year after Malia was born, she got an ear infection in Hawaii, just at the time the Illinois Senate announced an emergency vote on a rather important gun control bill.
Barack chose to remain with the family (Malia wasn't allowed to fly in her condition) and that earned him a few rather unpleasant descriptions, ranging from "educated fool" to "gutless sheep" to "a white man in blackface… using his child as an excuse not to go to work."
Barack wasn't hurt by these comments since he had expected them; Michelle, however, was deeply affected.
Becoming the First Lady
In time, Barack started skipping family dinners; Michelle wasn't too pleased about this and she was even less pleased when Barack told her that he has an intention to run first for Senator and then for President.
The reason why Michelle allowed him to do this?
Because she was pretty sure that he would lose the Senate race, and she made him swear that if he did, he'd give up politics altogether and start dedicating more and more time to his family.
And then, Barack's keynote speech at the 2004 Democratic National Convention came – it would be an understatement to say it was a success – and his Republican opponent for the Illinois Senator seat, Jack Ryan, dropped out of the race due to a sex scandal.
To Michelle's disbelief, people had started talking about Barack becoming the First Black President.
And as you know full well, a few years later, he did.
Becoming More
Being the First Lady… and a Mother
Now, being the First Lady doesn't mean that you stop being a mother; and being a mother at the White House is a completely different matter from being a mother anywhere else.
And possibly that's why, soon after moving to the White House, Michelle received a call from none other than Barack's opponent in "the brutal 2008 primary," Hillary Clinton.
After all, she had some ideas about it means to be a mother while also being the First Lady.
And, to tell you the truth, reading Michelle's biography reveals that this is a lot more complicated thing than you can imagine; for one thing, friends of Malia and Sasha couldn't just pop up to visit and play; neither could they run out to the garden without having their Social Security numbers checked by the authorities.
Michelle's job?
To find a way to tell her children that the White House was their home and that they should treat it as such. Meaning: playing in the hallways is still allowed.
Michelle's Contributions
As soon as she became the First Lady, Michelle Obama was determined to use her position to make some good in the world.
The first thing she did, however, was a bit Voltairean: she cultivated her garden, aka she decided to start one to make the White House feel more like a home.
Next, she started the Let's Move! Imitative, which aimed to solve "the challenge of childhood obesity within a generation so that children born today will reach adulthood at a healthy weight."
Its ambitious plan – to reduce childhood obesity to 5% by 2030 – was carried through in four different ways:
• informing parents about everything related to healthier dietary options;
• making the food at schools healthier;
• distributing healthy food to many rural and urban areas lacking fresh fruit and vegetables; and
• getting kids to be more physically active.
The results?
45 million kids are now eating healthier food, and 11 million are physically way more active than about a decade ago.
This success inspired Michelle to start the Joining Forces initiative (which helped more than 1 million veterans and their spouses get a job) and, then, the Let Girls Learn initiative which is still empowering girls by granting them their right to education worldwide.
We Were Eight Years in Power
Barack and Michelle Obama remained in power for eight years and, looking back, Michelle is happy with what they accomplished.
However, she's not that happy with the man who came to the office after them. Politics aside – says Michelle – this is a man who was heard by the entire USA to have habitually bullied women and got away with it.
This is what Michelle tried to make known to the world when speaking in favor of her husband's one-time opponent and afterward, loyal and effective secretary of state, Hillary Clinton, before the election.
Here's her take on the matters:
Since childhood, I'd believed it was important to speak out against bullies while also not stooping to their level. And to be clear, we were now up against a bully, a man who among other things demeaned minorities and expressed contempt for prisoners of war, challenging the dignity of our country with practically his every utterance. I wanted Americans to understand that words matter—that the hateful language they heard coming from their TVs did not reflect the true spirit of our country and that we could vote against it. It was dignity I wanted to make an appeal for—the idea that as a nation we might hold on to the core thing that had sustained my family, going back generations. Dignity had always gotten us through. It was a choice, and not always the easy one, but the people I respected most in life made it again and again, every single day. There was a motto Barack, and I tried to live by, and I offered it that night from the stage: 'When they go low, we go high.'
And that's how we hold our heads – even when we lose.
Becoming Epilogue
In the "Epilogue" Michelle Obama reveals, yet again, that she isn't that fond of politics; however, she makes it clear that she cares deeply about the future of her country, especially nowadays with an almost openly racist President.
"It's been distressing to see," she writes, "how the behavior and the political agenda of the current president have caused many Americans to doubt themselves and to doubt and fear one another. It's been hard to watch as carefully built, compassionate policies have been rolled back, as we've alienated some of our closest allies and left vulnerable members of our society exposed and dehumanized. I sometimes wonder where the bottom might be."
And she concludes with a plea for interhuman awareness:
For every door that's been opened to me, I've tried to open my door to others. And here is what I have to say, finally: Let's invite one another in. Maybe then we can begin to fear less, to make fewer wrong assumptions, to let go of the biases and stereotypes that unnecessarily divide us. Maybe we can better embrace the ways we are the same. It's not about being perfect. It's not about where you get yourself in the end. There's power in allowing yourself to be known and heard, in owning your unique story, in using your authentic voice. And there's grace in being willing to know and hear others. This, for me, is how we become.
Like this summary? We'd like to invite you to download our free 12 min app for more amazing summaries and audiobooks.
"Becoming Quotes"
Now I think it's one of the most useless questions an adult can ask a child—What do you want to be when you grow up? As if growing up is finite. As if at some point you become something and that's the end.
Click To Tweet
If you don't get out there and define yourself, you'll be quickly and inaccurately defined by others.
Click To Tweet
For me, becoming isn't about arriving somewhere or achieving a certain aim. I see it instead as forward motion, a means of evolving, a way to reach continuously toward a better self. The journey doesn't end.
Click To Tweet
Do we settle for the world as it is, or do we work for the world as it should be?
Click To Tweet
Everyone on Earth, they'd tell us, was carrying around an unseen history, and that alone deserved some tolerance.
Click To Tweet

Our Critical Review
Michelle Obama's Becoming is everything you'd expect from a book written by the first African-American First Lady in the history of the United States.
And it wasn't an Oprah Book Club 2.0 2018 selection for no reason, right there with Tayari Jones' An American Marriage and Anthony Ray Hinton's The Sun Does Shine.Candid, nicely written, engaging, personal – you'll love almost everything about Becoming. That is, unless you're a hardcore Republican or, in any way, like Trump.


Just a regular guy with a knack for writing, and digital marketing.
Emir is the Head of International and SEO at 12Min. In his spare time, he loves to meditate and play soccer.