Brazillionaires PDF Summary
<1 min read ⌚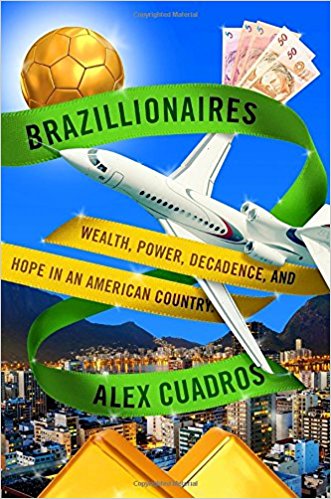 MicroSummary: There is so little written about Brazilian billionaires, the "Made in Brazil" fortunes. In Brazillionaires, Alex Cuadros explores the history of Brazilian billionaires. The book was considered one of the best books of the year 2016 by the Financial Times. In it, Alex tells us a little about our country's past, about how these billionaires have accumulated wealth – and in some cases even about how they lost it. In this narrative, Cuadros helps us understand how social inequality has grown in the country and how the relationship between politicians and businesspeople shapes the Brazilian business world.
Wealth, Power, Decadence, and Hope in an American Country
It is interesting reading for those who seek to understand the creation of Brazilian fortunes and the patterns that permeate them.
Let's explore this micro-book together and head into the Brazilian universe?
"Brazillionaires PDF Summary"
Brazilian Economy is Gigantic
When Bloomberg News invited American journalist Alex Cuadros to talk about Brazilian billionaires, he felt obliged to investigate how developing countries were playing an important role in the world economy and how social inequality was transforming these countries.
Brazilian billionaires and their enormous fortunes are at the top of the economic pyramid and extravagantly accumulate power and wealth. They are among the 0.001% richest men in the world.
But Alex was researching and had some difficulty finding such billionaires. He discovered Ambev's billionaires and 3G capital, but could not find so much more. Gradually he discovered the hidden billionaires.
They were behind companies such as the Schincariol and Devassa breweries, and construction companies such as Camargo Corrêa and Odebrecht. All of these had billion-dollar deals, but none of these people were on Forbes' richest list. That's what they wanted: to remain invisible.
They did not want attention, for they knew their fortunes hid dark stories.
In the four years that Cuadros accompanied these billionaires, he learned how these men took advantage of the economy, government and the media in Brazil to enrich and win the admiration of the population.
Although it is the largest country in South America and the fifth largest in the world, Brazil is, especially for the Americans, a mysterious place that refers to clichés like samba and soccer. The country is rich in natural resources and has a beautiful history, but little is known about its economy, outside of it.
With a corrupt and bureaucratic government and high levels of poverty, it is clear that Brazil, from an economic perspective, is a very backward country compared to economies such as the American or the German.
Recently, the country has achieved international prominence, along with Russia, India, and China, as one of the BRIC members.
---
Also published on Medium.