4 min read ⌚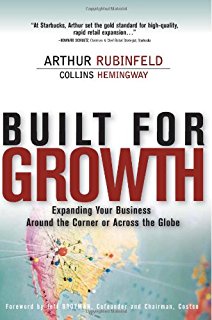 Expanding Your Business Around the Corner or Across the Globe
The only book written by Arthur Rubinfeld, the creative mastermind behind Starbucks' success, "Built for Growth" is one of the best guidebooks for creating, managing and expanding a brand presence in the retail market world. The book focuses on the four foundations of your future business: thinking big, planning for the future, finding the right location, and continually innovating.
About Arthur Rubinfeld and Collins Hemingway

Arthur Rubinfeld is the former Chief Creative Officer of Starbucks, often described as "the architect behind Starbucks expansion." This made Starbucks a 4,000-outlet giant and Rubinfeld Starbucks' Executive Vice President. He is also the founder of brand consulting firm AIRVISION.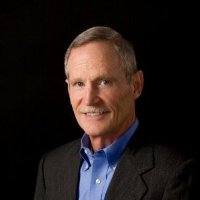 Collins Hemingway is a writer, best-known as the co-author of Bill Gates' "Business @ the Speed of Thought."
"Built for Growth Summary"
"Nought may endure but Mutability," wrote English poet Percy Bysshe Shelley over two centuries ago. And it feels as if he was writing about the modern market! In the world of business, everything seems to change all the time!
So, how can you be sure that your brand will remain a constant in people's minds?
In "Built for Growth," Arthur Rubinfeld and Collins Hemingway try to answer this question. And provide you with an easy-to-read, concise, and profoundly instructive guidebook. Aimed mainly at people who want to start their own retail business.
And the first thing they should have in mind is… ice.
No, not frozen-water ice, and even less, Vanilla Ice. It's an acronym for Idea à Create à Execute, which is the way you'll want to start developing your business. And, after digesting that, you'll need to focus on four different objectives, explained thoroughly in the book in as many parts and 17 chapters.
First of all, you'll need to think big – or, as Rubinfeld and Hemingway say "make no little plans." And this should commence right from the start, with your very first store. Because, just like people, first stores make first impressions as well. And you only have one chance to do this.
So – use mastermind designers so you can embody your corporate views from the outset!
Focusing on expansion is the second foundation of your business. Or, to quote "Built for Growth" – "Go Long." Because, as we said, things change and you're in it for the long haul.
But, going long is not easy!
Firstly, you need to have a budgeted blueprint for execution. And then, you'll need to stay organized at all costs. Because growing without a proper organization will undoubtedly result in some problems afterward.
However, you will probably not grow as expected if you don't spend some time thinking about the third foundation: getting the right location.
Or, in a more action-oriented language: "Own Main & Main!"
However – and you got to believe us – you don't know where Main & Main is unless you know your customers. And even then – you'll need to do proper research to identify their desires and their most cherished places. So, once again – do a research before you do anything else!
Now, you're prepared for the fourth objective: walking the path to growth all the way up! However, to "push the envelope" (as Rubinfeld and Hemingway label this foundation), you'll need an R&D department, working at full time!
After all, the business world changes because people change. And some of these people are your customers. They'll grow tired of you unless you innovate.
As Simon and Garfunkel sang, it's your job to keep the customer satisfied!
Key Lessons from "Built for Growth"
1.      When Building a Brand, You Need to Focus on Four Things
2.      Your Brand Is Always Both a Vision and a Great Story
3.      Listen to the Words of an 18th Century Writer
When Building a Brand, You Need to Focus on Four Things
Building a brand starts with a blueprint, a concept, and an organization. Shape these three around the four foundations suggested by "Built for Growth." First, think big; then, make a plan for many years; thirdly, do a research and find the proper location for your first store; and, finally, innovate to stay fresh.
Your Brand Is Always Both a Vision and a Great Story
Your brand is not just a logo. It's also not just an idea. As we said above: it's also the creation and the execution of this idea. But, this is the central piece of the puzzle: holistically. Everything – from the design to the retailers' mindset – should be part of a single tradition. After all, it's the story which sells.
Listen to the Words of an 18th Century Writer
You don't need to have read Johan Wolfgang von Goethe to know that he's the greatest German writer of all times. Well, once he wrote that "Boldness has genius, power, and magic in It." And Rubinfeld and Hemingway tell you that it's also your only choice.
Like this summary? We'd Like to invite you to download our free 12 min app, for more amazing summaries and audiobooks.
Quotes
"After you have the proper organizational structure and management team in place – even if the team is small – you can begin to plan for growth.
Click To Tweet
Everything depends on the concept.
Click To Tweet
A concept's economic model is the engine under the hood. You do not see it, but it makes the enterprise go.
Click To Tweet
Everything matters when it comes to making the numbers.
Click To Tweet
Never go into a market half-heartedly. Either stay out, or go in with enough stores and enough marketing to create a brand presence that is powerful enough to win.
Click To Tweet



Just a regular guy with a knack for writing, and digital marketing.
Emir is the Head of International and SEO at 12Min. In his spare time, he loves to meditate and play soccer.