Life Will Be the Death оf Me Summary
12 min read ⌚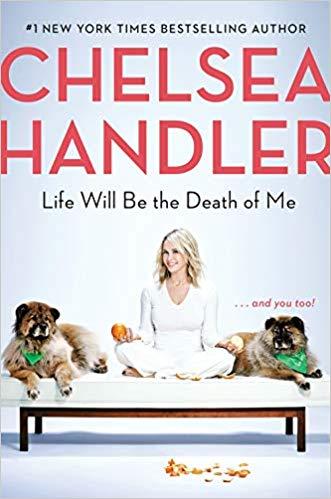 …And You Too!
A fan of Chelsea Handler?
Then, you're going to love this book.
Her funny-titled more-than-just-revelatory memoir:
Who Should Read "Life Will Be the Death оf Me"? And Why?
If you've watched Chelsea and Chelsea Does… and you can't wait for Chelsea Handler's new show, then enjoy her memoir in the meantime; there's everything you might expect to find in a Chelsea's memoir – and more!
And, of course, it's written in the manner that made Chelsea one of TIME's 100 Most Influential People: out-loud funny and super-honest.
About Chelsea Handler

Chelsea Handler is an American television host, actor, comedian, producer, and activist.
Chelsea made her name as the host of the Chelsea Lately late-night talk show on the E! network from 2007 to 2014, after which she moved to Netflix to host the eponymously titled talk show Chelsea.
In the meantime, she released a four-episode documentary series titled Chelsea Does – also on Netflix.
Find out more at https://chelseahandler.com/
"Life Will Be the Death оf Me PDF Summary"
The Awakening
Exactly What Adulthood Should Be
Chelsea Handler's search for herself and her "Year of Self-Sufficiency" started with Trump getting elected; otherwise, who knows if it would have happened at all!
Why?
Well, let's go back a few years to a couple of weeks before the 2016 presidential election and see what Chelsea was doing on a rare windy fall night in Los Angeles.
"I went up to my bedroom," she informs us, "opened up my sliding glass doors, grabbed my vape pen, and turned on some Neil Young."
Then she laid on her bed in the dark, and watched the wind blowing her bedroom drapes around; and then she leaned on to hear the ruffling of the leaves, and watched the lanterns that hang from her backyard trees swinging into each other.
She thought: "If there's an electrical fire, I hope the dogs will at least bark to wake me up."
Because, overall, her thought was: "This is awesome. This is exactly what I'd hoped adulthood would be."
What does that mean, you ask?
Well, it's simple:
No kids, no husband, no responsibilities – just a TV show on Netflix and whatever else I felt like doing, whenever I felt like doing it. Not trapped, not stuck, not dependent on a single person but myself—free to be you and me. I couldn't believe how lucky my life had turned out, how many of my dreams had come true, and also my good fortune in being alive during this time in history – the year we were going to elect our first female president.
But that didn't happen, did it?
The Trump Effect
"I suppose I could blame my state of mind on the election of Donald Trump," writes Chelsea Handler in the first chapter of Life Will Be the Death of Me, titled "Where Have I Been All My Life."
You'd expect a "but" after the sentence quoted above, but Chelsea follows it with something entirely different.
"So I will," she says.
And she goes on:
I have the Trump family and their horrifying personalities and veneers to thank for my midlife crisis. Along with more than half the population – of the world – I couldn't grasp how, in this day and age, we elected a man who insulted Mexicans and women and Muslims and veterans and disabled people and everyone else he has insulted since. The contrast in decency between Barack Obama and Donald Trump was too much for me to bear – like electing Snooki to the Senate. Now people were seriously talking about Dwayne 'the Rock' Johnson running for president. How on earth did we get here? Although, if I'm being honest, at that point in time – or at any other time during the entire Trump presidency – I would have preferred an actual rock.
So, in other words, Chelsea was wondering what most of us were wondering about two years ago: how, on earth, did Donald Trump become a President and how did most of the world didn't even know this outcome was even a possibility?
And that, right there, inspired Chelsea to do something she hadn't done before: start a spiritual journey. Only she calls it "The Year of Self-Sufficiency" because she not only hates but despises the word "journey" – ever since The Bachelor ruined it a decade ago ("a manufactured relationship on a reality show is not a 'journey'").
But you know what she means.
Chelsea the Elitist: Living in a Bubble
Now, the first thing that came to Chelsea's mind in the "torpor of despair" she had fallen in after Hillary didn't become a President was a single word: "elitist."
After all, it was the word everybody was using in all of the President-Trump-related explanations at the time. Apparently, "everyone in California and New York lived in a bubble" and "the election of this lunatic was a result of all of us not knowing anything about the rest of the country."
That didn't ring true for Chelsea.
After all, she had traveled all over the country doing stand-up for so many years and had visited almost every major and minor city multiple times.
Moreover, her father had been a used-car dealer, she didn't have a trust fund, and never even went to college due to lack of money; not to mention: she worked as a waitress numerous times, and was "broke for seven years living paycheck to paycheck."
So, what kind of privilege are we talking about here?
Well, precisely the kind you would expect a New Yorker or a Floridan to have: "I had created a life in which there was a zero-tolerance policy for any discomfort," Chelsea writes.
"I did live in a bubble, inside a bigger bubble, which was inside an even bigger bubble. Three bubbles. Two assistants, two cleaning ladies (who are more like my nannies), a driver, a pool guy, a landscaper, a florist, a houseman."
"I had become exactly what I'd always wanted to be—an elitist," Chelsea concludes.
The Frankl Effect
And, of course, this revelation scares her immensely; after all, it means that she's one of those people who have probably contributed to Trump being elected a President.
Cue: midlife crisis.
What gets her out of it?
Well, the first thing was a line she remembered from Viktor Frankl's memoir, Man's Search for Meaning: "it did not really matter what we expected from life, but rather what life expected from us."
Why does Chelsea even know that line by heart?
Simply put, because she got tired, at an early age, of reading hard books (such as Anna Karenina, East of Eden, The Fountainhead) and she wanted to hack the tests her father gave her to be sure she had read the books he had tasked her with reading.
Namely, Chelsea's father believed that there was one line in every book which summed up the whole book. So, when Chelsea got to such a line (she refers to them as putter-downers), she'd stop reading the books and relate the line to her father, giving the impression that she had read the whole book.
But, now, one of these lines (the one quoted above) really spelled volumes in her mind: what does life expect from me? she started asking herself, wondering where she has been for all her life?
And, suddenly, it all seemed clear: Chelsea was always "white, pretty, and Jewish," always loved by many and never hungry, self-confident, "a lot of luck and a lot of privilege;" in other words, life was never actually difficult for her.
"My life was a bubble," she realized. "That's exactly what it had become. A big vapid bubble."
So, she decided to burst that bubble and start discovering herself.
The Journey
For Chelsea, the process of self-discovery (once again, sorry, Chelsea, for calling it a "journey") includes learning quite a few pretty basic things (such as working the remote, picking up the dog's feces, or finding the toaster), trying out a few new drugs and going back to the old ones (marijuana, ayahuasca), and becoming politically active.
Let's share with you some highlights.
Seeing a Therapist at 42
In an episode of her Netflix show, Chelsea – titled "Dinner Party: Getting School" – Handler interviews a neuropsychiatrist and researcher named Daniel J. Siegel. But you know him already, don't you: he's the guy who authored Mindsight and The Whole-Brain Child.
Well, just a few months after the election, this same guy becomes Chelsea's first real psychiatrist.
Her first few sessions consist of Dan guiding her through meditation; of course, the rest of the time Chelsea talks of nothing else but Donald Trump.
"I was paying someone hundreds of dollars an hour to complain about Donald Trump, which seemed like the exact right move," she writes. "I would have paid him double. I had definitely paid for far worse in my life. I knew people were getting sick and tired of my anger directed toward the 2016 election and the daily horrifying cabinet appointees, and Ivanka and that schmuck Jared, and that evil witch they called a press secretary."
"I couldn't wrap my head around the fact that Sarah Suckabee Sanders and Ivanka Trump had no morality or sense of obligation to the very sex they inhabited – to stand up and say, No more. I needed someone to let me vent, privately. I needed someone to help me harness my anger into something positive."
Dan, however, was merely preparing the field for something far deeper than these kinds of superficial frustrations; and if you've ever been to a psychiatrist, you know full well what we're talking about: childhood issues.
Chelsea's Brother Chet
The first time Dan asked Chelsea about her childhood, Handler answered in a very disinterested manner: "my parents were kind of lame, I have five brothers and sisters, one of whom died when he was twenty-two, and my mom died a few years ago… but I'd rather talk about right now. What can I do right now?"
"Of course I wanted to talk about my brother," she adds offstage, "but I wasn't about to admit that to a stranger."
In time, however, she opens up and realizes something strange: Trump's election got to her because she saw it as some sort of a recurrence of what had happened to her when she was nine, and her 22-year-old brother Chet died on a hiking trip.
How, you ask?
Well, in both cases, the world just turned upside-down for Chelsea.
Her brother Chet (the oldest of a family where Chelsea was the youngest – they were the bookends) represented practically everything for Chelsea.
She wasn't that fascinated with her parents and, in time, Chet started representing much more than a brother: a father, a crush, a boyfriend. Hell, Chet was the first man she ever slept with – but not in a gross way, of course (it was when Chet was 13 and Chelsea had just been born!)
And he had told her, before going on the trip to get some rest, that he would never allow for her to grow up around people such as Chelsea's parents.
Then, he never returned.
Chelsea doesn't believe men to this day because of this: the first man she got emotionally attached to, lied to her about the most important thing ever; and didn't keep his promise.
Ayahuasca
In a great chapter of Chelsea Handler's memoir, she retells the filming of one of the episodes of her new Netflix show in which she and two of her friends (Jenny Mollen and Dan Maurio) try ayahuasca in front of the cameras.
Now, before you take ayahuasca, it's recommended that you cleanse. Chelsea, unlike her two friends, didn't, and spent the night holding and comforting Jenny, while Dan was moaning on a mat in the corner of the room.
In other words, while the two intermittently vomited and broke down, she was becoming more and more sober. Add to this a lot of crying and diarrhea, and, as Chelsea says, "the situation couldn't have gotten any worse—the final blow being that it was all caught on film and would be airing on Netflix." (Well, it already is: just watch the fourth episode of Chelsea Does.)
Anyway, the next time Chelsea was advised to try ayahuasca on her own, and this time everything's great: she is, unexpectedly, overcome with love for her sister.
Her conclusion?
I loved my experience with ayahuasca. Ayahuasca doesn't make you feel euphoric. It's not like Ecstasy, where you feel sexual and open, and you love everyone. It isn't a social drug; it is a solitary experience. I remember every minute of it. I had this overwhelming feeling of love, and a feeling of looking at my life outside of my life. A total shift in perspective. It's a wake-up call, and I can see how it saves people. Ayahuasca isn't a drug I would recommend for everyone. If you have dark thoughts, it could take you down a dark path, but if you don't have a fearful disposition and are fairly open-minded, there's a chance you could get something giant out of it. A metanoia.
The Year Chelsea Became Chelsea
"You have been a human doing, and we need to get you to be a human being," says Daniel J. Siegel to Chelsea during one of their therapy sessions.
"It just sounds like something straight out of a therapist's handbook," Chelsea objected.
However, during the year of her self-sufficiency, during her post-Trump journey of self-discovery, Handler realized that Siegel was more than right: and that's precisely what happened during her transformation chronicled in Life Will Be the Death of Me.
She sums up the experience in four great sentences:
"I thought I was nailing it, for a really long time. I spent my twenties wanting people to think I was great. I spent my thirties thinking people thought I was great. I turned forty, and I started wondering what I thought about me."
Handler ends the book with a few pieces of advice which sound a lot as if taken straight out of the "Wear Sunscreen" hypothetical speech.
We'll quote them in our key lessons.
Key Lessons from "Life Will Be the Death оf Me"
1. If You Are a New Yorker or a Floridan – You Are Probably an Elitist
2. Your Frustration with Trump May Be Related to Your Family
3. Chelsea Handler Has Something to Tell You
If You Are a New Yorker or a Floridan – You Are Probably an Elitist
Chelsea Handler didn't exactly live a privileged life for some parts of it – her father had been a used-car dealer, and she spent at least seven years making ends meet – which is why she failed to see that one of the reasons that Trump happened was her.
Namely, as she realized soon after Trump got elected, in her LA apartment, she did have a butler and two servants, and if that's not elitist – what is?
Well, people in NY and LA scoffed at the very idea of Trump becoming a President because they were segregated in the privileged districts of America.
Your Frustration with Trump May Be Related to Your Family
Chelsea Handler was very mad after Trump won. So mad, in fact, that she started seeing a psychotherapist. Most of the sessions were nothing more than her ranting on and on about Trump being "a bag of psychological cement."
However, he was also a catalyst for her unlocking her own bag of psychological cement: his election meant that the world had unhinged, and that's exactly what happened to Chelsea when her brother Chet unexpectedly died on a hiking trip when she was 9.
She was reliving the greatest tragedy of her life; fortunately, this time, she finally realized who she was – and had been all along.
Chelsea Handler Has Something to Tell You
As we promised above, Life Will Be the Death of Me ends with a string of advices coming directly from Chelsea.
Here, we quote them in full:
Your voice has meaning. Find something you care about that has nothing to do with you, and learn about it. Pay attention when you're tired. Take care of yourself. Read more. Watch less TV. Find new people to teach you their life lessons. Be proactive.
Know that you have something of value that is unlike what anyone else has.
The world is only getting browner and gayer, and if you don't hop on board, you're going to miss the bus.
Go after happiness like it is the only thing you can take with you when you die. Stand up for yourself. Treat yourself the way you treat the person you love most in the world. Get on your own team.
Wake up. Take a nap. Laugh. Cry. Rinse. Repeat.
Like this summary? We'd like to invite you to download our free 12 min app for more amazing summaries and audiobooks.
"Life Will Be the Death оf Me Quotes"
Far too many people are looking for the right person, instead of trying to be the right person. (Via Gloria Steinem)
Click To Tweet
And after all is said and done, I'd like to be cremated and have my ashes scattered over Bob Mueller's grave. Or inside it. Or his inside mine…or me. Or in one of Daniel Day-Lewis's clogs.
Click To Tweet
I define me. No event or person does this. I define me. I decide who I am and how I'm going to behave, and I choose to be better. To look more carefully, to trudge deeper.
Click To Tweet
To understand my limitations, my shortcomings—that is my growth edge.
Click To Tweet
I only ate eggs after Chet died. I've spent the past thirty-three years looking at cereal with disdain. Cereal was for children. Cereal was for nine-year-olds before they got their hearts broken. Cereal was off-limits.
Click To Tweet

Our Critical Review
Life Will Be the Death of Me is so honest that it even recreates her heartfelt discussions with her therapist (Dan Siegel) related to her childhood traumas and the death of her oldest brother.
"This will be one of your favorite books of all time," says Amy Schumer. "Through her intensely vulnerable, honest, and hilarious reflections, Chelsea shows us more than just her insides. She shows us ourselves."
The opinion is shared by everybody from Gloria Steinem to Ellen DeGeneres, from Trevor Noah to Jon Favreau.
After all, as David Foster Wallace suggested, we do need more honesty in this world; and Handler's honesty is take-no-prisoners fearless!



Just a regular guy with a knack for writing, and digital marketing.
Emir is the Head of International and SEO at 12Min. In his spare time, he loves to meditate and play soccer.