4 min read ⌚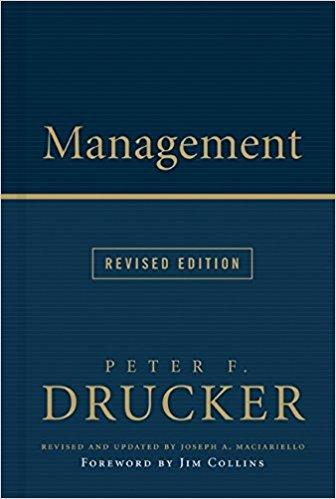 Management is a topic that is widely discussed and written about.
However, we are proposing that you drink the wisdom directly from the source: Peter F. Drucker, otherwise known as "the founding father of the study of management."
Who Should Read "Management"? And Why?
Peter F. Drucker has written more than 34 works, 15 of which are on the science of enterprise management. So, it is safe to say that he is "the founding father of the study of management."
We recommend "Management" to everyone wanting to learn about it. You cannot do better than Drucker.
About Peter F. Drucker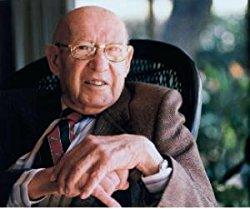 Peter F. Drucker (1909-2005) was an influential writer and theorist on management theory and practice.
"Management Summary"
Management has risen to be an organizational discipline over the 20th century.
But how did the need for management appear in the first place?
Well, labor moved from manual work to "knowledge work," so the need for skilled personnel grew.
Companies began to compete on another basis other than just cost. Hence, managers became the "competitive advantage" that distinguished successful from unsuccessful companies.
But what do managers actually do?
Their job is to make people more productive basically. They direct the efforts of the employees so that all actions lead toward accomplishing the organization's goal.
Managers:
Contribute to creating a mission statement for the organization
Implement actions to achieve the organization's purpose.
Guide employees to achieve corporate goals in a productive and efficient manner.
Help the organization meet its "social responsibilities."
We can explain the role of management through five primary managerial functions which enable "the integration of resources into a viable, growing organism," as well.
Managers:
"Set objectives" and establish the objectives that employees work to reach.
"Organize" tasks and coordinate their allocation, making sure that the right people get the proper roles.
"Motivate and communicate" and team employees up in a cooperative group.
"Establish targets and yardsticks" which measure outcomes, to continually check whether the company is moving in the right direction.
"Develop people" through nurturing and training employees, understanding that they are the firm's primary resource.
In other words, managers gather information and check for progress, to make sure that everyone is moving in the right direction: toward the company's goals.
But that is not all.
Managers should know not only how to make the right decisions but to communicate their reasoning and explain what has to be done and for what reason.
They are in charge of monitoring progress and sharing internal information so that all employees have the right data.
They also take care of securing external data, which allows for the company to be up to date and to stay competitive in the market.
Enterprises need to put enough effort into developing expert managers since so many things depend on them.
When defining a manager's job, it is essential that the title shows the function the manager has. It has to be clear and concise.
Additionally, the job description should explain the exact contributions managers and their teams should make to the organization.
Furthermore, remember that a manager's span of control does not depend on the number of individuals the manager manages, but on the "span of managerial relationships."
In other words, a management job exists in a network of relationships: "upward, downward and sideways," so it is important that the managers you appoint work well with their subordinates, superiors, and peers.
If his communication with all groups is not well, then he is not the manager you are looking for. You are looking for someone who can supervise, and be managed at the same time.
Moreover, you are looking for someone who is able to accept the opinions of others and access his own potentials.
Furthermore, you should regularly assess the managers' performance, as well, in order to determine their capabilities.
As you can see from what we have already written about, the top executives are in charge of appointing and organizing managerial roles.
So make sure you make the right choices.
Choosing the right people to direct your other employees, will determine how efficient and productive people will be overall.
Key Lessons from "Management"
1.      A List of the Most Common Management Mistakes
2.      Seven Rules for Decision Making
3.      See the big picture
A List of the Most Common Management Mistakes
"Failing to balance managing and working."
Seven Rules for Decision Making
Make sure it is crucial to make a decision.
Understand the nature of the problem you face: Is it "generic" or "unique"?
Study the issue by asking: "What is this all about?" "What is pertinent here?" "What is key to the situation?"
Compromise, if needed, to come up with the "right" decision.
Secure that all the constituents who will have to implement your decision accept it.
Ensure that actions follow decisions: assign responsibility Spell out what needs to be done, and assign responsibility accordingly.
Monitor the results and get feedback.
How a Manager Can Manage Himself
Come up with a "boss list" that shows those to whom you report, those who assess you and your team, and those who have input into your work, or rely on it.
Ask each person on the list to tell you when your actions have helped, and when they have stopped progress. Reflect on the answers.
"Enable your bosses to perform"
"Play to the bosses' strengths" and keep the focus away from their weaknesses, to establish trust.
Keep your manager informed about what you do, both to do his approval, and to build trust.
"Never underrate a boss."
Like this summary? We'd Like to invite you to download our free 12 min app, for more amazing summaries and audiobooks.
"Management" Quotes
Managers are the basic resource for the organizational enterprise.
Click To Tweet
Without the institution, there would be no management, but without management, there would be only a mob rather than an institution.
Click To Tweet
Good decision makers don't make many decisions. They make decisions that make a difference.
Click To Tweet
Even the most efficient business cannot survive, let alone succeed, if it is efficient in doing the wrong things, that is if it lacks effectiveness.
Click To Tweet
The impact of the manager on modern society and its citizens are so great as to require of the manager the self-discipline and the high service standards of the true professional.
Click To Tweet


Our Critical Review
This version of "Management," revised by Joseph A. Maciariello to include Drucker's later writings, covers every aspect of management.
It also goes into a remarkably diverse range of topics such as corporate governance, nonprofits, and "knowledge workers."


Just a regular guy with a knack for writing, and digital marketing.
Emir is the Head of International and SEO at 12Min. In his spare time, he loves to meditate and play soccer.