Robert Greene – A Journey of 100 steps
5 min read ⌚
Robert Greene doesn't endorse any quitting and giving up on something you love doing.
In this short little preview of Green's journey, we outline the key milestones in his life and more.
Who is Robert Greene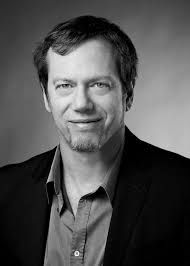 Robert Greene is hailed as one of the best American authors, in this era. He was born on May 14, 1959, and from early childhood, Robert questioned the behavioral patterns that shape one's opinion and mindset.
Believe it or not, his main incentive for becoming a writer was the importance of power in the world, not just today but throughout history.
As the author of five recognized, and international best-selling books, he has all the expertise required to share a psychological review of the whole world.
What's even more inspiring, is the number of celebrities who have joined his cause, and publicly stated that his books changed their lives and perception. Not bad, ha?
Robert Greene books:
The 48 Laws of Power

The Art of Seduction

The 33 Strategies of War

The 50th Law
As you can assume, he didn't have a flying start. Born to a Jewish Family, Robert Greene had humble beginnings. Growing up in Los Angeles, and attending the University of California, opened the window of opportunity for him.
How should things unfold? Like an arrow, straight to the top. Unfortunately, that wasn't the case with Robert Greene. As a matter of fact, Greene had at least 80 different jobs before he became a writer.
Working as a construction worker, editor, Hollywood movie writer granted him the opportunity to distinguish himself in the writing business.
In the mid-90s, Greene got a job to work as a writer at Fabrica. From today's perspective, this art and media school symbolizes the crossroad in Robert's life, where he met a book packager known by the name of Joost Elffers.
This friendship marked the beginning of Greene's professional writing career. He wrote a treatment and presented it before Elffers, a situation that can be labeled as the turning point or a point of no return in Robert Greene's adventure.
It was at that moment that Greene started writing "The 48 Laws of Power," a book which will later develop into a global sensation.
Greene's viewpoints and conclusion, on numerous occasions, were described as manipulative and unethical.
According to various testimonies, "The 48 Laws of Power" breaks all the boundaries of moral behavior and sets a new line of defense in order to protect one's interest.
Despite all the controversies revolving around it, this classic continues to inspire business executives, athletes, entrepreneurs, lawyers to take action.
Greene responded to these allegations by saying that – These laws (referring to the 48 Laws) are nothing but practical, a useful tool for all people to get their grip on success.
Without further ado, we also like to mention that Greene's work and accomplishments have been featured in renowned magazines and journals such as The New York Times, Newsweek, Forbes, USA Today, and others.
If you are unsure of a course of action, do not attempt it. Your doubts and hesitations will infect your execution. Timidity is dangerous: Better to enter with boldness. Any mistakes you commit through audacity are easily corrected with more audacity.
Best Robert Greene Books
#1. The 48 Laws of Power Summary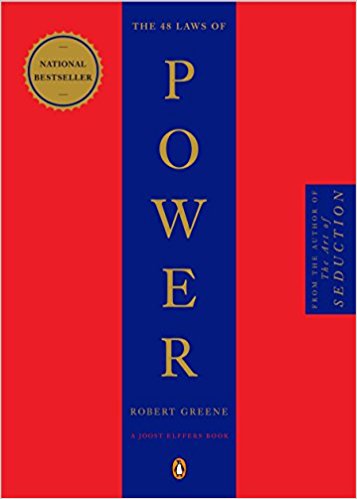 The First Edition of "The 48 Laws of Power" was published back in 1998. At first glance, it may seem like a guide that instigates a battle for power, but in our opinion, it's just a collection of tips used by those seeking power.
You are not bound to employ the techniques if you find them disturbing and corrupt. You can also use the book as a tool against those wishing to harm you and question your authority.
Take notes, because these laws are drawn from the unpredictable course of history. Personalities such as Niccolò Machiavelli, Alexander the Great, Sun Tzu, Napoleon Bonaparte, Henry Kissinger are an integral part of the whole ball-game.
1 Chapter = 1 Laws – start now.
Do not leave your reputation to chance or gossip; it is your life's artwork, and you must craft it, hone it, and display it with the care of an artist.
#2. The 33 Strategies of War Summary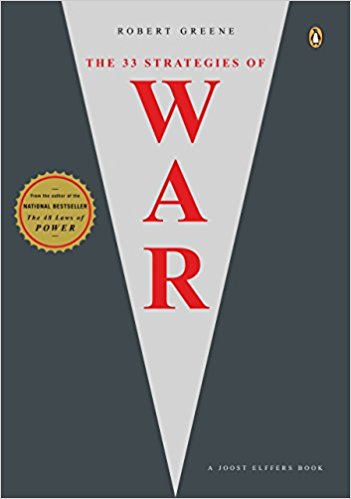 "The 33 Strategies of War" is like a chess match. The shrewd one will always outsmart the impatient one. If you are looking to explore an all-encompassing military guide, enriched with all sorts of mind-games and how to use them – you are in the right place.
It's said that any war, lacks principles and compassion. Well, that statement can also be interpreted otherwise, but that's another matter.
Greene is renowned for his ability to put all pieces together, and this sequel to the Sun Tzu's The Art of War is no different.
Motivated by events that shaped history, Greene covers various campaign and endeavors that ended up successfully, which is equivalent to bloodshed.
Learn how to set your offense and win the little wars that unfold in everyone's life. Take a strong stance and push back those enemy forces that are boiled with rage.
Estimate your strength and available assets to take the initiative and launch a counter-offensive.
It sounds like a medieval drama, but life has its struggles and battles. You cannot run away from them! A great warrior never flees the field of battle; he stands his ground willing to defy the odds and numbers.
Grand strategy is the art of looking beyond the present battle and calculating ahead. Focus on your ultimate goal and plot to reach it.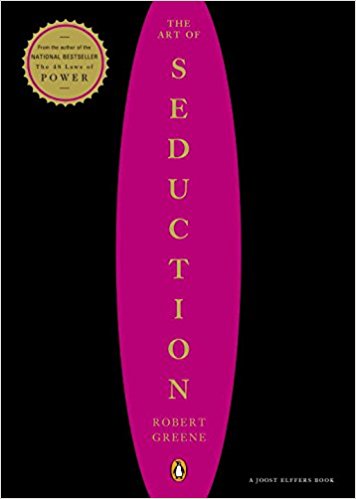 Well, turn the lights off, or not – just kidding. This book doesn't prompt the execution of spy activities on any level. It's more like a magician's trick performed to delude the audience and control the people's reactions.
These dazzling maneuvers will leave you breathless and thus you'll be in a position to earn the title of a Seducer.
Sex has always been used as weaponry, particularly useful to control the outcome of a certain situation. In general, manipulation and persuasion are seldom used as separate concepts.
Seduction has its price and value, and it's known to be a valuable asset against all forms of influence.
Domination, authority, competence, potential, skill, talent, all fall beneath the feet of shrewd maneuvering. Raise your voice and learn a few tricks that can help you seize power.
Discover who is who and find out more about the participants of this process. However, never neglect the system itself, because you can't make a right move if you don't understand the game.
Sadness of any sort is also seductive, particularly if it seems deep-rooted, even spiritual, rather than needy or pathetic—it makes people come to you."
Like this summary? We'd Like to invite you to download our free 12 min app, for more amazing summaries and audiobooks.
"Robert Greene Quotes"
Religion is the great balm of existence because it takes us outside ourselves, connects us to something larger.
Click To Tweet
But the greatest battle of all is with yourself—your weaknesses, your emotions, your lack of resolution in seeing things through to the end. You must declare unceasing war on yourself.
Click To Tweet
Do not leave your reputation to chance or gossip; it is your life's artwork, and you must craft it, hone it, and display it with the care of an artist.
Click To Tweet
Many a serious thinker has been produced in prisons, where we have nothing to do but think.
Click To Tweet
The future belongs to those who learn more skills and combine them in creative ways.
Click To Tweet


Final Notes
We are hoping that in the recent future, the audience will receive another gem from Robert Greene's beautiful fountain of ideas.
His influence and straightforwardness can never be surpassed anytime soon.


Just a regular guy with a knack for writing, and digital marketing.
Emir is the Head of International and SEO at 12Min. In his spare time, he loves to meditate and play soccer.