101 Ways to Power Up Your Job Search Summary
5 min read ⌚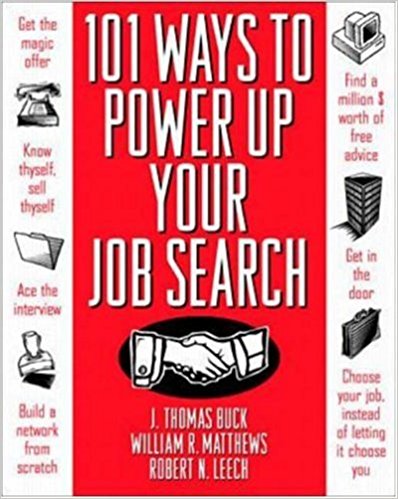 Times change. Jobs change. Requirements change. So, set aside musings of the old ways of conducting job hunts, and start thinking about a strategic approach to searching for employment.
Who Should Read "101 Ways to Power Up Your Job Search"? And Why?
"101 Ways to Power Up Your Job Search" is made of developed techniques which will help you uncover your talents, skills, and needs, and will lead you through the job-quest process. The style is straightforward and conversational, but the book is far from simple.
The questions that the authors ask are going to make you self-reflect and drastically improve, even if you are currently part of the business environment.
Therefore, we recommend this book both to people who are seeking for employment, as well as to already employed individuals who wish to be prepared for the changing requirements of the job market.
About Thomas Buck, William Matthews & Robert Leech
The authors of this book are all connected to Prism Performance Systems, a change management consulting company.
Thomas Buck is the company's president.
William Matthews works as a senior consultant.
Robert Leech works both in his consulting firm, R.N. Leech & Associates and as a consultant with Prism.
"101 Ways to Power Up Your Job Search Summary"
Start by evaluating yourself and finding out where you could use career development help, before your job hunt (or before you quit your present place of employment).
How content would you say you are with your analysis of your abilities and qualities? Is it accurate to say that you know about all the career alternatives that may suit you? Could you say that you have enough insight into networking strategies?
Have you examined the sorts of companies that offer jobs that would suit you? Are you confident in your interviewing abilities? Answering these questions is where you should start.
Next, define yourself and your search. Your qualities, skills and your feelings ought to be your guide. Regardless of whether you are searching for another job because you have been cut back, or because you quit, or for an entirely different reason, you should first be clear about your self-identity and what you truly need.
This is your chance start walking a path that will bring you fulfillment later on. Continue by listing your achievements.
Consider everything: your education, career, and individual accomplishments. Even the littlest things you know how to do are considered as achievements and can convert into abilities.
Also, identify your attributes, since they define your interpersonal style. Four such styles are noticeable: driver, amiable, expressive, and analytical. You do not necessarily fit into one style, on the contrary, you might be a mix of any of them.
Now that you have done all that, you are probably going to continue to the actual search. Remember to always pick your jobs as opposed to allowing the posts choose you. Do not accept just anything offered on the market.
There may be times when you need to work, but most of the time you can give yourself a few alternatives. When you narrow your interests, you raise the chances that you will find an occupation that suits you. Start by reviewing your abilities, skills, and needs.
Update your resume and make it appealing. You will most likely need to make more than one resume, so you can display different objectives or skills, depending on the position you are applying for.
Keep in mind that once you get employed, it may not be a position you will hold for a whole lifetime. Lifetime employment no longer exists nowadays. So, make sure to remain on top of your career strategies even when you are currently working.
Job hunts can, in fact, make you grow professionally. So, instead of fearing change, embrace it.
Key Lessons from "101 Ways to Power Up Your Job Search"
1.      Job Finding Traps
2.      Managing the Interview
3.      Think Strategically
Job Finding Traps
Here are some of the traps that you should avoid since they can take you to the wrong direction. First, the "They-told-me-to" trap is when the people that surround you believe you are suited for a certain line of work, and you follow their opinions, disregarding your wishes.
Next, the "Don't-be-different" trap is active when you do not let yourself pursue a particular career just because you believe it is a career for people from a certain category that you do not belong in (like the opposite sex).
Third, the "Be-friendly" trap is choosing a particular industry, because your friends work there. Lastly, you are caught in the "Glamour" trap when you choose a career merely because it looks glamorous to you.
To avoid getting caught in these traps, you should determine your personal preferences and skills.
Managing the Interview
Before going to an interview, prepare as much as you can. You can rehearse and plan your responses since there is a pool of shared questions that most of the interviewers ask. Practice different answers that would appeal to interviewers of various personality types (amiable, analytic, expressive or driver).
Furthermore, find out information about the company, and the industry it is in before going to the interview.
Also, think of questions you would want to ask as well. After the meeting is done, reflect. Think of what happened and how you could improve in the future.
Learning to Accept Rejection
Rejections will happen, that is for sure. Whenever you do not get an offer, find out why. Is it because the company's personality does not go well with your mindset and skillset? Is it because of something else?
Finding this out will help you put more effort in areas that you need to improve in, or even teach you to stay away from companies that aren't right for you. In any case, do not take rejections personally. Objectively assess what you could improve, and continue your job search.
Like this summary? We'd Like to invite you to download our free 12 min app, for more amazing summaries and audiobooks.
"101 Ways to Power Up Your Job Search" Quotes
Forget the old strategies and old rules, and start fresh.
Click To Tweet
Sometimes we can learn as much from the nightmare jobs as we can from the dream ones.
Click To Tweet
Sometimes we separate our personal lives from our professional lives, our nonwork accomplishments from our work ones. But it's important to think about our achievements holistically - skills frequently translate well from one area of life…
Click To Tweet
In today's chaotic business environment, individuals will be successful if they focus both on what the business needs from them, as well as on what satisfaction they get from working.
Click To Tweet
Perhaps the most harmful work myth is that employers will be responsible for your professional growth and development.
Click To Tweet


Our Critical Review
Searching for a job used to be a dreaded activity consisted of making calls, sending out resumes, going on interviews, and suffering rejection. However, the employment process has drastically changed and will continue turning along with everything else.


Just a regular guy with a knack for writing, and digital marketing.
Emir is the Head of International and SEO at 12Min. In his spare time, he loves to meditate and play soccer.