5 min read ⌚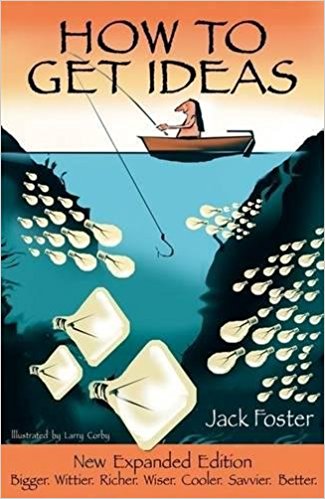 As Henry Ford once said, "Whether you think you can or can't do something, you're right in both cases."
We present an outline of the theory of putting ideas into practice!
Who Should Read "How to Get Ideas"? And Why?
The "inferior" people succeed because of the self-admiration attributes supported by strong beliefs. The diversity among individuals occurs when bubble with ideas burst; those who don't have a clue of what to do next, become lost, and the ones with a natural ability to generate ideas – flourish.
Jack Foster advises you, to be a part of the second group, expand your knowledge and share your thoughts with the world. Don't be afraid of rejection and make your path.
"How to Get Ideas" claim that all people have a creative side, but not everyone knows how to use it. If you feel ready for transformation, this is the perfect pick you.
About Jack Foster
Jack Foster spent 40 years working in the advertising business – willingly.
His job was above else to write commercial campaigns for companies like Universal Studios, Carnation, Sunkist, Mattel, Mazda, Albertson's, ARCO, Ore-Ida, Suzuki, and Rand McNally.
"How to Get Ideas Summary"
Your age, profession, skills, or practice are not so important nor relevant. To come up with an exceptional idea faster and easier, you'll need something far greater than talent. There is one useful method which includes a specific mindset trained to make your mind "idea prone." Several factors are worth mentioning that can contribute to this purpose:
Build a sense of humor, and make the working environment-friendly once more
Don't abandon the child within you, the imagination and creativity are equally important
Always be curious and eager to learn new things.
At first, you have to visualize before you materialize
Listen to different ideas and combine them for your own good
Don't be afraid of failure, take the risk
The very foundation of humor as you already know is intertwined with the creative side of one's mind. Creativity is an integral part of the "coming up with an idea" process, and that is why you cannot neglect one or the other.
The embodiment of any artistry is the standard of merging disparate elements to form a new idea which truly makes sense." Generating ideas is a fun piece of work, it is like writing a song.
Perhaps, the last one you wrote was a big hit; now you must make room or free yourself from the old chains for new ones to emerge.
When you think about, it's almost unimaginable to isolate humor or fun from imagination. The question is – What is the difference between idea-prone people and those who are not?
Lawyers, investors, managers, musicians, athletes have got to be on the right side because their jobs require not only creativity but sometimes even ingenuity. Come up with ideas is the easy part, knowing where to find them and implement them at a later stage is a bit harder.
An average person would say: But they exist in our mind where else?
Ideas can be found anywhere, in the supermarket while shopping, on YouTube, while scrolling the Facebook's news feed, etc. The people who live a boring routine life, don't come up with any mostly because they do not even search for them. In fact, it is all so simple – your eagerness sets the bar.
It's not okay to discredit this book by looking it like just another explanation related to the super-saturated and infrequently enlightening area of creativity. Some readers share that perspective about Jack Foster's book.
The quotes and examples are drawn from well-known and familiar sources. Enriched with all sorts of life-altering – ideas, formulas and inventions, Jack Foster has deservedly taken the credit for this inspiring, compelling and inspirational book.
There are no delays, the author guides you right to the point in a humorous way and never descends to the unrecognizable stage of psychobabble.
Have you ever witnessed a person who didn't believe in itself and yet somehow magically managed to become a winner in time?
Not even Disney can make this fairy-tale story real. It is okay if you are poor, but your overall failure doesn't depend on the present situation, it relies on your mindset.
Visualize, and materialize, your success awaits you behind the corner. Analyzing regular people on the street is enough, so that you may also endorse this theory. The seemingly talented individuals fail while the silent ones experience a wild success.
Key Lessons from "How to Get Ideas"
1.      Awake the child in you
2.      Creativity makes people curious and brave
3.      Use your creativity to combine elements
Awake the child in you
The childish nature is the ticket to a more creative mindset. The adult in you is rational, avoid spending too much time on the realistic side. The adult overthinks, and it is restricted by personal experience, knowledge, surroundings, rules, culture, preconceptions and religion.
The child is innocent in every possible way; it is allowed to think freely and doesn't impose any limitations. He sees the world as one gigantic playground; perhaps you should do the same.
Creativity makes people curious and brave
Creative people have on thing in common – curiosity. They sometimes act as though they are kids, asking thousands of questions daily, eager to absorb new theories and information.
This attribute guides them to gather a vast amount of knowledge, from the apparently meaningless to the profound.
Use your creativity to combine elements
In spite of the fact which indicates that a new idea is just a combination of old components; in time you'll come up with a conclusion – you can merge various elements in hundreds of different ways. Creativity allows it.
Like this summary? We'd Like to invite you to download our free 12 min app, for more amazing summaries and audiobooks.
"How to Get Ideas" Quotes
You must screw up your courage and tell somebody about your idea.
Click To Tweet
Adults tend to do what they or other people did the last time. To children there is no last time. Every time is the first time. And so when they go exploring for ideas they explore a land that is fresh and original, a land without rules.
Click To Tweet
Whether you're a designer dreaming of another world, an engineer working on a new kind of structure, an executive developing a fresh business concept, an advertiser seeking a breakthrough way to sell your product, your ability to generate…
Click To Tweet
Kids are natural-born scientists.
Click To Tweet
Whether you think you can or can't, you're right.
Click To Tweet


Our Critical Review
What you take yourself to be, is probably the most important part of your life-journey.
Your self-created image has the capacity to control everything else. "How to Get Ideas" book provokes you to answer the most difficult questions, which are related to your thinking habits. 


Just a regular guy with a knack for writing, and digital marketing.
Emir is the Head of International and SEO at 12Min. In his spare time, he loves to meditate and play soccer.