5 min read ⌚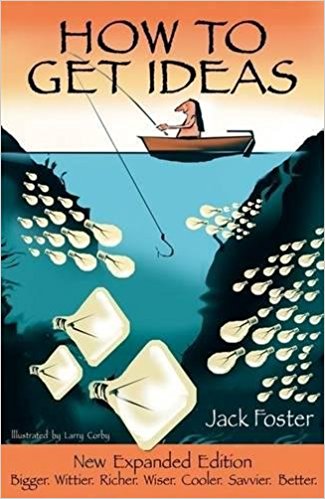 As Henry Ford once said, "Whether you think you can or can't do something, you're right in both cases."
We present an outline of the theory of putting ideas into practice!
Who Should Read "How to Get Ideas"? And Why?
The "inferior" people succeed because of the self-admiration attributes supported by strong beliefs. The diversity among individuals occurs when bubble with ideas burst; those who don't have a clue of what to do next, become lost, and the ones with a natural ability to generate ideas – flourish.
Jack Foster advises you, to be a part of the second group, expand your knowledge and share your thoughts with the world. Don't be afraid of rejection and make your path.
"How to Get Ideas" claim that all people have a creative side, but not everyone knows how to use it. If you feel ready for transformation, this is the perfect pick you.
About Jack Foster
Jack Foster spent 40 years working in the advertising business – willingly.
His job was above else to write commercial campaigns for companies like Universal Studios, Carnation, Sunkist, Mattel, Mazda, Albertson's, ARCO, Ore-Ida, Suzuki, and Rand McNally.
"How to Get Ideas Summary"
Your age, profession, skills, or practice are not so important nor relevant. To come up with an exceptional idea faster and easier, you'll need something far greater than talent. There is one useful method which includes a specific mindset trained to make your mind "idea prone." Several factors are worth mentioning that can contribute to this purpose:
Build a sense of humor, and make the working environment-friendly once more
Don't abandon the child within you, the imagination and creativity are equally important
Always be curious and eager to learn new things.
At first, you have to visualize before you materialize
Listen to different ideas and combine them for your own good
Don't be afraid of failure, take the risk
The very foundation of humor as you already know is intertwined with the creative side of one's mind. Creativity is an integral part of the "coming up with an idea" process, and that is why you cannot neglect one or the other.
The embodiment of any artistry is the standard of merging disparate elements to form a new idea which truly makes sense." Generating ideas is a fun piece of work, it is like writing a song.
Perhaps, the last one you wrote was a big hit; now you must make room or free yourself from the old chains for new ones to emerge.
When you think about, it's almost unimaginable to isolate humor or fun from imagination. The question is – What is the difference between idea-prone people and those who are not?
Lawyers, investors, managers, musicians, athletes have got to be on the right side because their jobs require not only creativity but sometimes even ingenuity. Come up with ideas is the easy part, knowing where to find them and implement them at a later stage is a bit harder.
An average person would say: But they exist in our mind where else?