The Art of Happiness Summary | PDF Format |
7 min read ⌚
A Handbook for Living
Some say that attaining human happiness is as easy as adhering to a scientific formula. Others – that it's more of an art. And among the latter is none other than Dalai Lama.
And we're guessing that he's your go-to guy as well when it comes to mastering "The Art of Happiness."
Who Should Read "The Art of Happiness"? And Why?
Unfortunately, nowadays suffering seems to be a part of everybody's life. For example, there are at least 40 million people in the US alone, not to mention globally who suffer from depression.
And what about their families and loved ones, or about the families and the loved ones of the victims of murder, rape and domestic abuse? It's painful just to think about it…
And that's why books such as "The Art of Happiness" exist. In fact, its title may be misleading. Because everyone can be happy when life is treating them fine; the point is to remain happy when things inevitably turn against you.
Read "The Art of Happiness" if you want to learn how you should deal with suffering. Or, for that matter, almost any negative feeling: pain, anger, anxiety, depression, guilt. After all, its author is someone praised as "the source of all sentient beings' happiness," And, by acclamation, one of the most spiritual beings living on this planet.
About Dalai Lama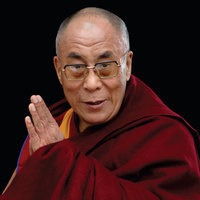 Dalai Lama is actually the title Tibetans give to their spiritual leaders. The one shown in the photograph is the last in a line of fourteen. His name is Tenzin Gyatso. He was enthroned as the Dalai Lama in 1940, and he assumed political duties ten years later, at the age of 15.
Tenzin Gyatso, the 14th Dalai Lama, won the Nobel Peace Prize in 1989 and is one of the most widely revered and respected men on the planet.
He has authored many books, most of which are translated into many languages, and oft-quoted in each of them. Among them is his most recent one, "The Book of Joy," co-authored with Desmond Tutu.
And you can learn even more about his views and ideas by checking out our summary of Daniel Goleman's "A Force for Good: The Dalai Lama's Vision for Our World."
"The Art of Happiness PDF Summary"
Strictly speaking, "The Art of Happiness" is not actually written by the 14th Dalai Lama. But, its actual writer's only intention is to relate Dalai Lama's teachings – in His Holiness' words.
That's why the book can be best summarized as lists of quotes and monologues by the Dalai Lama, well organized by Howard C. Cutler, a Phoenix psychiatrist, in 5 parts and 15 chapters.
The first part is titled "The Purpose of Life," and it consists of four chapters.
Comments are closed.