The Happiness Equation Summary
5 min read ⌚
Want Nothing + Do Anything=Have Everything
We can all agree that there is no universal formula for success? But, what is there?
A comprehensive tool, or a recipe that can convert your boring life into an extraordinary journey.
Give us a try!
Who Should Read "The Happiness Equation"? And Why?
As much as we hate living on the verge of a psychological breakdown, we continue enforcing the same destructive habits.
"The Happiness Equation" compiles a list of practical tips and declares war on "Unhappiness" with the help of real-life examples, and mind-blowing facts.
About Neil Pasricha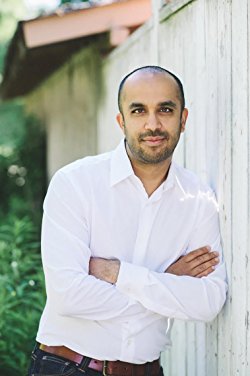 Neil Pasricha already distinguished himself in the realm of literature as a hailed motivational speaker and entrepreneur.
Despite earning the title "New-York Times" best-selling author, he continued walking the same humble road, paved with effective norms and insightful methodologies.
"The Happiness Equation Summary"
Depending on your cultural, economic, social and political background you have developed and embraced concepts, which clarify your route to happiness. In spite of our beliefs, one must seriously reconsider altering its viewpoints and realize that success isn't merely the end result of hard work and effort.
However, in order to get the technique right, we must outline what causes misfortune and how we can avoid shipwreck. Productivity, creativity and efficient contribution derive from individuals who can be labeled as happy.
Happiness shouldn't be perceived as something you should pursue. In fact, such mindset will get you nowhere especially if you take into account that "getting a raise" is a temporary motivation boost, nothing more.
A major breakthrough in psychology revealed that self-contentment is 99% based on the world image, which can lead to either expansion or shrink down the horizons. Stay positive and enjoy the rest – is a motto you should adopt.
Neil cannot emphasize enough how motivation can be a huge ranking factor, regarding positivity. It's said – Being happy is easy, all you need to do is follow your heart. Being miserable takes more time and effort because you are forced to do something you absolutely hate and despise.
If your life-goal explains the never-ending pursuit of more money, not only that you'll never reach happiness, but there is a good chance that you'll remain trapped in this circle.
Not even the best performers in the world, cannot sidestep temporary signs of low self-esteem, and fear. Don't try to escape these sensations, just try to perceive their influence from another perspective, that is not linked to personhood.
When trying to get the best out of these phenomena, you'll immediately realize that you are facing an invulnerable opponent. Before making any sudden turn, stop for a moment and understand what is going on. Actually, the battle unfolds between two equally important parts of your brain: the amygdala and the prefrontal cortex.
With the wind in our backs, we can gently turn our attention towards the third secret. All of the other efforts will bear no meaning if we don't feel gratitude.
Think of it this way – Saying "thanks" is a powerful force and a lethal weapon in the battle against depression.
What's next in line?
Do you have any savings plan for the retirement age? Are you impatient to test the fruits of your work?
The truth is many people nowadays have no intention of enjoying their "rest stage" and prefer to continue contributing to the economy. Why? – Many experts agree that inactivity is the cause of many emotional, and physical problems and health issues.
These days, retirement is easily disregarded, and the hard work continues, not due to financial reasons but because it stimulates high spirits and self-satisfaction. There are two sides of every story, and sometimes having a good monthly paycheck can act as an incentive to maintain the tempo.
Ask yourself? – What is at the top of the hierarchy? – Money or time-well-spent? Unfortunately, choosing a path is a must, and your ideas about life will decide your fate, including the directions to fulfill the mission.
Neil provides professional assistance for you to choose the right path for your endeavors. And without room for alternatives, he suggests that "Time" should be the first thing on your mind. Appreciate its impact, because it's a resource that can never be replaced.
Since you've been introduced to the fifth secret; it's time to take a few steps forward, towards a more practical approach. Adhere to modern principles, which are generating results in terms of happiness, not finance.  
Correspondingly, one must estimate how much time on a daily, weekly, and yearly basis is spent on pleasure and joyful activities, and how much is allocated to routine work. Such revelation unveils the untold truth about your life and things that require your attention.
Your happiness depends on your attitude towards life, don't make it worse by putting the daily responsibilities underneath the carpet. In reality, there are two mental concepts "Can't-Do, and the Don't Want To," which take all the blame for failures and unhappiness.
Key Lessons from "
The Happiness Equation
"
1.      Stop delaying and reach for the stars
2.      Understand the burden of decision-making
3.      Control the outcome of the quarrel
Stop delaying and reach for the stars
Do you accept and apply procrastination tactics? – According to statistics, more than 90% of the people are delayers, and erasing tasks from the to-do list can be a nightmare.
Don't be deceived by the external factors because all the obstacles along the road are self-created.
Understand the burden of decision-making
No one is saying that being in charge, and making decisions is a straightforward matter.
Not only that it requires a certain expertise, but it's also tightly linked to a person's character.
If the clock is ticking, and the pressure is rising, many people would simply turn the responsibility to someone else.
Control the outcome of the quarrel
Your influence on the situation can be reduced, based on your status and the skills you possess to handle a great responsibility.
Even if the odds are against you, there are always ways to stabilize the amygdala in order to take advantage of the case.
Like this summary? We'd Like to invite you to download our free 12 min app, for more amazing summaries and audiobooks.
"The Happiness Equation" Quotes
I am convinced that life is 10% what happens and 90% how I react to it.
Click To Tweet
Greek philosopher Epictetus says, - Wealth consists not in having great possessions, but in having few wants.
Click To Tweet
Because motivation doesn't cause action. An action causes motivation.
Click To Tweet
There is nothing more satisfying than being loved for who you are and nothing more painful than being loved for who you're not but pretending to be.
Click To Tweet
I wish I'd had the courage to live a life true to myself, not the life others expected of me--This was the most common regret of all. When people realize that their life is almost over and look back clearly on it, it is easy to see how…
Click To Tweet


Our Critical Review
There's nothing more inspirational than a practical book, a written classic, which compels you to adjust your viewpoints and life-strategy.
We endorse this theory and suggest that you should do the same.


Just a regular guy with a knack for writing, and digital marketing.
Emir is the Head of International and SEO at 12Min. In his spare time, he loves to meditate and play soccer.