Business Communication Summary
4 min read ⌚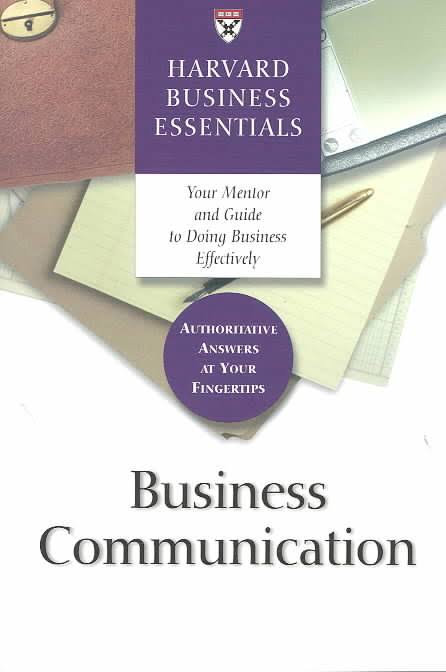 Your Mentor and Gude to Doing Business Effectively
Become a cool negotiator and a smooth talker by confronting your business shyness.
Adopt a new approach that will enable you to form long sentences effortlessly.
Who Should Read "Business Communication"? And Why?
All things aside, "Business Communication" is particularly useful for consultants, managers and other individuals whose work is associated with a human contact.
Our team joins the mania and shows immense appreciation for the value this book produces. Valuable for almost any company, We recommend it to all people keen to get mileage out of "communication skills" and become a more sharp communicator.
About 
Harvard Business Essentials
2002 was a new beginning for Harvard Business Essentials series. The 21st century brought the readers tips, guidance, and access to valuable information related to communication techniques. These strategies nowadays, serve as tools which guide the people in various industries.
"Business Communication Summary"
Representation is quickly becoming one of the most important business aspects. Daily we encounter dozens of different people with whom а subtle competition is unfolding on a regular basis, and the winner is the smoothest one of all.
Business interaction cannot be restricted only to talking, body language, self-confidence and pride are among other key elements that you should take into consideration. What is the first thing you notice when you start a conversation?
Probably, the way a person represents itself, despite the other business elements; communication has the greatest influence on any business leader's prosperity.
Success is an unexplainable phenomenon which meaning varies from person to person. However, business writing, on the other hand, has clearly specified purposes: to create value, to help with an explanation, to convey information, to instigate action, etc.
Before you take the next step in important business interactions, set your goals. The goal is to underline your text's whole idea or in other words – to explain your intent. Once you point out your long or short-term objectives, a new stage comes knocking on the door. As soon as you finish the document, assess whether your text has all the necessary attributes to fall into the unique and trustworthy category.
Ask yourself – How will my audience respond? You'll soon get your answer.
Experienced bloggers and book writers comprehend the difference that exists between targeting specific target group or IBP and delivering texts to satisfy a general audience. Most of the articles should be aimed at individuals who express their interest. Every writer must focus on understanding the mass, its needs, wants, and necessities.
To satisfy their requirements, you must be able to adapt and endorse a flexible attitude. Such an approach will grant you an authority in the business world and build the foundation for fierce reputation. Strive for improvement, be eager to exploit the possibilities existing today.
Reach that level by interacting on all levels, with the customers, other business entities, and with the stakeholders. To forge strong relationships with prominent personalities, a writer ought to share its message in a clear and concise manner. The community expects your contribution, deliver it transparently – in a few sentences.
Without exception, all businessmen can boost their communication skills. For the same reason, this short and absorbable instruction-book should be a part of every communicator's bookshelf.
The lack of ideas is compensated with useful tips and useful lessons applicable in life-situations. The author presents various time-tested rules consisting of high-grammar and organizational standards. The creation of time-frame occurs spontaneously, a structure composed of basic concepts and ideas with the capacity to shape successful presentations.
Apparently, communication plays a huge part in managing businesses. Companies are in desperate need of real communicators capable to step up and take full responsibility for the firm's success. Motivation also plays a vital role, because people have to become passionate and eager for knowledge if they wish to cash-in their communication skills.
Like any other thing, it takes time and energy to entirely get the hang of interacting processes and managing interpersonal relationships. You can spend a lifetime in delusion, thinking that you've got it all figured out. Sacrifice something ( such as time) for a greater good, adopt openness and generosity.
A good editor emphasizes easy-readability and digestible writing style. Don't try to impress the readers with hard-to-understand words; avoid using too technical terms as well – for your sake. The writing style has a special place in grammar, on the other hand, it's difficult to measure its impact because it all depends on the vocabulary a person uses while writing.
Key Lessons from "Business Communication"
1.      Ancient Group Presentations formed the today's society
2.      Progress through writing
3.      The ability to edit
Ancient Group Presentations formed the today's society
In ancient times, the Greeks started or created the presentation. The faultless public presentations back in those days laid the foundation for modern interactions and democracy.
If you feel shallow in that field, there are many available courses which can enhance your narrative skills.
Progress through writing
The digital world has produced many ways of establishing relations. Most of them come in a written form as emails, chats, memos, letters, etc.
Business communication is gaining momentum by seizing opportunities along the path. Often, businesses utilize memorandums, as a primary channel for maintaining of inter-organizational relations or potentiation some policy.
The ability to edit
Nothing is more valuable than the ability to edit. These days, editors have an increasingly more work and responsibilities than in the past. Editing enhances articles by emphasizing accuracy, clarity, and trustworthiness.
The process is composed out of reconstructing the sentences in order to improve the structure of the text.
Like this summary? We'd Like to invite you to download our free 12 min app, for more amazing summaries and audiobooks.
"Business Communication" Quotes
Just about every businessperson understands the critical importance of being customer focused.
Click To Tweet
The memo – short for memorandum – is the most common form of intraorganizational communication.
Click To Tweet
Spelling and grammatical errors lead the list of the little nits that plague business writing.
Click To Tweet
Many writing experts say that sentences in business writing should average 12 words.
Click To Tweet
Communication is an essential function of business.
Click To Tweet


Our Critical Review
This book will educate the readers on how to paraphrase texts, by teaching them useful technical and formatting skills. For instance, the author declares – If you promote a new idea in your document, the last section would be the perfect position to place it.


Just a regular guy with a knack for writing, and digital marketing.
Emir is the Head of International and SEO at 12Min. In his spare time, he loves to meditate and play soccer.