Business Communication Summary
4 min read ⌚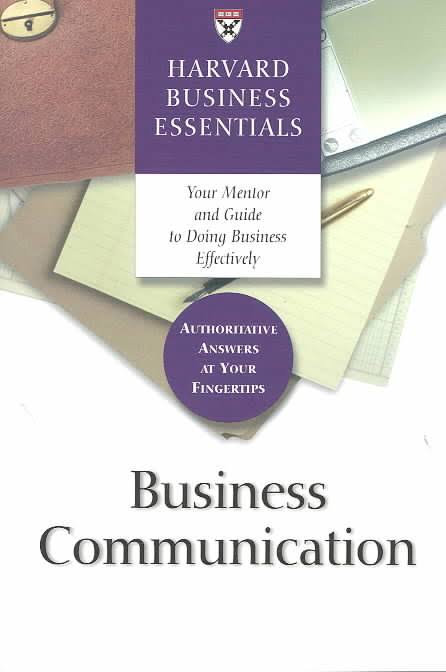 Your Mentor and Gude to Doing Business Effectively
Become a cool negotiator and a smooth talker by confronting your business shyness.
Adopt a new approach that will enable you to form long sentences effortlessly.
Who Should Read "Business Communication"? And Why?
All things aside, "Business Communication" is particularly useful for consultants, managers and other individuals whose work is associated with a human contact.
Our team joins the mania and shows immense appreciation for the value this book produces. Valuable for almost any company, We recommend it to all people keen to get mileage out of "communication skills" and become a more sharp communicator.
About 
Harvard Business Essentials
2002 was a new beginning for Harvard Business Essentials series. The 21st century brought the readers tips, guidance, and access to valuable information related to communication techniques. These strategies nowadays, serve as tools which guide the people in various industries.
"Business Communication Summary"
Representation is quickly becoming one of the most important business aspects. Daily we encounter dozens of different people with whom а subtle competition is unfolding on a regular basis, and the winner is the smoothest one of all.
Business interaction cannot be restricted only to talking, body language, self-confidence and pride are among other key elements that you should take into consideration. What is the first thing you notice when you start a conversation?
Probably, the way a person represents itself, despite the other business elements; communication has the greatest influence on any business leader's prosperity.
Success is an unexplainable phenomenon which meaning varies from person to person. However, business writing, on the other hand, has clearly specified purposes: to create value, to help with an explanation, to convey information, to instigate action, etc.
Before you take the next step in important business interactions, set your goals. The goal is to underline your text's whole idea or in other words – to explain your intent. Once you point out your long or short-term objectives, a new stage comes knocking on the door. As soon as you finish the document, assess whether your text has all the necessary attributes to fall into the unique and trustworthy category.
Ask yourself – How will my audience respond? You'll soon get your answer.
Experienced bloggers and book writers comprehend the difference that exists between targeting specific target group or IBP and delivering texts to satisfy a general audience. Most of the articles should be aimed at individuals who express their interest. Every writer must focus on understanding the mass, its needs, wants, and necessities.
To satisfy their requirements, you must be able to adapt and endorse a flexible attitude. Such an approach will grant you an authority in the business world and build the foundation for fierce reputation. Strive for improvement, be eager to exploit the possibilities existing today.