4 min read ⌚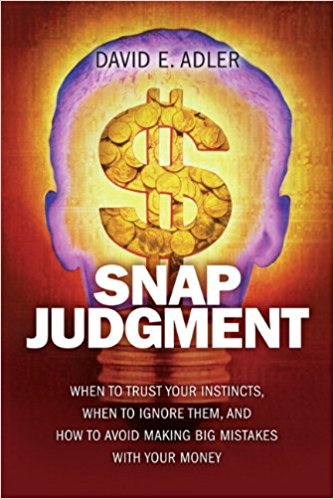 When to Trust Your Instincts, When to Ignore Them, and How to Avoid Making Big Mistakes with Your Money
How many times have you done something because "you had a feeling" about it? How many times have you heard other people explain their behavior in such ways?
Who Should Read "Snap Judgment"? And Why?
All people, no matter their professional position, place a significant amount of focus on their intuition whenever the time comes to make decisions. The results from such conduct are usually disastrous.
Behavioral economist and author David E. Adler studies the reasons behind this human behavior: making important decisions based on gut feelings, urges, habits or snap judgments instead of being more rational and using analytical reasoning.
Accordingly, it may prove especially useful to investors, managers and other executive decision-makers that need to change their thinking.
About David E. Adler
David E. Adler is a writer for Financial Planning and has published with Barron's, the New Republic, and Psychology Today. He devotes his time to financial journalism, economics research, and television. In addition to Snap Judgement, he is also the co-editor of the anthology Understanding American Economic Decline.
"Snap Judgment Summary"
Intuition is an indivisible part of each human on this planet. Prehistoric humans, for example, completely trusted their instincts and made quick decisions in possibly dangerous situations, when their lives were at stake.
Humans also developed the capability to read social hints, analyze words, and differentiate between enemies and friends in a second. They can decipher language cues, vocal signals, and can discern each other's moods. Gut instinct is quite valuable when it comes to social situations. However, it is not as useful when it comes to more complex cases.
Intuition may indeed work in simple scenarios. However, it will not be of any help when you are selecting the best retirement plan when you are assessing investments or deciding to enter a new market.
In fact, trusting instincts when you need to make a decision works against your best interests. People who are overly self-confident frequently make wrong choices. Their confidence blinds them and is not allowing them to see the whole picture of a particular situation. Also, they sometimes utilize wrong rules of thumb to simplify and understand complicated cases.
The way that people despise losses more than they like gains influences their decisions as well. They make an effort to stay away from mishaps, even to the degree of indulging in unsafe conduct.
Behavioral economics, which, pretty self-explanatory, includes both psychology and finance, finds that snappy judgments are useless for picking stocks. Stock buyers need to gain a deeper understanding of what inspires different investors and how they are probably going to act.
Wise investments are not significant on an individual premise only. They additionally secure the economy from the development of market bubbles that can harm the global and local markets. Feelings also confuse people and push them towards reckless decisions.
People will more likely burn through cash when they feel troubled than when they are at rest.
Now that we have explained the way intuition may stop you from making wise decisions, it is time for some good news: you can control your urges.
That is right; people can take control of their instinctive inclinations and intentionally move from System 1 to System 2 reasoning. This change pays well when you are making investment decisions, or you are deciding on important life issues.
Knowing when to run with your intuition and when to be more rational and analytical is vital for a decent life full of fruitful decisions.
Key Lessons from "Snap Judgment"
1.      Investment Decision Making
2.      Additional Judgments and Decisions  
3.      The Limits of Intuition
Investment Decision Making
Bob Arnott, an expert money manager, employs a nonintuitive technique for deciding on investments. Just like other financial advisers, he utilizes models, yet if they coordinate with his instinct, he becomes suspicious.
At that point, he goes the other way. He says that he uses intuition but in a twisted way.
He clarifies that following others is common. However, it does not function admirably in the world of investments, where following patterns prompt "atrocious" timing.
It additionally pushes individuals into the most widely recognized "impulse driven" investment blunder: purchasing high and selling low.
Additional Judgments and Decisions
You might think that a U.S. Secret Service agent's gut instincts about who is or isn't a threat would be a great tool when protecting presidents.
You probably think that a U.S. Secret Service agent relies on his gut instinct to determine who is and who is not a threat to the president he protects.however, former agent Joseph A. LaSorsa, indicates that it is seldom the case.
He furthermore argues that examining practical information is the best tool for specialists when figuring out who may pose a danger. In this sense, bodyguard techniques should serve you as a parallel on how you should make financial decisions.
The Limits of Intuition
Hardly anyone anticipated the 2008-2009 financial crash. Most experts believed that the financial system was resilient and shockproof. However, they were off-base. Why? Because of psychological reasons.
Namely, human instinct is capable of handling simple inquiries, such as, "Is it rain?" or "Does he like me?". However, the destruction of the financial system is too complicated to envision or predict.
It drifts outside of standard thinking. When it comes to substantial economic issues that influence numerous markets (or, on an individual scale, your future security), instead of trusting your gut instincts, go with detailed analysis.
Like this summary? We'd Like to invite you to download our free 12 min app, for more amazing summaries and audiobooks.
"Snap Judgment" Quotes
Investing and managing your money on the basis of emotions, instincts and intuition is a road straight to the poorhouse.
Click To Tweet
Money now intuitively seems better than money later.
Click To Tweet
Through conscious effort, we can resist the siren call of our gut instincts.
Click To Tweet
Experts are as prone to...intuitive errors in judgment as everyone else.
Click To Tweet
Snap Judgment Summary
Click To Tweet


Our Critical Review
In "Snap Judgment", Adler presents many engaging cases that unravel the dangers of trusting instincts when it comes to complex decision making. Having in mind that we all make decisions each day of our lives, we believe that everyone should read this book


Just a regular guy with a knack for writing, and digital marketing.
Emir is the Head of International and SEO at 12Min. In his spare time, he loves to meditate and play soccer.