From Impossible to Inevitable Summary
<1 min read ⌚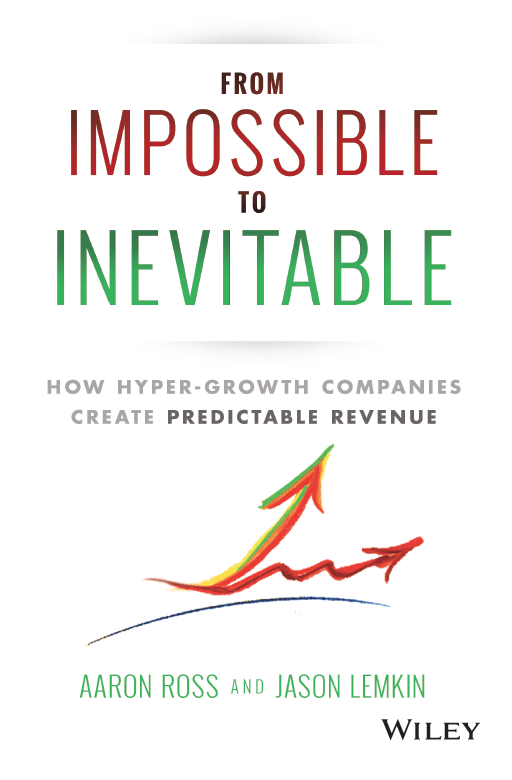 How Hyper-Growth Companies Create Predictable Revenue
It is the first time in history that it is possible to set up a startup, and using information available on blogs and books it is possible to learn virtually everything about selling your product, hiring the right people, retaining your customers.
But the market and investors continue to search for unicorns, companies valued at more than $ 1 billion. With this excellent pressure for growth and speed, the need for hyper-growth arises.
If you needed to dramatically increase your income over the next few years, would you know how to do it? Expanding your business does not depend on luck and does not come overnight. Growing and growing companies use formulas and follow standards to achieve and sustain accelerated growth.
Hence, 'From Impossible to Inevitable' is a masterpiece by authors Jason Lemkin and Aaron Ross.
Jason is an investor and founder of SaaStr, having already built large companies. Already, Aaron Ross is the author of the classic 'Predictable Revenue' and lived the explosive growth of Salesforce.
The book presents the details of how great and renowned companies have managed to achieve hyper-growth.
Learn to face the difficulties, make the right decisions and increase your sales.
Find out what are the ingredients of hyper-growth and follow the right steps to implement them in your company. This is an essential book for any entrepreneur, and we strongly recommend reading the book in its entirety.
"From Impossible to Inevitable Summary"
Dominate A Market Niche
If you are like most entrepreneurs, you are excited about your product and eager to grow quickly. But how to do that? Well, the first step is to understand that lead generation is crucial to selling more.
When your sales lead generation systems are not repeatable and scalable, it is difficult to achieve explosive growth.
That can also happen when you are good at many things and are trying to do everything for everyone.
As an entrepreneur, especially at the beginning of the journey, you can not do this – you will end up feeling that you are paddling against the tide most of the time.
The road to progress is to "conquer a niche" – to become very good at solving a specific problem for a particular type of customer until people start looking for you and not the other way around. You need to be recognized as the best solution to that particular problem.
It seems counterintuitive, but in reality, accelerated growth is never achieved when selling many things to many markets. When you do this, you divide your energies, resources and you get nowhere.
Instead, hyper-growth comes from focusing on what is your best chance at winning customers.
Make your customers happy, understand them thoroughly, and build a solid reputation for tangible results. Grow from this solid foundation while your current customers tell your friends and business partners about you.
So what is the niche market? Niche in this context means "focus" and not "small size."
It means focusing on a particular target customer who has a specific pain, for which you offer a workable solution.
Rather than thinking of a wider market of people you could potentially serve, you focus on solving only the problems of your target customers.
If you focus on solving a simple problem exceptionally well, you can then develop repeatable, reliable ways to find and generate interest in others who have the same problem.
You start a cause and effect relationship that can lead your business to hyper-growth. So you can master one niche at a time.
Some examples of companies that have had hyper-growth, starting with niches:
Salesforce.com began with the automation of the sales force and then added more niches;
Facebook started with Ivy League Universities, the best and largest in the United States, before releasing access to everyone;
Paypal started with eBay users;
Amazon started selling only books;
And Zappos only sold shoes.
So how do you do that? Mastering a niche is in practical terms, an exercise in finding out where you can be a 'big fish in a small aquarium.' Ideally, you want to choose a niche:
That has many people suffering from the same specific problem that you will solve;
Where you can show concrete and definitive results for your clients;
Where you have confidence because you can present detailed case studies;
Where you can build a list of identifiable targets for your marketing;
Where you will be perceived as different from all your competitors – and then you can avoid massing your products.
Mastering a niche follows a five-step process:
List five to ten niches where you could excel. For that, take your current client base as a reference.
Classify your potential niches using these criteria:

How urgent are their pains?
What tangible results can you generate?
What can you do differently?
Can you identify the people from this niche?

What is unique in your solution?
Validate that you are trying to solve a major problem for people by selling your solution and then interviewing your clients and measuring your results
Start a lead generation program in that chosen niche and learn what potential customers are thinking. Run some tests and make adjustments. Understand that the more tests you take, the faster you'll learn.
When you master your niche, you can develop a pitch that focuses on what's most important to people in that niche.
You can highlight the one thing that people want in which you are the best in the market. You will be able to customize your message and simplify it.
All these things only become possible when it is clear in your mind which niche you want to dominate.
Invest InDifferent Types Of Leads
You will go through some difficulties until you create predictable ways to develop your sales funnel.
Learn how to generate continuous leads, and you can create hyper-growth. That requires more than marketing campaigns, giving free stuff or buying spaces on billboards.
You need a solid strategy and marketing vehicles to attract the attention of the right people on an ongoing basis for success. For this, you need to dedicate time and attention.
The best way to triple your sales is not to triple the number of sellers you have. Instead, you need to generate more qualified leads for your sales team to work. There are three types of leads you must continually generate:
Seeds: Satisfied customers who tell other customers via word of mouth;
Network or Nets: Leads generated through content and inbound marketing;
Spears: Leads outbound, from active prospecting generated through targeted marketing.
Seeds are generated using word-of-mouth or relationship marketing. You deliver seeds using many-to-many campaigns.
Companies like Hotmail, Dropbox, Box, and Slack have grown dramatically by creating viral products where existing customers tell their friends.
Most seed companies come from systematizing how to keep their customers happy and then provide their customers with the opportunity to generate referrals for you.
Seed-style leads can be highly profitable because they do not generate advertising costs. The bad side of seeds is that you have little control over your growth.
To grow your seeds methodically, you need to track and then manage the satisfaction levels of your customers.
If they are happy, they will be willing to promote the business to their friends, and you will have lower cancellation fees. Detailed case studies of satisfied customers may be the best advertisement you will use.
The keys to greater customer satisfaction (and then more seeds) are:
View customer satisfaction as your primary driver of growth – and you should invest in it;
Rate customer satisfaction as 5x more important than sales – so focus your attention on your current customers;
Start early, hire early – hire a Customer Success Manager. Hire another person on this team for every $ 2 million in your company's annual revenue
Visit customers in person – meet in person with at least five customers a month and get to know at least two of them a year.
Use good metrics – measure retention rates
Engage your customer satisfaction goals in your growth – get off the traction generation to encourage adoption of products seeking retention and optimization as your business grows.
Networks are one of the many types of marketing campaigns. You do things to attract people's attention, such as events, or advertisements online.
Companies like EchoSign, Hubspot, Marketo, and others have grown up to $ 100 million in revenue, primarily through the creation of nets that have been able to attract thousands of customers.
With networks, you work with quantity rather than quality. You generate a high volume of leads doing things like publishing articles online and e-books on your company's blog.
There are fixed costs involved in generating your materials, but these marketing assets continue to generate leads indefinitely.
On the other hand, less than 3% of these leads will be converted into sales, so you need to generate many of them.
Inbound marketing can involve direct mail, email campaigns, paid-for-click ads, partners, content marketing, etc. Ideally, you create marketing that customers love, and you learn from them, and then these leads will buy your products.
The better the person knows you and knows your product, the more comprehensive your net becomes and people will start trusting you, and then they will buy from you.
Spears are individual marketing campaigns. You proactively try to meet someone who is not coming to you with the goal of selling something.
Interestingly, outbound prospecting has gone out of style for many years while everyone was working with inbound marketing campaigns, but the spears have resurfaced in recent years.
Companies believe spears can feed their growth in predictable ways, especially when they try to reach large customers. And also, there is far less competition in outbound prospecting.
Using spears in the marketplace has a lot more to do with reaching the people and companies that need what you have in friendly, engaging ways.
Outbound prospecting works best when you sell large contracts that are profitable quickly when you have a value proposition that is easy to understand and when you are highly differentiated.
And they tend to be less effective when you are trying to persuade the customer to replace the current product used by yours.
Increase Your Sales Systems
Growth is always good. However, sometimes speeding things up creates more problems than it solves.
Growth problems are usually more fun to deal with than the opposite, but they have a treacherous way of generating more problems quickly. Sometimes, the more customers you have, the more problems you have.
Software-as-a-service companies, also known as SaaS, use a rule that says that when you reach $ 10 to $ 15 million in recurring revenue, your problems stabilize. At this stage your company has some characteristics:
Your customer base will be diverse, and you will not be dependent on one or two whales that can mess things up.
You will have enough references to demonstrate your credibility.
You will have a reasonable amount of sales, and the teams of successful customers will be taking care of everything, so you will not be dependent on one or two good employees.
You will have a strong brand that will serve as a gateway to continuous sales.
If a large company enters your market, your revenues can be harmed but not eliminated.
You will have a product that may not be perfect, but at least it has enough features to keep most customers satisfied.
You will know the market well enough to see what will be needed in two years so you can start by developing the next generation of products and building the necessary sales team.
In general, it will not eliminate your problems by magic, but it will make them easier to solve. You may have new types of problems to solve as you grow. To make your sales scalable, think of three ideas:
Specialization: The best way to increase your company's revenue is to let your sales team focus on selling. If you do not specialize, you'll struggle even with incredible products, great customer support, and skilled salespeople.
Specialization is a standard in Silicon Valley, but anywhere else, salespeople are expected to generate leads, respond to those leads, close sales, and manage accounts continuously. That is crazy – some studies have shown that when sellers are multitasking, they work inefficiently.
To make your sales team spend most of their time doing what they do best – closing deals – you need to set up your own time for different people to be responsible for four typical roles: inbound lead qualification, active or outbound prospecting, new business closure, and after-sales support.
Specialization is always a sales multiplier.
Sales Leader: The most important member of your sales team will be your sales director or vice president of sales.
It will define how your sales team will work and will also handle a variety of issues such as recruiting, training salespeople, developing sales tactics, sales strategies, etc. The sales leader you will need will also change and evolve with Time:
Early-stage companies will need an evangelist who is smart and passionate
When you have enough traction, you will need a sales VP that generates repeatable systems
Midsize companies will need a sales VP who chases big contracts
Large companies typically need a sales VP that uses dashboards to make adjustments. The authors call this profile Mister Dashboards. Cool, right?
Increase your sales team: The main challenge to grow your sales team is to reduce the rotation.
If more than 10% of your sales team leaves the company each year, you will need to modify your systems. Hiring new sellers continually is a major lag in productivity.
To increase your sales force, you need to have it managed as a system. You need to optimize each component progressively.
To increase your sales team, make sure that people are not going out and are selling more and more. Turn everything into a system, make adjustments and improvements.
Sell More To Your Current Customers
When you are trying to increase your revenue, increasing the number of purchases per customer makes a lot of sense. If you can have each customer buy two more times from you, you multiply your earnings 4x.
From Impossible To Inevitable
If you combine this initiative with doubling the number of leads you generate, then you quadruple your revenue.
The reality is that most of the time small businesses will be your first customers that will get your company started, but to grow, you will need of large companies as well. To generate millions of a single customer, most of the time, you do not have to have a product that grows within the customer.
Large companies typically have a mix of many low paying customers, few paying customers, and very few highly valued customers who sign their largest contracts.
If you can work by doubling your average sales volume while also working on finding and closing double the business, will create the momentum in the right direction.
Start with the question: What do I need to do to close deals that are 10x larger than the ones I'm currently closing?
So how do you outperform your current sales capacity? The authors bring us some suggestions:
Find out what you need to do to get further – you may need to add account management features or enter into reseller agreements with great partners. You may need to involve consultants. Identify which companies need this so much that they are willing to pay large sums a year;
Add another product at a more high price – perhaps a corporate version with full reviews or something else that adds value and allows you to charge more;
Make it easy and cheap for people to get to know you – perhaps an e-book that is so cheap that it does not require effort to buy. Offering this can triple your customer base and make it easier to sell other products;
Learn what is involved in going after companies with hundreds and thousands of employees – there is a skill involved in selling them, and it can take you some time to identify the pros and cons;
Remind your vendors that their true role is always to create value for customers – and teach them how to do it. Make sure they understand they are there to help customers and that they should always explore new and better ways to do this.
Be Prepared To Face Difficulties
It can take you years to become a success. Be prepared to put up with everything and keep your time, even when you have the inevitable and difficult "infernal year" that is extremely common in startups.
It is a year where everything seems to go wrong, and you have to survive it. Every week, you will read news about a company that has come out of nowhere for $ 100 million in revenue suddenly.
That can generate some anxiety or even depression because you are taking more time to get there. Those articles about other companies will forget to mention the years of development, trial, and error that preceded 'sudden success.'
It helps if you think a little more before trying to build a company with hyper-growth.
The questions you need to answer are:
As a basic principle, you will probably take around a decade of hard work to get to the point where you will make money and have a solid team.
So you need to ask yourself: "Am I ready to commit two years to gain traction?" It will take about a year for the product to be ready and then another year to make the sales. Can you commit this long?
Second, ask yourself, "Am I willing to commit 8,760 hours a year?" That represents 24 hours a day, 365 days a year. You will worry, think, and stress yourself all the time. That is what is needed, and if you do not have that mental and emotional energy, you should give up.
Third, ask yourself, "Am I going to risk this?" If you go into this thinking "I'll try for a while and then see what happens" or "I'll do some consulting while I see how it works" you'll probably fail.
You need to understand the risks and decide to take risks. If you are going to ask your family and friends for capital, to begin with, you need to be 100% committed.
Can I take one hellish year?
Anyone who has already founded a company that**eventually raised their revenue to $ 30 million or more, will be able to tell you in detail about the infernal year they faced on the way.
That never happens in the first year, but the infernal year always appears at some point. It's that year when things get harder, and you get attacked in different areas and just keep fighting.
The only good thing is that this hellish year will force you to rethink many things, rediscover your passion and redesign your systems. Almost everyone who goes through a hellish year redefines many issues and grows back even faster.
The infernal year is incredibly difficult. Accept it if you can and then use it to adapt what you should be doing differently, you can come out of that year even stronger, energized and with more predictable and scalable systems.
Can I understand that success is not an easy way?
There has never been an easier time to start a business. Businesses that started under $ 100 are growing rapidly, reaching millions of dollars in revenue and being bought for huge amounts. The fact is that this trend will continue as markets and consumers connect.
With this, it is also true that growing a business today is much more frustrating and challenging than it ever was. Why? There are many different market paths today, and it is difficult to know which one to work on.
The way you communicate with potential customers have multiplied and using all these channels can be exhausting. And there are now numerous options. Following a straight line is not always the shortest path to success.
Even if you are trying to do something noble, you cannot expect the world to respond to your good intentions and support you. Instead, you need first to learn how to make money and then apply it to the cause you believe.
To work on any frustration, you may feel as you achieve success today, keep these ideas in mind:
Understand the need to go through difficulties – difficulties will not go away. Everyone goes through this. Use your difficulties to get motivated. Use this to your advantage;
Stop following what other people are doing – you do not know what is happening to them. Do not let your well-meaning friends or the actions of your competitors keep you from doing what's important to you. Deliver value to your customers;
Do not use clichés in your media – send honest information that is simple to understand and easy to do. If you are direct when you talk to your customers, it will be engaging. Go straight to the point and do not be wordy.
Hire Employees Who Act As Owners
You are committed and passionate, but to achieve a hyper-growth in your startup, you need to have employees who go beyond their duties and who have an attitude.
In other words, you need people who think and act as owners, rather than employees who are just wasting your time.
Owners think and execute ideas that grow and expand marketing initiatives, improve the productivity of the sales team, improve customer retention, and so on. They do this without feeling forced or directed.
This attitude is more than a delegation of functions – the owners encourage themselves, refuse to give up, and find ways to move forward, no matter how.
The obvious way to make your employees behave as owners is to give them a percentage of the company.
But sometimes when you do this in the form of capital, commissions, and bonuses, you may not create a sense of functional ownership or emotional commitment to the employee, which happens when he/she feels that "it's up to me to figure out how to move forward."
100% sense of responsibility that will inspire them to go beyond their tasks and this is done by sharing the company with key people.
People tend to support what they have created, and they feel responsible for it. To develop a sense of functional property:
Start with an assessment – survey your employees and find out how they behave today;
Get that feedback and choose one or two things to focus on – and start making some progress in those areas. Do not try to fix it all at once, but show that you are taking this seriously and that you want to continue working on it;
Be committed to transparency – not to surprise your employees with changes they do not know. Find out how you can eliminate surprises for everyone. Start by being honest about everything. Train your employees on how to understand the information, especially the financial part. Have complete transparency in everything including sales;
Make a list – of every function in your company that needs an owner. This list should include major functions and minor processes, such as who cleans the employee room refrigerator. You should also include in the list items that employees would like others to do. List all.
Go through each item on the list and decide who should do what – employees should be allowed to volunteer, be assigned, or be selected by group consensus. Make explicit the functions of each one and the fact that each one should be responsible for all decisions of their specific function;
Create obligations for each function – what should be delivered and in what term. By specifying the results that are mandatory, you force the role owner to make decisions. It will also generate more learning.
If people are reluctant to accept this process, try to set a date for everyone to find some function. You can also make it clear that you expect them to announce a week later what they intend to do to improve this particular function.
The difficult part comes after deciding the owners of each role. You need to step back a bit and let your employees practice, learn, and improve their decision-making skills.
The more you encourage decision-making, the fewer bottlenecks you'll have at the top.
Your people will learn to deliver results rather than looking for excuses. They will understand much better how their systems and processes come together to serve customers.
Take The Initiative And Expand Your Opportunities At Work
If you work at a startup looking for hyper-growth, you need to differentiate yourself. It's so easy to let frustrations keep you from going on rather than letting you motivate yourself to achieve better things.
If you have problems with this, you will always find someone or something to blame for your lack of success.
The reality is that you can not blame anyone for things that are not in their control.
Nor should he wait for perfect opportunity to fall on his lap. If you are smart, you will use your frustrations to motivate yourself and set your destiny.
To expand your opportunities at work, you need to master a niche on a personal level. That involves three steps:
Do your homework first – start with a list of your interests and then highlight three ideas that would generate more revenue for your company. See if you can identify a way to get paid to learn what you need to do to make these ideas come true
Find a mentor – interview people within your company, your suppliers, your partners, your customers, and even your future customers. Ask for advice from people. Find people who have skills and are successful in the niche you want to master and have them help you understand what you need to improve;
Develop a key function for the company – something that is tangible and that you need to deliver. The possibilities here are unlimited – develop a prototype, do a written analysis, prepare a formal presentation, write a quality blog post, etc. The idea here is that you choose a date when you will do something specific and tell others what you are doing.
If you keep repeating these three steps, your company executives will notice that you have initiative and are taking advantage of the opportunities.
Talk to them to find a direction. If you can develop ideas that make their work easier, they will support you.
Remember that it takes time. Observe what frustrates you in your work and make it a positive thing.
If you develop things that are important to your business, you can reach the top. If not, at least you're not sitting thinking about how miserable your life is at work.
Like this summary? We'd Like to invite you to download our free 12 min app, for more amazing summaries and audiobooks.
"From Impossible to Inevitable" Quotes
It's easy and fun to dream about success. Making it happen—and keeping it going—is a lot tougher. And far more rewarding.
Click To Tweet
The company's job is to create a supportive environment. Extra vacation days and ping pong tables can create temporary happiness, but being supportive also means challenging you, pushing you to improve yourself as a person, to better…
Click To Tweet
Successful entrepreneurs care more about the brutal truth than about being right or looking good. They take responsibility for results, not intentions.
Click To Tweet
When people felt that they didn't have enough money (revenue), they couldn't focus on anything else. It was money first, second, and third—then freedom or purpose after that. It's hard to think about much else when you're struggling to…
Click To Tweet


Final Notes:
Once you learn to face difficulties and make the right decisions, you will increase your sales!
Follow the correct steps to implement them in your company.


Just a regular guy with a knack for writing, and digital marketing.
Emir is the Head of International and SEO at 12Min. In his spare time, he loves to meditate and play soccer.