Manage Your Day-to-Day Summary
15 min read ⌚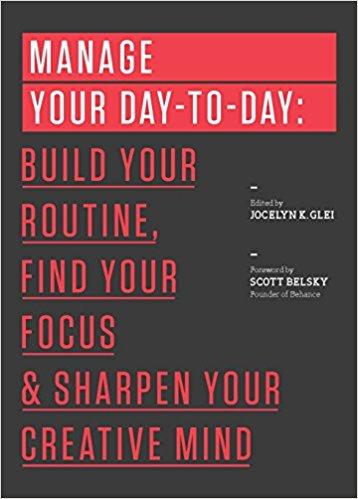 Build Your Routine, Find Your Focus & Sharpen Your Creative Mind
Feeling unproductive?
Well, you're in luck: 99U has gathered some of the most creative minds of our age to help you!
Now you can finally:
Who Should Read "Manage Your Day-to-Day"? And Why?
Manage Your Day-to-Day is for everybody who feels unproductive or wants to be more productive; it should prove especially useful to those whose work or life choice necessitates them to be creative on a day-to-day basis.
Here's a guide – nay, guides – to recharge your batteries and refresh your imaginative powers!
About Jocelyn K. Glei and 99U

Jocelyn K. Glei is an American writer and creative consultant, well-known as the director and editor-in-chief of 99U.
In addition to overseeing the 99u.com website, she also leads the curation and execution of the 99 Conference, hosts the Hurry Slowly podcast and has created the online productivity course RESET.
On top of editing the ongoing 99U book series, she has also authored "a modern guide to getting rid of email anxiety," titled Unsubscribe.
99U is "Behance's effort to deliver the 'missing curriculum' that you didn't get in school, highlighting best practices for making ideas happen."
It does this through its Webby Award-winning website, the 99 Conference, and an ongoing book series, which in addition to Manage Your Day-to-Day includes Make Your Mark and Maximize Your Potential.
Visit 99u.com for more.
"Manage Your Day-to-Day PDF Summary"
In the "Preface" to Manage Your Day-to-Day, Jocelyn K. Glei, 99U's editor-in-chief, introduces this unique book by saying that it "assembles insights around four key skill sets you must master to succeed."
The skill sets serve as the titles of each of the four chapters, all of which, in turn, consist of five different articles (one of which is always a Q&A) written by some of the most creative thought leaders of today.
The goal?
To see the same problem from at least a few different perspectives, because it's her belief that it's just improbable that, in the 21st century, there exists such thing as a "one size fit all" solution to everyone's productivity/creativity problems:
Because we each have a unique set of strengths, weaknesses, and sensitivities, it is impossible to prescribe a single approach that will work for everyone. The right solution for you will always be personal – an idiosyncratic combination of strategies based on your own work demands, habits, and preferences. So rather than lay out a one-size-fits-all productivity system, we provide a playbook of best practices for producing great work. Our hope is that these insights, taken together, will help you shift your mind-set, recalibrate your workflow, and push more incredible ideas to completion.
In the "Foreword" to the book, Scott Belsky, the founder of Behance and the author of Making Things Happen and The Messy Middle, notes that, as far as he is concerned, Glei's hope is vindicated by the content of the book.
And we kind of share his opinion.
Allow us to tell you in brief why.
Chapter One – Building A Rock-Solid Routine
According to Woody Allen, 80 percent of success is showing up. Because that's where routines start. "Building a routine," writes Glei, "is all about persistence and consistency. Don't wait for inspiration; create a framework for it."
"Laying the Groundwork for an Effective Routine" by Mark McGuinness
Mark McGuinness says that if you're not careful, there's a high chance that you'll end up spending the best part of your day on other people's priorities.
"The single most important change you can make in your working habits," he notes afterward, "is to switch to creative work first, reactive work second. This means blocking off a large chunk of time every day for creative work on your own priorities, with the phone and e-mail off."
This is how you can do this:
• Notice when you seem to have the most energy during the day, and dedicate those valuable periods to your most important creative work;
• Use creative triggers;
• Manage/limit your daily to-do list;
• Train yourself to record every commitment you make somewhere that will make it impossible to forget;
• Set a start time and a finish time for your workday—even if you work alone; dedicate different times of day to different activities.
"Harnessing the Power of Frequency" by Gretchen Rubin
Gretchen Rubin, the author of not one, but two books with happy titles and baroque subtitles, says that as a writer, she works every single day, including weekends, holidays, and vacations.
Why?
Because the key to making things easier for you is making them more frequent.
According to Gretchen, frequency has a lot of benefits.
These are the main ones:
• it makes starting easier;
• it keeps ideas fresh;
• it keeps the pressure off;
• it sparks creativity;
• it nurtures frequency;
• it fosters productivity.
All in all, frequency is a realistic approach, because, in life, there will always be numerous pressing obligations from your job and your family; this is the only way to face them without sacrificing your creativity and productivity.
"Q&A: Honing Your Creative Practice" with Seth Godin
In "Honing Your Creative Practice," Seth Godin answers some of the burning routine-related questions, such as "What's the hardest part about getting a daily routine right?" and "How do you keep your short-term work aligned with your long-term objectives?"
It's Seth Godin, so – you've got to read the answers!
"Building Renewal into Your Workday" by Tony Schwartz
Tony Schwartz, president and CEO of the Energy Project and the author of Be Excellent at Anything and The Power of Full Engagement, reminds us – through the story of a fictional creative director of a large agency named Zeke – that our capacity is limited.
Consequently, no routine would work if it doesn't include renewal, i.e., moments to recharge your batteries; yes, we're talking about getting regular sleep, breaks, and walks.
You won't make it without them.
"Making Room for Solitude" by Leo Babauta
There's a reason why Leo Babauta begins his article with a quote by Henry David Thoreau: he believes that in the loud world of today, "even a small time set aside for solitude each day – from twenty minutes to an hour – can make an enormous difference."
But, hey, you should have expected such an advice of Babauta: he is the author of The Power of Less, one of the seminal books on minimalism.
Chapter Two – Finding Focus in a Distracted World
"In a world filled with distraction," writes Glei, "attention is our competitive advantage. Look at each day as a challenge – and an opportunity – to keep your eye on the prize."
"Scheduling in Time for Creative Thinking" by Cal Newport
Cal Newport – the author of How to Become a Straight-A Student, So Good They Can't Ignore You, and Deep Work – is a professor at Georgetown University, torn between his creative assignments and his constantly overflowing Inbox.
His solution?
Daily focus blocks and resisting distraction.
In practice, this means no e-mail, no Internet, and no phone for a specific amount of time at a specific location – no matter what!
Congratulations: now you have a creative corner.
"Banishing Multitasking from Our Repertoire" by Christian Jarrett
Christian Jarrett is a psychologist, so he should know best how your mind works.
And as far as he is concerned, the first thing you need to understand if you want to find focus in the distracted world of today is that there's no such thing as multitasking.
In other words, it's either singletask or no task.
Science guarantees.
"Q&A: Understanding Our Compulsions" with Dan Ariely
Dan Ariely is fascinated with the irrational so much that he's written some of the best-known and best-loved books related to it: Predictably Irrational, Irrationally Yours, and Payoff.
Naturally, in this Q&A, he answers question related to the hidden motivations and temptations that lurk behind our decisions – and offers some tricks and tweaks on how to master them.
"Learning to Create Amidst Chaos" by Erin Rooney Doland
In addition to being an advocate for simple living, Erin Rooney Doland is editor-in-chief at unclutterer.com and author of the book Unclutter Your Life in One Week.
Her advice?
Life is never going to be a walk in the park, so, if you want to produce something worthwhile, you'll need to find a way to produce it amidst chaos.
That means mindful (and not mindless) work and, more importantly, a lot of self-control.
"Tuning in to You" by Scott Belsky
Scott Belsky makes another appearance, this time as an author of an article which promotes living in the now as the only way to achieve something.
Being present should be your priority, he says, and this means that you should:
• Be aware of the cost of constant connection;
• Recognize when you're tuning in to the stream for the wrong reasons;
• Create windows of non-stimulation in your day;
• Listen to your gut as much as you listen to others; and
• Stay open to the possibilities of serendipity.
Chapter Three – Taming Your Tools
"Technology should be a tool," reminds us Jocelyne Glei, "but if we do not keep our wits about us, it can easily become our taskmaster."
Here are ways you can keep things under control.
"Making E-mail Matter" by Aaron Dignan
Ah, that dreaded e-mail Inbox!
According to a recent study, the average knowledge worker spends about third of his week (28%) either writing, reading, or responding to e-mail.
If you want to turn this around, Aaron Dignan says, then you better:
• Become aware of your complex goals and tape a list of them to your desk so that it serves to you as a constant reminder;
• Make your complex goals a priority and rummage through your Inbox with this in mind;
• Let things go: let's face it, there will never be enough time for you to read all of those starred articles; it's time that you go all Frozen on them!
"Using Social Media Mindfully" by Lori Deschene
Here are three more bits of advice related to your Internet presence coming from Lori Deschene, the founder of tinybuddha.com:
• Log on with intention – when browsing Facebook becomes the first thing you do when bored, then it is bad;
• Become aware – without self-awareness of why you use Facebook or Twitter, you are merely their slave;
• Find a purpose, esteem, and form a meaningful connection.
"Q&A: Reconsidering Constant Connectivity" with Tiffany Shlain
Tiffany Shlain, the woman behind the acclaimed documentary Connected, waltzes through the "Taming Your Tools" Q&A quite strongly, suggesting not only a "technology shabbat" from time to time, but also heeding to a powerful Socrates' quote: "Nothing vast enters the life of mortals without a curse."
Always remember: the Internet brings a lot of good stuff – but it costs you many other things as well.
"Awakening to Conscious Computing" by Linda Stone
Linda Stone is the woman who has coined the terms "continuous partial attention," "e-mail apnea," "screen apnea," and "conscious computing."
And, in a way, all of them boil down to this: we haven't evolved to use the technology in a way which will not cause us anxiety; we're still too young and inexperienced.
Stone calls the new set of skills we must acquire to "embody" when we use technology "conscious computing."
And she says that diaphragmatic breathing, Buteyko breathing, martial arts, and yoga (pranayama) breathing are a great start in the right direction.
"Reclaiming Our Self-Respect" by James Victore
In "Reclaiming Our Self-Respect," James Victore notes that the crux of the problem of the modern world is that we've lost the distinction between urgent and important.
"When we choose urgent over important," he says, "what we are really choosing is other people's priorities over our own."
And he goes on: "With every new e-mail, we become like leaves in the wind, reacting to any breeze willy-nilly. We quickly set aside our own concerns to attend to those of others. This busywork pulls our attention from the meaningful work—taking time to think, reflect, and imagine."
The last three are the things which really make you human; and the things you need to take back by force from the technology of today and, thus, reclaim your self-respect.
Chapter Four – Sharpening Your Creative Mind
The five articles in the fourth and last chapter of Manage Your Day-to-Day offer a few pieces of advice on "how to push to creative blocks and keep the aha moments coming."
"Creating for You, and You Alone" by Todd Henry
Todd Henry's article is a paean to Unnecessary Creation, aka creating for the most important audience of all: yourself.
According to Henry, these are the three (necessary) benefits of Unnecessary Creation:
• Unnecessary Creation gives you the freedom to explore new possibilities and follow impractical curiosities.
• Unnecessary Creation allows you to take risks and develop new skills that can later be applied to your on-demand creating.
• Unnecessary Creation provides a forum for the pursuit of voice, and a reminder that you are not the sum of what you make.
"Training Your Mind to Be Ready for Insight" by Scott McDowell
Scott McDowell tries to tackle one of the most difficult questions all creative artists are faced with, sooner or later: "what do you do when you have to be creative and it's just not coming?"
His suggestions?
• Disengage, wander, and rest;
• Work within certain limits and constraints: this puts your brain into problem-solving mode: "too big a playing field can muddle the results… a set of limitations is often the catalyst that sets creativity free.
• Exercise, sleep, meditate, be calm.
"Q&A: Tricking Your Brain into Creativity" with Stefan Sagmeister
Stefan Sagmeister is a designer and typographer, known for his unorthodox approach to creativity; his answers demonstrate that what the other articles in this section suggest is right on the spot!
"Letting Go of Perfectionism" by Elizabeth Grace Saunders
Elizabeth Grace Saunders believes that there are two kinds of creative minds on this planet: perfectionists and pragmatists.
Contrary to what many might say, Saunders doesn't think that one of these categories is better than the other; she merely advises to choose wisely whose method you'll use at different stages of the creative process.
Because sometimes being perfectionist can get you stuck; other times, however, being a pragmatist can cost you some quality.
"Getting Unstuck" by Mark McGuinness
Mann, Fowles, Kahlo, Twain, Pop… none of them was immune to creative blocks; Mark McGuinnes says that this is only natural, since creative blocks are "an occupational hazard for creative professionals."
So, the next time you experience a creative block, be aware that you're in a good company; next, identify which type of a block it is and take a leaf out of these artists' books:
• Inspiration drought: if your inspiration tank is empty, then take a break – just like Twain did while writing Tom Sawyer;
• Emotional barrier: John Fowles was embarrassed about the sexual content of his books when he imagined his parents reading them; if you're feeling this way, give yourself permission to create by saying that you will not make it public; when you're finished, you'll decide if you're going to;
• Mixed motivations: Extrinsic motivations (money and reputation) have a negative impact on creativity; focus on the intrinsic ones (fascination, pleasure);
• Personal problems: you don't have any more personal problems than Frida Kahlo;do what she did: turn them into art;
• Poverty: make a virtue of necessity and achieve as much as you can with what you have;
• Presentation problems: if you want to succeed, you need to communicate and grow a thicker skin; it's that simple.
Coda – A Call to Action
"How Pro Can You Go?" by Steven Pressfield
Manage Your Day-to-Day ends with a Call to Action by novelist Steven Pressfield, the author of quite a few non-fiction books we'd wholeheartedly recommend: Nobody Wants to Read Your Sh*t, The War of Art, Turning Pro, and Do the Work.
The short manifest digests most of the things you'd find in these books and – naturally – is inspirational as hell.
Great way to end a book on creativity and productivity!
Key Lessons from "Manage Your Day-to-Day"
1. How to Build a Rock-Solid Routine
2. How to Find Focus in a Distracted World
3. How to Tame Your Tools (Before They Tame You)
4. How to Sharpen Your Creative Mind
How to Build a Rock-Solid Routine
Each of the four chapters comprising Manage Your Day-to-Day ends with a "Key Takeaways" section which briefly sums up the main bits of advice from the respective chapter.
So, basically, Glei and 99U did our job for us: thank you, Jocelyn!
As far as the process of building a rock-solid routine is concerned, these are the things you should remember:
• Great Work Before Everything Else
Do your most meaningful creative work at the beginning of your day, and leave "reactive work"—like responding to e-mail or other messages—for later.
• Jump-Start Your Creativity
Establish "associative triggers"—such as listening to the same music or arranging your desk in a certain way—that tell your mind it's time to get down to work.
• Feel the Frequency
Commit to working on your project at consistent intervals—ideally every day—to build creative muscle and momentum over time.
• Pulse and Pause
Move rhythmically between spending and renewing your energy by working in ninety-minute bursts and then taking a break.
• Get Lonely
Make a point of spending some time alone each day. It's a way to observe unproductive habits and thought processes, and to calm your mind.
• Don't Wait for Moods
Show up, whether you feel inspired or not.
How to Find Focus in a Distracted World
Lost your focus amidst the buzzes and the hums of the 21st century?
Counterpunch like a boss:
• Defend Your Creative Time
Book time on your calendar for uninterrupted, focused work—and respect those blocks of time as you would any client meeting.
• Focus When You're Fresh
Tackle the projects that require "hard focus" early in your day. Self-control—and our ability to resist distractions—declines as the day goes on.
• Kill the Background Noise
Turn off your phone, e-mail, and any apps unrelated to your task. Even the presence of background activity (and temptation) can drain your focus.
• Make Progress Visible
Marking progress is a huge motivator for long-term projects. Make your daily achievements visible by saving iterations, posting milestones, or keeping a daily journal.
• Give Your Brain A Break
Alternate challenging creative work with more "mindless" tasks to give your brain time to rest and refuel.
• Tap into Transitional Moments
Take a break from checking your smartphone during transitional moments, and open yourself up to opportunity and serendipity.
How to Tame Your Tools (Before They Tame You)
It's inevitable: unless you tame your tools, they will probably tame you.
Here's what you should do so that you're always in control:
• Keep the Long View in View
Post your complex, long-term goals by your workstation to keep them top of mind when prioritizing your tasks.
• Be Conscious of Your Bandwidth
Practice letting go of certain e-mail and social media conversations. There will always be more opportunities than you actually can take on.
• Check Yourself, Or Wreck Yourself
Distinguish between compulsive and conscious behaviors. Are you acting out of boredom or blind habit when you could be serving a higher goal?
• Hit the Reset Button
Make a ritual of unplugging on a regular basis. Turning everything off is like hitting the "reset" button on your mind—it gives you a fresh start.
• Don't Hold Your Breath
Be conscious of your body. Breathing deeply and regularly can decrease your stress levels and help you make better decisions.
• In Imagination We Trust
Don't trust technology over your own instincts and imagination. Doing busywork is easy; doing your best work is hard.
How to Sharpen Your Creative Mind
Nowadays, it's almost expected from you to be creative all the time.
It's a burden, all right – but you'll manage it better if you follow these few suggestions:
• Practice Unnecessary Creation
Use personal creative projects to explore new obsessions, skills, or ways of working in a low-pressure environment.
• Wander Lonely as a Cloud
Make time for your mind—and body—to wander when you're stuck. Disengaging from the problem allows your subconscious to do its work.
• Define "Finished" From the Start
Keep your inner perfectionist in check by defining what finished looks like at the beginning of a project. And when you get there, stop!
• Don't Go on Autopilot
Repetition is the enemy of insight. Take unorthodox—even wacky—approaches to solving your stickiest problems and see what happens.
• Search for The Source
When the well runs dry, don't blame a lack of talent. Creative blocks frequently piggyback on other problems. See if you can identify them.
• Love Your Limitations
Look at constraints as a benefit, rather than an impediment. They activate our creative thinking by upping the ante.
Like this summary? We'd like to invite you to download our free 12 min app for more amazing summaries and audiobooks.
"Manage Your Day-to-Day Quotes"
Like it or not, we are constantly forced to juggle tasks and battle unwanted distractions—to truly set ourselves apart, we must learn to be creative amidst chaos.
Click To Tweet
What information consumes is rather obvious: it consumes the attention of its recipients. Hence a wealth of information creates a poverty of attention.
Click To Tweet
If you want to create something worthwhile with your life, you need to draw a line between the world's demands and your own ambitions.
Click To Tweet
Through our constant connectivity to each other, we have become increasingly reactive to what comes to us rather than being proactive about what matters most to us.
Click To Tweet
Frequency keeps ideas fresh.
Click To Tweet

Our Critical Review
When you think about it, Manage Your Day-to-Day offers hardly any advice which you'd be inclined to call "new" or "original."
However, it is difficult to say that it hasn't gathered the best of the old ones at one place; to make matters better, they are all presented by a different thought leader of our day and age, which kind of gives them even more validity.
The effective structure, the clean and minimal design, and the Q&A sessions dispersed through every chapter make Manage Your Day-to-Day a "small gem of a book," one "you can dip into whenever you need encouragement to get or keep yourself going." (Success Magazine)
Excellent both as a boost-your-own-productivity toolkit and as a gift for anyone who is on quest to achieve the same.



Just a regular guy with a knack for writing, and digital marketing.
Emir is the Head of International and SEO at 12Min. In his spare time, he loves to meditate and play soccer.