The E-Myth Revisited Summary
<1 min read ⌚

MicroSummary: The E-Myth is Michael Gerber's bestseller that explains why some companies fail to thrive and grow because of the boss' mentality. Bosses who believe they understand the technical aspects and therefore do not need to understand the strategic issues of the business will not succeed. Gerber explains what skills are needed to have a successful business and how you should work each of them. Gerber also addresses the different phases of a company, from its infancy to maturity, giving positioning tips for each of these phases. If you want to learn how to efficiently develop and grow your business, while being predictable and productive, do not miss this microbook!
Why Most Small Businesses Don't Work and What to do About it
Today's world offers a lot more opportunities, which transform the sense of purpose into a life-goal – well, in most cases. The business community agrees that the emphasis falls on big companies, sometimes even totally neglecting the impact and importance of small enterprises.
Our book summary will introduce you to several new concepts, that can reshape your mindset and eliminate some of the unnecessary prejudices, and myths about small businesses.
Who Should Read "The E-Myth Revisited"? And Why?
"The E-Myth Revisited" book is not a straightforward university type of book. It is more like a personal journey of one very successful entrepreneur through life. The book includes economic difficulties, challenges, and pleasures that an average business person must embrace if the concept of success is his only option.
Why?- Here's the kicker:
The process of Globalization is undoubtedly taking control of our lives. Whether we like it or not, one must quickly adapt to the environment and accept the fact that companies are now facing stronger competition.
Michael E. Gerber has proven to be competent enough to talk about finance, economic collapses, and corporations which want to endure in these difficult times.
It is no wonder why "The E-Myth Revisited" book is strongly recommended for students and owners of small businesses.
About Michael E. Gerber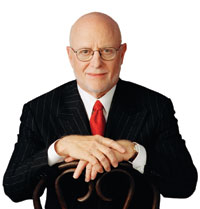 Michael E. Gerber is an American-born author, nonfiction writer, chairman, CEO, and the founder of Michael E. Gerber Companies that are known worldwide.
He was born on 20 June 1936 in the United States. Despite being the author of "The E-Myth Revisited" he is also the co-author of "The E-Myth Attorney, Accountant, Optometrist, Chiropractor, Financial Advisor, etc."
We must not neglect that fact the Gerber has also re-engineered many operational strategies for approximately 25,000 small businesses in the United States alone.
"The E-Myth Revisited Summary"
There are a lot of stubborn people; perhaps the businessmen are among those that learn everything the hard way- if we take into consideration the corporate pitfalls that occur along the way. If you are new in the business world, you are going to face challenges that the universities, schools and religious institutions didn't warn you about.
The problem arises soon after a businessman falls into a real-world pit; entrepreneurs are forced to realize the tricky business of success and its harmful external influences.
Why is it so important?