8 min read ⌚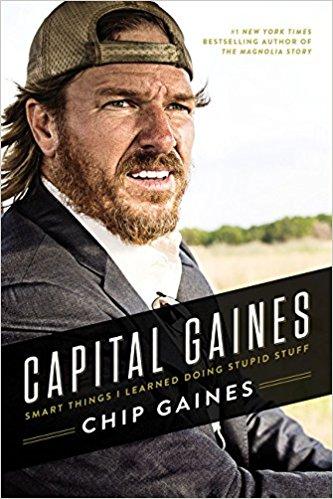 Smart Things I Learned Doing Stupid Stuff
Unfortunately, we didn't get the chance to cover everything Chip, and his amazing wife Joanna had been through.
But, we tried to be lethal in the delivery of their life-story, which will undoubtedly spark something inside you.
Let's have a glimpse of the stupid stuff, that turned the tables around!
Who Should Read "Capital Gaines"? And Why?
The strange thing about this book is that it encompasses so many aspects of our daily lives.
Among other things, Capital Gaines also puts in the spotlight the entrepreneurial fire and attitude nurtured by Chip and Joanna.
As a reader, you'll find what it takes to succeed in the real world, and how to deal with the challenges life throws at you!
If you are ready to face the music, then this book comes as a blessing in disguise.
About Chip Gaines

Chip Gaines is the co-owner and co-founder of Magnolia Homes.
He earned his bachelor degree from Baylor University in marketing. People often say that he started more small businesses than you can count on your fingers.
But it would be imprudent not to mention his loving and combative wife – Joanna!
Alongside her, he co-wrote "The Magnolia Story."
"Capital Gaines PDF Summary"
In the first chapter, Chip recaps his childhood and mentions that he was a normal kid, like everybody else. But, there is an unexplored mystery behind "being normal" so let's dive in!
The first-grade teachers in his school divided the class into four reading groups.
At that time, Chip didn't see anything strange in that; it was just a bunch of teams bearing cool names.
He doesn't remember everything, but he recalls that when it was his time to read, the rest of the kids were ushered out while he remained in the classroom.
You get the idea.
Perhaps, some of the other kids made fun of him, but Chip looked at life through a set of rosy lens.
When it was his time to hit the gym with the rest of his classmates, he didn't feel embarrassed but honored, to say the least.
Perhaps, the greatest success stories come to us from ill-defined evaluation concepts or individuals who were widely misrepresented in their early years.
In his mid-twenties, Chip was taking part in three different businesses, and as a self-thought owner, he really had it going. His best buddies were a group of Mexicans, who he believed are the embodiment of the hard-working mentality.
The biggest problem he faced, while working with them was the language barrier.
At one point, he would even mix English and Spanish to create a brand new language, making everyone more confused than before.
Chip had enough and decided to go to Mexico and learn Spanish.
His girlfriend was really supportive, unlike his parents who advised him that running three businesses is more than enough.
And yes, upon leaving the States and heading over to Mexico, problems began to pile up.
Joanna (his girlfriend) wasn't ready to take on the responsibility of running his business or keep it afloat should you prefer, without him. When the time came to collect the rents from the students, she was in for a big surprise.
Chip "forgot" to tell her how much begging is required to get it done.
Mr. Stevens (Joanna's dad) even had contractors storming into his office, people who demanded their money. Joanna was quick of study, and immediately called his parents, and went there for dinner. They managed to access Chip's bank account, lend him some money in order to cover the incurring expenses.
The crisis was over, and Chip got away thanks to the brilliance of his girlfriend and parents.
Let's go back for a second!
When Chip was 26, he met Joanna for the very first time. Probably he had goosebumps, the minute he laid eyes upon her, and somehow thought that she is the type of girl he would like to date.
She was intriguing and unique, which made Chip want to spend time with her.
After the first couple of dates, he didn't plan on tying the knot, neither did she, but it was a great transition for a guy that didn't have plenty of serious relationships.
When they got married, Chip and Joanna unlike most of the couples, had the support of both parents on both sides.
You would often hear people say – opposites attract, and that statement couldn't get any truer regarding their relationship.
Chip was that risk-taking kind of guy, who looked at rules as an opportunity to break them, while Joanna was quiet and soft.
His time in Mexico was all Joanna needed to help Chip gain stability over his businesses.
Chip even declares that he doesn't know whether Joanna felt sorry for him and jumped on board, or simply didn't want to throw away the time and effort she put in while he was gone.
With that said, she became his secret weapon.
A girl who knew how to set things straight!
As their relationship grew stronger, they learned how to play on each other's aptitudes.
One being down to earth and the other being a dreamer, who occasionally overlooked the numbers. And by now, you probably know which one is which!
Probably, the greatest challenge they faced was to refrain from talking about business at home.
And this might not seem like a big deal, but it was harder than it looks.
Having the time to spend in the effort to grow as a family, wasn't easy at all!
After a couple of fights, they kind of had this breakthrough which was composed of cutting the other enough slack to get the ball rolling.
Is there a better way to organize your life than to have a lifelong companion who is there to back you up no matter what?
This frantic lifestyle gave little room to catch a breather, and in the process, Chip learned a lot.
One of the things he deems are ultra important, is to take into account all opinions.
You can't run a business while neglecting other people's perspective, and the same goes when forging a relationship with another human being.
That inner voice that just can't seem to go away is where the magic comes from!
It takes a bit of practice to get good at it, and nobody is saying that it's going to be an easy battle!
Now it's time to Grow!
Chip argues that fear was never a major factor in his decision-making. He and Joanna understood that when you are not trying to avoid failure, fear loses its grip and vanishes in the air.
However, one cannot simply believe that fear is solely associated with failure.
Sometimes, we dread the idea of talking to someone, or placing our faith in that person's hands!
By all means, at given times it's okay to feel skeptical, but that mustn't become the driving factor.
And yes, life isn't always cheerful, but even the setback can be construed as an adventure rather than fear.
Nobody is saying that you should disavow your past, but you should not push the panic button just yet.
Let's tell you a quick story!
One day, Jo was dropping the kids off at school and had a vision.
She caught sight of two obsolete silos, looming out of the shadows.
Can you imagine if we put all of our business in one spot? – She said. Chip really liked the idea, because they could expand their office and workspace, and the kids' school was just across the street.
Yet, the price of the property was substantial, and they knew that revamping the old buildings from the ground up will take considerable effort and money.
The financial risk was by no means small; to them, this was the biggest project they've ever undertaken.
Chip, the wild risk-taker suddenly felt a surge of adrenaline mixed with fear.
If the project isn't successful, they would probably end up swimming in debt.
However, one great analogy helped Chip see the big picture. According to this philosophy, the win-lose mindset is just made-up idiocy.
Sometimes, one step back leads to two-step forward in the long haul, which means that you must be able to discern differences between temporary setbacks or hurdles and giving up.
If you are compelled to take chances, bet on yourself!
You might not always win, but if you don't try how would you know which side you're on?
The bottom line is – people who have that winner's edge, or winning mentality should not be afraid of the unforeseeable future. Because no matter, where life winds take you, you'll always be on the right side.
Along the way, you'll face some hurdles, but you will never feel defeated!
And that's the magic of success.
While at it, Chip doesn't fail to mention the hilarious side of things.
Sometimes it's demanding to be funny while the cameras are rolling because you lose the momentum while preparing for the act.
So, no – Chip doesn't want you to feel sorry for him; he just points out that withstanding pressure is part of the daily job.
Those people who succumb to fear are okay to work for a system and prefer to be burden-free.
The 9 to 5:00 daily grind is what they want!
Chip is not in that category! He loves to create something from scratch, and take all the responsibility for stuff that might go both ways.
Perhaps, that's why the TV audience resonates with the message both he and Jo, are trying to convey.
No matter what, they endeavor to lit the hearts of those who want to burst the bubble of mediocrity.
All of your life has been prepping you for this moment in time. I get that you may not know what your next chapter holds. I don't know what mine holds either. For Jo and me, the future is nothing but blank pages before us. But we have already started writing on them.
Key Lessons from "Capital Gaines"
1. Don't be afraid of the dark
2. Keep your head up
3. Defeat doesn't mean failure
Don't be afraid of the dark
Kids are afraid of the Boogieman, while the grown-ups try to anticipate the future, and take appropriate precautions to minimize risk.
Although that's a natural response, we feel like you can do a lot better.
Just keep believing in yourself, and go into the unknown.
Keep your head up
It's true that proper action can forestall a bigger catastrophe.
With that said, it's not always possible to be at your best and act within the confines of flawlessness.
Therefore, try to keep your morale high, even when things take an unexpected turn for the worse.
Defeat doesn't mean failure
Walking through life, and having an unobscured winning streak is not hard but impossible.
You have to practice your losing response, and get back on your feet as quickly as possible.
Therefore, it's crucial not to perceive every stumbling block as an insurmountable obstacle.
Like this summary? We'd Like to invite you to download our free 12 min app, for more amazing summaries and audiobooks.
"Capital Gaines Quotes"
Not one of us is getting any younger, and waiting for your "perfect moment" or for the "most convenient time" could very well turn into a missed opportunity.
Click To Tweet
"God's grace lasts as long as it is required. But when the grace and peace start to go, it's a good time to evaluate if God is still in what you're doing.
Click To Tweet
Complacency is the enemy, and getting started is as triumphant as crossing the finish line.
Click To Tweet
If you're going to make a bet, bet on yourself.
Click To Tweet
So far as work goes, my favorite part of all of it is the working part. I mean actual physical labor, the kind that makes you tired and sweaty. 
Click To Tweet

Our Critical Review
We hope you learn something from Chip and Joanne's life endeavors, because we at 12min sure did.
It kind of gives the impression of "Us" against "The World" but it's more like "Us" vs "The Negative Version of Us."
We urge you to read this book, because surely, you'll find a lot of cool stuff on how to achieve your dreams.



Just a regular guy with a knack for writing, and digital marketing.
Emir is the Head of International and SEO at 12Min. In his spare time, he loves to meditate and play soccer.