The Handmaid's Tale Summary
5 min read ⌚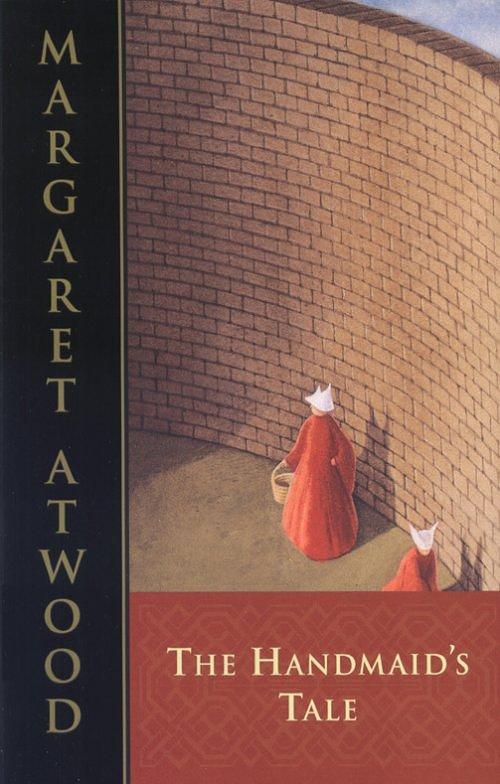 If you have not heard of the book, then you are one of the few!
Recently adapted into a Hulu Tv Series, this book is impossible not to like.
What is it about?
Read on!
Who Should Read "The Handmaid's Tale"? And Why?
"The Handmaid's Tale" is a story about a fictional world: The Republic of Gilead, in which women are no longer fertile and religious right has taken power over the state.
It is a compelling story with complex characters and narration, that will hook you from the very beginning and not leave you alone until the very end (and maybe even long after that as well).
We recommend it to all lovers of dystopian narratives, as well as readers who enjoy a good story and beautiful language.
Margaret Atwood Biography

Margaret Atwood is an internationally recognized award-winning, and highly prolific writer, of more than forty novels, essays and short stories.
"The Handmaid's Tale" was originally published in the 80s and recently adapted into a TV series.
Plot
Set in an alternate reality "The Handmaid's Tale" tells the story of Offred, a Handmaid living in The Republic of Gilead is a theocratic, totalitarian state that is a new republic in place of the United States of America.
Humanity has reached a point when women are no longer fertile, so the very few women that are able to reproduce are taken by the state and assigned to rich couples that cannot conceive children.
Offred is assigned to the Commander and his spouse, Serena Joy, an advocate for "traditional values" and a former writer, that has given up her previous passions.
Offered is not the real name of the protagonist – readers soon realize that all Handmaids are named as a possession of a certain family: of plus the name of their commander.
The handmaid's life is tough – each month, during their fertile days, they have to have an intercourse with their commander.
The commander's wife, in this case, Serena Joy, holds Offred by the hands, so as to simulate connection and one body – like she is the one that is conceiving and the commander is having intercourse with.
The intercourse is highly impersonal, and Handmaid's are not supposed to look at their commander's eyes.
Handmaids are not free. In fact, their freedom is entirely restricted. They leave the house only on shopping trips with the partner their state assigns to them, and with which they have no personal discussions with.
The communication between the shopping partners is usually revolving around praising Gilead and God.
To make sure of "proper" behavior, Gilead has the police force, called the Eyes, which are watching everybody.
As the readers get involved the everyday lives of the Handmaids, Offred offers flashbacks to her previous life, from where we can find out how Gilead came to be, how she lost her husband and child, as well as who her friends and family were.
Gilead took power using the military force when pollution decreased women's fertility rates, and although they claimed to take power only temporary, they soon made sure that women had no rights of property or jobs.
Offred and her husband Luke, just like many other couples did not want to live in such a country, but were caught and separated as they were trying to cross the border to Canada, to assure the happy future.
Since then, Offred has not seen her husband and believes he is dead and was assigned as a Handmaid, because of her ability to have children.
She also loses her friend Moira in the process, since she escapes the center where they are taken to be taught how to become Handmaids, under the supervision of Aunt Lydia, and she also does not know what happens to her.
Of course, that is only until later on, when she is taken by the Commander to a place where some of the vices of the "old world" still exist, such as prostitution and alcohol, and Offred realizes that her friend Moira has ended up there, as a prostitute.
Offred develops a relationship with the commander, and she visits him regularly to play Scrabble and read magazines in his office. This is not allowed since women are not supposed to read.
She does not do that out of love, but because she is very lonely, and he offers her a temporary sense of more freedom.
Some time passes, and Offred does not become pregnant. So, Serena suggests to her that she has an intercourse with Nick, the gardener and chauffeur of the Commander, and after she conceives to tell the Commander that the child is his.
When she tries to make her do it, we realize that Serena knows where Offred's daughter is, and she promises her that she would give her a picture of her if she does it.
So, Offred does what is asked of her and sleeps with Nick. But, the first time that is only an assignment of Serena is not the last time, and soon Offred and Nick begin sharing passion without anyone knowing.
What happens next?
We will let you find out for yourself!
The Handmaid's Tale Epilogue
The story of Offred continues and shapes not only a world of inhumanity, but also a strong criticism not only to the feminist left, but also to the religious right.
Nothing is good when it is done without a limit, and Atwood successfully shows it by portraying a world where one worldview overrules the rest.
Like this summary? We'd Like to invite you to download our free 12 min app, for more amazing summaries and audiobooks.
"The Handmaid's Tale PDF Quotes"
We were the people who were not in the papers. We lived in the blank white spaces at the edges of print. It gave us more freedom. We lived in the gaps between the stories.
Click To Tweet
Better never means better for everyone... It always means worse, for some.
Click To Tweet
When we think of the past it's the beautiful things we pick out. We want to believe it was all like that.
Click To Tweet
You can only be jealous of someone who has something you think you ought to have yourself.
Click To Tweet
A rat in a maze is free to go anywhere, as long as it stays inside the maze.
Click To Tweet


Our Critical Review
There are so many more other things happening in the book than what we covered in the summary, and we would not like to spoil it for you.
It is a perfectly crafted world, which will captivate you fully, and you have to read the novel in order to understand all the character's motivations, events, and complicated human relationships.
Language plays a big part in its charm as well, the events are not the only thing that is interesting, so summaries do not do the book any justice.
You have to experience the narrative yourself.
So, do it now – pick up "The Handmaid's Tale" and immerse yourself in it.


Just a regular guy with a knack for writing, and digital marketing.
Emir is the Head of International and SEO at 12Min. In his spare time, he loves to meditate and play soccer.