5 min read ⌚
Turning Mistakes into Stepping Stones for Success
Not many people like to admit this but failing is an essential part of success. And "essential" means that you can't be successful unless you fail before that. It may seem oxymoronic, but it's anything but.
At least so says John C. Maxwell – and he is our go-to guy for questions related to leadership and success. From now on, failing backward is not an option. Because there's also such thing as "Failing Forward."
Who Should Read "Failing Forward"? And Why?
On its cover, "Failing Forward" features a telling blurb: "A New York bestselling author addresses everyone's greatest need." OK – it may not be everyone's greatest need in itself, but "how to overcome failure" is certainly a question everybody has asked himself at least once or twice a life.
If so, you can do worse then hearing some worse of wisdom from a leadership expert. And probably you can't do much better if you're an ambitious person or a perfectionist.
About John C. Maxwell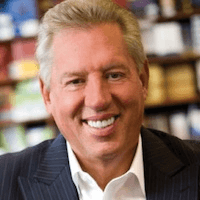 John C. Maxwell is by acclamation the foremost authority on leadership in the world. He is the founder of EQUIP and the eponymous John Maxwell Company.
He has written over 40 books, which have jointly sold about 20 million copies. And we have written summaries about most of them. In other words – please, be our guest: "The 21 Irrefutable Laws of Leadership," "Leadership Gold," "The 360o Leader," "The Five Levels of Leadership," "Talent Is Never Enough," "Put Your Dream to the Test," and "Thinking for a Change".
"Failing Forward Summary"
Statistics – and John C. Maxwell – point to one fascinating fact: almost every successful person you know now was a failure at one point in his life.
Because, failure is not the opposite of success; it's an indispensable ingredient. In fact, you could say that successful people are on the top because they've failed more and better than the rest of the people.
Or, to be more illustrative even if that means borrowing a quote we've already used in another summary: "The master has failed more times than the beginner has even tried."
In fact, there's even a number!
On average, an entrepreneur will fail 4 times (3.8 to be more exact) before he finally does it. And some of these fails may be spectacular fiascos.
Take, for example, Sergio Zyman, Coca-Cola's marketing executive in the 1980s. He was the man responsible behind the Diet Coke. And because of its immense success, he convinced Coca-Cola executives to stop producing the old version when he introduced the "New Coke."
"New Coke" was a fiasco and cost the company $100 million, and Zyman his job. But then, when Coca-Cola reintroduced the old version under a new name, "Coca Cola Classic," it was such a success that Zyman got his job back, and the company its money.