11 min read ⌚
Women, Work, and the Will to Lead
Sometimes it is not easy being a woman. This is especially true when it comes to the workplace.
We are all aware that many women do not get the same treatment as men, although they are doing the same jobs.
In our summary of "Lean In" we let you know why that is the case, and what you can do to change the treatment you get.
Who Should Read "Lean In"? And Why?
The talk that surrounded Facebook Coo's "Lean In" which targets women in the workplace started even before the book was published.
Many of those that critiqued it worried that a successful billionaire executive would blame for workplace inequality on lower income, worker-class women. They expected that she would not make a distinction between educated women like herself, and those that did not have the same privileges.
However, their worries were unfounded and premature. We find that Sandberg's "Lean In" pushes all the right buttons when it comes to the subject it touches.
We recommend it to all women who strive to be successful and fight for equal rights in the workplace.
About Sheryl Sandberg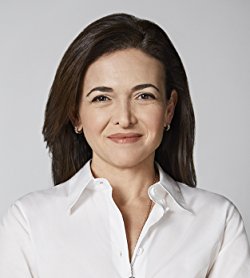 Sheryl Sandberg worked in the US Treasury Department, and was a vice president of global online sales and operations at Google, before becoming the COO of Facebook.
"Lean In Summary"
Much Yet To Conquer
We live in a very interesting moment in which women have the highest level of expression in history, mostly thanks to the feminist movements of the 60s and 70s.
On the other hand, because it seems like the fight for equality has been won, progress has been taking place, and things have been evolving, however at a low pace. Inequality of genders still exists in various spheres of society, mainly when it comes to career and work.
In 2010, in the United States, a female worker would make 77 cents for each dollar received by a male colleague.
This inequality is a global problem, and it occurs in the whole world, not only in the United States. In Europe, for example, the difference is a little less, 84 cents for each dollar, but it still shows a high level of inequality.
The financial point is more obvious and proves that there is still much to be conquered, but we need to go beyond it.
In the workplace, for example, Sheryl mentions that various studies show the performance of women is also unjustly evaluated. Do you know what is most curious?
It is that discrimination happens both by men and women. Sheryl mentions, as an example, a study whose objective was to ask participants to evaluate the performance and the growth potential of workers who had identical performances.
In this study, both men and women evaluated women in a worse manner than their colleagues of the opposite sex.
You should be asking yourself, "this should only happen with ignorant people, with the poorly educated and the misogynists, right?
Most people think that, if people evaluators were well informed and educated, the result would be fair, but that is not true.
In the study, furthermore, the more the person claimed to be impartial and not discriminate the opposite sex, the bigger the discrepancy of the evaluation between the sexes, always benefiting the individual of the male sex.
Many times, we think that a masculine world discriminates women, but in reality, women also sabotage themselves.
Both sexes have a perception of less value of the female sex, and we need to be attentive to these matters since this valid sexism exists and affects our lives.
This hidden inequality also exists in the family environment and in relationships, where many times you expect the woman stalls her career to take care of the children.
A study has asked the question, "Do you expect your husband/wife to abandon their career to raise your children?".
The results were emblematic. 46% of men expected their wife to abandon their career to take care of the children, while only 5% of the women expected that from their husbands. Women still face direct sexual harassment and discrimination.
Lean In
Sheryl affirms, "We should be thankful to the women who fought to change this before us, for the rights that we now have, but there is still much to be done.
Why do we need drastic measures?
Sheryl Sandberg was a Harvard graduate who worked for her mentor, Lawrence Summers. First, she worked at the World Bank, and after she earned an MBA and put in a year with McKinsey, she became his head of staff when he was US Treasury secretary.
She was Google's VP of worldwide online sales and operations before getting to be a head operating officer at Facebook.
She uses Facebook as a platform for this book.
"Lean In"'s open commotion that surrounded it pre and post its publication, demonstrated a pivotal point:
The role of women in the work environment is an inconceivably emotional topic.
We Need You To Lead!
Inequality of gender is still more evident in the leadership positions. In the United States, only 4% of the CEOs of the 500 largest companies are women.
These numbers exceed even more because, in the academic world, women, on average, perform better than men, totaling 60% of master's degrees in the United States.
How does this multitude of professional and capable women not make it to leadership positions?
That is the question Sheryl explains: several factors lead to this, but we are responsible for the main one: lack of ambition for leadership. Men are more ambitious to become leaders than women, says Sheryl.
The reason for this is that gender stereotypes also act in veiled sexism. Society does not expect women to prioritize their career or be ambitious, and it labels those who do it like bossy, among other things.
These stereotypes are reinforced throughout life for the whole society, from childhood, ultimately limiting the perspectives of each gender.
While most men assume they can have successful working lives and achieve leadership positions, there is pressure on women to choose between caring for family or career.
This society mental model makes many women feel responsible for staying at home and caring for the family and putting their careers aside.
Often, they start their careers, get a job, but later drop out to take care of their children and stay home. That explains how the lack of ambition for leadership causes men to remain in power.
Equality Has To Be The Agenda
With all the facts pointed out by Sheryl and our day to day reality, it is clear that there is gender inequality.
And so, it is necessary that the subject is increasingly addressed so that this inequality is reduced. It is not a matter of demanding special treatment for women, but rather of engaging people in the cause and seeking solutions.
When the conversation occurs, more women are inspired to lead change and more men who understand the problem want to become part of the solution to this inequality.
Getting people to know and understand the problem helps us channel changes, albeit small ones, day in and day out.
Even if you can not change the world, you can change your home, your business, and even your street.
For example, knowing that there are fewer women in leadership positions can encourage a manager to select more candidates for the next promotion of the company.
Another important and surprising point is that women often do not support each other, and to achieve a less inequitable scenario, we must change that.
An example: if a woman manages to reach a leadership position in a mostly male company, she begins to feel threatened by other women and thus hinder their promotions. That is a type of behavior that reinforces the current status of inequality.
Another example: mothers who stay at home and do not have jobs constantly emotionally discourage working mothers, leaving them insecure about their careers.
The first Navy woman to be assigned to a submarine was respected by the male sailors, but the sailors' wives did not respect her and envied her.
Women cannot be divided if they want to achieve equality and the equality agenda needs to be discussed more often. According to a Harvard study, egalitarian environments increase the satisfaction of all involved, not just women.
It sure as hell pushes some buttons. Take, for example, the strain amongst stay-at-home and working moms, the professional penalties that women pay for giving time to their families, sexism in the working environment, and corporate foreswearing of the way that monetary concerns and child-bearing limits women's' options.
Furthermore, "Lean In" also underlines on one of Sandberg's declarations:
The shortage of females in the highest levels of leadership puts the couple of women who get to positions of power under in-depth examination, transforming them into representatives for their whole gender, regardless of whether they want to play that part or not.
As an illustrative case, let's take note of the firestorm of negative feedback aimed at the president and CEO of Yahoo, Marissa Mayer after she declared that she would do her job all throughout her maternity leave.
Sandberg herself admits that she was initially reluctant to talk about gender orientated issues, realizing that doing as such would put her at the focal point of a brutally unforgiving spotlight.
Her friends and acquaintances cautioned her that she would be pigeonholed as another feminist official as opposed to being known as Facebook's COO.
In addition, talking from the stage made her powerless against similar reactions pointed at any woman who decides to call attention to the imbalance in the work environment. 
In other words, close-minded men may start seeing her as a caricature of a humorless, man-hating female, who is merely looking for special treatment in the workplace or threatening taking legal action.
Success Or Charisma?
Stereotypes do exist and still affect the way our brain processes information.
Even today, society expects men to be decisive and direct and women sensitive. A successful woman breaks with her gender stereotype, and this causes her to face unnecessary resistance from society.
Competent and ambitious men are praised while these women are described pejoratively. To further complicate things, trying to fit into an expected gender role can also limit a woman's career.
To overcome gender biases, women also need to adopt a negotiating stance, always emphasizing their skills, citing wage indicators and using endorsements from their superiors in organizations.
When Sheryl was talking to Mark Zuckerberg about accepting a Facebook proposal, she was inclined to accept the first offer she received. Her husband suggested she make a counter-proposal and she did.
In the end, she closed a much more lucrative proposal. It is also proven by studies that to develop their careers, women must appear to be "appropriately feminine," that is, pleasant, charismatic, and sensitive.
That means crossing a high-pitched minefield. It is a paradox that needs to fit into the traditional model of society to bring about change.
After all, with more and more women leading, this kind of behavior will be more necessary in the future.
Sheryl says she always remembers the first feedback received on a Facebook rating by Mark Zuckerberg. "If you please, everyone, you're not making enough progress."
Express Yourself With Clarity And Transparency
Honest and transparent communication is essential to developing a promising career. It strengthens relationships, allows for challenging unsubstantiated decisions, and helps tackle complicated issues.
Many women are afraid to talk about what they think about work, thinking that it causes them to be denied or criticized.
It is the leader's role to encourage authenticity by asking for feedback and suggestions, as well as publicly thanking those who have given their opinions and cared about an issue.
Efficient communication in any environment means finding the balance between authenticity and consideration for other's feelings. Sheryl suggests that you be politely honest, not brutally honest.
There is no absolute truth, so to communicate effectively, you must first try to see things as the other.
A good phrase to put yourself in the other's position would be: "I understood that you are concerned about this because you feel …" Another tip of communication is to use the "I" to show your opinions and disagreements: "I think that we should do this another way … ", and never" You're wrong."
Focus On What Matters
You will not be able to do everything. Women may have a greater concern and feel that they are leaving things "on hold", but it is important to have balance and focus.
Even if you are an executive at a large company, you need to set boundaries and work within them.
There is pressure on mothers to spend more time with their children, and this can create a sense of guilt in mothers who have a job.
Knowing how to manage this guilt is just as important as managing your time, so you need to know how to focus on the things you are actually doing and not what you have failed to do. Prioritize and focus on what is most important.
Find time to go to your children's school, but do not worry about making the beds to perfection.
Find solutions that are sustainable in the long run, both at home and at work.
There is no recipe for balancing a meaningful personal life and a career in success, find out what works for you.
Make it happen! If we do, the next wave may be the last one, and in the future, we will not have women leaders. We will have only leaders.
Key Lessons from "Lean In"
1.      Climbing Leadership Ladder
2.      Are You Blocking Your Own Progress?
3.      Suggestions to Overcome Internal Barriers
Climbing Leadership Ladder
The core issue of Sandberg's book: the lack of females in positions of high authority in business and government, although a bit controversial, is undeniable.
The provided information says a lot.
In 2007, women held somewhere around 17% of seats on US corporate boards of directors. Similar numbers are present in government as well. At the point when Sandberg's book initially came out, women held just 18% of the seats in the US Congress.
Sanders merely asks: Why is that the case?
As a response, she determines and studies the obstacles that keep the executive suite out of women's reach.
The sad truth is that the conditions that foil women's ascent to the top still exist.
Each day, in workplaces around the world, women confront segregation, sexism, and badgering.
The absence of alternatives for child care constrains them to pick between their families and their professions.
Moreover, Sandberg says, women have a more difficult time than men discovering mentors, and they should work harder to win the same acknowledgment.
Are You Blocking Your Own Progress?
Sandberg raises a caution of the self-made limits women put in front of themselves. However, while doing that she does not miss to mention that she was liable for similar conduct.
Women are not in possession of enough self-confidence and are inclined to underestimate themselves. They are less decisive, as well, and feel more hesitant to self-promote and negotiate for themselves as opposed to their male partners.
Lastly, they want people to like them, which, as Sandberg clarifies, can hamper their power.
Suggestions to Overcome Internal Barriers
Sandberg urges the woman to sit at the table, lean in and speak up. According to her, women should not be afraid to make sure their voices are heard. She does not stop at the workplace. She further advised women to make real partners out of their partners and try to develop an equal distribution of labor at home.
Lastly, until you decide that it is time to leave, stay fully engaged.
Like this summary? We'd Like to invite you to download our free 12 min app, for more amazing summaries and audiobooks.
"Lean In" Quotes
What would you do if you weren't afraid?
Click To Tweet
Done is better than perfect.
Click To Tweet
In the future, there will be no female leaders. There will just be leaders.
Click To Tweet
We cannot change what we are not aware of, and once we are aware, we cannot help but change.
Click To Tweet
There's a special place in hell for women who don't help other women.
Click To Tweet


Our Critical Review
In "Lean In" Sandberg gives women some excellent advice for fighting internal barriers, but a significant portion of it any informed, a feminist social scientist could provide.
Additionally, she fails to mention the benefits corporations get whenever they add a bigger percentage of women to their top levels. Readers may also feel that they did not get enough personal strategies to achieve female equality.
However, Sandberg's style is personal and "Lean In" is a book filled with anecdotes. Hence, the book is much more than just a statement of facts and formal corporate analysis.


Just a regular guy with a knack for writing, and digital marketing.
Emir is the Head of International and SEO at 12Min. In his spare time, he loves to meditate and play soccer.