How to Win Friends and Influence People Summary
16 min read ⌚

The Only Book You Need to Lead You to Success
Are you set for life and prosperity? Do you something on your mind?
We briefly summarize and present one extraordinary classic written by the Dale Carnegie.
Who Should Read "How to Win Friends and Influence People"? And Why?
Dale certainly doesn't leave its readers with a shortage of high-quality examples in his books.
Every book is enriched with plenty of solutions for almost any personal problem that exists. The people want to see change, want to experience peacefulness and happiness.
So, it is fair enough to encourage them to conduct an inner transformation only if you (or in this case Dale) have already overcome challenges in life by facing yourself openly in one on one silent battle.
People live without principles so, Dale inspires them to look deep into their hearts and see what lies there.
Are you the same person or you are changing roles all the time? It is up to you because you deserve to live happily and peacefully.
About Dale Carnegie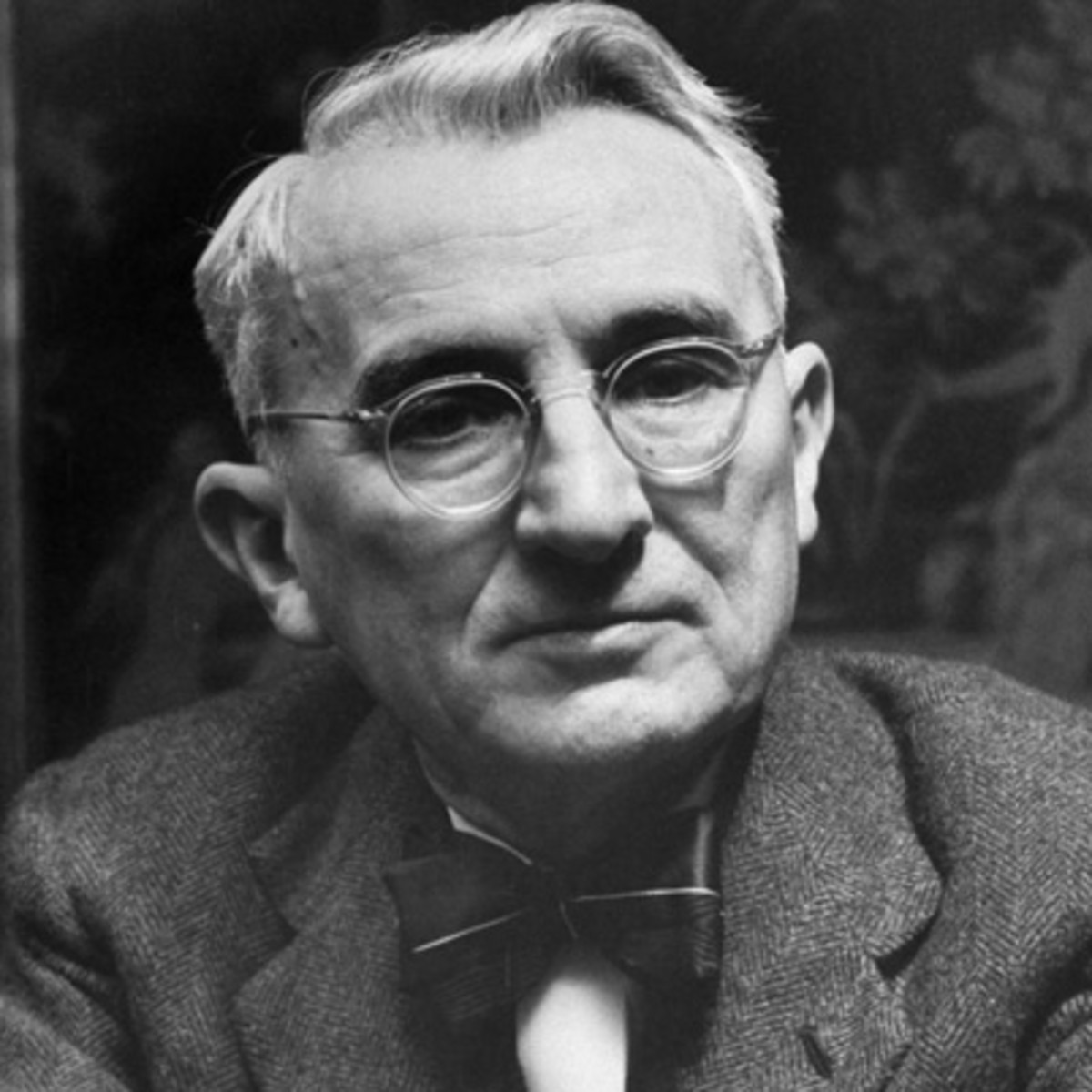 Dale Carnegie was one of the greatest intellectual lecturers of his time. Maryville, Missouri was his birthplace and the area where he grew up in the late 19th and the early 20th century.
The second son of a poor farmer; Dale quickly developed strong working habits and fierce determination.
His reputation reached new heights in the 40's when the interest for Dale's books started growing.
Afterward, some of these books build Dale's reputation as a writer.
Carnegie has written many books, among them are: "How to Win Friends and Influence People," "How to Enjoy Your Life and Your Job" "How to Stop Worrying and Start Living," and "The Quick and Easy Way to Effective Speaking."
"How to Win Friends and Influence People Summary"
Nature is very generous when it comes to the essential human needs; Although we all crave for status, wealth and a good life, nature has already done its part by creating a perfect world.
The people always seek for something more (luxurious), and that is a fact we must embrace.
Dale Carnegie introduces the readers to the fundamental principles for winning friends and influencing other talented people.
If you are a dedicated person and you want to get the most out of anything, always ask yourself – how important is to have certain principles in life, why to review those principles, and is it necessary to apply them in any given situation?
It is vital to implement these personal policies whenever you can because a person without any is not a trustworthy individual.
Even though, occasionally anyone can become a victim of its own prejudice; you should always be prepared to take a hit from your spouse or partner if you violate some principles.
Calculate your progress; review your practices by keeping notes that will indicate how much time and energy you've invested in that particular practice.
Obviously, the most important principle of all would be to handle people nicely, be polite, gentle and afford some manners to this end. Avoid criticizing too much, don't condemn anyone or gossip other people.
Is it so hard to show understanding and compassion instead of judgment and prejudice?
For some people it is, but you must not find yourself among them. By applying this simple advice, you'll become a better person, supportive father/mother with empathy, carrying husband/wife and a tolerant individual.
It doesn't matter if you believe in God or not, Jesus once told us: Treat others in the same way you'd like to be treated.
Sometimes negative feelings overwhelm us, but there are lots of different exercises for handling yourself by implementing self-control methods.
As a matter of fact, if a person wants to change the world, it should start with itself.
Many books convey the same message, but none of them has the capacity to explore the deepest secrets of one's inner self.
Dale Carnegie explains his simple method for getting everything you want from other people by transforming your behavior and mindset.
Dale's perspective has created these procedures which are also drawn from notable historical figures like Abraham Lincoln.
Although "How to Win Friends and Influence People" was written in 1935, Dale's principles are timeless; his methods are useful even today.
Do not think that some examples present in the book are dated because his message is everlasting.
Written in an easy to understand style, Dale targets the entire population by trying to inflict a little bit of wisdom in this crazy world.
Many people have recommended this classic to friends, family, acquaintances due to the change they felt after having understood the essence of the book.
Key Lessons from "How to Win Friends and Influence People PDF"
1.      Never argue with anyone
2.      Don't listen to your ego
3.      Never start a conversation in an aggressive manner
Never argue with anyone
Since the only way to win an argument is to avoid discussing.
Generally speaking, arguments make people angry and defensive, no one wishes to lose an argument; even if you are the winner, still, you haven't achieved anything.
So the best thing to do is to avoid arguing under any circumstances.
Don't listen to your ego
We as people have a problem with our ego. It is a rarity to come along a person that easily admits its mistakes.
When you make such an admission; the person on the other side feels relieved and happy. It is much easier to talk with a transparent person ready to face full responsibility for its actions.
Always be honest and capable of listening.
Never start a conversation in an aggressive manner
Use gentle words to start a conversation.
Obviously, it is impossible to win over someone who feels certain negativity arising from you. First of all, you should begin by trying to understanding the interlocutor's perspective.
Only then you can try to persuade them and change their point of view.
Like this summary? We'd Like to invite you to download our free 12 min app, for more amazing summaries and audiobooks.
"How to Win Friends and Influence People" Quotes
It isn't what you have or who you are or where you are or what you are doing that makes you happy or unhappy. It is what you think about it.
Click To Tweet
You can make more friends in two months by becoming interested in other people than you can in two years by trying to get other people interested in you.
Click To Tweet
Everybody in the world is seeking happiness—and there is one sure way to find it. That is by controlling your thoughts. Happiness doesn't depend on outward conditions. It depends on inner conditions.
Click To Tweet
Talk to someone about themselves and they'll listen for hours.
Click To Tweet
Actions speak louder than words, and a smile says, 'I like you. You make me happy. I am glad to see you.
Click To Tweet


Our Critical Review
By all means, a timeless classic, a wonderful masterpiece for many many generations. To sum up, we firmly believe that not many books can surpass the powerful message conveyed in this one. 
[NEW/EXTENDED] How To Win Friends and Influence People Summary:
FUNDAMENTAL TECHNIQUES TO DEAL WITH PEOPLE
For others to like you more, a set of essential principles must be followed. There are simple rules that, when followed, make you admired and able to make more friends. Here they are:
PRINCIPLE 1: NEVER CRITIQUE, CONDEMN OR CLAIM
Do you like sour people, who are always looking for flaws in others? And what about your relatives complaining, the whole time putting others down? Probably not. You do not want to be like them if you want to improve your ability to relate to people. You should always avoid criticizing others.
Criticism hurts one's pride and makes room for resentment. It is far better to reward good behavior than to punish bad behavior. Avoid ridiculing and do not make value judgments. Put yourself in the other's shoes. Anyone can complain and criticize, but it takes self-control to be understanding and understand how to help genuinely. If you have a habit of finding fault with others, you must overcome it. Understand why people act in a certain way.
PRINCIPLE 2: DEMONSTRATE GENUINE APPRECIATION
There is only one way to influence and get someone to do something. And it is extremely simple. You need to make the person really want to do something. The best ways to develop the best in anyone are appreciation and motivation.
Learn to praise and recognize the deeds of others. Encourage them to continue acting positively. However, be careful: recognition is different from flattery. The recognition is sincere and authentic, while flattery is false and easily seen through. If you want to persuade someone, always ask yourself, "How could I make this person want to do this?"
PRINCIPLE 3: AWAKENING THE DESIRE IN OTHERS
You need to give others what they want, not what you want. Of course, you care about what you want, but most people do not care about your goal. They are interested in what they own.
So to convince someone to do something, you need to make that something desirable and motivating for the other's personal goals. You need to see things from their point of view and then try to influence them to do something they want.
6 PRINCIPLES TO MAKE PEOPLE LIKE YOU
For people to like you, you have to act in an "adorable" way. Dale Carnegie lists six extremely simple principles to help you become a person that people like and admire.
PRINCIPLE 1: DEMONSTRATE INTEREST IN PEOPLE
If you want to be loved, you need to demonstrate, with actions, that you care about the other. The easiest way to do this is to know how to greet them. To greet people, you should always have enthusiasm and excitement. You have to look into their eyes and show your interest. Always greet all people and never ignore "less important" ones.
PRINCIPLE 2: ALWAYS SMILE
Your expression shows a lot about you, even more than the way you dress. The smile is a powerful expression, especially when sincere. If you act like a happy person, you become happy. A smile makes other people's day better, without costing anyone who smiles. Always smile.
PRINCIPLE 3: REMEMBER NAMES, ALWAYS
The thing that sounds sweetest to a person's ears is his or her own name. You need to be able to memorize people's names and, whenever possible, call them by their names. This demonstrates your genuine interest and attention to them.
PRINCIPLE 4: LISTEN ACTIVELY
People like careful listeners, so you should always show interest in what they have to say. Encourage them to speak and state their points of view and let them know that you are listening and really care about them. Listen calmly and do not interrupt. Ask questions, and people will be happy to respond.
PRINCIPLE 5: SPEAK ABOUT THEIR INTERESTS
The way to a person's heart is to talk about the things they care about. You should research and discover the interests of people if you want to capture their attention. If you do, you will always have good conversations, and each will learn new things.
PRINCIPLE 6: MAKE THEM FEEL IMPORTANT
Most of the people you talk to on a day-to-day basis feel superior to you, and this is natural. One way to get into the hearts of these people is by making it clear to them that you recognize their importance in a sincere way. Be honest and generous in your praise and make people feel important. Talk about them, their lives and their deeds. Demonstrate your respect by using words such as "Excuse me," "Would you mind?", "Sorry for the inconvenience" and "Thank you."
HOW TO CONVINCE PEOPLE TO THINK LIKE YOU
Every day we have to persuade people to act in ways different from the way they would on their own. The easiest way to do this is by learning the art of influence. Discover Dale Carnegie's principles for influencing others:
PRINCIPLE 1: THE ONLY WAY TO WIN AN ARGUMENT IS TO AVOID IT
Nine out of ten discussions end with both sides even more convinced that they were right than before the start of the discussion. There is no such thing as "winning an argument". Even if you win, you end up losing.
You may feel good, but the "loser" side feels inferior, and that makes them resentful about your victory. A person who is convinced against his own will is not really influenced by you. Avoid arguing. If discussing, look for areas of understanding. Listen to your opponent and focus on where you agree. Be honest and admit that you may be wrong.
PRINCIPLE 2: NEVER SAY: "YOU ARE WRONG!"
Why prove someone wrong especially when they did not ask for your opinion? If you want to prove something, do it discreetly, and never focus on the error itself. People need to learn without them realizing it. You are not a teacher to correct them, even less in public. Be wiser, but do not let people know that. To punctuate something you disagree with, use phrases like, "I may be wrong, but I think differently about …", or "Let's examine the facts, I may have been wrong …".
When you say someone is wrong, it affects that person's self-esteem because their beliefs are part of their identity. When we are wrong, we can admit it to ourselves, and if we are well treated and heard, then we can admit our mistakes to others as well.
Ridicule does not convince anyone. Other useful phrases to avoid conflicts are phrases with subtle assertions, such as: "I think …", "I imagine …". Be careful about your opinions and avoid imposing your beliefs on others.
PRINCIPLE 3: ADMIT YOUR MISTAKES
To err is human, but if you want to influence, you must also admit your own mistakes. Do not try to defend yourself, admit it quickly, honestly and transparently. It is much better to have self-criticism and to admit your mistake than to hear the same thing pointed out by others.
Many try to defend their mistakes and justify them, but your respect and appreciation come from honesty and sincerity in admitting your faults. Also, they help you persuade people to change their behaviors. Talk about your mistakes before you criticize.
PRINCIPLE 4: START BY BEING FRIENDLY
Dale Carnegie uses the following maxim to illustrate this principle: an ounce of honey takes more flies than a gallon of gall. If you want to convince someone of something, start slowly, seeking understanding and conciliation. Always show sincere appreciation.
They are much more likely to agree with you if you convince them that you are a sincere friend. Gentleness and friendship are always stronger than force. Avoid giving orders. When you agree and seek to understand, people are much more likely to cooperate.
PRINCIPLE 5: MAKE THE PERSON SAY YES!
Socrates taught his pupils through the use of questions. If you ask the right questions, you are much more likely to receive a yes as an answer than if you take an authoritative stance. When speaking, start emphasizing the things you agree with, ask questions about these points, leading the other to say yes.
When we say something, we feel it is our duty to defend that point of view, so be careful. If you can get the yes, you can move forward, after all, one tends to no disagrees with oneself. Turning a no into a yes is very difficult, so you should start by discovering the points of agreement, asking questions that lead to the "yes", always trying to see from the person's point of view.
PRINCIPLE 6: SPEAK LESS
People have a natural tendency to try to convince others that they are right, so they end up talking a lot. Listen actively, all the time and let them talk. Do not disagree, do not interrupt and just listen while they are full of ideas and proposals. Encourage them to keep talking until they feel satisfied and understood. This principle holds true for both business and family relationships. Talk about your deeds if people ask, so you do not sound pedantic. Listen to everything and always show interest.
PRINCIPLE 7: LET THE OTHER PERSON FEEL OWNERSHIP OF THE IDEA
People tend to rely more on the ideas they develop alone and not so much on those they are persuaded to adopt by others. So it is wiser to make suggestions and let them draw their conclusions, after all, no one likes to feel that they are being forced to do something or buy something.
Focus on the results, the acceptance of the message and never on the credits of who is the author of the idea. Let them get hold of your ideas if it is necessary for them to act. Focus on the desired result and forget who is the father of the idea.
PRINCIPLE 8: PLACE YOURSELF IN THEIR SHOES
People may be totally wrong, but they will always believe they are not and that their way is the right way. Be understanding and tolerant, find out why the person thinks that way. Focus on understanding the motives behind the argument and put yourself in the other's shoes.
Always ask yourself, "How would I react and feel myself in this same situation in their place?" This makes you discover the reason behind that attitude and lets you know how to direct conversations in pursuit of the common good.
PRINCIPLE 9: BE CAREFUL WITH PEOPLE
There is a phrase that ends with arguments, creates positive interactions and causes you to capture people's attention. Say, "I understand your concern about this matter," or "I would feel the same way if I were you."
People need solidarity and attention. If someone has negative feelings towards you, apologize, sympathize with their views. Everyone wants to be understood and see their problems and opinions recognized. Use this to turn hostility into friendship.
PRINCIPLE 10: APPEAL TO NOBLE CAUSES
People usually act for two reasons: one that sounds good and the other that is the real reason. Human beings are idealistic of heart and therefore like to look for motifs that sound good. To allow change to take place, we have to appeal to noble causes and motives.
Most are honest and want to honor their commitments. Most of the time, people will act favorably to you if they feel that you consider them honest, fair and just.
PRINCIPLE 11: JUST CITING TRUTHS IS NOT ENOUGH
It is important to dramatize the truth so that it is more noticeable. If we want someone's attention, we have to present the truth in a vivid, interesting and dramatic way. When you go ask for a woman's hand in marriage, you kneel, don't you? Only words are not enough to express a feeling. Just as film and TV enact the use of products for them to sell, their ideas must also be dramatized. Find ways to improve your ability to present your ideas, so you can engage people's senses and touch their hearts.
PRINCIPLE 12: CHALLENGE THEM
People have an innate desire to conquer, and with this desire comes a sense of competition. Everyone wants to outdo others to be their best. When you cannot influence using previous tactics, the best way is to pose a challenge. Successful people love games that allow them to express themselves, prove their worth, and win. Be challenging!
HOW TO BECOME A LEADER
To be able to transform people, you must know how to lead. And for Dale Carnegie, leadership also has fundamental principles that make people want to listen to you and follow your principles. Let's look at them:
PRINCIPLE 1: A CRITICISM IS BETTER RECEIVED AFTER A PRAISE
Eventually, you'll need to help others improve through criticism. So you're going to have to report a flaw. To do it right and ensure the other is receptive, start by praising, highlighting your positives, then make your criticism. Starting with a compliment is like an anesthetic, which reduces the pain caused by criticism and makes it easier to assimilate.
PRINCIPLE 2 – INDIRECTLY DRAW ATTENTION TO ERRORS
Most have difficulty coping with criticism. When we want to change others without creating resentments or offenses, changing the way we use the word "BUT" makes all the difference. Replace "BUT" with "AND." The "BUT" usually makes an inference about failure, while the "AND" gives a challenging perspective for the future. Use phrases such as "We are very happy with you for [reason] and if you continue like this, [the desired effort] you will also have similar results soon."
PRINCIPLE 3: SPEAK FIRST OF YOUR ERRORS
The next step to changing others without causing negative reactions is to demonstrate that we are also susceptible to mistakes. It is much easier to hear our faults when the person on the other side begins humbly by describing their past failures and similar mistakes. Nobody is perfect. Make your criticism, pondering that you too can make mistakes or have committed them in the past.
PRINCIPLE 4: ASK QUESTIONS, DO NOT GIVE ORDERS
Nobody likes to take orders, so you should not be authoritative. Give suggestions and not orders. Never say, "Do it or do it." Always try to say something like "Do you think we could do it in such a way" or "Do you think this can work?" Orders can cause an uprising, while suggestions encourage cooperation. Asking questions makes a more acceptable order and encourages people to be proactive. In addition, questions stimulate creativity and encourage new perspectives.
PRINCIPLE 5: LET THEM KEEP THEIR DIGNITY
Do not step over the others' feelings, do not gratuitously criticize, and always seek to maintain their self-esteem. Emphasize lack of experience and never lack of ability. We must always give the chance to maintain their dignity and honor, and we must have a genuine interest in giving a graceful exit to others even when they are wrong.
PRINCIPLE 6: SINCERELY AND GENEROUSLY ENCOURAGE SUCCESS
Look at your past. Remember the compliments that have done you good and allowed you to evolve as a person. One of the most powerful skills we have is to help people achieve success. And the way to do that is by reinforcing their strengths and qualities through praise. Even if it is sometimes difficult to find something to praise, strive and find something. Praise always, at the slightest sign of progress, as this encourages people to progress more and more. Skills wilt under criticism and bloom with praise.
PRINCIPLE 7: GIVE SOMEONE A REPUTATION HE/SHE WILL LIVE UP TO IT
People want to maintain a good reputation and develop their features that stand out. Talk to the person as if he/she already possesses a skill that you want to develop, encouraging and stimulating all the time.
PRINCIPLE 8: MAKE THE FAULTS SEEM EASILY CORRECTABLE
If we tell someone that he/she has no talents for doing something or that they always do something wrong, we take from them the motivation to improve. If we use the opposite technique, we encourage them to move forward to improve and inspire motivation. Do not emphasize mistakes, show good things, and encourage others to try to improve. Tell them that you trust in their ability to develop that skill.
PRINCIPLE 9: MAKE THEM HAPPY FOR FOLLOWING YOUR SUGGESTIONS
Offer incentives, praise, and give authority to people who accept your decisions and do what you suggest. Appeal to the value they perceive of themselves and their abilities. Giving titles and authority work very well, recognition encourages development.
FINAL NOTES:
Dale Carnegie is a master at the art of dealing with people and this book is a must for anyone looking to develop their ability to have better relationships. It is naive to think that just by implementing these techniques will always achieve the results you seek, but Carnegie's principles work most of the time, in addition to making you a better person. With practice, these principles become part of your daily life and you will become better at understanding, dealing and influencing the people who are part of your life.