Pre-Suasion Summary | Free Download
16 min read ⌚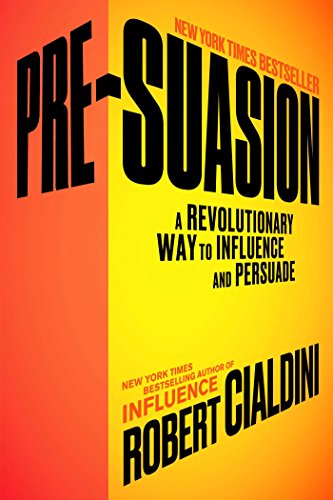 A Revolutionary Way to Influence and Persuade
Just think of this scenario.
A salesman comes to your house, selling encyclopedias. It's the age of Wikipedia, so you don't really need one. But, after half an hour, for some reason, you buy an expensive, lavishly illustrated Britannica published in the 1980s.
Now, how did that happen, you ask yourself!
Robert Cialdini may have an answer to your question.
And we have it summarized for you.
Who Should Read "Pre-Suasion"? And Why?
Robert Beno Cialdini is certainly not a name you would like to overlook if you're interested in marketing or psychology. He has written many books about the art of influence and persuasion, and he has been lauded for his ideas and writing over and over again.
Perhaps the best way to illustrate how essential is Cialdini for your business is a quote from Guy Kawasaki. He's a heavyweight in the world of marketing as well. And, regarding Cialdini's first book, "Influence," of which "Pre-Suasion" is the sequel, he was fairly straightforward:
"This book is the de facto standard to learn the psychology of persuasion. If you don't read it, I hope you enjoy pounding your head against the wall and throwing away marketing dollars."
Do you want to do that?
About Robert Cialdini

Robert Cialdini is Regents' Professor Emeritus of Marketing and Psychology at Arizona State University. A University of Wisconsin BSc, he earned a Ph.D. in Social Psychology at Columbia University in 1970.
A life-long researcher in the field of influence and persuasion, he is one of the canonical authors in the world of marketing studies. His books have sold millions of copies. He has won numerous praises as a great motivational speaker too.
Cialdini's "The Small BIG" was recognized as a book of the year by "The Times" in 2008, and "Yes! 50 Scientifically Proven Ways to Be Persuasive" was a "New York Times" bestseller.
"Pre-Suasion Summary"
You want to get what you want, instead of moaning about not getting it?